This shop has been compensated by Collective Bias, Inc. and its advertiser. All opinions are mine alone. #SamsClubMag #CollectiveBias
So Memorial Day is approaching, and rather than serving the traditional hot dogs and hamburgers, why not get a little fancy? I decided to make the *perfect* Memorial Day side dish to accompany grilled steaks, and when I explained my idea to my husband, he was like "That sounds like a red, white, and blue salad." Brilliant! I knew I married this man for a reason. Anyway, Memorial Day is generally a fun day in our household. Why? Because for the past 12 years, my husband has been a teacher, and that meant the final day off of school before the last day of the school year (although I am always certain to pay respect to the lives that were lost as people fought for our freedom).
On to the salad! This salad packs a real punch with just a few simple ingredients. Crisp fresh corn, sweet tomatoes, and salty blue cheese are coated in a tangy lemon-dijon vinaigrette. This Red, White, and Blue Salad is great on its own, but even more delicious paired with the perfect grilled steak.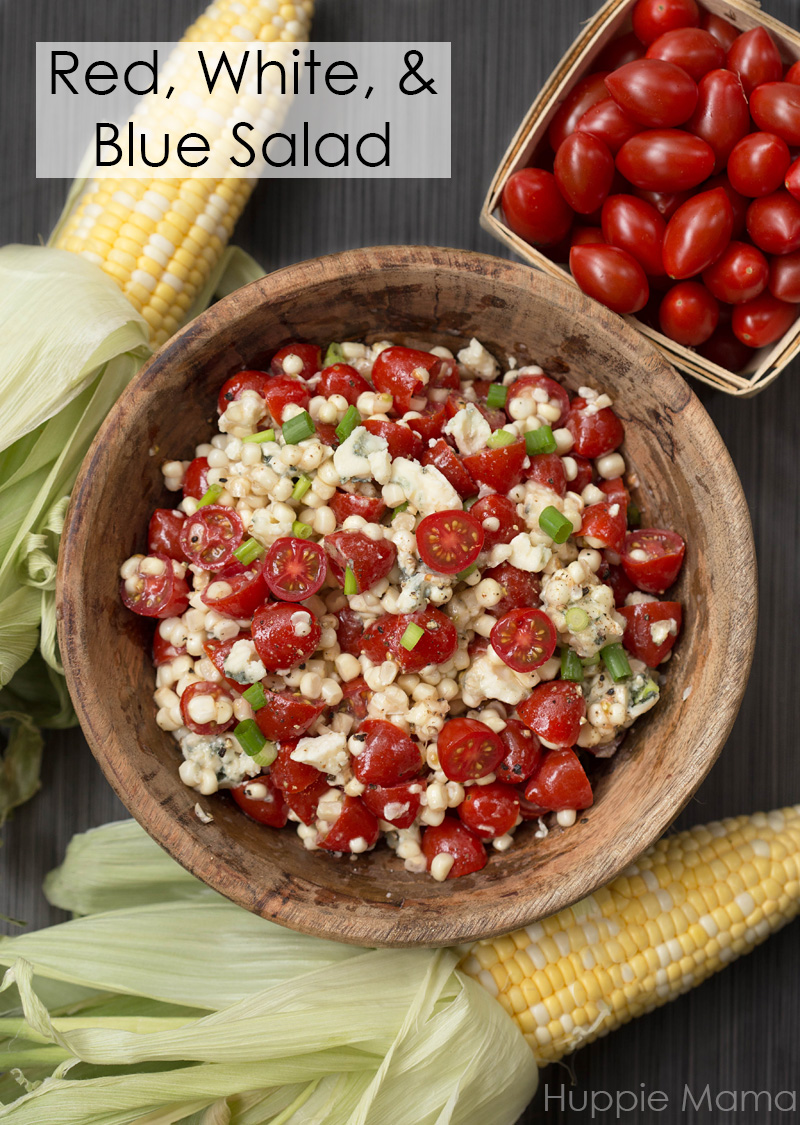 Ingredients:
2 cups grape tomatoes
2 cups freshly-shucked white corn
1 cup crumbled blue cheese
2 t dijon mustard
juice of 1 lemon
1/4 cup olive oil
salt & pepper to taste
green onion (optional garnish)
Directions:
Begin by gathering your ingredients. Tomatoes are the superfood at Sam's Club for May and June in their Healthy Living Made Simple magazine. Check out the online magazine for healthy tips and recipes. There are so many varieties  of tomatoes to choose from, but grape tomatoes are the perfect little bite for this salad. I tend to be a cheese snob, so I'm using a delicious Roquefort blue cheese for this recipe.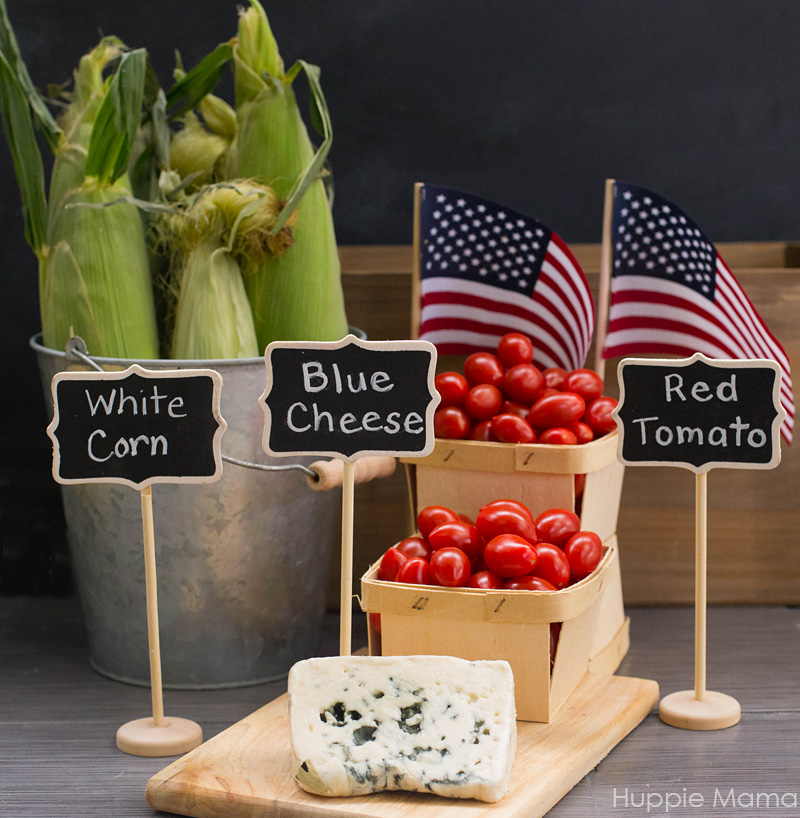 Fresh corn is one of my favorite foods during the summer. It's sweet and crisp! And it pairs deliciously with tomatoes. Shuck your corn and wash the tomatoes to prepare for this salad.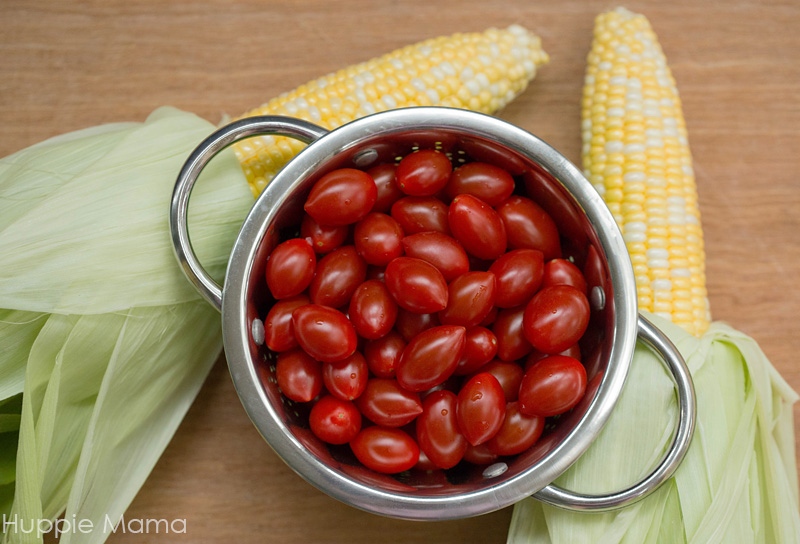 Next, remove the corn from its cob. I do this by placing the corn upright inside a bowl and gliding my knife all around. The corn slices off and falls into the bowl. Then, slice each of your grape tomatoes in half.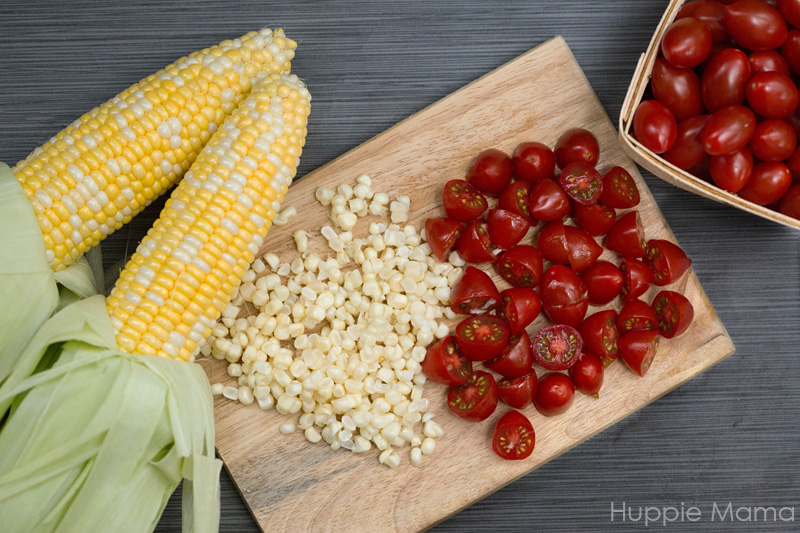 To make this dressing, begin by squeezing the juice of a lemon. Add the dijon mustard to the bowl. Slowly pour the olive oil into the bowl while quickly whisking. This creates an emulsion, basically a creamy vinaigrette for your salad. If your dressing breaks, don't worry…it will be delicious!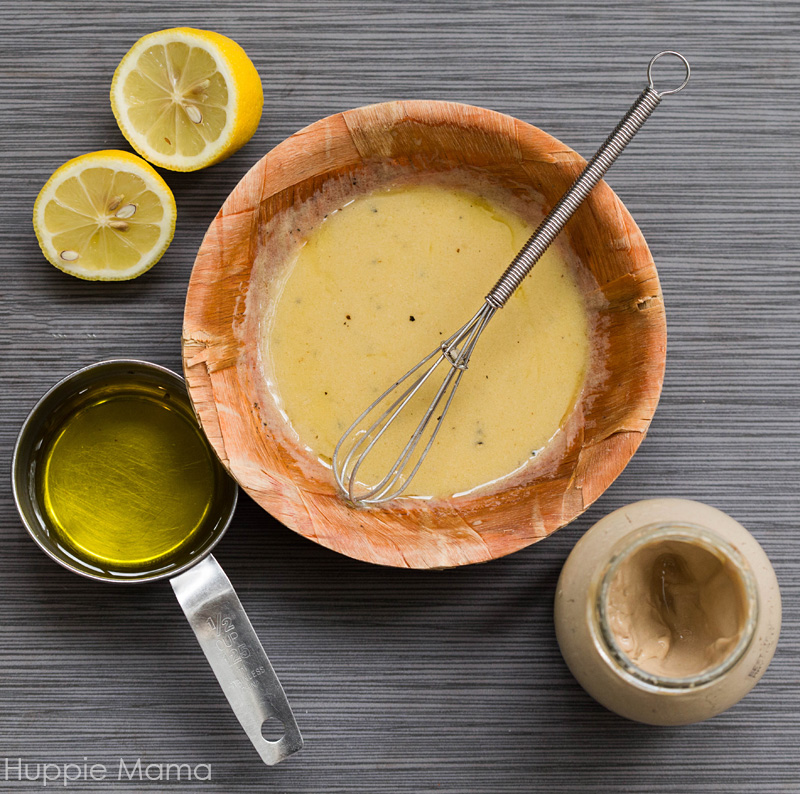 To finish this salad, crumble your blue cheese and add it to the tomatoes and corn. Then toss the salad with the dressing. I like a little bite from green onions, so I chopped those finely and sprinkled over the top.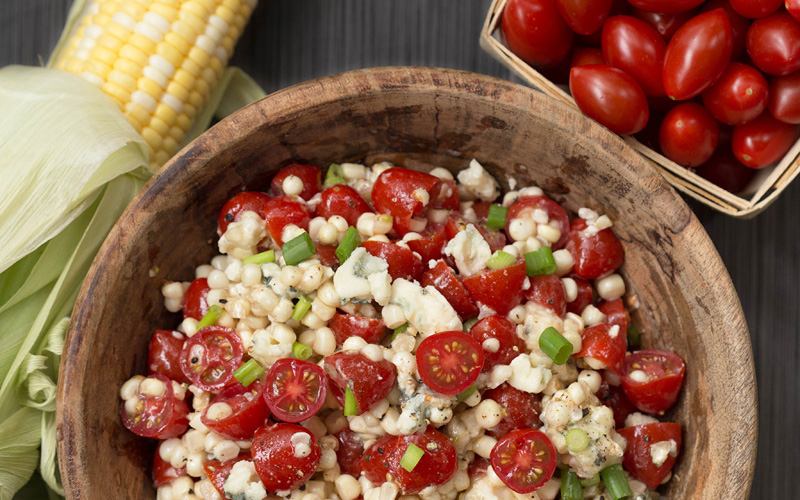 This delicious salad pairs very well with a grilled steak. To prepare my steak, I patted it dry, coated both sides in salt, pepper, and garlic powder, and grilled it for just a few minutes on each side. I prefer my steak medium-rare, but cook it to your liking. Serve with iced tea, and you're ready for a Memorial Day barbecue!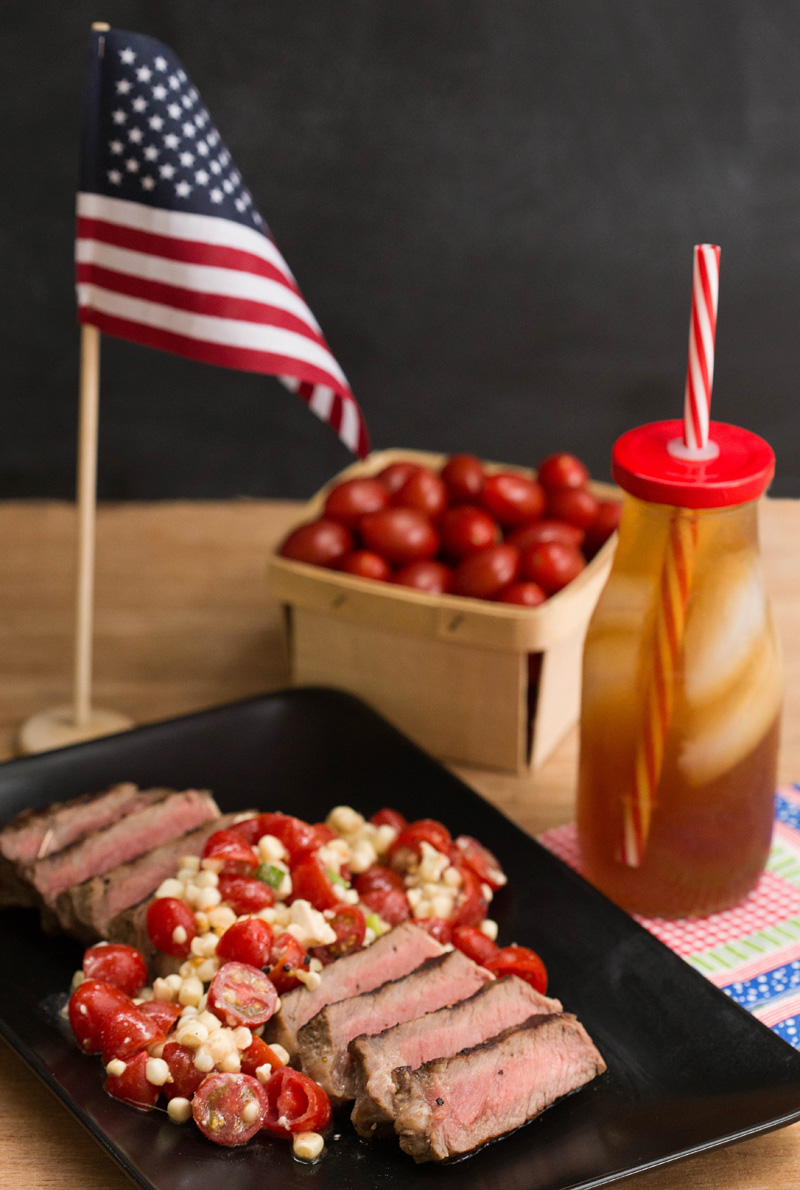 I visited Sam's Club the other day to purchase my grape tomatoes. Sam's Club is a great place to purchase produce – Check out how many types of tomatoes were available! Additionally, you can find all of your Memorial Day essentials in bulk.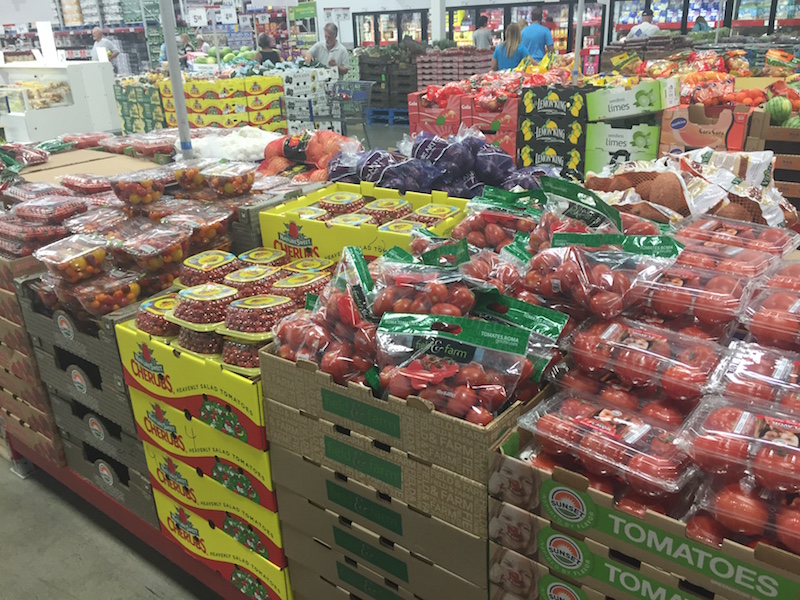 On my trip to Sam's Club, I also learned about their free monthly health screenings. This screening checked my cholesterol, blood pressure, body fat, and glucose. I learned that my cholesterol and blood pressure are within normal ranges. The glucose was inaccurate because I had not fasted for the screening, so if you want your glucose tested, fast for 9 hours beforehand.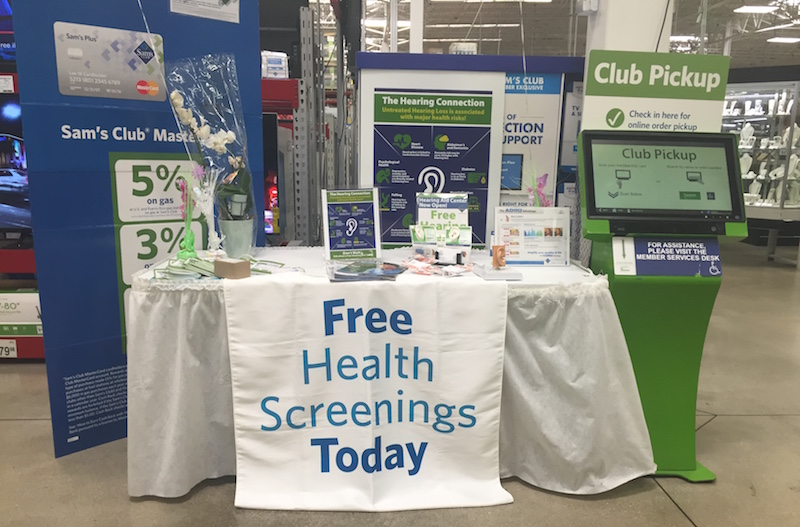 I was happy to learn that I met my goal for the month of May: my body fat is down to 27%. (It was 32% in March – I've been working hard to lower it!) This was a brief but thorough exam that gave me a great overview of my current well-being. Sam's Club offers everything you and your family need to stay healthy: free health screenings, optical exams, and hearing exams. Sam's Clubs offers its members free health screenings on the second Saturday of every month. The next free health screening will take place on June 11th, 2016. Check to see if your local Sam's Club offers this service.
Head to Sam's Club where you can purchase all your Memorial Day party essentials. How do you celebrate Memorial Day?