I am blessed to be surrounded by so many special families, filled with so much love. They are an inspiration to me year-round, so to honor these families during the holidays, I asked some of the strong mothers I know to write their amazing stories, including daily challenges and triumphs. The 'real modern family' has evolved beyond the mom/dad, boy/girl, white picket fence stereotypical image of the 1950s… to include more family members, more support, more love, and new dynamics. Below are photographs and stories of six real modern families. A special Thank You to each of you for helping write such a beautiful and powerful blog post!
If you are going through a family situation like a divorce or need help with child custody, but you do not how to make things work right, professional divorce attorney and family lawyer services like the ones from the best family lawyers Melbourne law firm can guide you and provide you with the best legal advice. If your issue is about common law marriage or informal marriage, you may look for professionals at common law marriage in Texas.
Please take a moment to read about each family and comment by sharing your story. What makes your family unique?
Shelly's Family
It's atypical for me to think of my family as unique because I see us as any other family… a husband, a wife, and a child. However, to anyone who has never met us before, we are surely not the average family one thinks of when described in terms of the American norm. Why?
Ben is profoundly hearing impaired and legally deaf. He is an amazing graphic/web designer with a laid back outlook and a wicked sense of humor. I'm nearly a full foot shorter than he is, not nearly as calm-natured, and a Speech-Language Pathologist. I've always said Ben shot himself in the foot
when he proposed to me since my job is to help people communicate effectively and he, by nature of being so profoundly hearing impaired, could always use a little articulation adjustment.
Beyond the physical, there's the fact that we are polar opposites in personality. He is more introverted whereas I am completely extroverted. I hold nothing back though he is quite private. He loves TV and movies, but I prefer to get lost in a good book. Yet, we both have a passion for dogs, especially rescues.
What truly makes us stand out amongst other couples is our struggle with infertility and how we became parents. After five and half years of trying to conceive, 2 IUI and 4 IVF treatments, we finally decided enough was enough. We had taken MAPP classes to foster or adopt a child, and accepted our fate. Little did we know that after begging G-d to grant us a family at Rosh Hashannah would our wish be granted within 48 hours. The holiday concluded Friday night, and by the following Sunday, we were presented with information about a birth mother match. Ten days later, our son was born with his black curly hair and his cinnamon kissed complexion. 28 hours post delivery, he was ours forever, the miracle we have been waiting for, the light of our life, the cherry on top, and the best part of our unique family!
Veezie's Family
My family in a nutshell: A biker, a punk rock girl, and a bored business man walk into a bar and become friends. Seven years later, they have 4 sons together. Joe and I were friends while I was a single mom with a little baby boy. I met Christian, and the 3 of us all were friends together. Christian and I got together, started having babies together, my baby son became his son, too. Then we broke up pretty amicably, and by chance, I started dating Joe. We have a baby together, too. All of my kids have 2 dads because the 3 of us spend a lot of time together. For Father's Day, both dads got a shirt that said "World's Best Dad" with all 4 children's handprints.
We all live natural, green lifestyles and advocate for home births, breastfeeding, no vax, intactivism, unschooling, and atheism. We all love each other, just not all romantically. Chris is the relaxed parent. He believes total freedom is key in raising healthy, mature, independent kids. He likes them to have self-propelled activities. He does BMX with them and he's a sucker for snuggling. Joe is the "strict" parent, only because he feels giving them each age-appropriate household responsibilities and scheduled routines makes them appreciate the value of hard work for the betterment of our family and community. He does magic with them and watches a lot of horror movies with them (especially the effects and behind the scenes, which has netted him having to make movies with them.) I am somewhere in between.
We all agree on not making taboos of anything, not censoring them nor the world for them. And so far, we are getting amazing kids out of it. Julien is a natural leader and helper, reading to his brothers, helping them tie shoes, ride bikes, get snacks. He is a genius but he's also popular and athletic. He's ginger spice meets sporty spice. Lennon is our sensitive nurturer. Even though he is the "biggest" in stature and muscles, he is the gentlest, sweetest, most snuggliest. He's also the "diva", always a sharp dresser, super primpanzee. He is an artist. He's posh spice. Triton Frankenstein is our aloof little chillaxer. He is more satisfied with reading, drawing, and playing quiet games. But also he's the mouthiest – A big huge healthy dose of sarcasm and humor in every sentence. He's my scary spice because he's quiet and sincere then says crazy hilarious things. Jacoby, my baby spice. All 18 months of him is just pure stubborn madness. He's active and crazy, snuggly and sweet, quiet and relaxed depending on his mood as long as its his way. He hates being dirty but loves running with the tribe. We don't all live together. But, as I was told by Chris & Joe recently, if anything ever happens to me, they would totally live together. It's a relationship and family dynamic that just works! And we all think its really weird that we are the weirdos. Shouldn't all broken/blended families still be together?
To learn more about Veezie's family, like Parenting on the Fringe: Insight from an Outcast on Facebook.
Becky's Family
My name is Becky and I'm 35ish years young. My life partner's name is Samantha and she is 24 years old. We live pretty normal lives outside of the fact that we are gay, live in the south, and raise children together. Needless to say, we're not widely accepted by our neighbors, but we don't really care. We're happy as a family unit.
Samantha is an amazing, nurturing individual who took on my two daughters as her own. Lovingly referred to as Aunt Sam, she has been through all the triumphs and troubles of raising two divas and has managed to survive even though we got together when she was only 21 years old. Our family dynamics are definitely not what most would consider normal but it works for us.
I spend most of my time taking care of household duties, writing (or obsessing) online, and being a maid, chauffeur, event planner, and life coach to my two beautiful daughters Bianca (6) and Megan (5). Samantha spends most of her time working outside of the home and going to college full-time to better our lives as a whole.
Our family is quite a mix. As an adoptee myself, I was fortunate to adopt my oldest child Bianca at birth. While my youngest, Megan, was an unplanned but very welcome addition to the family after my struggles with infertility for over 10 years. Both children are from a previous marriage to a man I married at a very young and impressionable age. That marriage ended abruptly when we came to a less-than-mutual agreement that things were not working out the way they were. His actions, reactions, and choices probably helped me realize I was indeed gay. The 'sperm donor to our children' has had no contact with his daughters, not from lack of trying on our part – from lack of caring on his.
That's us. We're great people if I do say so myself. Our family supports love, equality, and each other, we are a modern family by every definition.
Krystal's family
Krystal's a 30 year-old mom of 6 gorgeous children…2 girls (ages 12 & 5) with attitude and personality to rival that of any reality show and 4 boys (ages 10, 9, 8, & 6) who can do no wrong, even when they are tearing the house apart. Add in one tall giant of a boyfriend covered in tattoos and you have one modern family! All 4 boys have autism, each on a different part of the spectrum, and the girls add in that all too typical but not so typical ingredient to the mix to provide balance. Krystal is an office manager by day, but in her heart an avid autism advocate, researcher, preacher, blogger, guru, and nutcase. The tall giant is a manager in the restaurant industry who makes sure that Krystal never burns a pot of boiling water ever again while driving her insane with drums that take over the living room.
What makes this family so special you ask? Krystal made the hardest decision over 3 years ago when her marriage came to an end to let the children live with their father because it was what was best for them due to the many successes they were having in their therapies and life. She did not want to disrupt all of that – divorce was going to be hard enough. Now the family spends their time together on the weekends at Krystal's house in the Florida Keys where the kids can just be kids and enjoy some family time. During the week they go to school, therapy, and spend time at home with their father, step-mother, and step-sister, all thanks to the child custody agreement. There is never a dull day in any house when the kids are around. Between dance parties on top of mom's bed to those moments where autism meltdowns and perseverations take over – this family pulls through together and finds their center every time. This family dynamic is different but with smiles and tantrums, milestones and time-outs and 3 1/2 hour-long drive each way (with many pit stops) they make it work. There is no rhyme or reason – just love and dedication.
Want to know more? Check out Krystal's blog Life-Where's the Handbook?
Dina's Family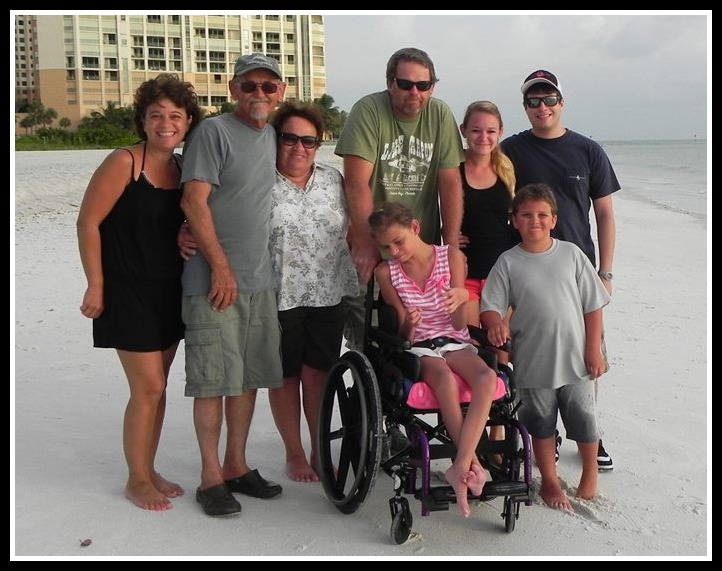 I am the proud mother of 3 uniquely different but equally amazing children! My oldest daughter, Jessica, is 21. I was a single mother when I had her. She was and still is my overachiever! She is nearing graduation from college. She makes me proud daily!
My middle daughter, Melissa, is 13. She was born with a rare genetic disorder. She is unable to walk or talk. She has a smile that can light the sky! She is one of the happiest children I have ever seen.
My youngest is Jake; he is 8 years old. He was diagnosed with ADHD this year. He has the energy of 4 and the most creative mind! Having 3 children has been a blessing…having 2 of those children diagnosed with disabilities has been difficult. But, like any challenge in life…it is only as difficult as you make it. As a family, we are always finding ways to make the best of our situation. We can laugh at most things and realize this will make a good story one day! Our challenges have made us stronger and I have learned that most small things just are not worth the worry! I love my unique family and believe I am a better person because of it.
*I have to add my own comment to Dina's story — she has the most wonderful parents who support all fundraising efforts to help her daughter Melissa. Her mother participates in craft shows throughout the year and attends all school-based fundraisers. They really are such a strong, supportive family!
Charisma's Family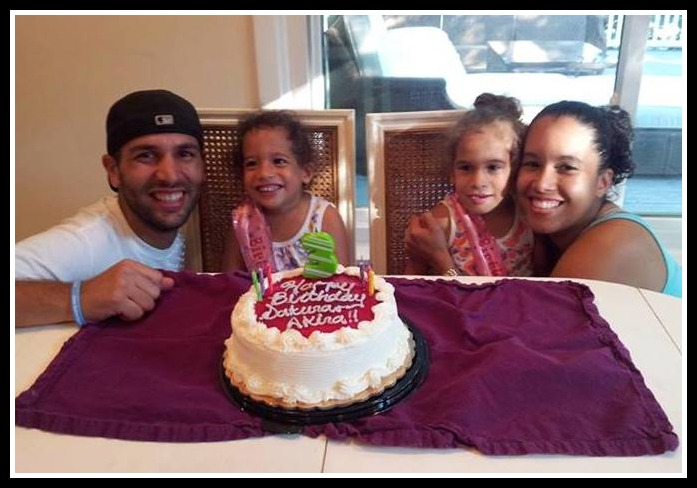 Hi, we're the Hernandez Family – Juan, Charisma, and our twin daughters Sakura and Akira. As with all families, our family is special, without a doubt, and I have stories for days! Our family started out quickly and chaotically. Juan and I got married December 21st 2009, (our 4 year anniversary is coming up!) and I was pregnant in January 2010. We found out we were having twins on February 1st. I'll never forget it because it was Juan's birthday. We were thrilled, but had no idea what craziness was ahead of us.
In my 27th week of pregnancy, I developed pre-eclampsia and was only able to hold the girls another week. They were born 12 weeks early on July 16th. My due date was October 8th. Sakura and Akira weighed a whopping 1 lb 11oz each. I couldn't believe how tiny they were. Akira, for the most part, was just small; on the ventilator for only 3 days and was discharged after 2 1/2 months. Sakura was a different story; she struggled from the beginning. She was on a ventilator for a long time, had surgery at 3 weeks old to close a heart valve, and was finally discharged from the hospital at 3 months 3 weeks on continuous oxygen. It was a nightmare! To be honest, the first three years were all about survival and were just a blur. But, by the grace of God, we rose above it all.
Sakura was diagnosed with Cerebral Palsy when she was 2 and our world was turned upside-down…again. She has worked hard and has only made progress. In the last year, she has learned how to walk, jump, and climb stairs. She's our Superstar! And Akira has been amazing at encouraging and being a great role model for Sakura. Sakura and Akira have been such a blessing to our family. They are living miracles! We seriously could not have been given a better set of kids! My family is special in many ways and I wouldn't have it any other way!
Please share and prayerfully consider supporting Sakura through the next season in her life. She has been accepted for a surgery called Selective Dorsal Rihzotomy specifically for children with Cerebral Palsy. It will decrease the spasticity in her legs and allow her to move more freely. The doctor performing the surgery is at St. Louis Children's Hospital and has told us that there will be few things Sakura won't be able to do after surgery. In other words, she will be able to run and ride a bike with her sister. For her story and details, please visit Sakura's Fundraising Page.
*A special thank you to Becky's daughter Bianca for providing me with the beautiful cover photo for this post.