This Pumpkin Halloween Party includes recipes, decor, and craft ideas!
Pumpkin decorating is quite possibly my favorite fall activity! Each part of it is so much fun – picking the perfect pumpkin (or pumpkins, in my case), selecting a decoration method, possibly cutting it open and removing all the seeds and goo, figuring out exactly how you want it to look, and actually executing the ideas creatively. I planned this party around embracing everything about pumpkins, including recipes, decor, and fun craft projects. If your kids want to help in the decoration process, you can buy them kits, such as a Pumpkin carving kit for kids, so they can enjoy and you are given a wonderful chance to bond with your kids.
Check out all my Pumpkin Halloween Party ideas below!

First, the pumpkins we decorated! Notice none of these pumpkins are carved. I wanted to plan ideas that my mother could do with my children. Here are the four different pumpkins we created. I will show you how to make each one and share more ideas for snacks and decor.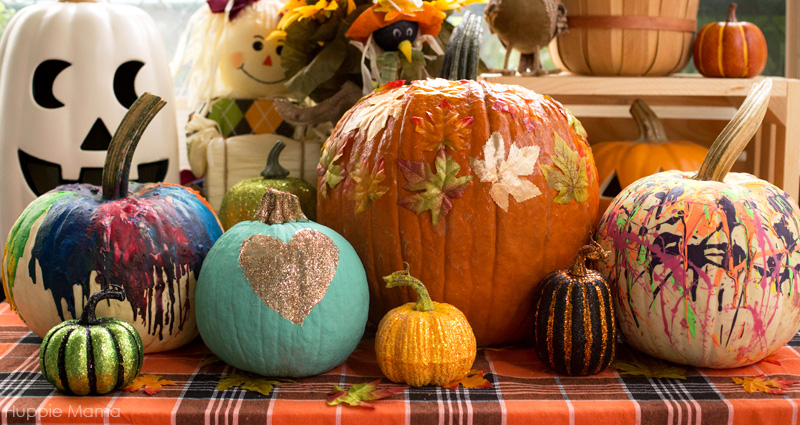 I'm going to take you through each step of the planning, starting with this beautiful party decor. Can you tell I love pumpkins, both real and artificial? Fall decor is my favorite. The banner is made of burlap, and definitely compliments the colors of the entire party spread. Glittery pumpkins, plain white pumpkins, big faux pumpkins, and more! Two little friends – the crow in the flower pot and well-dressed bird sitting on top of the wooden boxes – complete that portion of the tablescape.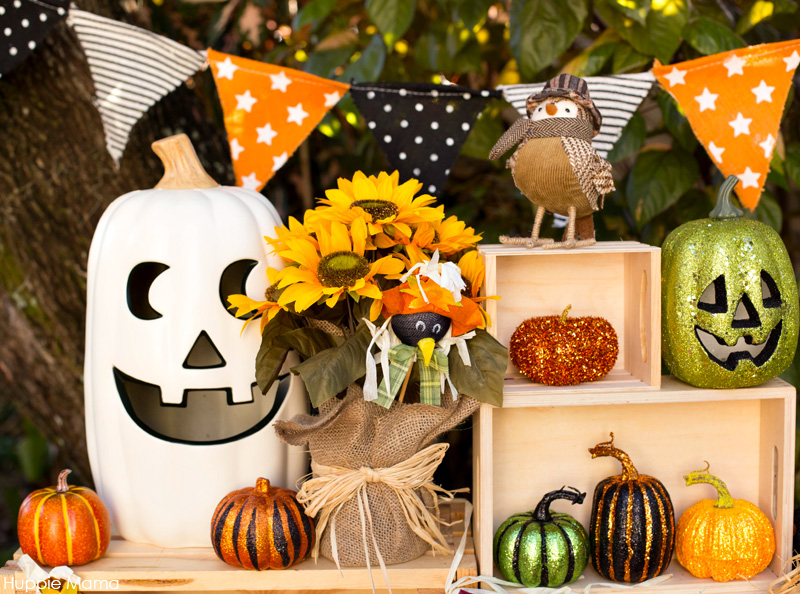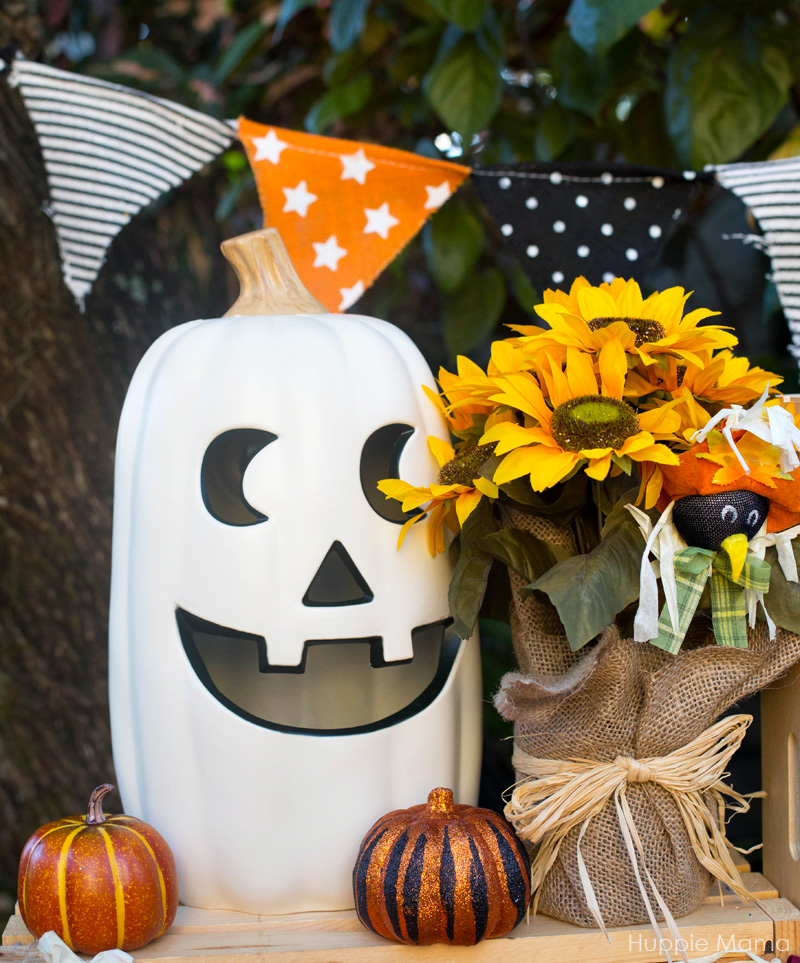 For the food, I decided to keep things simple and focus on pumpkin flavors. For a cute serving idea, I cut a pumpkin in half, emptied it out, and inserted a small glass bowl. I filled the bowl with a pumpkin spice dip I purchased at the grocery store. I served the dip with pita chips.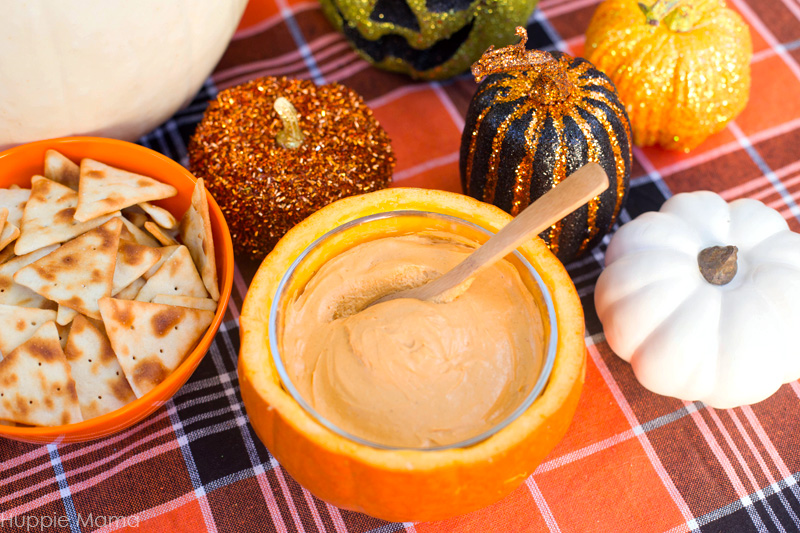 I also prepared what I'm calling Pumpkin Cakies. Cakies? What?! Well, they are fluffier and bigger than cookies, but they are in individual servings, so they look like cookies. So, I decided to call them cakies! Check out the recipe below.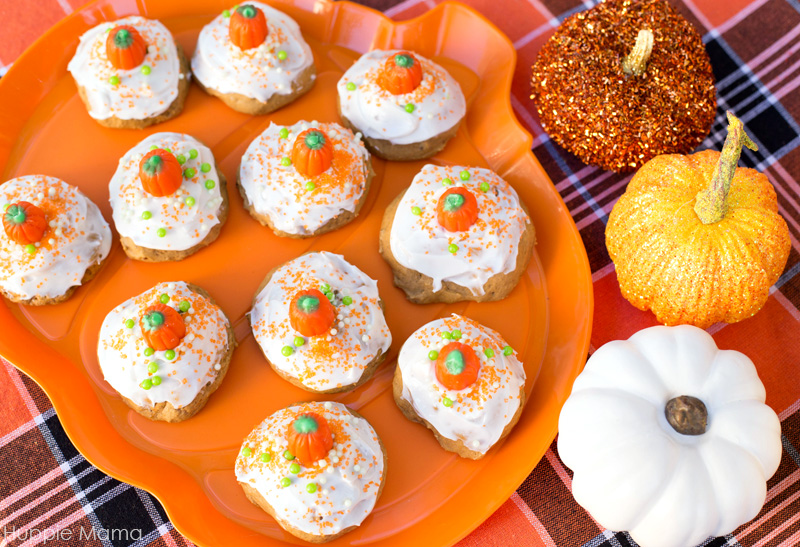 Ingredients
For the cakies:
1 cup canned pumpkin puree
6 T butter, softened
1 cup of light brown sugar
2 large eggs
1 3/4 cup flour
1 t baking powder
1 t baking soda
2 t cinnamon
1/4 t ground cloves
1/2 cup chopped pecans (optional)
For the frosting:
4 ounces cream cheese
1 cup powdered sugar
1/2 t vanilla extract
Directions
Preheat oven to 350 degrees. Line two cookies sheets with parchment paper or a silicone mat.
To make the cookies: Beat softened butter and brown sugar in a stand mixer about 3 – 5 minutes until light and fluffy. Add the two eggs and vanilla extract. In a separate bowl, sift together the dry ingredients – flour, baking powder, baking soda, cinnamon, and cloves. Slowly add the dry ingredients to the wet ingredients until just combined. Stir in the chopped pecans (optional). Bake 13 – 14 minutes until cakies have risen and cooked through.
To make the frosting: While the cakies are baking, prepared the frosting by beating the cream cheese, powdered sugar, and vanilla extract about 5 minutes until light and fluffy.
When the cakies are cooked through, remove from the oven and transfer to a cooling rack. When the cakies have cooled completely, top with the cream cheese frosting. Add sprinkles and other decorations as desired.
Makes 18 cakies.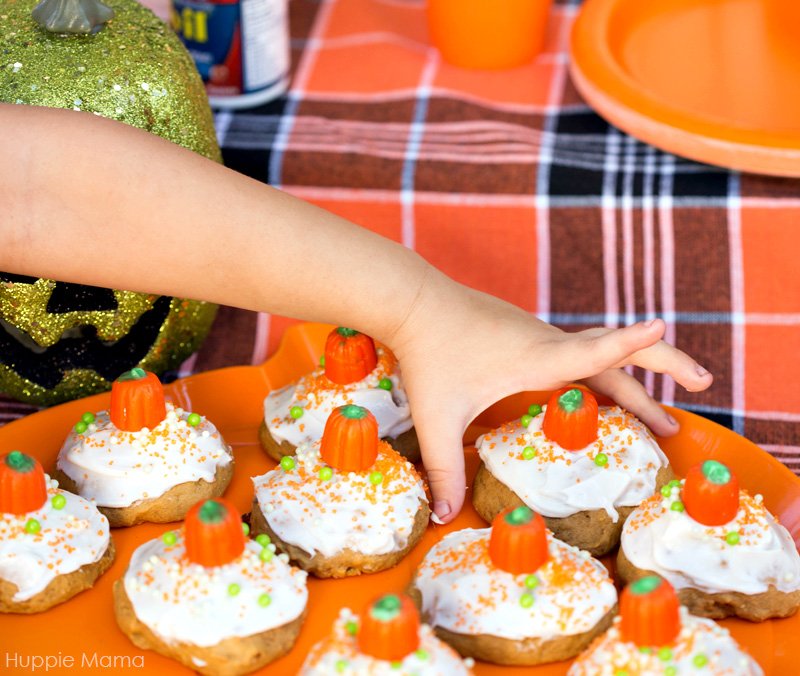 After eating our tasty bites, it was time to set up for the pumpkin decorating station. The first pumpkin we decorated was a splatter paint pumpkin. I filled small plastic jack o'lanterns with different colors of paint and paintbrushes. I covered the long stem with painter's tape, then we each took turns splattering paint onto the pumpkin.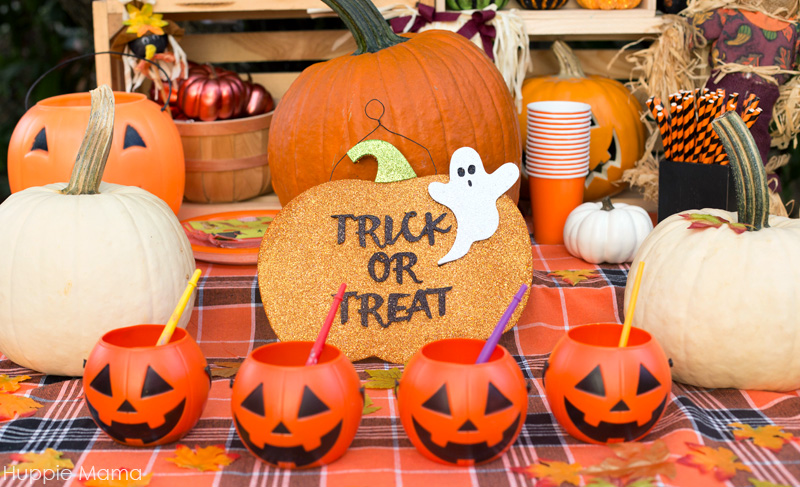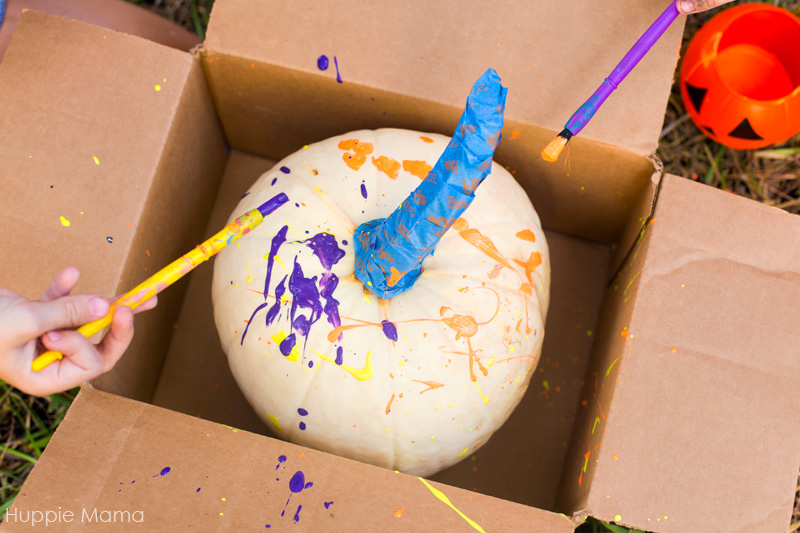 Next up, the decoupage pumpkin. We coated the pumpkin in decoupage adhesive using sponge brushes and added faux leaves. We topped the pumpkin with more decoupage. We only placed the leaves toward the top of the pumpkin because we wanted it to look as if they just fell from above and landed there.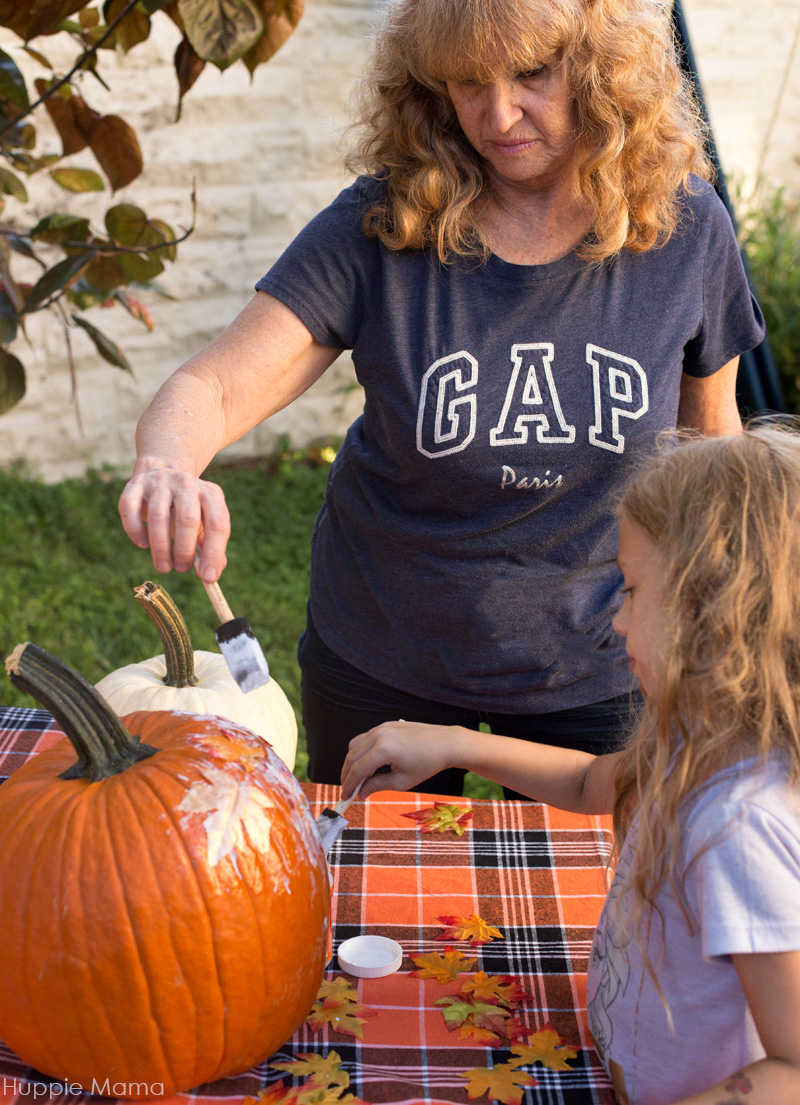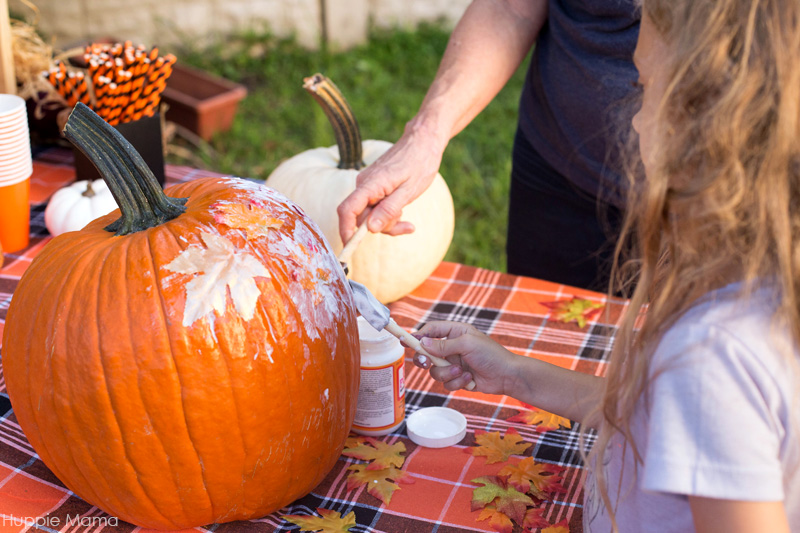 We also made a melted crayon pumpkin. Cover the ground with a large tarp. Remove the paper from about a dozen crayons (I used those cheap crayons that are given out in restaurants or at parties). Break the crayons in half and glue them around the top of the pumpkin. Using a hair dryer on high-temp, low-speed settings, melt the crayons until the drip down the sides of the pumpkin.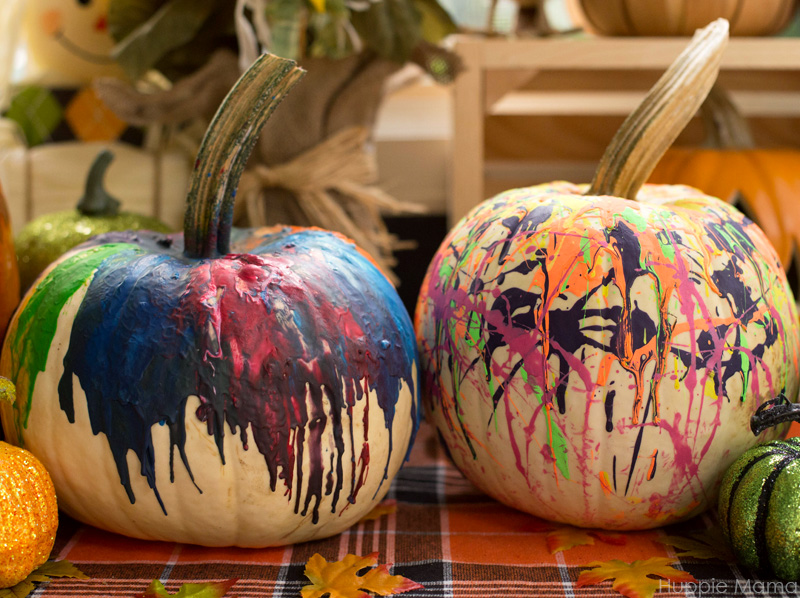 Our final pumpkin was a paint and glitter pumpkin. Paint the pumpkin your favorite color. I used two coats of the light blue. After the paint dries, reate a stencil in your desired shape, brush glue within the stencil, and sprinkle with glitter. Bonus: glitter the pumpkin's stem, too!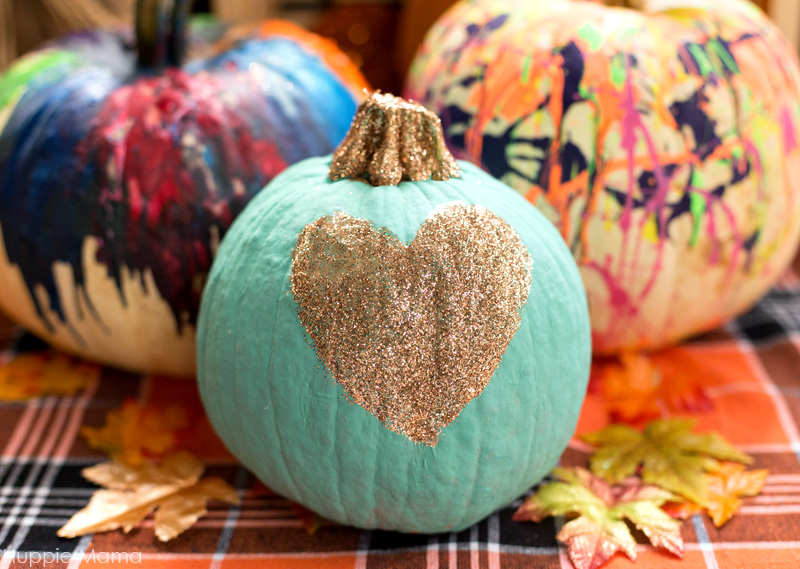 Aren't they beautiful? I love my fabulous pumpkin collection!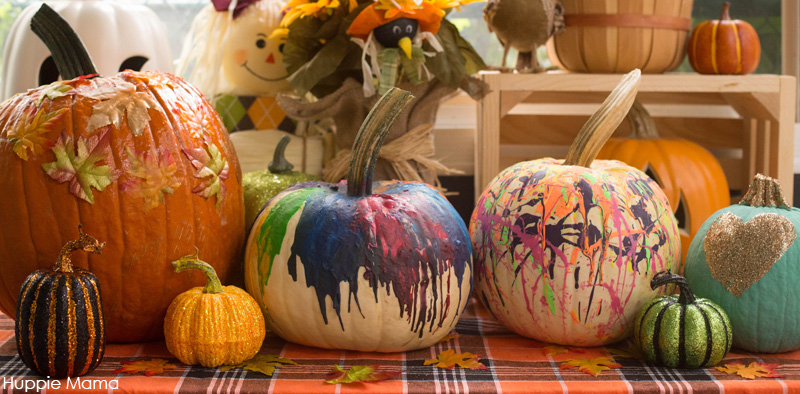 What ideas do you have for a Pumpkin Halloween Party?
Pin these Pumpkin Halloween Party ideas below!