This shop has been compensated by Collective Bias, Inc. and its advertiser. All opinions are mine alone. #SpreadTheMagic #CollectiveBias
I have a problem I must confess to – between Halloween and New Year's Day, all I want to do is eat scrumptious treats. Savory foods, sweet desserts, my appetite is pretty insatiable! And while a store-bought dessert is tasty, nothing compares to from-scratch baking. I love desserts that combine several of my favorites into one dish, so I don't have to choose just one item. These Peanut Butter S'mores Brownies are the perfect combo dessert. This recipe combines everything you love about a peanut butter cup and s'mores, two deliciously decadent desserts. They are very fudgy, not at all cake-like. Just make sure you have friends and/or family to share with or you will end up eating them all yourself (this is incredibly difficult when working from home while the rest of the family is at school). Here's the recipe!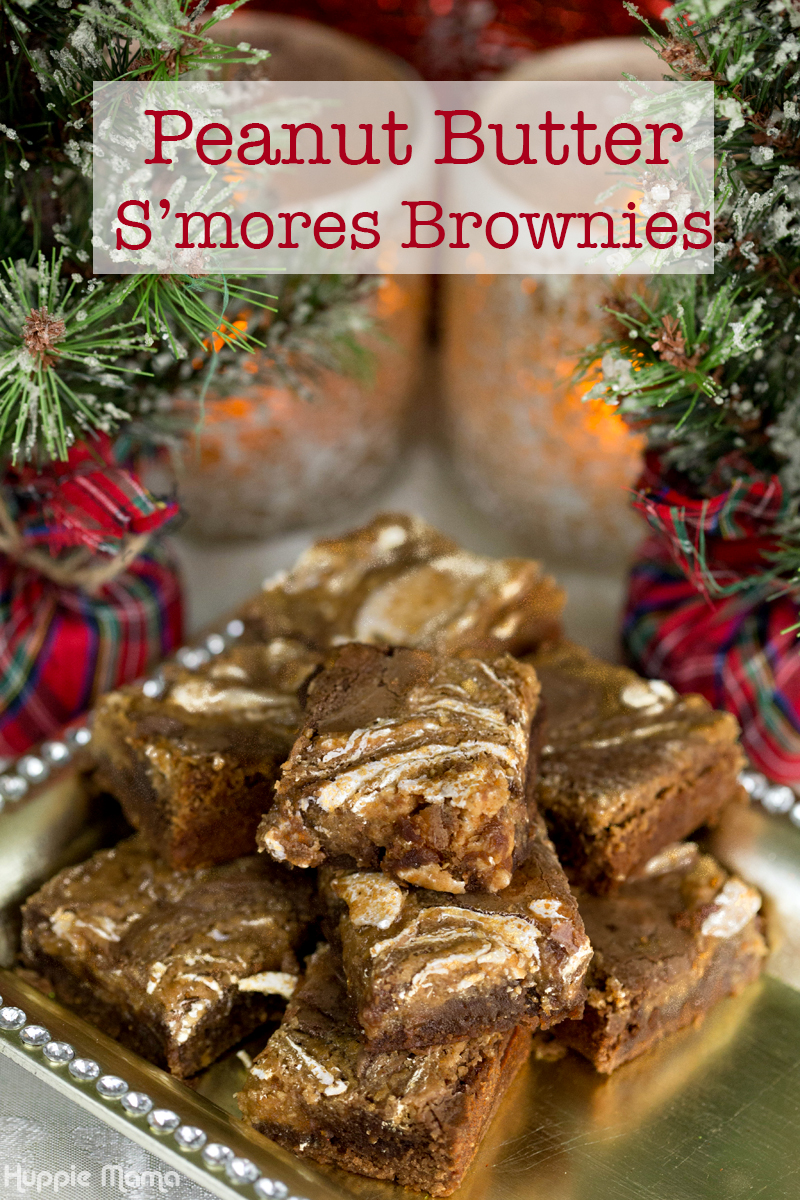 Ingredients
Chocolate portion:
4 ounces milk chocolate
2/3 cup sugar
6 T butter
2 eggs
1/2 cup flour
Peanut butter portion:
1/2 cup Peter Pan Simply Ground Peanut Butter
2 T butter
1/3 cup sugar
Toppings:
1/3 cup marshmallow fluff
2 T graham cracker crumbs
Directions:
Begin by gathering your ingredients. Let me start by telling you about this Peter Pan Simply Ground Peanut Butter. Usually I introduce my readers to new products toward the end, but this time, I must tell you about this right now. It is free of artificial flavors, colors, and preservatives and offers the perfect texture for this delicious dessert.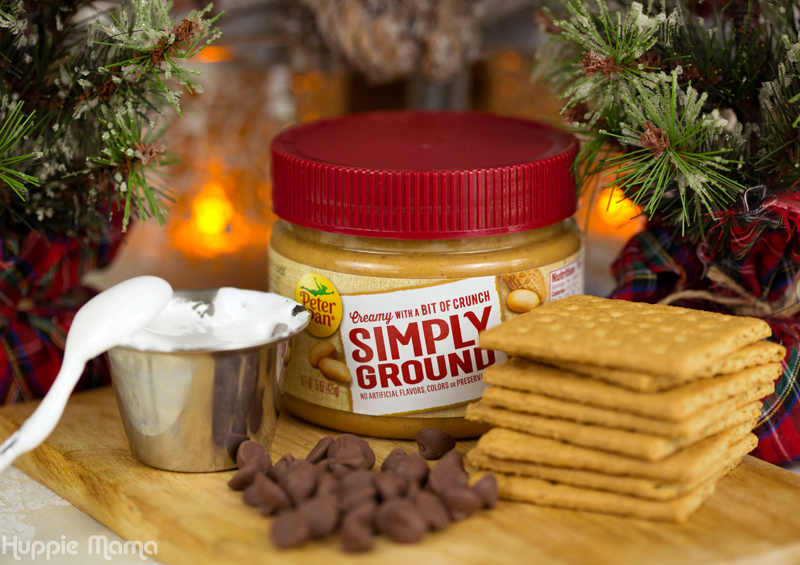 Preheat oven to 350 degrees. For this recipe, you will create two separate batters and combine them to get the perfect bite. To make the brownie batter, combine 6 tablespoons of butter and 4 ounces of milk chocolate in a small saucepan over a low heat until melted together. Whisk in the 2/3 cup of sugar, and allow the mixture to cool. When the mixture is cool, mix in two eggs and 1/2 cup of flour.
For the peanut butter batter, combine 2 tablespoons of butter, 1/2 cup peanut butter, and 1/3 cup sugar in a small saucepan over a low heat until the sugar begins to dissolve. Do you see the texture of this peanut butter? It's a little crunchy and a little creamy, which is a great texture in this brownie!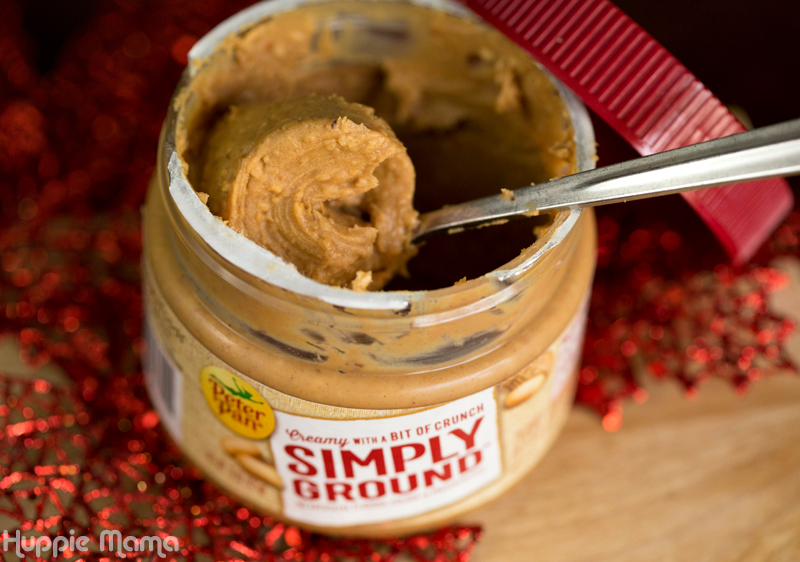 Now that your two batters are prepared, you are ready to go! Line your 8″ x 8″ square pan with parchment paper. Pour the chocolate brownie batter into the pan. Add dollops of the peanut butter batter randomly. Then add dollops of marshmallow fluff and sprinkle with the graham cracker crumbs.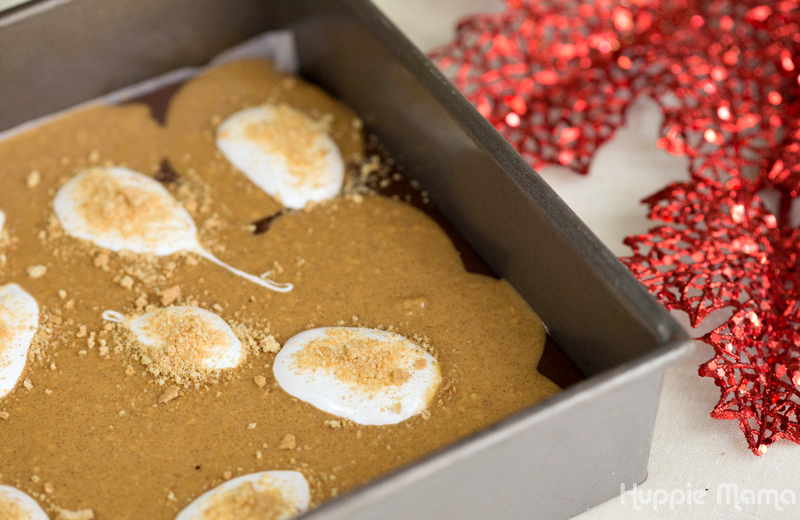 Using a butter knife, swirl all of the different ingredients together to make a beautiful pattern. Each bite should contain a little chocolate, a little peanut butter, a little marshmallow fluff, and a little graham cracker crumb for a great flavor and texture combination.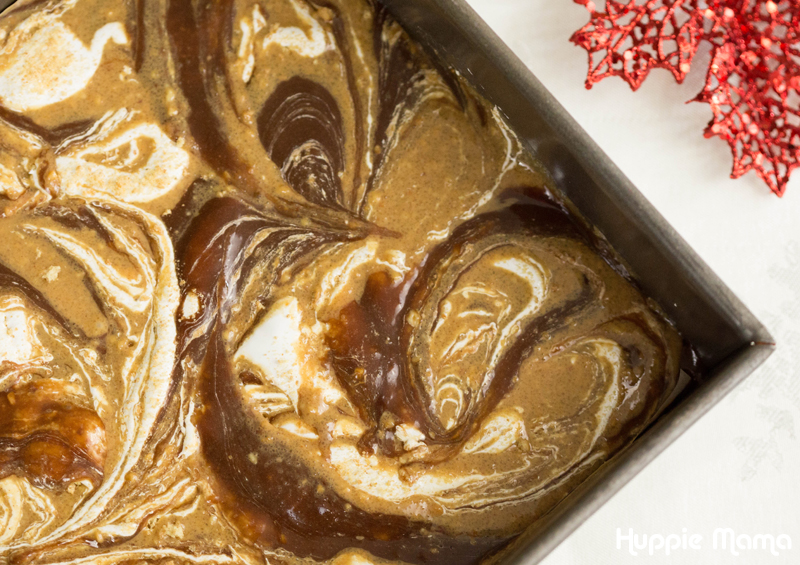 Bake these brownies for 22 to 24 minutes, remove from the oven, and refrigerate at least two hours until they are completely chilled and firm. This recipe makes 16 brownies, perfect for an everyday dessert or great for bringing to a holiday party.
Peter Pan Simply Ground Peanut Butter can be found at Walmart, and you can save with this printable coupon. It is located on the top shelf, a little separate from the other types of Peter Pan Peanut Butter varieties, so look thoroughly to find it. With a wide-mouth jar and no need to stir, this peanut butter is ready for snacking as soon as you open it!
What's your favorite peanut butter dessert?