This #LoveV8Protein shop has been compensated by #CollectiveBias, Inc. and its advertiser. All opinions are mine alone. 
I have a super-exciting anniversary to share with all of you: It's been one years since I began exercising. Whoa! I used to be one of those people who thought eating well was enough. I didn't have to exercise because I was okay with how my body looked and felt. But exercising is critical to decreasing body fat, increasing muscle, building endurance, and for me, feeling good about myself. Combine exercise with good nutrition, and you have a winning combination!
Here's the walk-through of my one year body transformation. I have selected one picture from each month that captures some aspect of my growth toward improving myself physically (and emotionally, too)! Last November, my sister-in-law told me about an outdoor fitness boot camp class she had taken, and it actually sounded fun. I decided to attend the next weekend, and I enjoyed it. Here's a picture after my very first class, when I took a step toward improving myself in so many ways.
After just one class, I was hooked. Every Sunday, I met up with several members of my husband's family and my awesome trainers Amy and Jorge to work out. And each week, the workout was completely different, which I found to be very motivating. I tend to have exercise ADHD, which is probably one of the reasons I was never successful with an exercise routine in the past – boredom.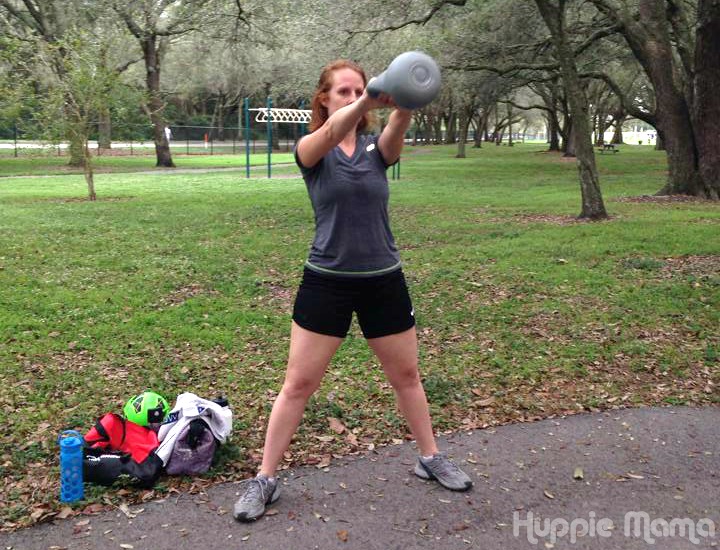 The biggest barrier I had to overcome was just how out-of-shape I was. Because I never worked out before and I am naturally quite uncoordinated, my form was a mess. When I first began, I didn't notice that this was a problem, but looking back, it certainly has improved since then.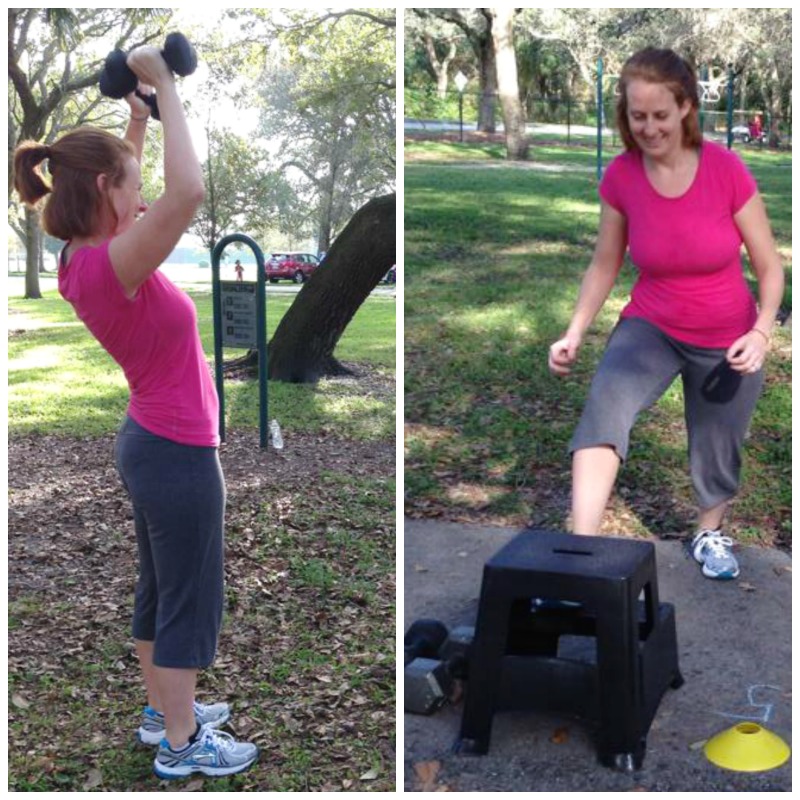 By February, I decided that working out once a week just wasn't enough. In fact, for Valentine's Day, I bought myself and Richard a private training session, and I was hooked. I began working out multiple times a week at this time.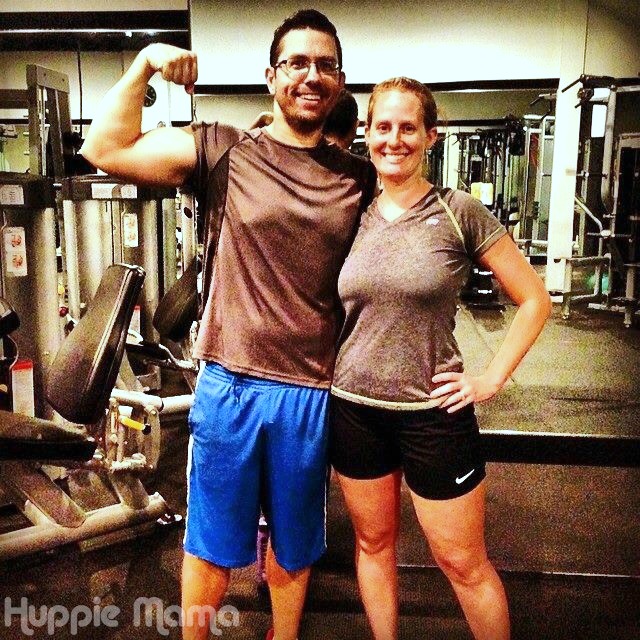 The month of March was somewhat monumental. On St. Patrick's Day, I not only went to my usual boot camp class in the morning; that afternoon I also ran a 4-mile run. That was honestly the longest I had ever run before, and my time was just over 50 minutes. This is when I began to feel transformed.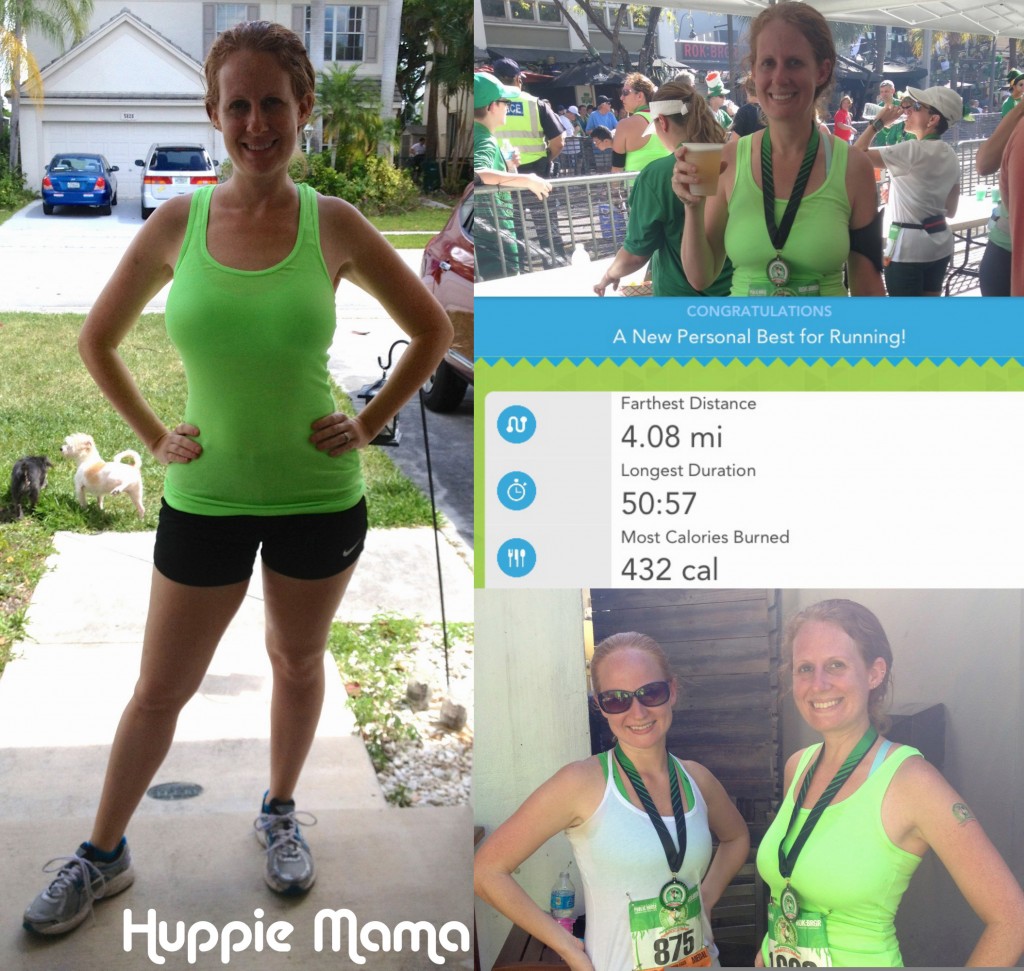 In April, Richard and I attended a super-challenging beach boot camp. Running on the beach is hard enough, but add in lots of stations that required you to race others, move around in the sand, do burpees, etc. was incredibly difficult — but I did it! Here are my trainers Amy and Jorge.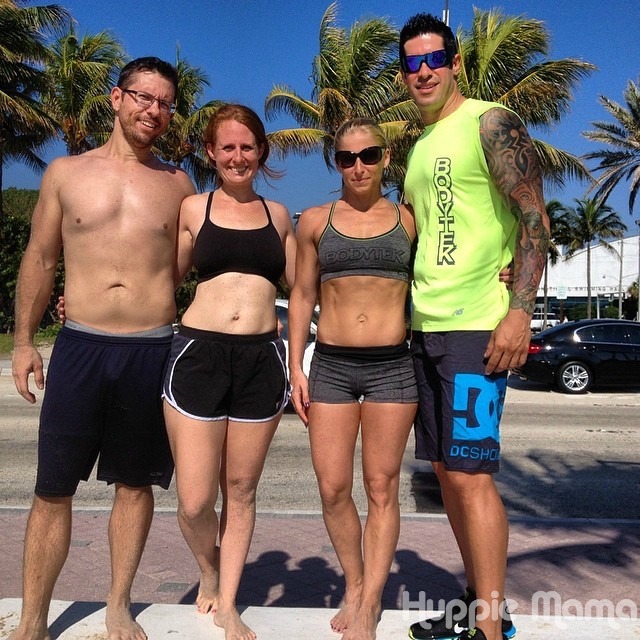 Exercising regularly has helped me to overcome a lot of my fears. One of the most important is that of jumping. For some reason, I have decided that if I jump over something, I will fall on my face. This is more like a sideways skip, but I have learned to jump onto platforms and over hurdles. Nothing too high yet, but you have to start somewhere!
As the summer progressed, exercising outdoors was brutal, but it was a great way to burn calories. I used to say that I never sweat – ha! By this time, I was working out about 3 to 4 times a week. When it is this hot outside (easily 90 degrees), it is so important to stay hydrated. You can drink water while exercising and have a protein shake after.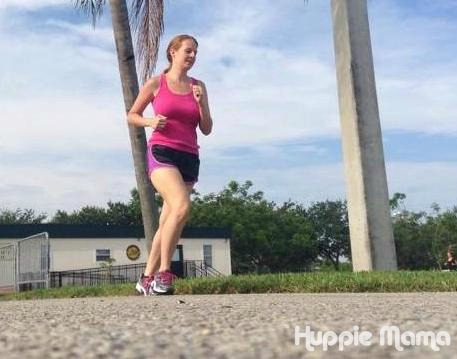 Before I began exercising, my abs were the one area I did try to target at home. I used to have a nice, flat stomach, but two pregnancies later, that changed significantly. Ab exercises have always been some of my favorite because they allow me to focus on the area that concerns me the most.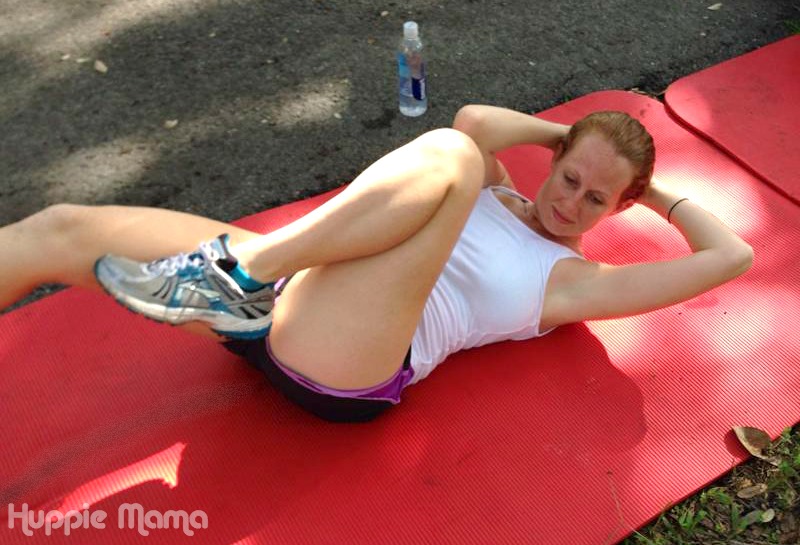 Mid-summer, I started attending a heavy-weight class weekly. Who ever thought I'd enjoy weight-lifting? This is when I really felt like I was getting stronger, and I started to notice a difference in how I looked and what I was able to do. Don't be fooled; this has an additional 25 pounds under each of those 45-pound weights, making it weigh significantly more than what I weigh.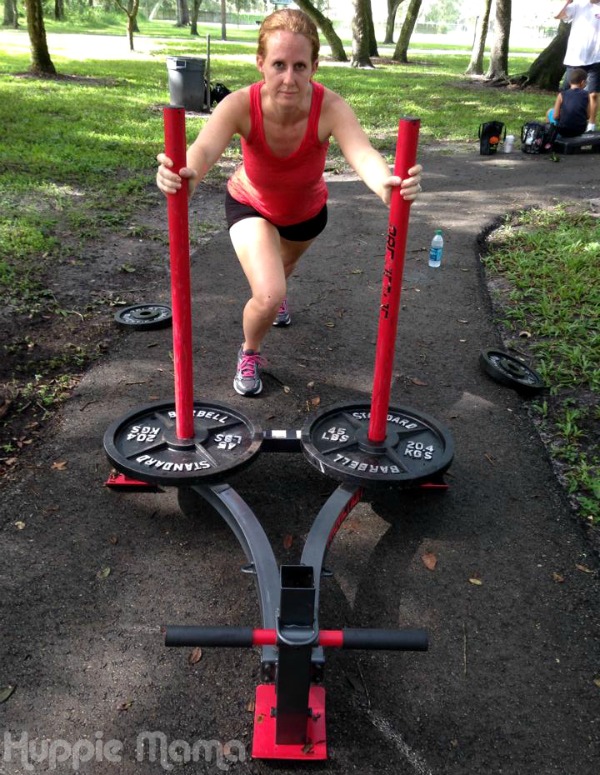 By September, I was ready to show off my arms. I have arm muscles? I always felt like I had the scrawniest, weakest arms. All of a sudden, you can actually see that I have triceps and biceps. I felt and looked even stronger! I'm really making progress.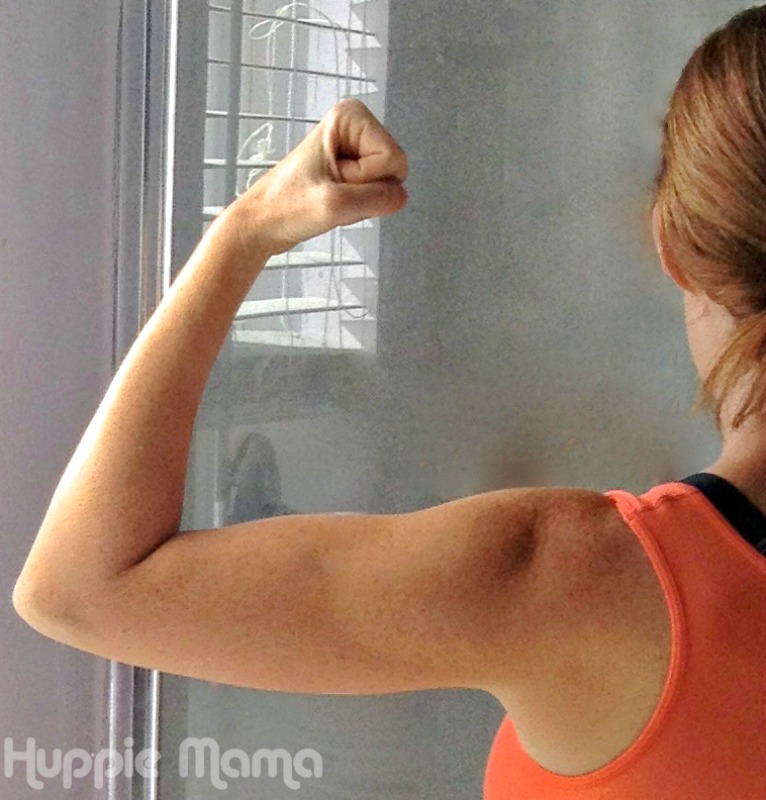 I ran two 5Ks in October. The first was a 5K at Shiftcon, the conference I attended in California. The second was a Bacon 5K, which I ran with Richard and my sister Jamie. This was a tricky run! It was really hot outside and the trail winded up a rocky hill and back down. I maintained an 11-minute mile. Five years ago, I was running a 16-minute mile on flat ground.
In November, my trainers opened a new gym, Challenge Fitness. This is a shot from the first time Richard and I worked out there together, just last weekend. He's the best exercise partner ever! I'm so fortunate to have someone who is on this journey to health and wellness with me.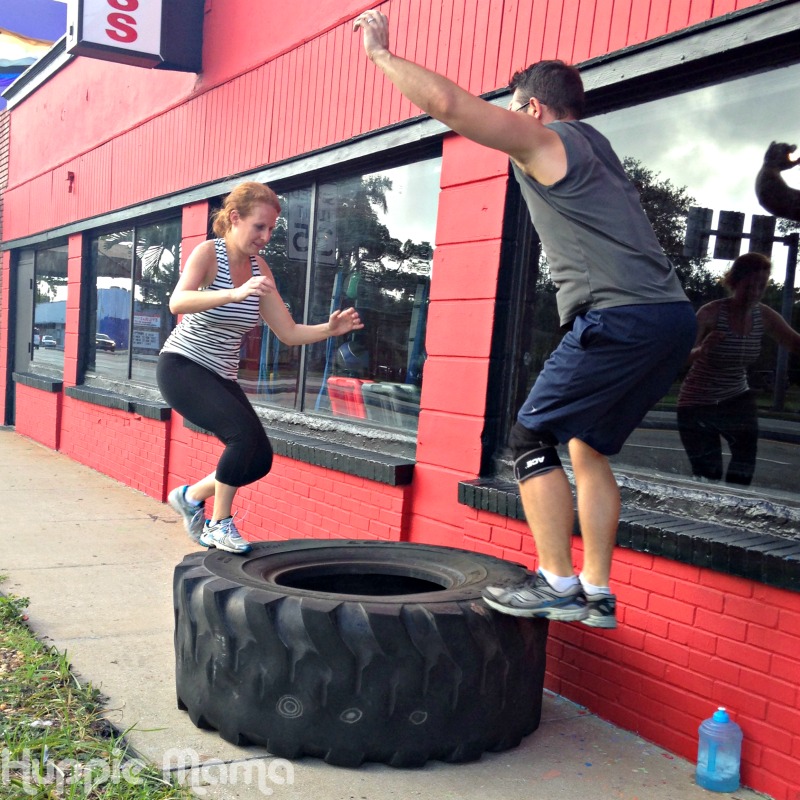 If you're ready to make positive changes in your life, you can. And you're worth it. Healthy living goals should combine proper nutrition and regular exercise. I've always been good at preparing healthy, balanced meals for my family, but I tend to be a grazer. This means I'm snacking a lot throughout the day, so I have to make sure I keep a supply of good snacks in my house. V8 Protein Bars and Shakes are a great option for snacking. Each shake contains healthy ingredients, like sweet potatoes, carrots, and quinoa, 12 grams of protein, and 3 grams of fiber. Each bar contains a quarter of a cup of vegetables and as much fiber as two cups of kale. And unlike many protein bars on the market, the Chocolate Peanut Butter Bars are really tasty!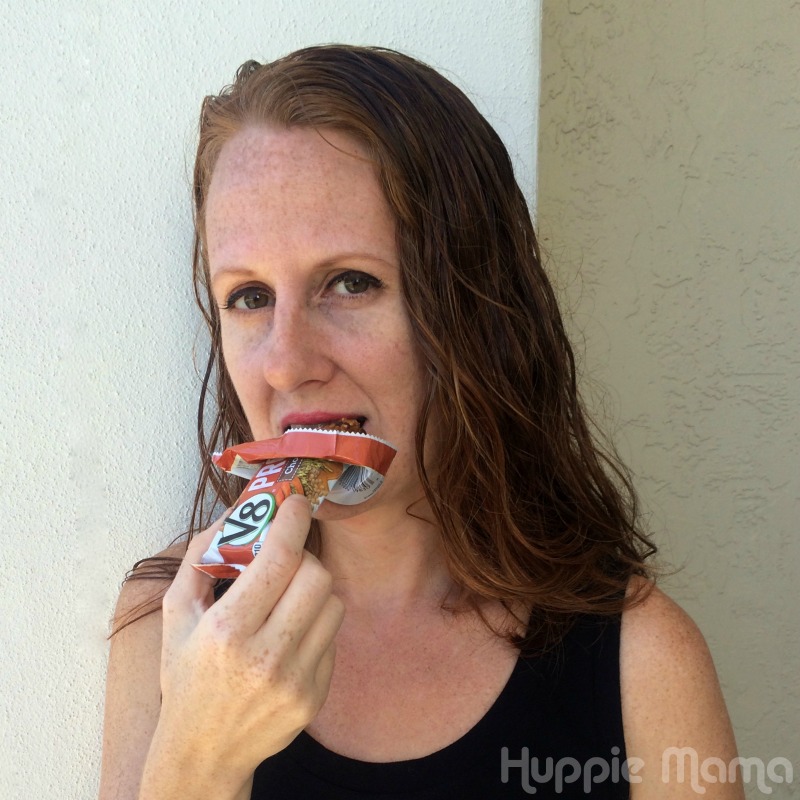 With 6 varieties available between the bars and shakes, there's a flavor for everyone! V8 Protein Bars and Shakes can be found down the Health and Beauty aisle at Walmart.