This #RhoneFever shop has been compensated by #CollectiveBias, Inc. and its advertiser. All opinions are mine alone.
I met my husband in 1998. He was your average college guy: kinda chunky, wore faded old denim shorts, football jerseys, sneakers, and a backwards hat. He thought mainstream, chain diners were *the hangout* place, especially after midnight. He was actually a good friend of my boyfriend's at the time, and a big group of us would hang out together, eat fast food, and act like a bunch of 19-year-olds.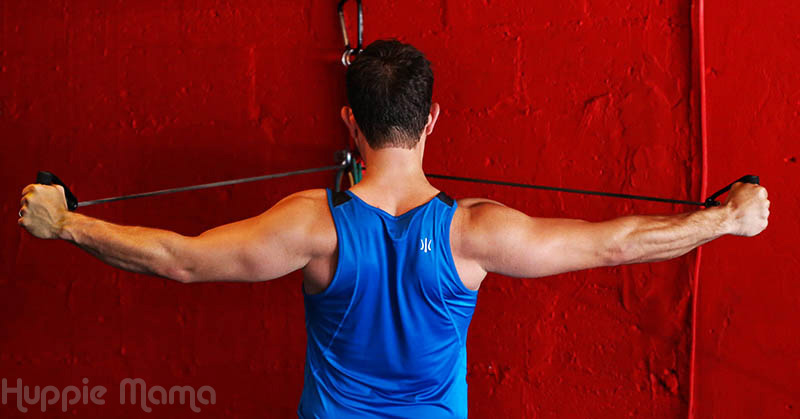 There's one story I love to remind him of, probably more often than I should. So when we first became friends, he had a girlfriend (which was good at the time since we would go on double-dates together). His girlfriend's family came to visit from out-of-town and brought several pies, one of them being a peanut butter pie. Side story: When I graduated high school, I was 5'4″ and weighed maybe 100 pounds. I gained my freshman 10, and then probably another 5 or 10 pounds the next year, so I quickly became aware of the need to eat better to maintain my weight.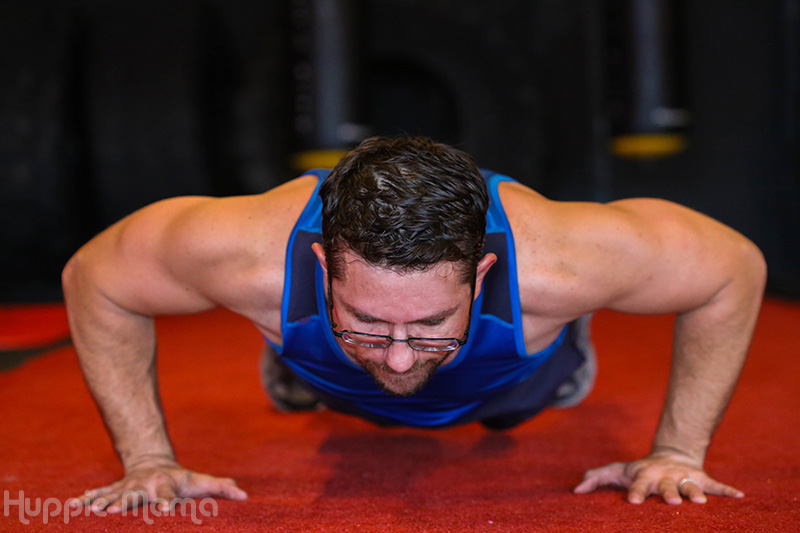 So back to the pies… I was also visiting Richard at the time (I lived about 2 hours away), and he took out these pies and offered me a slice. Since I was more conscientious of my diet, I declined. What did he do? Cut a huge slice, placed it in the palm of his hand, and quite literally shoveled it into his mouth. Now, whenever he's being too indulgent, all I really have to say is "peanut butter pie" and he gets a little better at self-monitoring.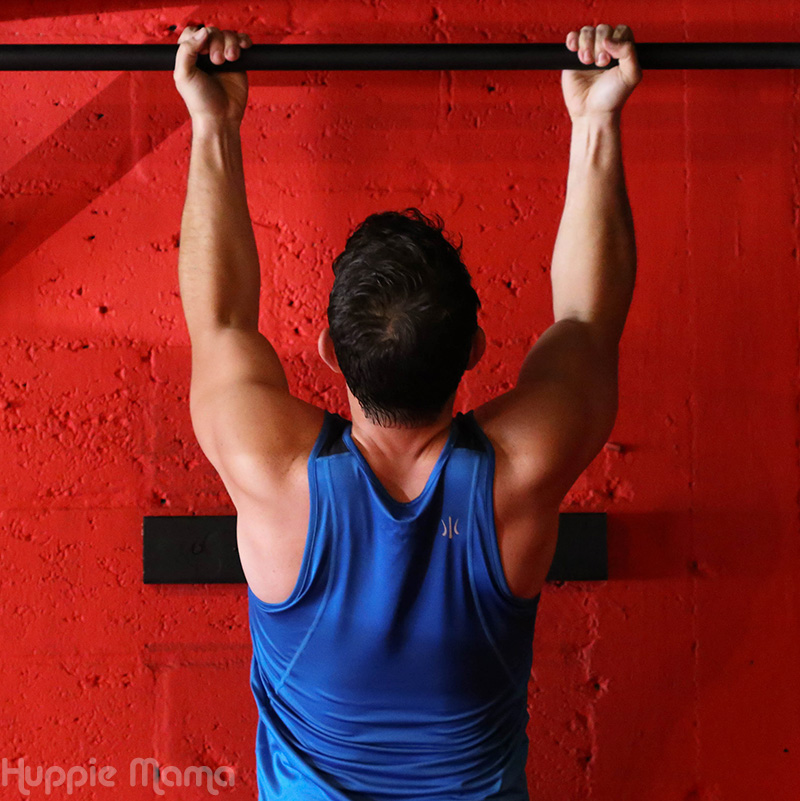 Once Richard and his ex-girlfriend broke up in 2000, he decided it was time to get in shape. He was a single 21-year old guy in college, and it became very important to him that he look good. He started eating better and working out, and quite quickly, he was slimming down and building muscle.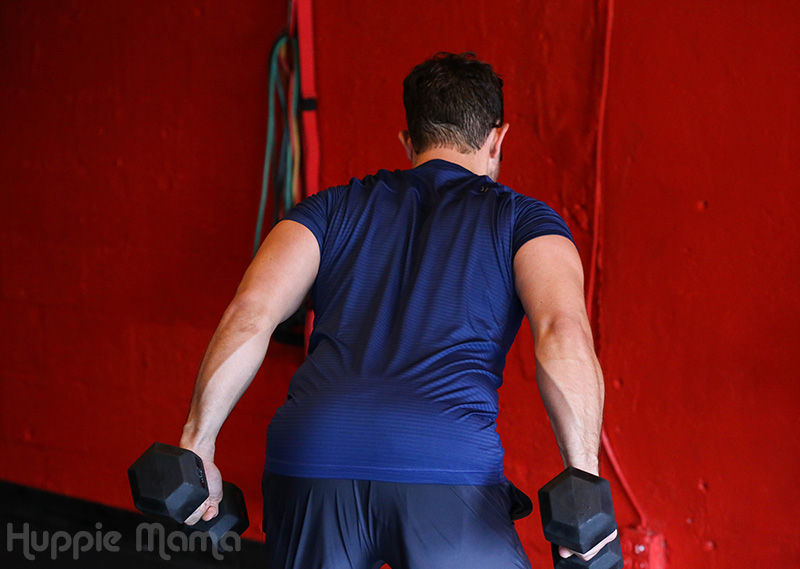 Long story short, we began dating in October 2003. At that time, he was out-of-shape and I was ready to completely change my lifestyle. Together, we started going to the gym pretty often, but we were still making unhealthy choices (like smoking cigarettes and tanning). The gym was not a very motivating place for me because I never felt like I knew what I was doing. I would move from one machine to the next, go through the motions of doing some type of exercise, then leave. I never felt like I was making any real progress. Richard would do a better job than I would do, but still, we just didn't have a real commitment to staying in shape together.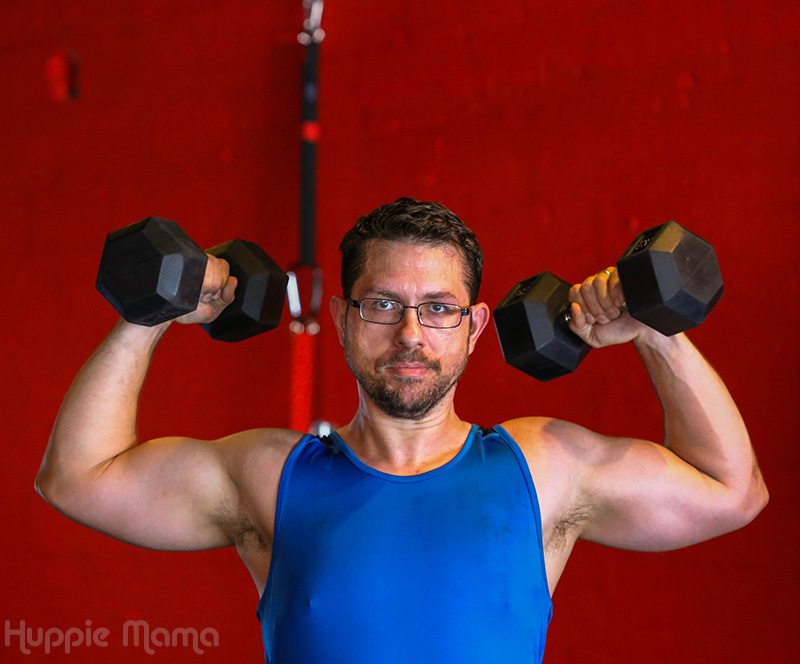 After the birth of my daughter Lydia in September 2009, I realized I had to do something. I was about 35 pounds heavier and 3 pants sizes bigger than I had ever been before. I felt extremely uncomfortable in my own skin. I didn't know how to dress this new body, how to lose this much weight, or how to love myself as I looked.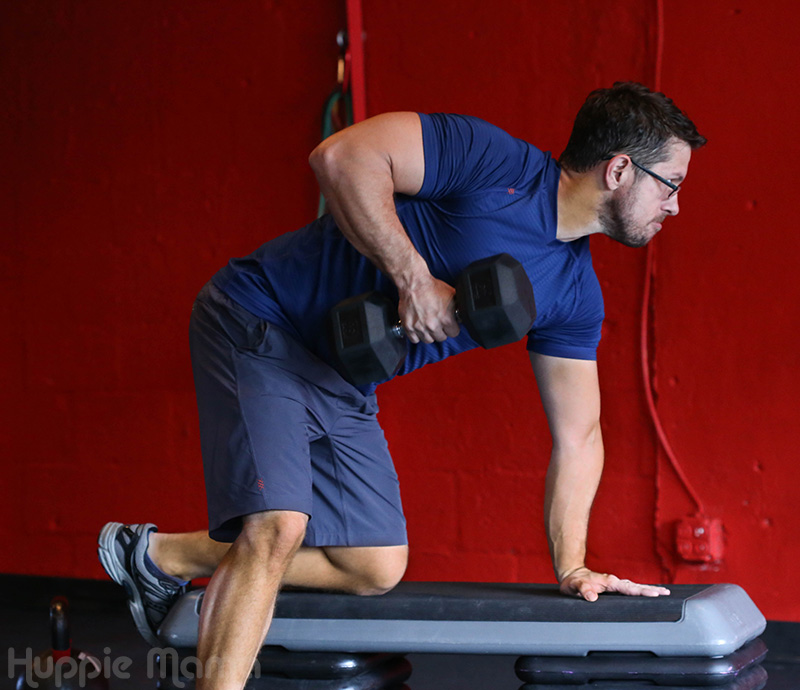 At that time, Richard and I were both able to get free gym memberships through our health insurance, so we joined a gym. Realizing I wasn't so good at using the machines or weights, I opted to go to classes. I did hip-hop classes, yoga, and belly-dancing. By following someone else's lead, I was able to participate in physical activities. Richard started doing the same thing, going to classes. I even "ran" a 5K. But again, this didn't last. I lost most of the weight and quickly lost interest in continuing to exercise.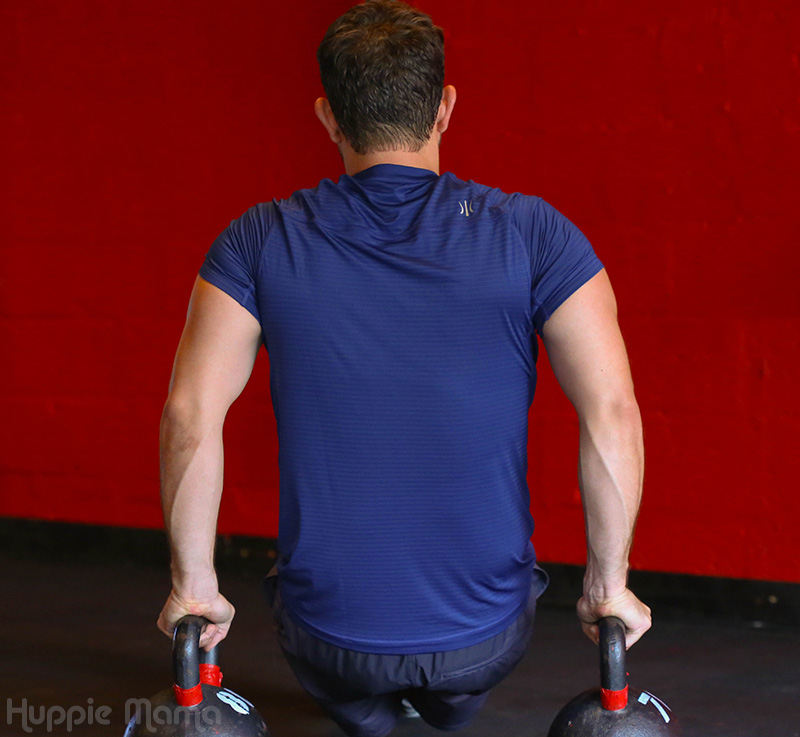 And then November 2013 happened. I was talking to my sister-in-law about a local fitness bootcamp she attended at a nearby park. She explained how the workout was laid out, with different stations targeting different body parts. Something about that actually sounded fun, so I figured "Why not?"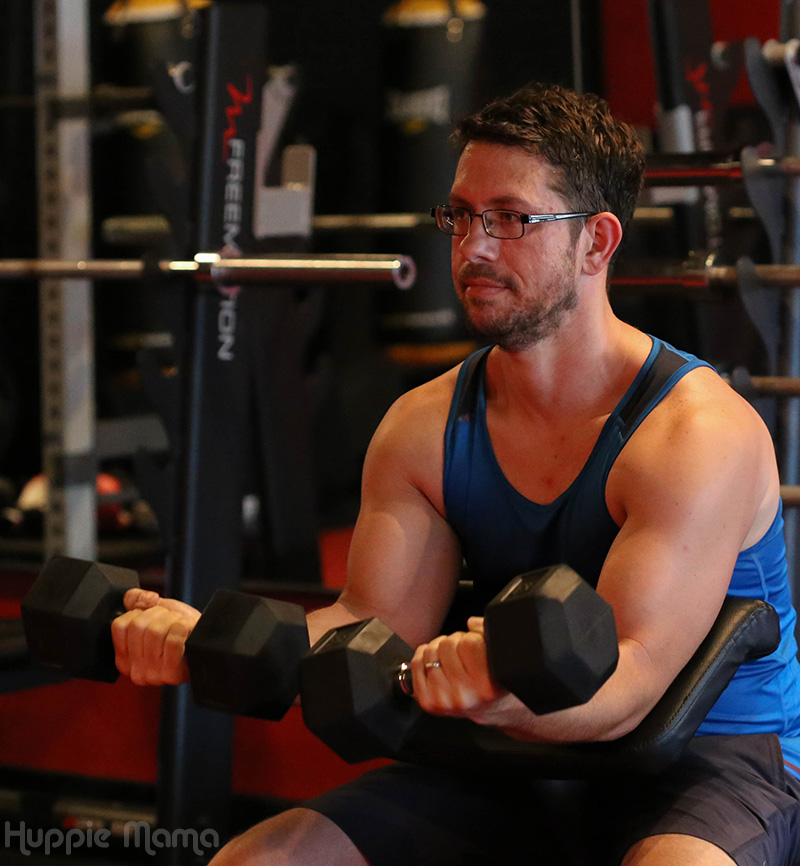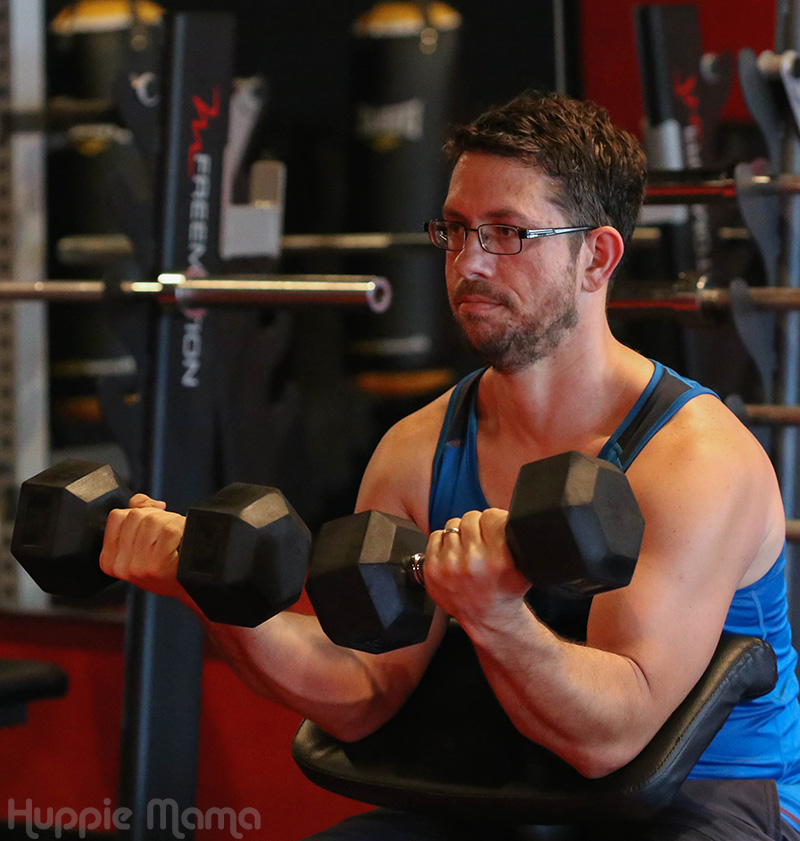 I went to my first Challenge Fitness class just before Thanksgiving, and something about it was different. I had never found an exercise routine I really enjoyed, but this boot camp? It was actually fun! A week later, I returned. The trainers Amy and Jorge were knowledgeable about fitness, fun to be around, and each time I attended on a Sunday morning, the workout was different. Part of what I always disliked about working out was the monotony. Finally, I was motivated to exercise. A few weeks later, Richard started coming with me. The kids tag along, too. And since then, fitness has become an integral part of out lives. We each work out about 3 times a week. Not only have we improved the way we look and feel, we've become fitness role models to our children (who love going to the gym with us)!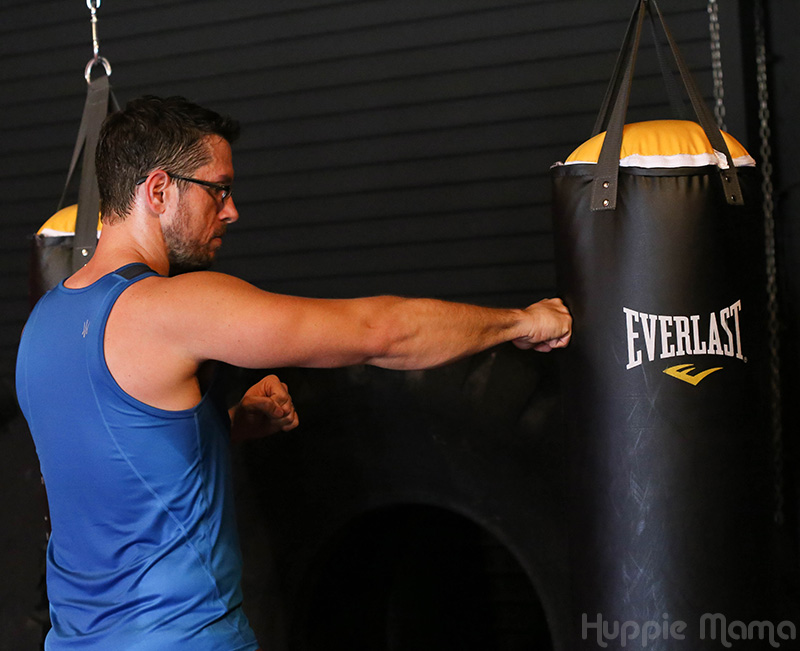 You're probably wondering — but what does this have to do with the title of this post? Well, did you notice the photos? Richard just showed you an awesome workout to get your shoulders, arms, and chest looking hot! Because from the moment he started working out, I couldn't help but notice how amazing his arms are. Here's what he did (in order):
Rear flies with resistance bands
Push-ups
Pull-ups
Tricep kickbacks
Elevated bicep curls
Bent over rows
Tricep dips
Preacher curls
Punches
Concentrated bicep curls (below)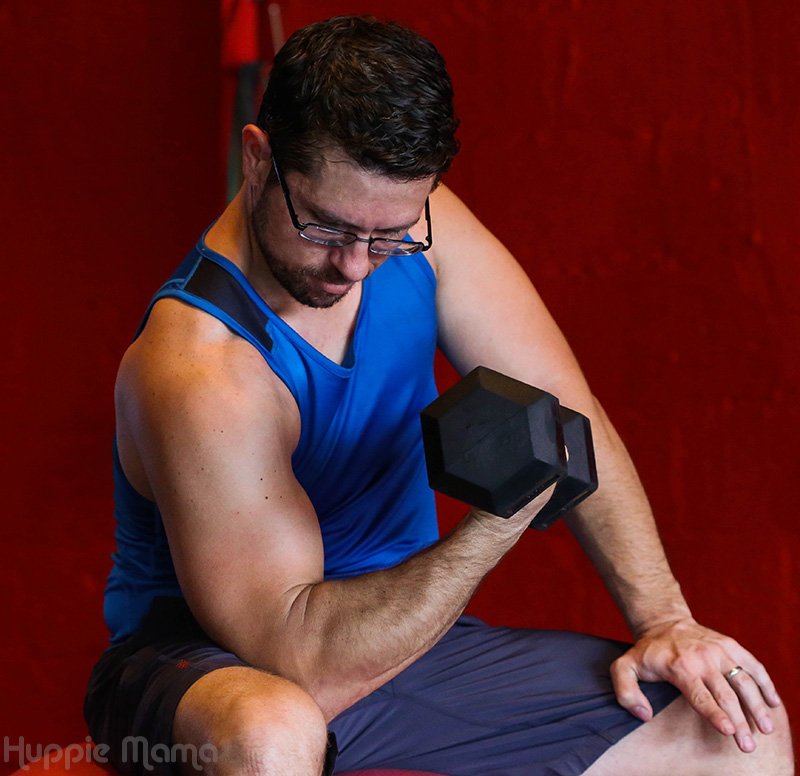 When we started working out this time around, I would wear some hideous clothes, from nursing tanks and yoga pants, to maternity capris and pajama tops. You think I'm kidding, right? Nope! Richard's exercise ensemble was no better. Nasty old t-shirts and basketball shorts with stretched-out elastic. We were a mess! I quickly realized that it's really important to wear proper shoes and socks, bottoms and tops.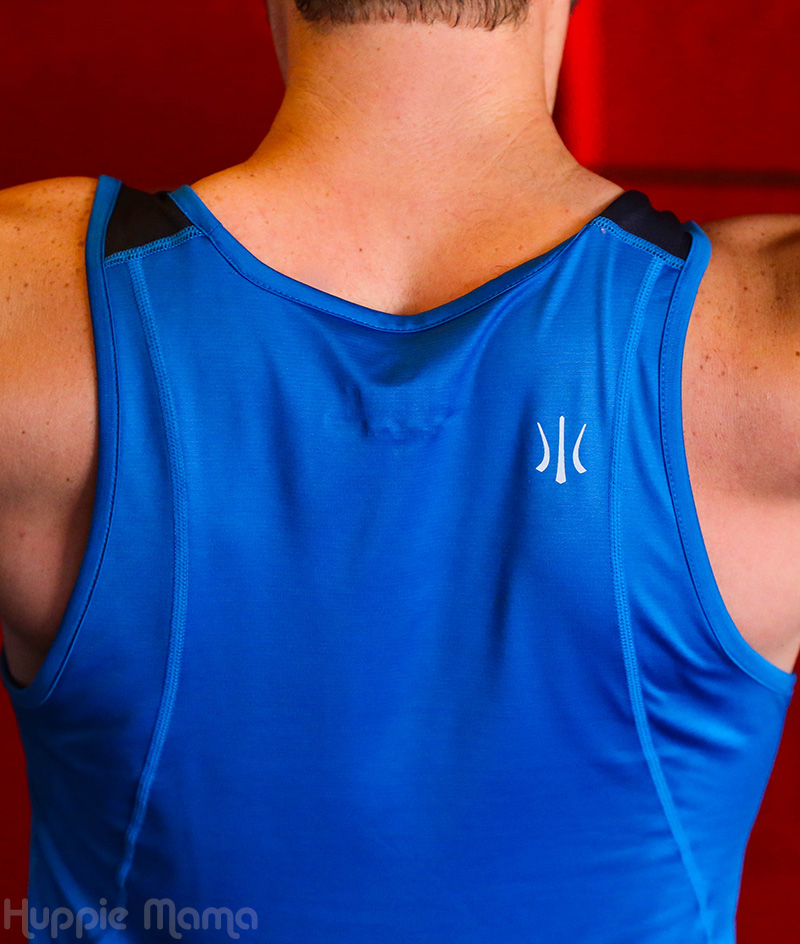 Rhone Apparel carries a complete line of men's activewear. The creators of Rhone set out to design workout apparel that is not only functional for the gym, but also fashionable to be worn during all of the transitions in a man's life, from running errands to catching a flight for a business trip.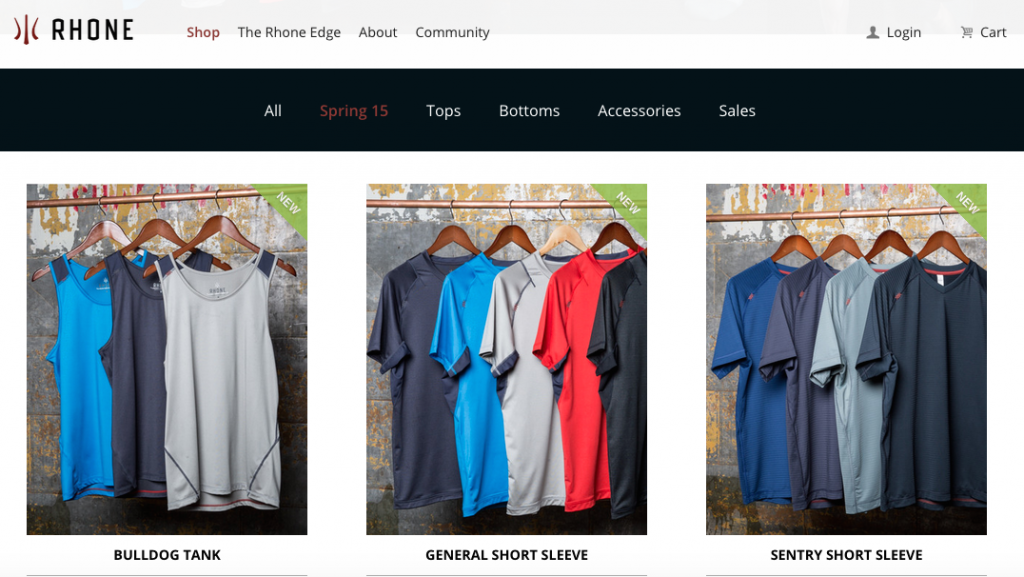 From the cut to the cloth, Rhone uses innovative designs and lightweight fabrics. My husband commented that he truly noticed a difference when working out in the new tank top, short sleeve top, shorts, and socks that are part of Rhone's Spring Collection.