This shop has been compensated by Collective Bias, Inc. and its advertiser. All opinions are mine alone. #MyNutrishDish #CollectiveBias
It is so important for me to serve my family balanced meals daily – for myself, the children, and my pets. While I am not always the best at planning out my meals in advance, I always keep a variety of proteins, vegetables, and whole grains in my refrigerator and pantry so that I can pull together a great dinner each night! When I was a child, my mom prepared the basic vegetables – broccoli, cauliflower, carrots, asparagus –  often frozen or canned. As I began preparing food for myself, I really expanded my range and preparation of vegetables, especially since I was a vegetarian for 5 years. One of my favorite vegetables to prepare for my kids is brussels sprouts. My daughter absolutely loves them – especially when they are my delicious Maple Bacon Brussels Sprouts. These make a delicious side dish with grilled or roasted chicken and brown rice. It's a great balance of proteins, whole grains, and vegetables. We all know a little bacon and maple syrup make everything delicious, right? Even brussels sprouts! And for the dogs, they deserve a balanced diet, too. That's why we've made the switch to DISH from Rachael Ray™ Nutrish®, with real proteins and vegetables.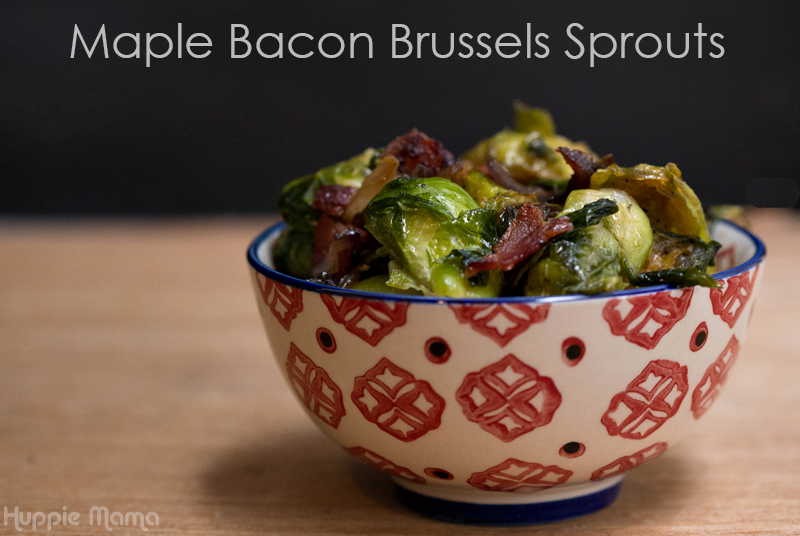 Ingredients:
1 pound brussels sprouts
4 strips of bacon
1/2 a small red onion, thinly sliced
1/4 cup maple syrup
1 T butter
Directions: 
Begin by cleaning off your brussels sprouts. If you've had them in the fridge for a few days, you may need to cut off the bottoms and peel one or two leaves off if they look yellow/brown. (Side note: I may have just learned this past weekend that it's "brussels" sprouts, like the city, and not "brussel" sprouts.)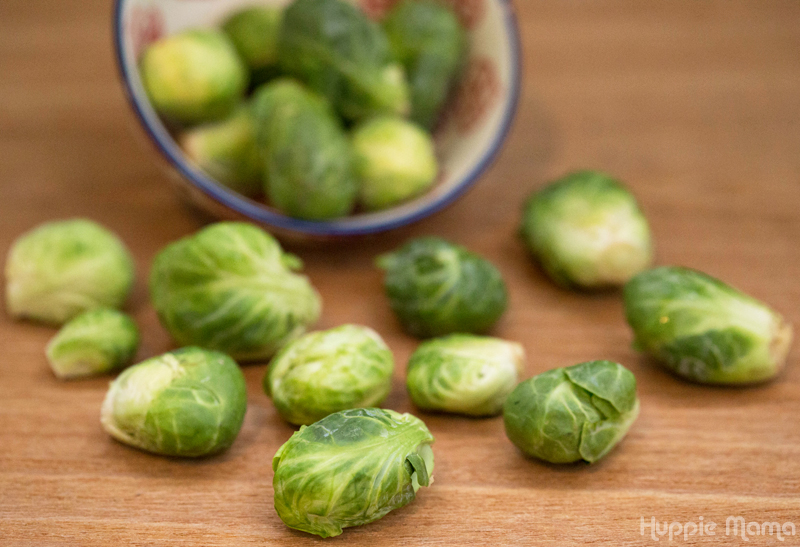 Bring a pot of water to a boil. To get an even coating on your brussels sprouts and so that they cook through well, I cut them in half. If you have some that are exceptionally large, cut into quarters; really small, leave them as is. You want to have consistent-sized pieces.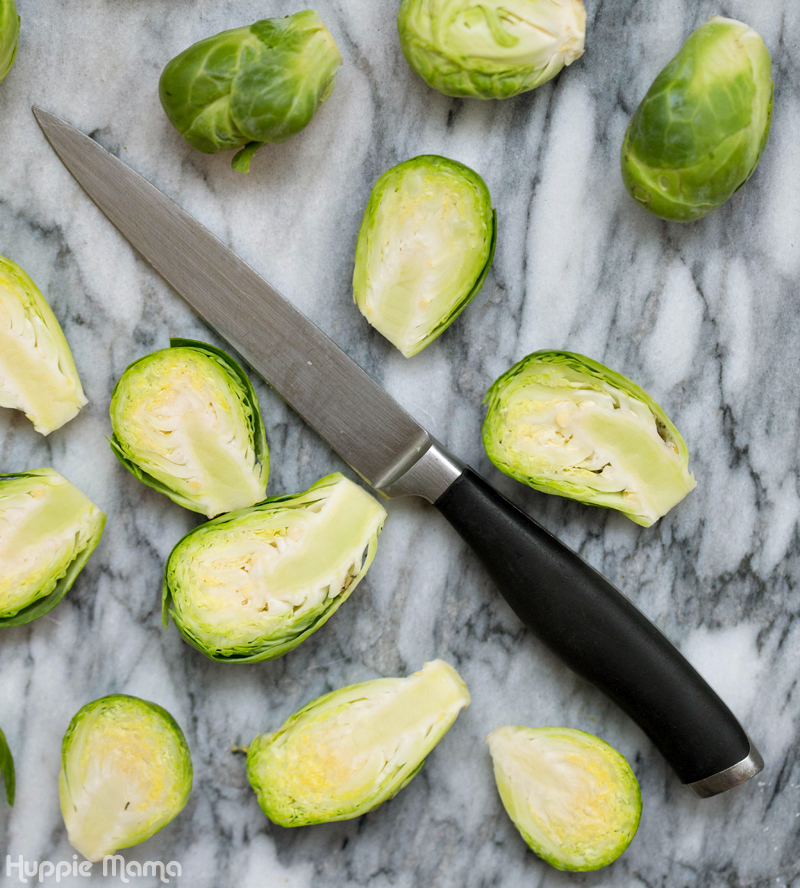 Place the halved brussels sprouts into a pot of boiling water for about 5 minutes, until they begin to get tender. After 5 minutes, strain the water. Be sure not to allow them to boil longer as they will begin to lose their vibrant green color. Meanwhile, cook the four strips of bacon until crisp.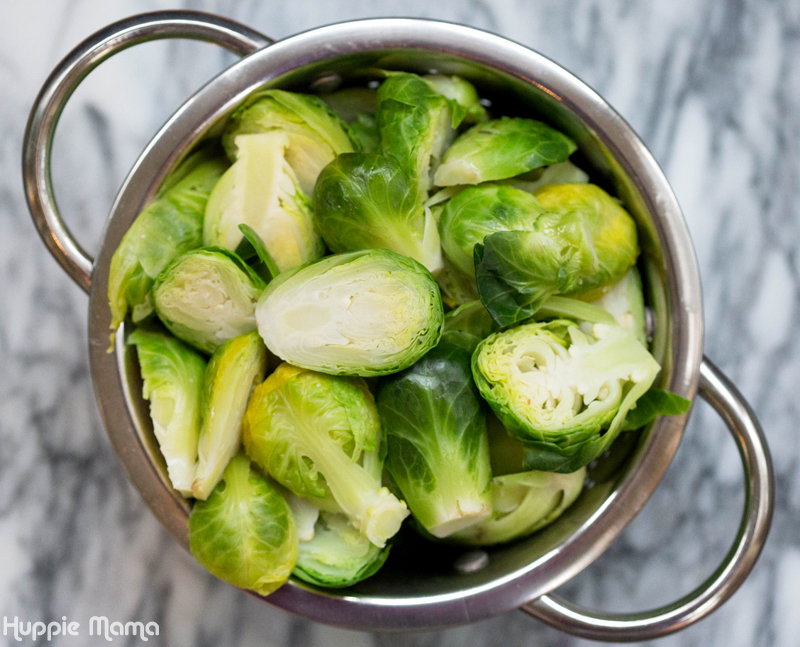 In a large pan (I prefer cast-iron), add 1/2 cup sliced onions and 1 T butter and sauté two minutes over medium-high heat. Next, add the boiled brussels sprouts and 1/4 cup of real maple syrup. Emphasis on the real part. It makes all the difference to this recipe. Sauté until the brussels sprouts begin to brown and the onions are caramelized. Remove from the heat and crumble the bacon over the top.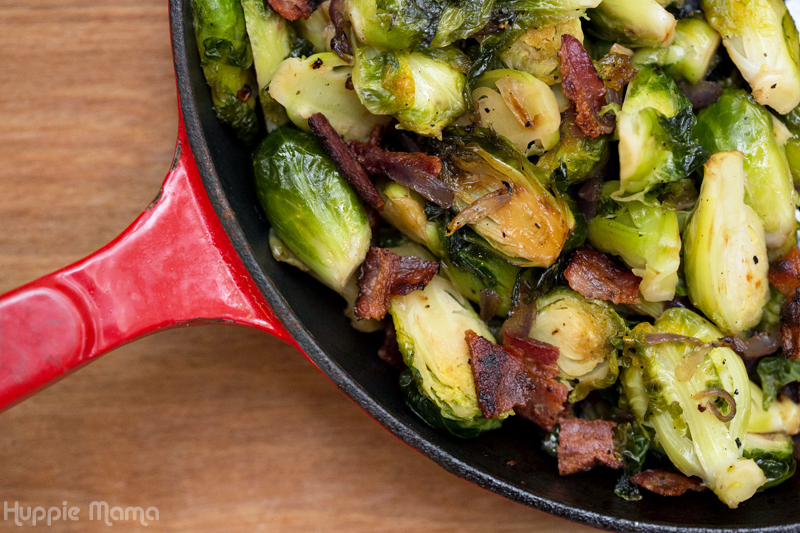 Your Maple Bacon Brussels Sprouts are now ready to serve! These go great with grilled chicken and brown rice like I served my family on Saturday, but they are also delicious with turkey meatloaf, hamburgers (a great alternative to fries), or grilled sausages.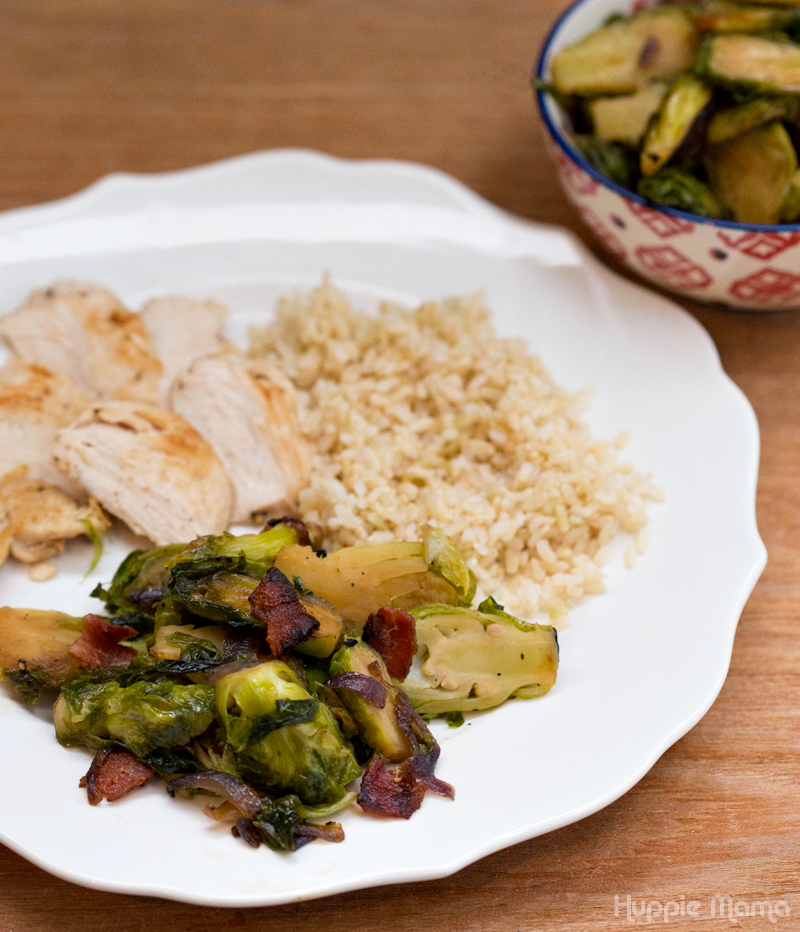 My family consists of more than just myself, my husband, and our two children. We have five other children who, well, are starting to get old: two cats and three small dogs. It's important to feed them well, too.  And you know what? My dogs like to eat chicken, brown rice, and veggies, too! No, not the same kind we eat. Instead, they tried new DISH from Rachael Ray™ Nutrish®. DISH Chicken & Brown Rice Recipe with Veggies & Fruit contains real chicken pieces, carrots, peas, potatoes, and apples. It's also naturally gluten-free. One of the other great things about DISH from Rachael Ray™ Nutrish® is that it is made for dogs of all sizes, even small dogs like my chihuahua mixes.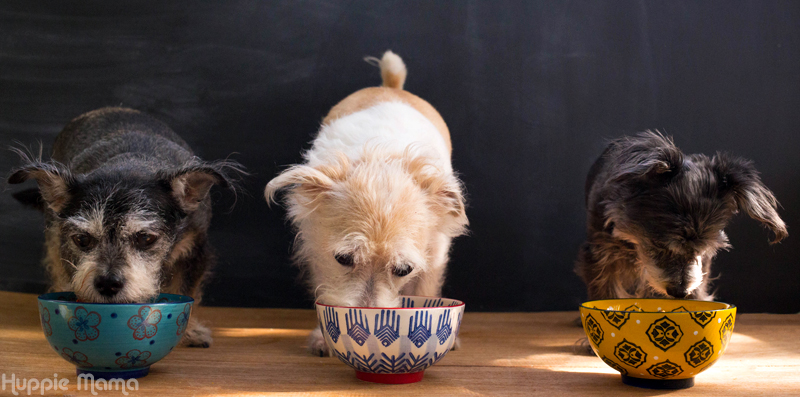 Rachael Ray donates all of her personal proceeds to Rachel's Rescue, which was created to help shelter pets in need. To date, she has donated over $10 million toward food, medical supplies, and treatments for rescue animals. So not only are you helping your dogs when you purchase DISH from Rachael Ray™ Nutrish®, you're helping other animals in need, too!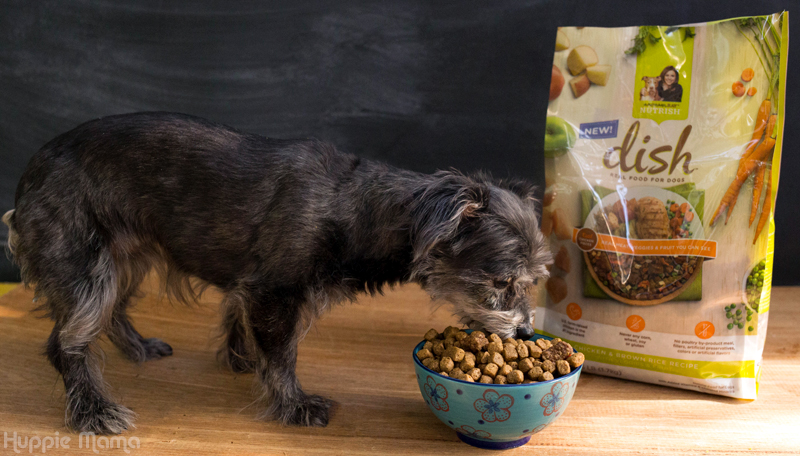 Looking to make the switch to this natural, wholesome dog food? Rachael Ray™ Nutrish® DISH is sold at a variety of retailers in store and online. Visit the store locator to find a retailer near you.  For a limited time, you can save with this money-saving coupon.
How do you take care of your dogs?