This post is sponsored by Left Field Farms but the content and opinions expressed here are my own.
This Lavender Vanilla Iced Latte is the perfect spring and summer refreshing coffee drink.
I live in a beautiful community in North Florida, and we have a village center, filled with local businesses. If you've read about my neighborhood farmer's market, that's where it is every Saturday. There's also a small cupcake shop that sells ice cream and specialty coffee drinks, and we visit often for treats for the kids and lattes for mommy! Speaking of lattes, I became obsessed with one of the seasonal drinks they made last spring — lavender iced latte. It may sound a little odd at first, but trust me, it is delicious. I decided to re-create it for this blog post so that all of my followers can make this recipe, too. And you will want to make it – it will become your favorite spring and summertime iced coffee drink. Try this flavorful Lavender Vanilla Iced Latte, made with Left Field Farms Vanilla Flavored Coffee Creamer.
Make delicious coffee drinks with this Left Field Farms Coffee Creamer, made with real milk, cream and sugar.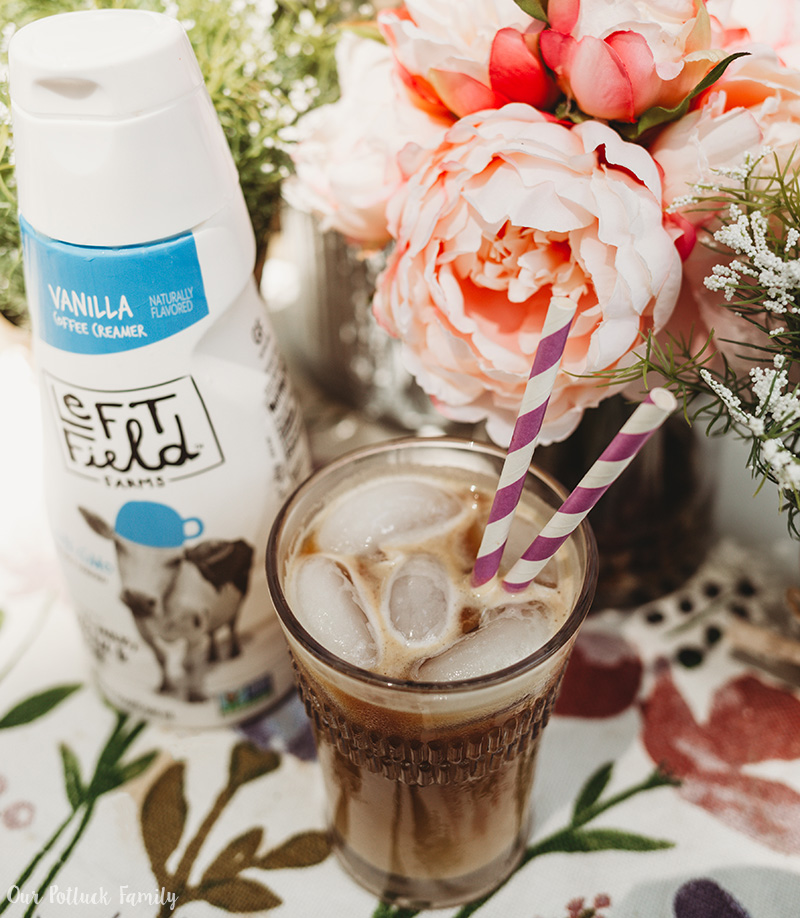 Lavender Vanilla Iced Latte Ingredients:
Lavender Vanilla Iced Latte Directions:
Richard purchased an espresso maker for me for Christmas, and it's seriously one of the best gifts he's ever gotten me. I use it pretty much daily. To make this recipe, you actually start by brewing lavender espresso. We always purchase whole beans, so I grind the whole beans very finely, and pack the ground espresso into the filter portion. In that portion, I add about a half dozen lavender flowers. Be certain to purchase culinary grade lavender, which you can find in some grocery stores or online. A little goes a long way, so just a few small flowers will add a beautiful fragrance and aroma to your espresso. Brew the espresso as directed to get two shots. Allow your lavender espresso to cool.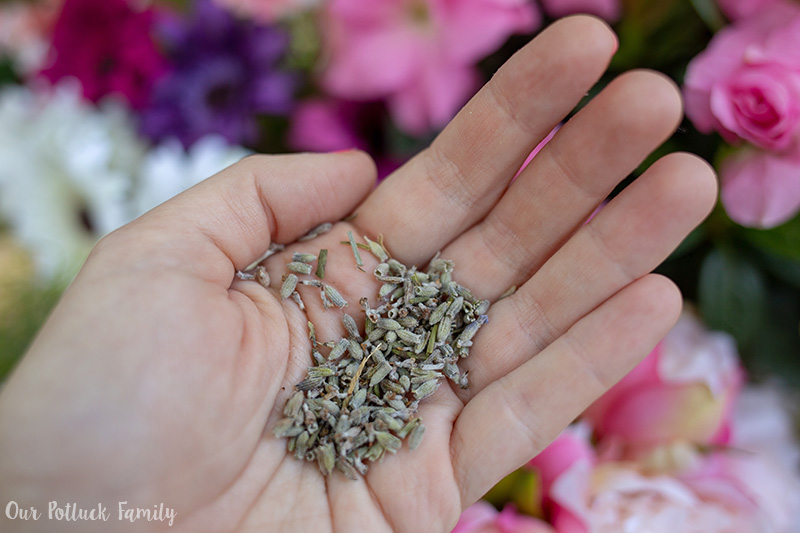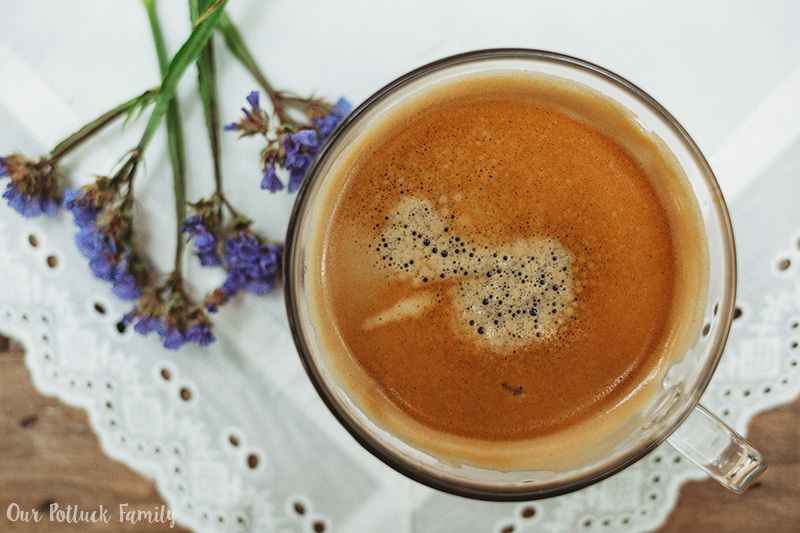 Next, fill a glass or mason jar with ice. Once your espresso has cooled completely, add it to the ice. Paper straws add that perfect decorative touch to your iced latte drink. It makes me feel like I'm in a trendy cafe somewhere.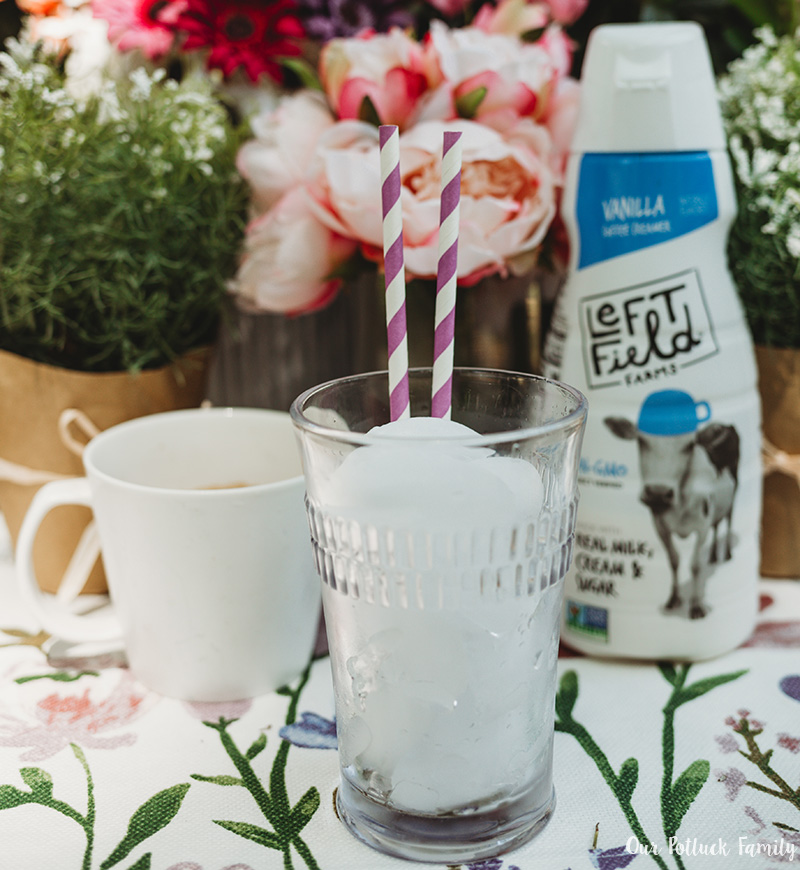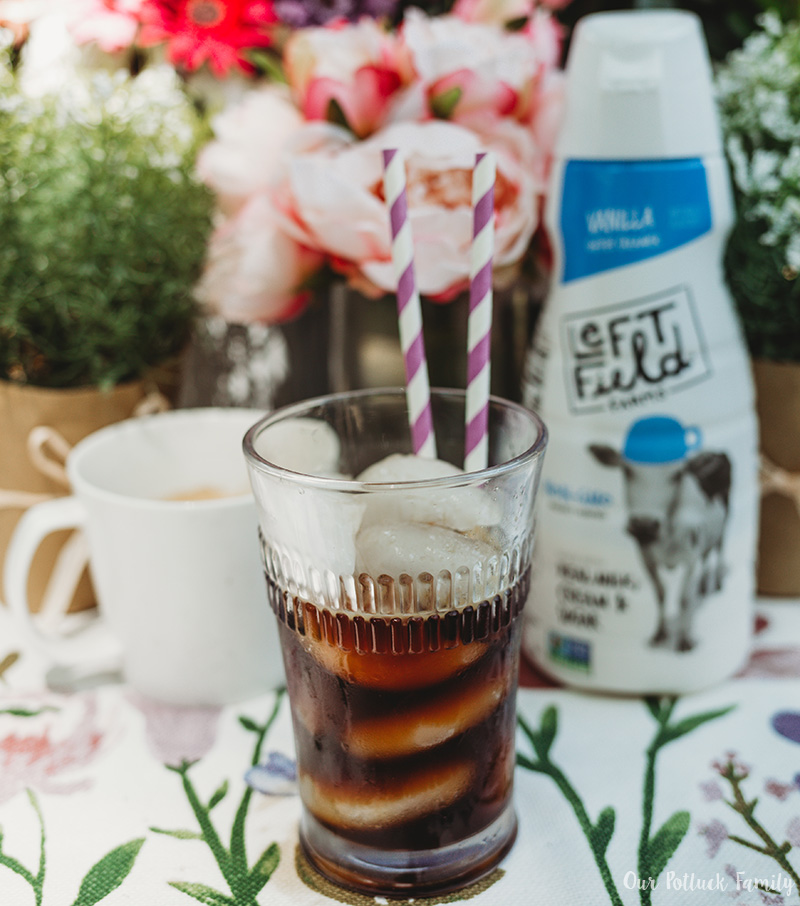 The last step is to add the Left Field Farms Vanilla Flavored Coffee Creamer, available at Walmart. This is a sweetened creamer made with real cream, milk, and sugar, that has a nice vanilla flavor. It adds just the right amount of creaminess and sweetness to my latte. I recommend pouring between 2 and 4 ounces of creamer, depending upon your taste.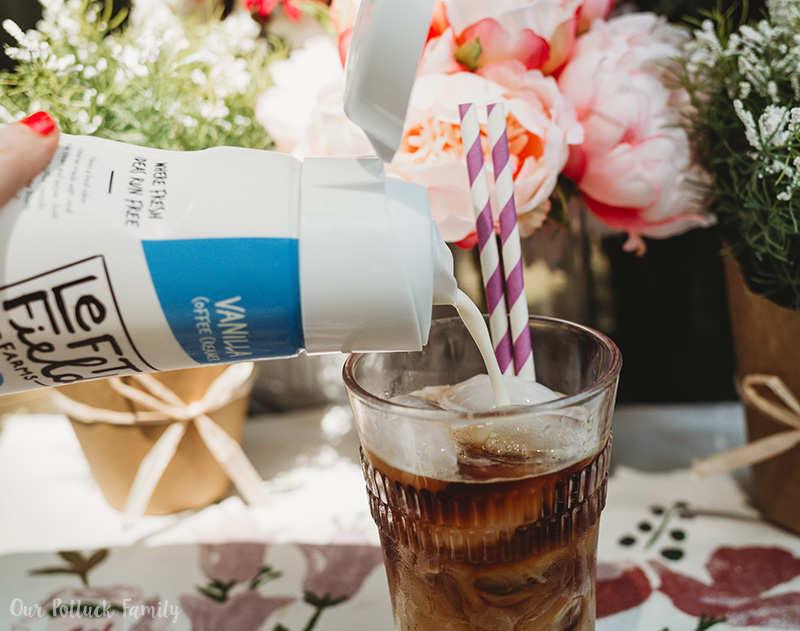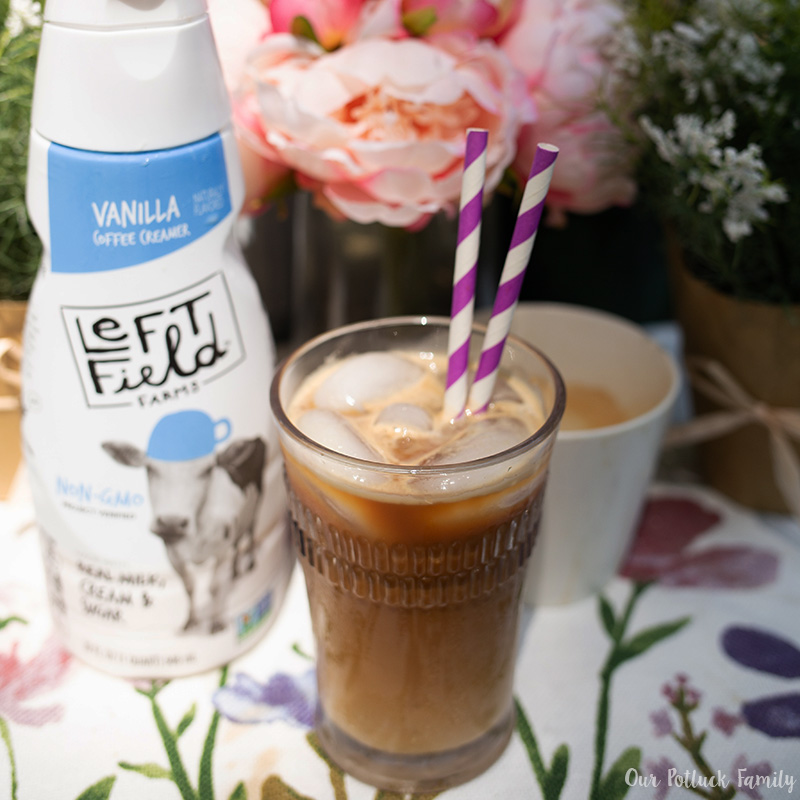 Your Lavender Vanilla Iced Latte is ready to serve! Not a fan of lavender, you can just leave that out and serve a delicious vanilla iced latte to your friends. This latte is a great mid-day drink, or even an awesome addition to a brunch. Imagine serving this with some delicious brioche or challah French toast or gooey cinnamon buns. Yummy!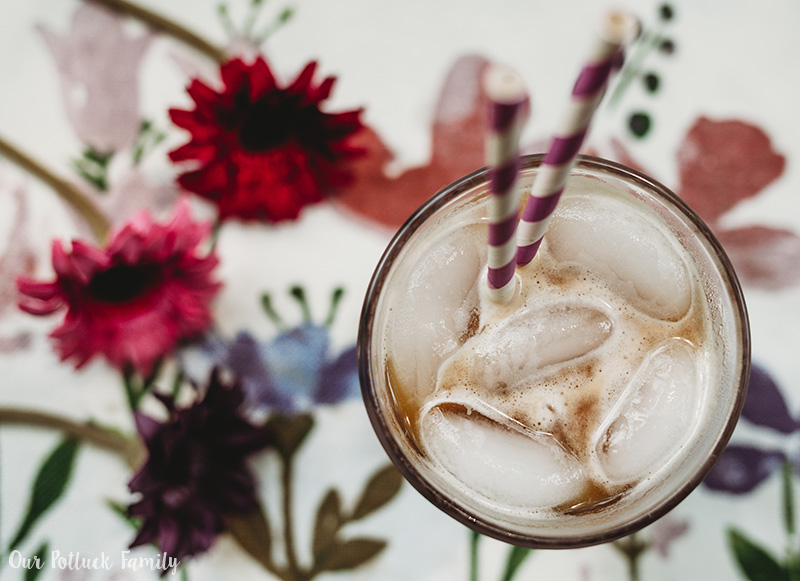 Head to Walmart where you can find Left Field Farms Coffee Creamer in Vanilla or Sweet & Creamy in the dairy section. Left Field Farms goes the extra mile to be Validus® Animal Welfare Certified. It is free of artificial colors, flavors, and sweeteners. It is made with real milk, real cream, and real sugar. Don't forget to visit the fresh produce section as you're doing your grocery shopping at Walmart – So many delicious fruits and vegetables!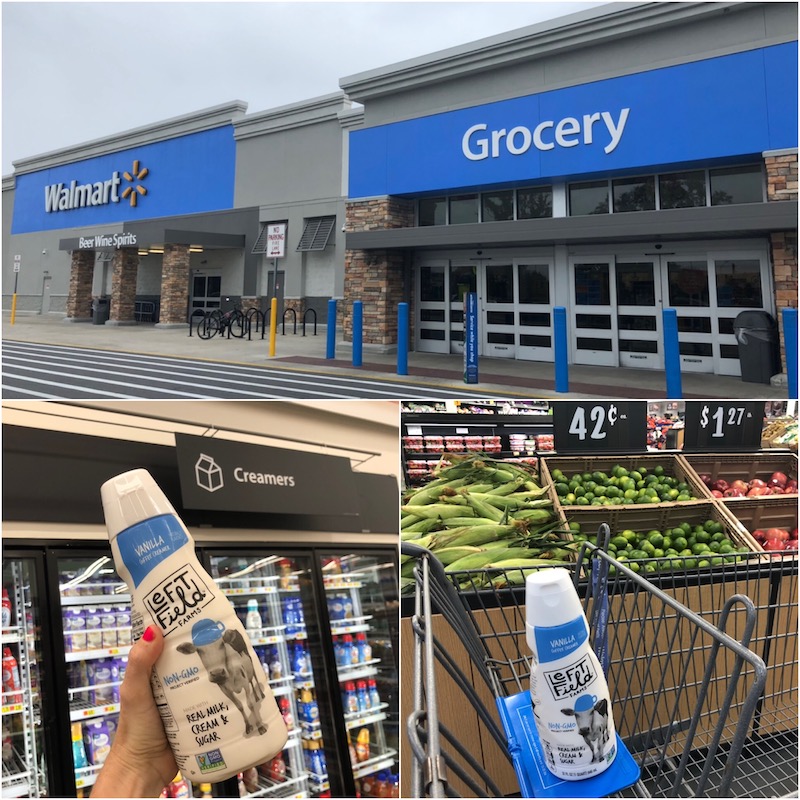 What's your favorite summer coffee drinks?
Pin this Lavender Vanilla Iced Latte image below!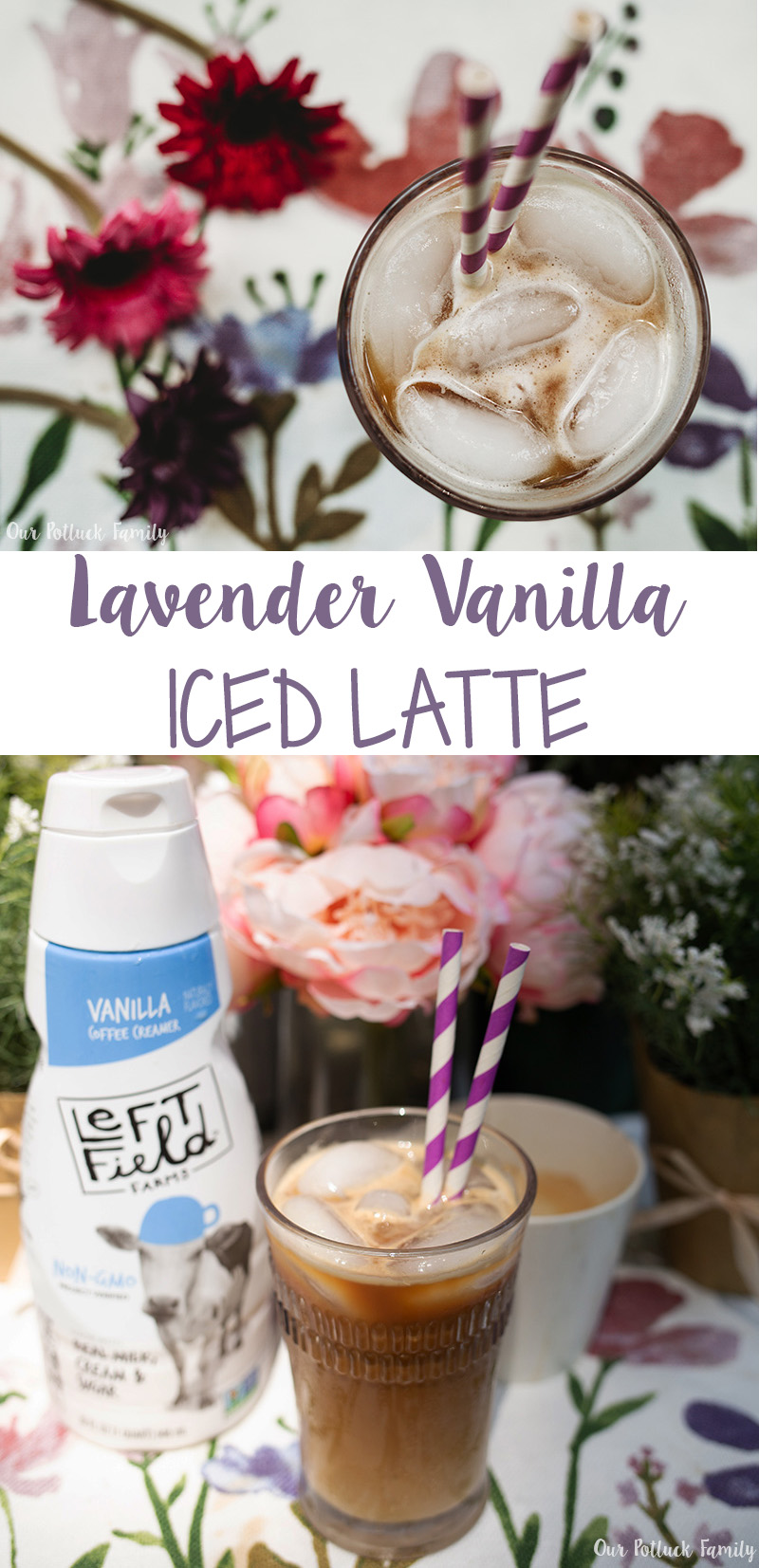 [tasty-recipe id="28655″]