As a child, my parents exposed me to a variety of cultures through food. One country my parents always enjoyed traveling to, probably more than any other location, is Jamaica. I visited several times as a child and I have always enjoyed Jamaican food. I had a pasture-raised chicken I picked up from a farm in Central Florida, and I wanted to do something awesome with it, so Jerk Chicken it is! I adapted this Grilled Jerk Chicken recipe from Bobby Flay to incorporate healthier ingredients we use in our home.
I began with a whole chicken, so I followed these steps to butcher the chicken. If you want to create a dipping sauce to go with the chicken, prepare the marinade as directed, but reserve half a cup (do not add to the chicken). Combine the reserved marinade with a ripe avocado and serve with the chicken.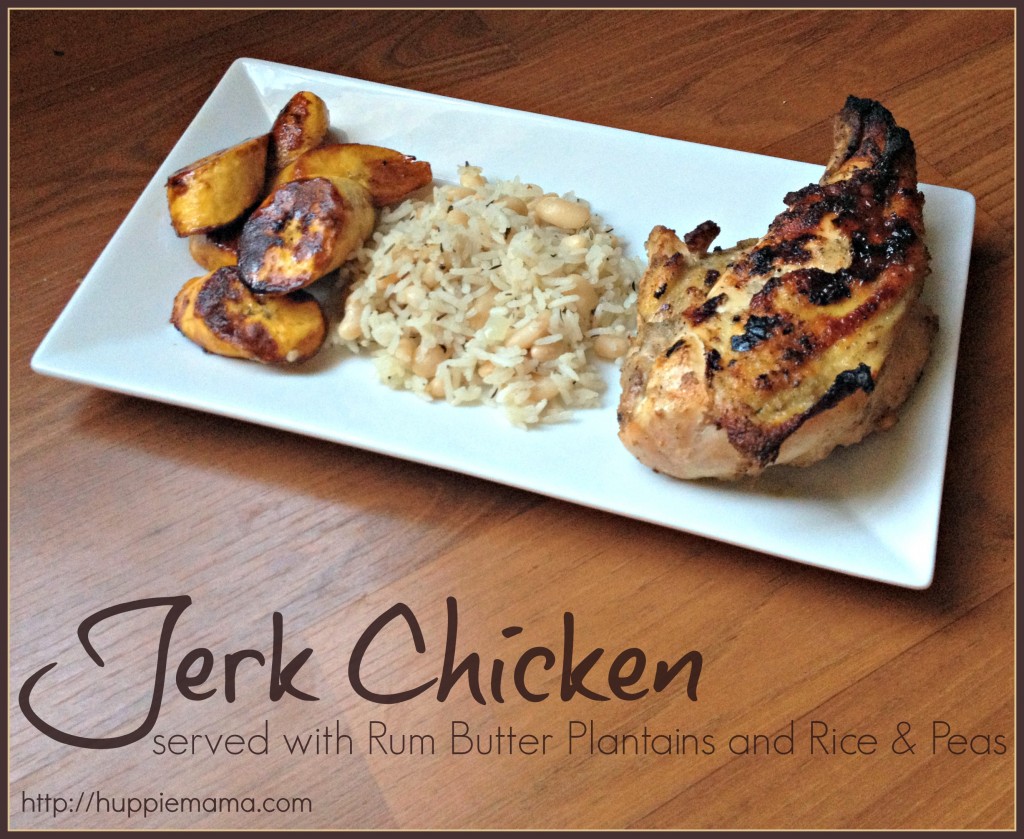 Ingredients:
1/2 cup coconut oil
1/2 onion, coarsely chopped
1 jalapeno, stem and seeds removed
1 tablespoon fresh ginger, grated
3 cloves garlic, coarsely chopped
1 tablespoon finely chopped fresh thyme
2 tablespoons raw apple cider vinegar
1 tablespoon light brown sugar
1/4 teaspoon ground cinnamon
1/4 teaspoon freshly ground nutmeg
Pinch ground cloves
1 teaspoon ground allspice
1/2 teaspoon salt
1/4 teaspoon freshly ground black pepper
juice of 1 lime
Whole chicken, preferably pasture-raised
Directions:
Place all ingredients (except for the chicken) in a blender to puree to create your marinade. If the mixture is too thick, add a few tablespoons of water.
Butcher your chicken into separate pieces. Pour the marinade over your chicken. Allow chicken to marinate 6 – 24 hours covered, in the refrigerator.
When you are ready to cook the chicken, preheat oven to 375 degrees. Place chicken on a hot stove top grill pan. Cook chicken on one side until you have nice grill marks, then flip over.
When chicken is browned on the outside, transfer to a baking sheet and place in the oven until you reach an internal temperature of 165 degrees.
I served the Jerk Chicken alongside Rice & Peas, using jasmine rice and white kidney beans. I also made Rum Butter Plantains. To do so, combine the following ingredients in a sauce pan on low until a syrup forms:
2 T butter
1 T brown sugar
1/4 cup dark rum
1/4 t cinnamon
Slice 3 – 4 ripe plantains. Saute in the syrup, on both sides, until you have reached a nice brown. Serve alongside the Jerk Chicken and Rice & Peas for a delicious Jamaican dinner.