This #PepItUp shop has been compensated by #CollectiveBias, Inc. and its advertiser. All opinions are mine alone.  
The challenge: Create a breakfast recipe that includes pepperoni. Now this is my kinda challenge! I'm not quite sure how I came up with this one, but I thought that an Italian Breakfast Burrito featuring Hormel Pepperoni would be delicious! Here are the ingredients, which celebrate the colors of the Italian flag.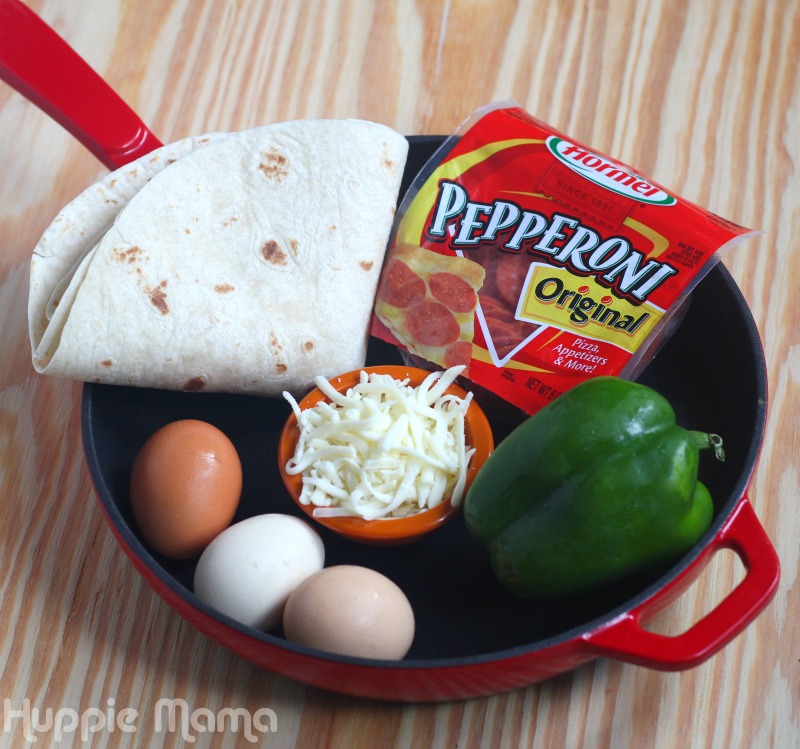 My dad is very knowledgeable about photography, so I enjoy sharing my food pictures with him. I talked to him about this recipe, and he told me stories of his childhood. He was raised by his Uncle Sam who was Italian-American. My dad said for breakfast as a child, he remembers eating eggs with peppers, pepperoni, and mozzarella cheese, prepared by his uncle. My Great Uncle Sam passed away before I was born, so unfortunately I did not get to meet him, but through stories and recipes, I can connect with a very important part of my heritage. My dad was happy to share this picture of Sam with me to use in this post.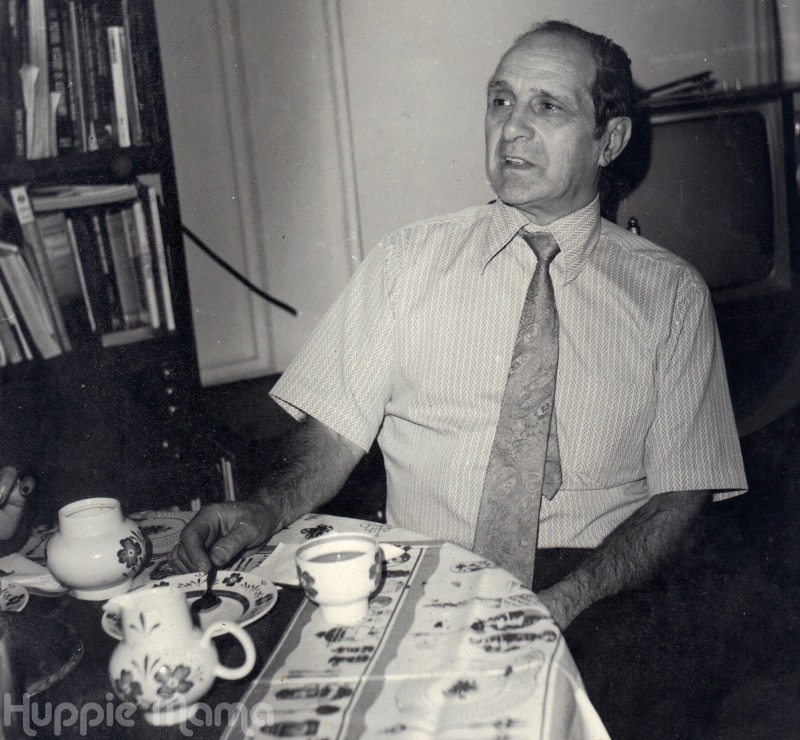 It excited me to think that by making this recipe, I was connecting with my family, but with a fun twist (the tortilla). The most important part of this recipe is to make what I have decided to call pepperoni bacon. The 'pepperoni bacon' is super simple to make and crazy delicious! Unlike the pepperoni of my father's childhood, Hormel Pepperoni comes pre-sliced, which is so convenient. I halved the slices to make semi-circles and placed them at the bottom of my cast-iron skillet over medium heat. I cooked them until the oils were released and the pepperoni crisped up.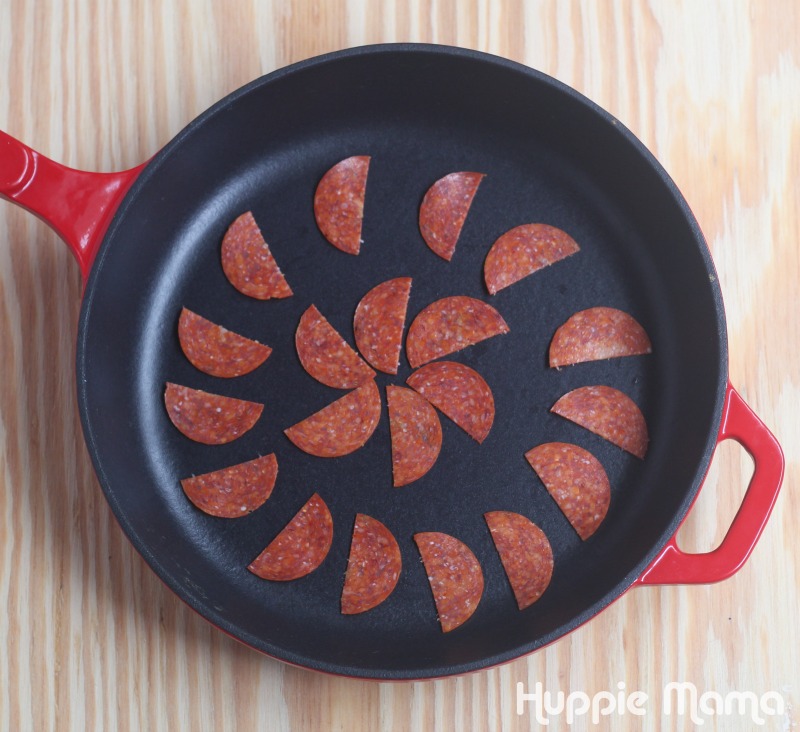 I sauteed the diced green bell peppers and gently scrambled the eggs in a little bit of butter. The layers of scrambled eggs, green peppers, mozzarella, and pepperoni create a delicious savory breakfast. Before serving, place the burrito under the broiler for just a minute or two so the mozzarella cheese melts. This would also be delicious as a brunch item. You can even do a 'build your own breakfast burrito' bar for entertaining guests!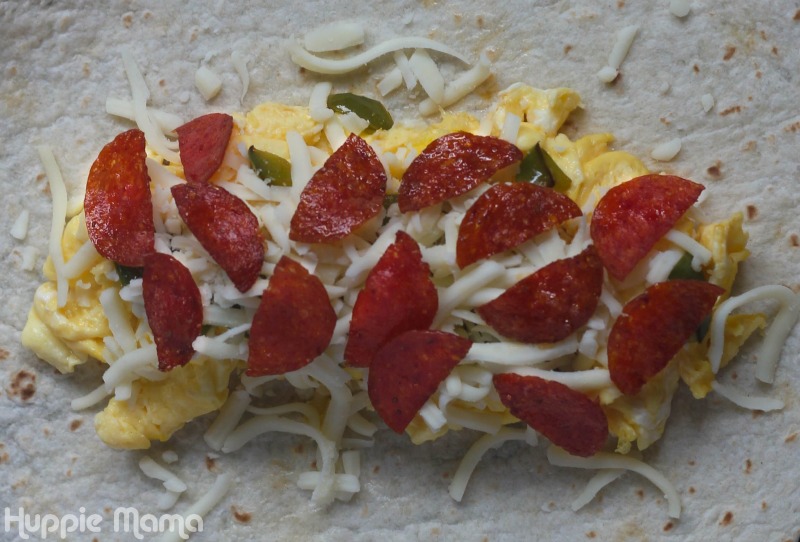 Be sure to check out the pictures below to properly fill and roll your burrito. I worked at a Mexican restaurant while in college, so I'm a bit of a pro at burrito rolling. Begin by folding in both ends first. Then tightly roll the burrito, with the seam side down.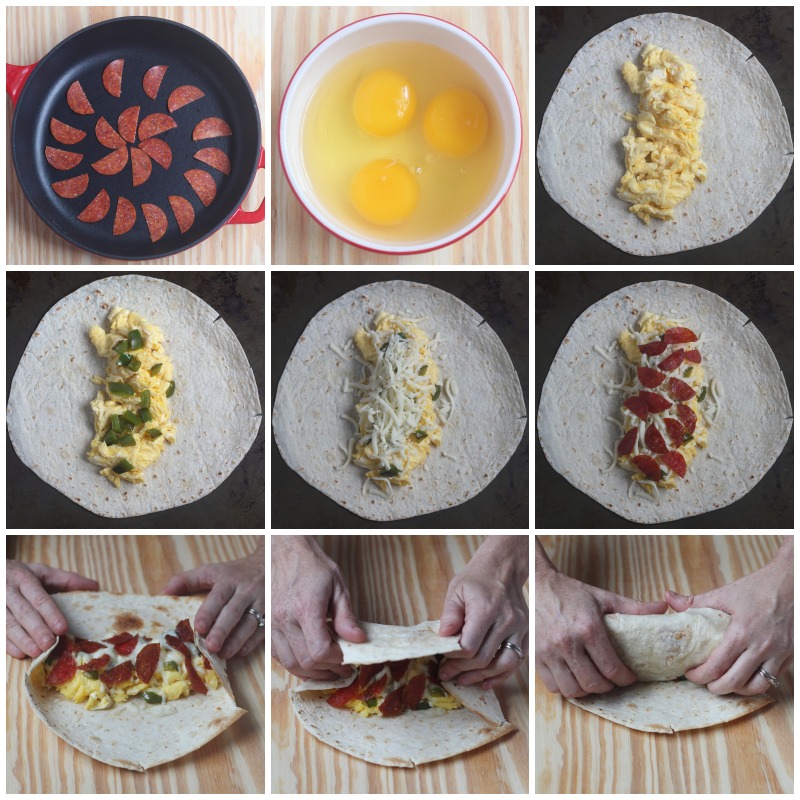 And here's the final product. You can easily wrap it up in wax paper to make a delicious breakfast-on-the-go when you're in a hurry.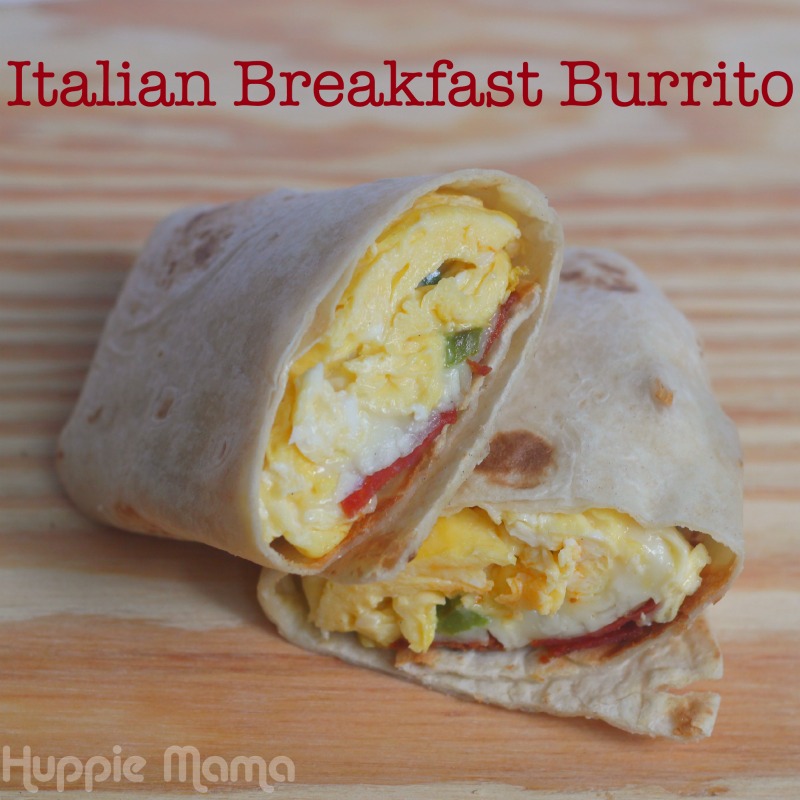 I served this Italian Breakfast Burrito with a freshly-picked tangerine to create a balanced meal. We now have all four food groups on one plate!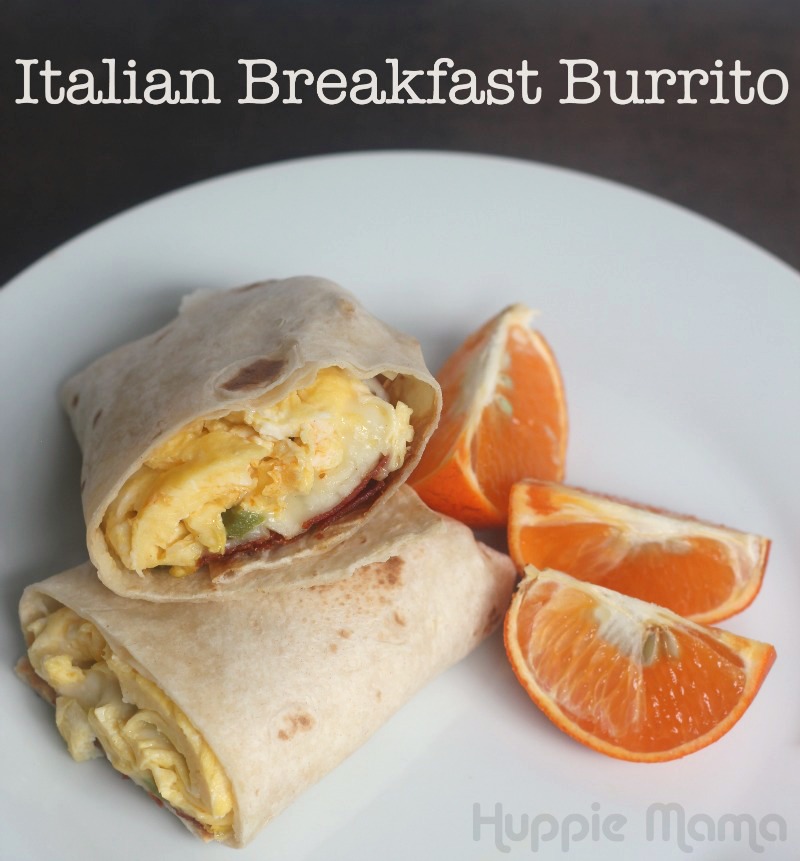 My husband Richard enjoyed this recipe so much, that after he devoured this burrito, he made himself another one. No joke!
Italian Breakfast Burrito
Prep time:
Cook time:
Total time:
Ingredients
10 slices pepperoni
3 eggs
2 T diced green peppers
1/4 cup mozzarella cheese
butter for the pan
1 large flour tortilla
Instructions
Begin by placing the pepperoni in a pan over a medium heat and allow it to cook until the oil is released and the pepperoni becomes crisp. Remove from the pan and set aside.
Meanwhile, saute the green peppers in a small amount of butter.
When the peppers are sauteed and the pepperoni are crisp, scramble the three eggs in a small amount of butter.
Layer the scrambled eggs, sauteed peppers, and mozzarella cheese down the center of the flour tortilla. Place under a broiler for about 2 minutes until the cheese begins to melt.
Fold the tortilla to make a burrito and enjoy!
Hormel Pepperoni is available in several varieties at Walmart. Now, you can save $1.00 on the purchase of any two (2) HORMEL® Pepperoni packages. To learn more about Hormel, follow on Facebook and twitter.