I participated in an Influencer Activation Program on behalf of Mom Central Consulting for Nutrish for Cats. I received a sample of Nutrish for Cats to facilitate this review and a promotional item to thank me for participating.
As a mother of two growing children, it's so important for me to prepare healthy, balanced, home-cooked meals for my family. But before becoming a people mommy, I was a mommy to five other 'kids' living in my house: Scooter, Baxter, Daisy, Junior, and Bella – my pets! Since they're part of my family, they deserve to eat well, too. Healthy eating should be a priority for all of us.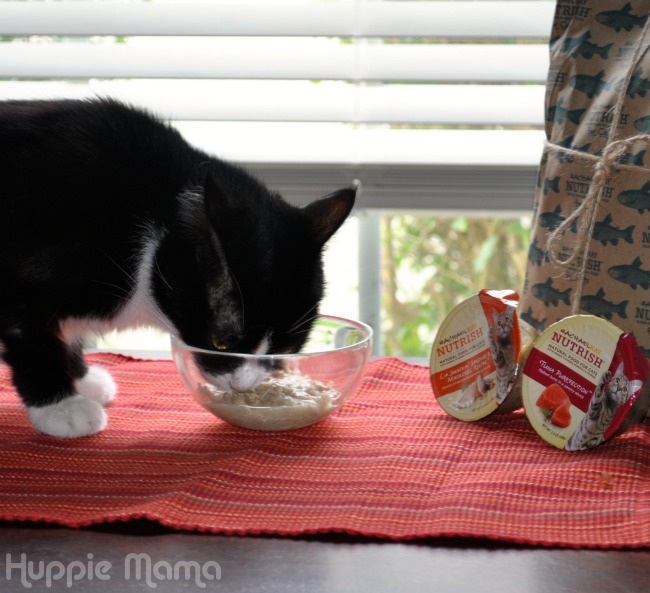 Nutrish™ is a line of natural food for cats from Food Network star Rachael Ray. Nutrish can be found at your local grocery store, down the pet supply aisle. The first ingredient in every Nutrish dry and wet food is real meat, such as chicken or fish, in cat-friendly flavors like Chicken Purrcata, Ocean Fish-alicious and Lip Smackin' Sardine & Mackerel. Nutrish is void of low-quality ingredients, including poultry by-product meal, artificial flavors, and preservatives. Unlike most pet foods on the market, Nutrish healthy cat food actually looks and smells like what it is supposed to be. For example, the Chicken Purrcata, which Bella is eating above, looks like shredded chicken.
It doesn't hurt to give your cat a special catnip treat sometimes too, right? Bella was drooling everywhere. She loved it!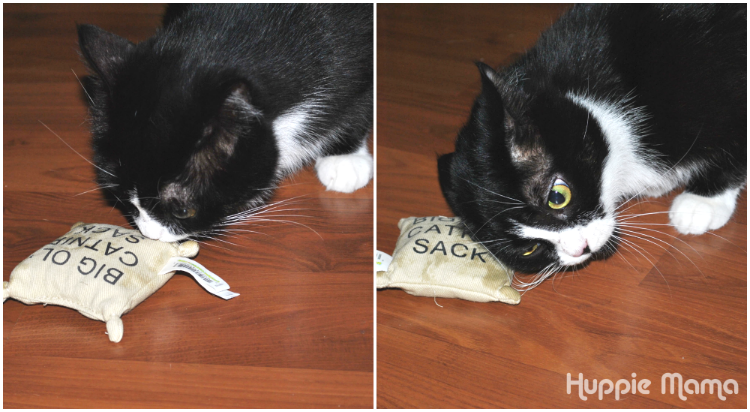 So now that your cat is happy and healthy, what about the rest of your family? Here's my take on a delicious Rachael Ray recipe for Teriyaki Chicken with Jasmine Rice. The rice is loaded with fresh, colorful vegetables and peanuts. Before trying this recipe, I had never made homemade Teriyaki sauce, but from now on, I will always make it from scratch. I used homemade chicken broth for a more robust flavor.
Teriyaki Chicken with Jasmine Rice
Author:
Cook time:
Total time:
Inspired by Rachael Ray's Teriyaki Chicken with Brown Whole Grain Rice
Ingredients
For the rice:
2 cups chicken stock
1 cup jasmine rice
1 T grapeseed oil
1 bell pepper, diced
3 scallions, sliced
1/2 cup peanuts
For the teriyaki sauce:
1 cup chicken stock
1/3 cup Tamari sauce
3 T mirin
3 T honey
2 T Worcestershire sauce
2 slices fresh ginger
1 clove garlic, crushed
For the chicken:
2 T grapeseed oil
4 boneless, skinless chicken breasts
salt and pepper
Instructions
To make the rice:
Begin by bringing the chicken stock to a boil. Add the jasmine rice and reduce to a simmer and cover. Cook about 15 minutes, stirring often. If the liquid evaporates before the rice is cooked, add another 1/4 cup of chicken broth or water.
In a separate pan, saute diced pepper in grapeseed oil. When the rice is cooked, toss the rice with the the sauteed pepper, scallions, and peanuts.
To make the chicken:
Season the chicken breasts with salt and pepper. Coat a grill pan with grapeseed oil. Cook chicken on one side, rotate 90 degrees, flip, and repeat on the other side until the chicken breast is cooked through.
To make the teriyaki sauce:
Combine all teriyaki sauce ingredients in a sauce pan. Simmer for 15 minutes.
To serve, place a spoon of rice on the plate, top with sliced chicken, and coat in teriyaki sauce.
BUY IT! Does Nutrish sound like the perfect natural cat food for your pet? Print this coupon to save on your next purchase. Use the store locator to find Nutrish near you.
WIN IT! Enter below to win a 3-pound bag of Nutrish dry food and 3 wet food samples for your cat.