This shop has been compensated by Collective Bias, Inc. and its advertiser. All opinions are mine alone. #MarinadesWithMazola #MakeItWithHeart #CollectiveBias
This Grilled Vegetable Tostada is a light dish that is perfect for celebrating fresh spring produce.
Tacos have been all the rage for a while now. From Korean barbecue street tacos to Indian-inspired chicken tacos, there are so many ways to combine a variety of ingredients to serve on a tortilla. As a variation on tacos, I like to make tostadas. For this recipe, a corn tortilla is crisped and topped with ingredients, rather than filling a folded-over soft or crunchy tortilla with ingredients. We belong to a community supported agricultural group, which means that every other week we purchase a large bag of locally-grown, farm fresh produce. Everything is grown seasonally, so in this late spring/early summer time frame, we get a lot of zucchini, tomatoes, peppers, and corn in North Central Florida. To highlight these beautiful seasonal ingredients, the plan is to grill them to prepare a Grilled Vegetable Tostada. I used Mazola®​ Corn Oil on the tortillas and vegetables to get the perfect grill marks. A clinical study showed Mazola Corn Oil reduces cholesterol 2x more than extra virgin olive oil. To learn more about this claim, see Mazola.com.
Text MAZOLA to 79495 between 6/20/19 – 9/26/19 to receive $1.00 back on your purchase of Mazola 40oz Corn Oil! Limit 1 rebate per household. PayPal account required. By texting, you expressly consent to receive multiple automated text messages on this offer. Consent not required as a condition of purchase. Message & data rates apply. Text HELP or STOP to 79495 at any time. Full terms: http://cbi.as/a38tw​.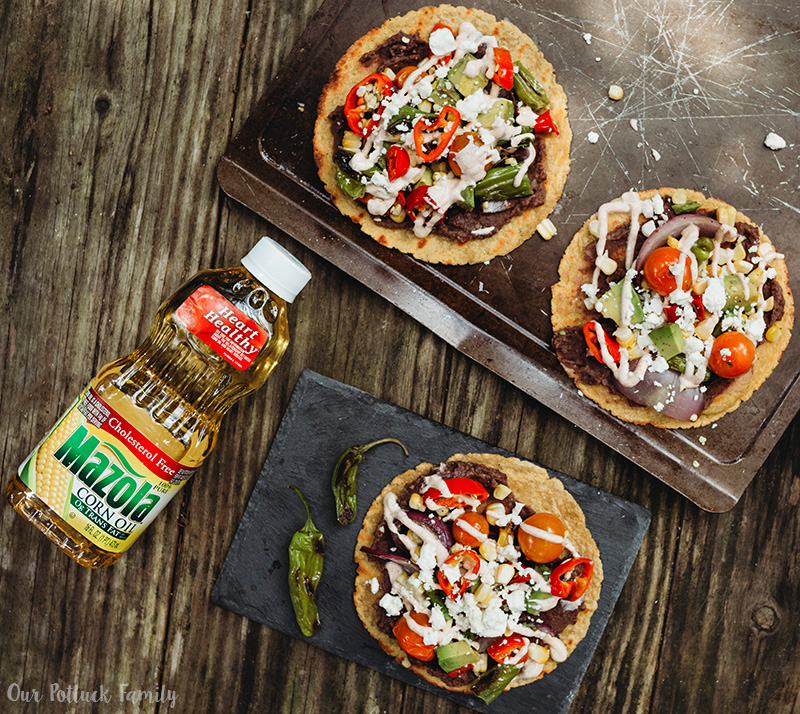 Grilled Vegetable Tostada Ingredients:
4 corn tortillas
2 ears of corn
1 medium red onion
1 pint cherry tomatoes
1 pint shishito peppers or other small peppers
1 avocado
1 lime
1 cup refried blacked beans
4 ounces non-fat plain Greek yogurt
2 t taco seasoning
1/2 cup feta cheese
1/4 cup Mazola® Corn Oil
salt & pepper, to taste
Grilled Vegetable Tostada Directions:
This is such a fun build-your own recipe that you can really make with any combination of ingredients that you like. To keep it light, I chose to use fresh seasonal veggies instead of hearty meats. Begin by brushing both sides of your corn tortillas with Mazola Corn Oil instead of butter, lard, or a heavier oil. Mazola Corn Oil is an all-purpose, cholesterol free cooking oil that is a smart heart-healthy choice for your family. Variety of uses include baking, grilling, sautéing, stir frying, or mixing up a marinade or dressing. Mazola Corn Oil has a neutral taste that lets the natural flavor of your food stand out. Once you have brushed your tortillas with corn oil, place them on the grill, flipping midway through cooking, until both sides have grill marks. Mazola has a smoke point higher than most cooking oils at 450°F and performs well in a variety of cooking applications. Many home cooks may not realize that all cooking oils have a smoke point that, once exceeded, not only negatively affect the food's flavor and nutritional value.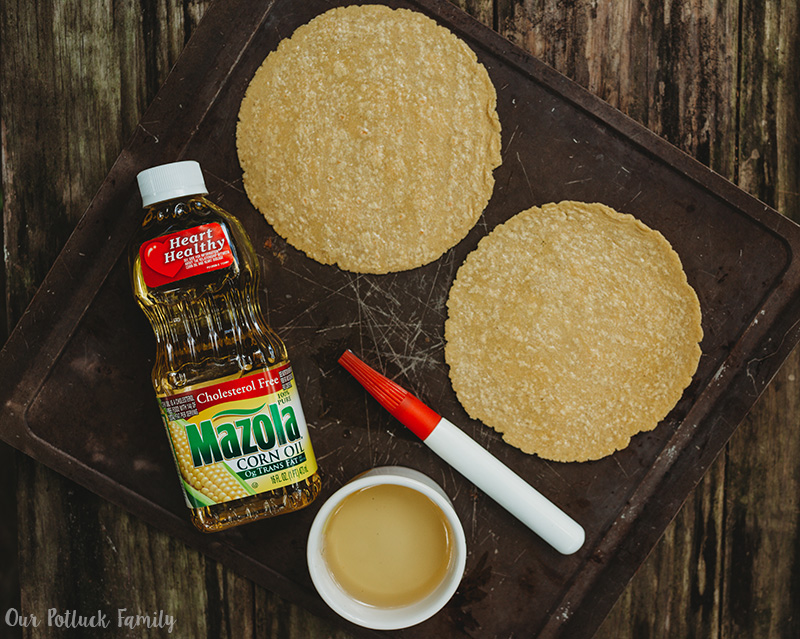 While your tortillas are grilling, prepare your vegetables. I like to grill them whole or in large pieces, then cut them down when they are ready to serve. As I mentioned above, I wanted to feature seasonal, local produce, as a substitute for traditional meat tostadas, so I chose to use corn, cherry tomatoes, shishito peppers, red chilis, red onion, avocado, and lime. For the corn, I removed the husk and silks. The red onion, I cut into thick slices. The avocado and lime, I halved. And the peppers and tomatoes were grilled whole.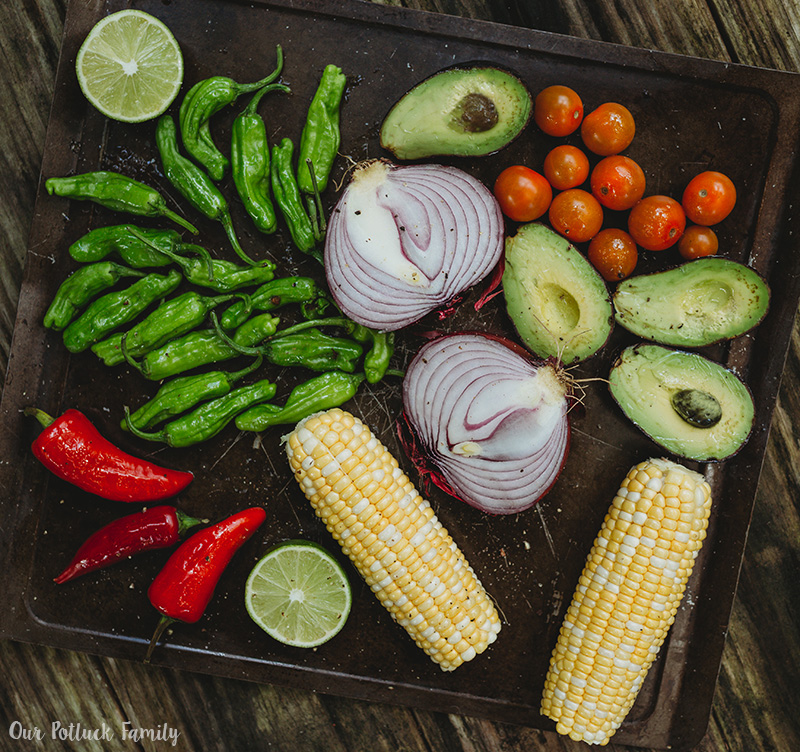 I brushed all of the fresh vegetables with a coat of corn oil and seasoned with salt and pepper. I grilled them on all sides until I got a nice char. I removed the corn from the cob, diced the onions, peppers, and avocado, and used the tomatoes whole.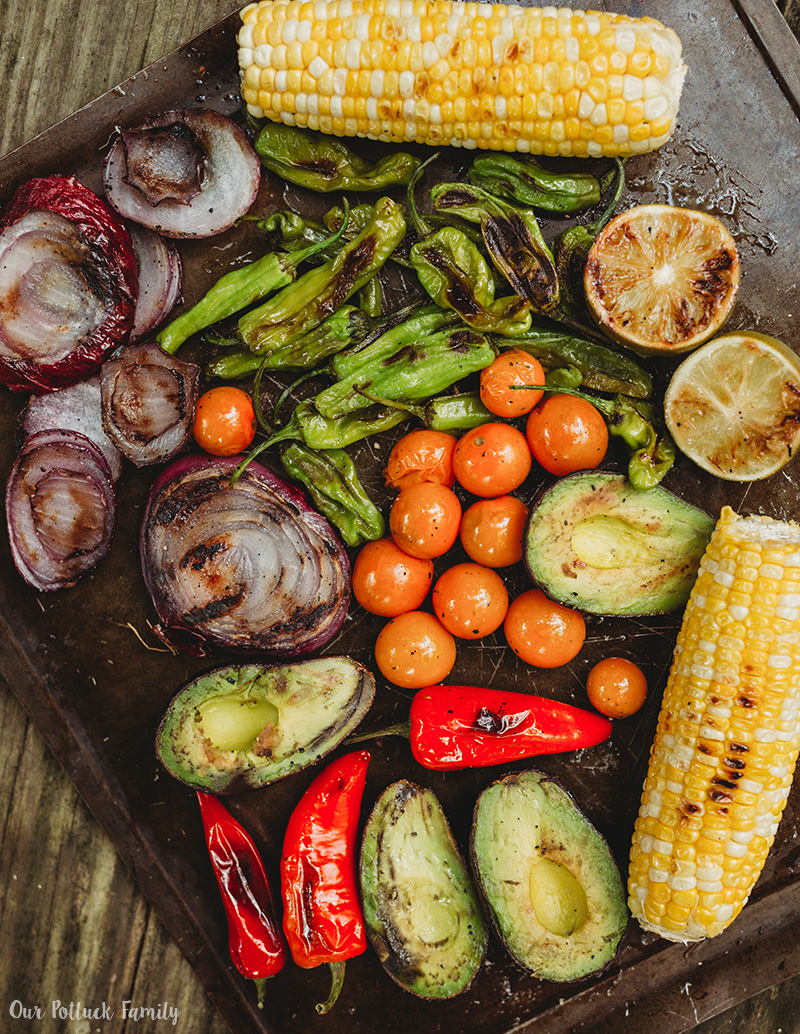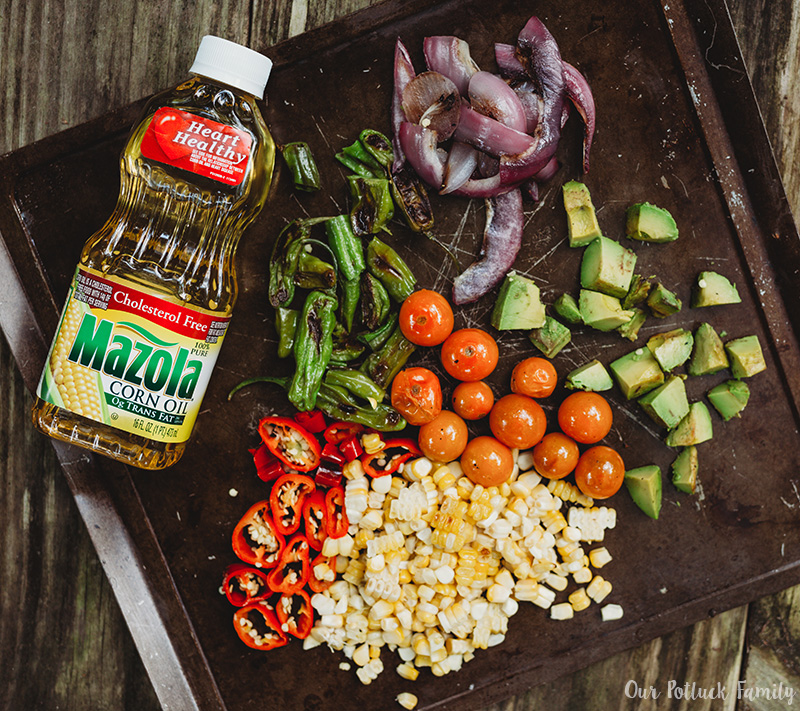 To build the grilled vegetable tostada, I started by making a quick sauce by combining non-fat Greek yogurt, the juice of the one grilled lime, and taco seasoning. The Greek yogurt is a great alternative to a heavier sauce made of mayonnaise or sour cream. Plus, the addition of lime juice really lightens it up. The taco seasoning gives it that perfect hit of spice.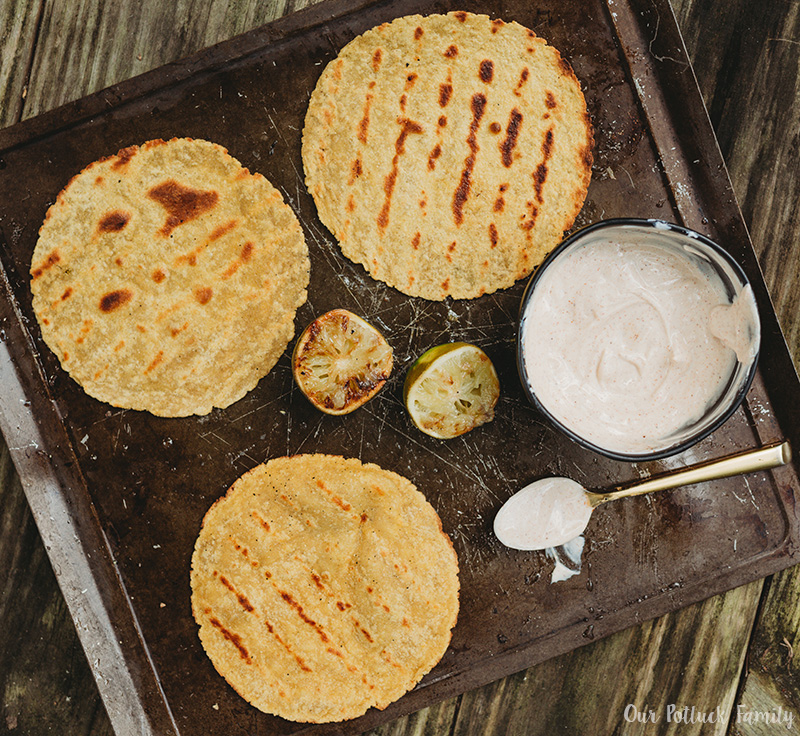 I quickly heated up a can of refried black beans and spread a layer on my tortilla. I topped this with the grilled vegetables, a drizzle of my yogurt sauce, and a sprinkle of feta cheese for a light, salty bite. My grilled vegetable tostadas were ready to serve!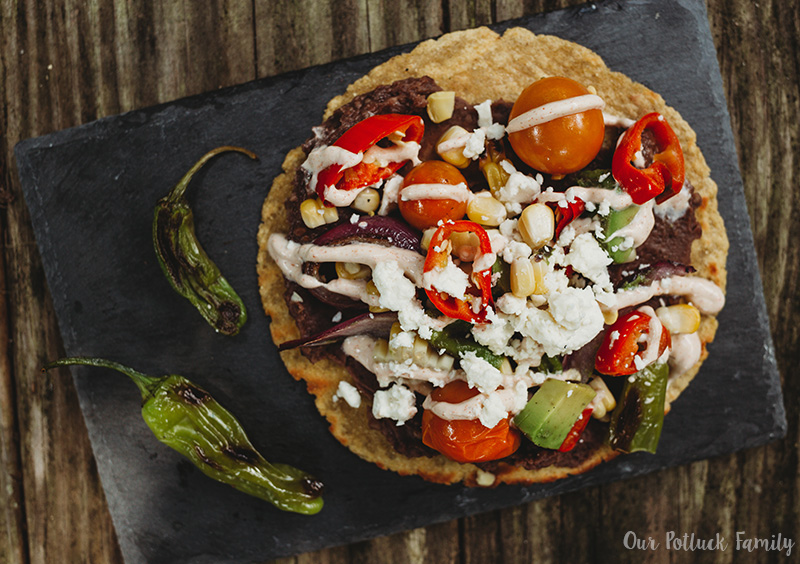 You can easily substitute your favorite vegetables. Zucchini and yellow squash would be perfect for summer, while sweet potatoes or acorn squash would highlight the flavors of fall. You can even substitute the cheese and yogurt for plant-based products to make a vegan version of this recipe.
Want to make this Grilled Vegetable Tostada recipe?
Just pin the Grilled Vegetable Tostada image below!