I received this book for free to review. The opinions expressed are honest and provided without monetary compensation.
So it's October, and that means everyone is raving about the pumpkin coffee at their favorite coffee shop or the pumpkin muffin at their favorite gluten free bakery. Instead of expecting stores to make your favorite pumpkin concoctions… bake your own from scratch! These Gluten-Free Pumpkin Ginger Cupcakes are delicious and just one of many recipes in the new gluten-free cookbook Let Us All Eat Cake: Gluten-Free Recipes for Everyone's Favorite Cakes
by Catherine Ruehle with Sarah Scheffel. Other seasonal recipes include Apple Cinnamon Coffee Cake with Almond Streusel, White Christmas Buche de Noel, and Fruitcake with Citrus-Ginger Syrup. This book is the perfect holiday gift for the gluten-free baker in your life.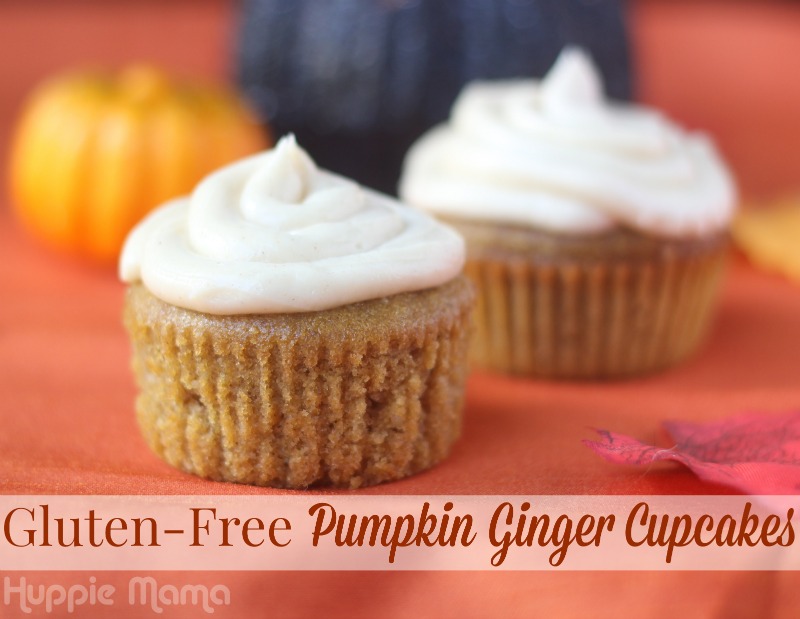 Ingredients
For the cupcakes:
3 cups Gluten-Free Whole Grain Flour Blend (*see note below)
1 3/4 cups organic cane sugar
1 teaspoon ground cinnamon
1 teaspoon baking soda
1 teaspoon xanthan gum
1 teaspoon peeled, finely grated fresh ginger
1/2 teaspoon fine sea salt
1 1/4 cups melted and cooled virgin coconut oil
3 large eggs
1 cup milk
1 cup canned pumpkin puree
2 teaspoons pure vanilla extract
Cinnamon Cream Cheese Icing:
8 ounces cream cheese
4 tablespoons unsalted butter
2 1/2 cups confectioners' sugar
2 teaspoons ground cinnamon
1 teaspoon pure vanilla extract
2 tablespoons chopped crystallized ginger, for garnish
Directions:
Preheat the oven to 350 degrees F. Line a 24-cup cupcake pan (or two 12-cup cupcake pans) with cupcake liners.
To make the cupcakes – In the bowl of a stand mixer, combine the flour blend, sugar, cinnamon, baking soda, xanthan gum, ginger, and salt. Add the coconut oil, eggs, milk, pumpkin, and vanilla to the flour mixture, and mix on low for 30 seconds. Scrape down the bowl with a rubber spatula, then mix on medium for 30 seconds more or until well combined.
Pour the batter into the prepared cupcake pans, filling them about three-fourths full. Bake in the center of the oven for about 20 minutes, until the center of the cupcake bounces back when lightly pressed and toothpick inserted into the center tests clean. Let the cupcakes cool completely on a wire rack before removing them from the pan.
While the cupcakes bake and cool, make the icing – In the bowl of a stand mixer with the paddle attachment, beat the cream cheese and butter on high for one minute or until well whipped. Add the confectioners' sugar, cinnamon, and vanilla, cover most of your bowl with a kitchen towel to avoid a dust storm, and beat on low for one minute to combine. Beat on medium for 30 seconds, scrape down the bowl, then beat on medium for one minute more until light and fluffy. You can refrigerate the icing in an airtight container for 5 days or freeze for 1 month. Bring to room temperature and beat in the bowl of a stand mixer to restore proper texture before using.
Ice the tops of the cupcakes with the cream cheese icing.
*Gluten-Free Whole Grain Flour Blend
2 cups sweet sorghum flour
1 cup white rice flour
1 cup potato starch
Mix together and place in an airtight container. Can be stored in your pantry for up to 1 month.