This shop has been compensated by Collective Bias, Inc. and its advertiser, MARS. All opinions are mine alone. #BOOItForward #CollectiveBias
Last year, while browsing Facebook, I saw photos of a Halloween dinner party with white decor. The photos were gorgeous, so I knew I wanted to organize a similar party this year. I decided the best way to host a white Halloween party is to make it a Ghost Halloween Party. Keep reading to learn about the decor, food, and BOO Kit ideas. You can shop Walmart online or in-store for all of your BOO'ing needs.
I began by shopping for the perfect Halloween decor. This included white pumpkins, ghosts, candleholders with LED candles, skulls, and other perfectly creepy decorations. A large ghost as the backdrop and a white tablecloth complete the look.
The most important part of this ghost party is the BOO Kit. A BOO Kit for your friends to take home at the end of the party can be so much fun to put together. I started with these white take-out containers to match my ghostly theme. I purchased a large bag of foam eyes and placed a different pair on each container to give them some personality.
I set out a creepy Halloween s'mores bar with some of our favorite treats:
SNICKERS® Fun Size
Graham crackers
Gummy worms
M&M'S® Fun Size
Skittles® Original Fun Size
Marshmallows
I found these awesomeGhostbusters® themed marshmallows (they look like Stay Puft and Slimer) at Walmart. How perfect are they? I used an edible food dye marker to draw the creepy faces on each one.
To make the spooky s'mores indoors, place a graham cracker at the bottom, top with a marshmallow and your favorite candies, and set it on a cookie sheet. Place in the oven or toaster oven on broil until the chocolate melts and the marshmallow begins to brown. Now, your ooey gooey treat is ready to devour.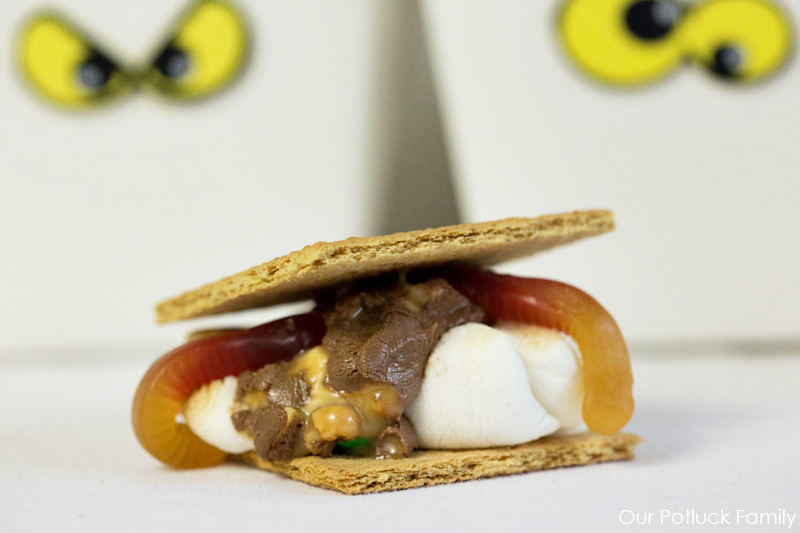 Each guest can assemble and eat these spooky s'mores at your party, then pack up a S'mores BOO Kit to take home. I lined the BOO Kits with American Greetings® tissue paper. The bright yellow-green was the perfect color!
I purchased an American Greetings® card multi-pack and added a Halloween card to each BOO Kit. Remember to write a personalized message in each one to make your guests feel extra special.
To complete the kit, I included a copy of the new Ghostbusters® available on Blu-Ray and DVD. Ghostbusters® is also available on VUDU. My kids and husband loved this movie, so why not share it with friends and other family members as well?
You can also download and print these awesome "You've been BOO'D" cards at home. There are three different versions, so you can print them all or find the one that goes perfectly with the contents of your kits!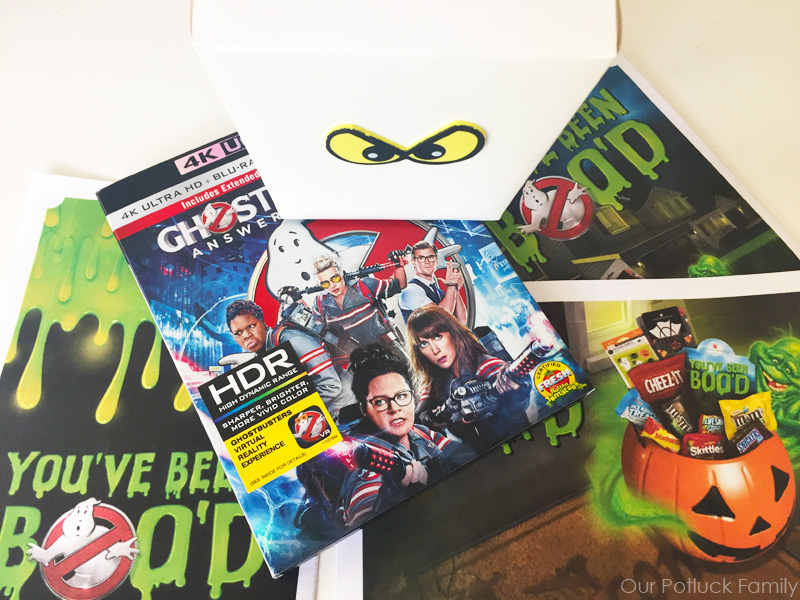 Now, on to the rest of the party set-up! I started out with white chocolate dipped strawberry ghosts. I melted a little dark chocolate in the microwave, poured it into a zipper bag, cut the tip, and used that to draw the ghost faces. Last year, I made chocolate mummies that everyone loved, so I decided to bring them back this year, too.
To make the mummies, melt white chocolate in the microwave and pour it into a zipper bag. Cut the tip of the bag, and drizzle the chocolate back and forth to make crazy white stripes over a SNICKERS® Fun Size. Make sure some of the milk chocolate shows through. Then add candy eyes to complete this treat. Place the strawberry ghosts and chocolate mummies in the refrigerator to chill before serving at your party.
Candy doesn't just go into the BOO kits, it needs to be set on the table, too. Place an assortment of your favorite Halloween candies, like Skittles® Original Fun Size, Starburst® Fun Size, and Life Savers® Gummies Fun Size in clear bowls at your Halloween Ghost Party.
Other party food includes homemade guacamole and pita chips or tortilla chips, string cheese with ghost faces (easy to add to the packaging with a black permanent marker), and cubes of cheddar cheese on a ghost plate. And to drink? A pitcher of limeade… or is it SLIMEade?
A little sweet, a little savory, and all your party snacks are complete!
My dad is now living in a rehabilitation facility. I visit him several times a week, so I decided I would bring him a BOO Kit, filled with some of his favorite Halloween treats, like SNICKERS® and Peanut M&M'S®. Food cheers him up when he's feeling down. I could also gift BOO Kits to some of the nurses helping him out each day.
If your friends and family members live far away, but you still want to send them Halloween treats, you can build a BOO Kit online! I sent one to my friend Nicole in Boston and my sister Jamie who lives on the other coast of Florida. My sister was so surprised, she posted this picture of her goodies on Facebook. She has three dogs, and I was able to send them treats, too.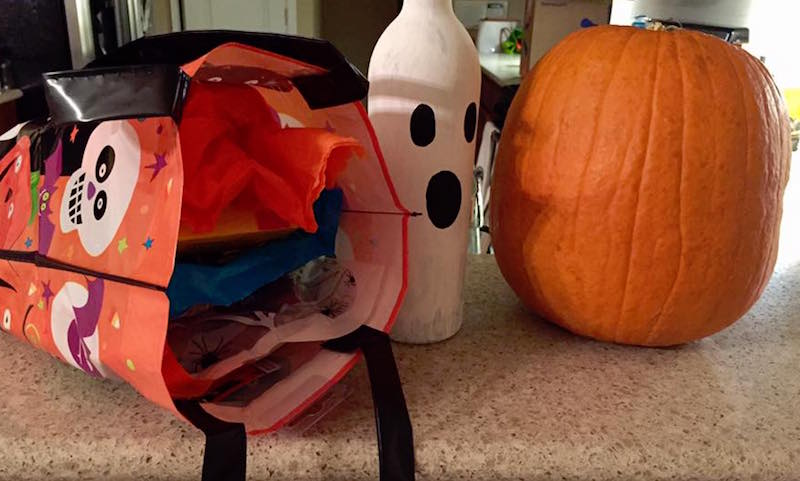 Want to win a $500 Walmart gift card? Enter here:
There are some exciting BOO'ing retailtainment events coming to Walmart in select areas of Florida! Check out this list to see if there is one near you!
What would you put in your BOO Kit?
Get more ideas at BooItForward.com, where you can download and print your own BOO Kit cards.
Head to Walmart where you can purchase MARS and Wrigley candy, American Greetings® cards and gift wrap, and Ghostbusters® now available on Blu-Ray and DVD.