A trip to Atlanta would not be complete without visiting some Top Chef restaurants. I was always a fan of Richard Blais's style, mixing modern technique with classic flavor combinations. This is exactly why we visited both of his wallet-friendly restaurants in Atlanta: Flip Burger Boutique and HD1.
After visiting the Georgia Aquarium, we visited Flip Burger Boutique. Like Blais's updated-classic culinary style, the restaurant itself is a modern take on the classic 50s burger diner. The menu offers several grass-fed beef burgers, but also alternative burgers 'meats', like shrimp, turkey, chroizo, and even a vegetarian 'faux'laffel. We went with two beef burgers.
This burger had blue cheese, caramelized onion, and frisee. The meat itself was so delicious, and the combination of ingredients was perfection!
Our second choice was a beef patty, topped with braised pork and a fried egg. Normally, I am not a fan of fried eggs, but it added this delicious unctuous quality to the burger that made it incredibly amazing. Of course we also got an order of the vodka battered onion rings. So good!
No meal at Flip is complete without the Nutella + burnt marshmallow shake.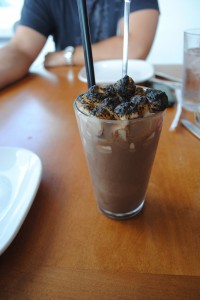 On the last day of our trip, we stopped at HD1. This is Blais's new hot dog joint. Just like Flip, HD1 features classic combinations with a fun twist. We ordered two different hot dogs there as well. This is the Eastbound and Down, featuring Carolina pulled pork, country slaw, and mop sauce. Incredible, of course!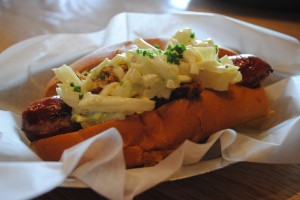 Our second choice was the Little Italy, which is a fennel sausage topped with grilled radicchio, fontina, and San Marzano ketchup. The ketchup was deliciously sweet and highlighted the fennel in the sausage perfectly. We also got Lydia her own kid's meal, complete with a freshly-made corn dog and waffle fries. She loved it!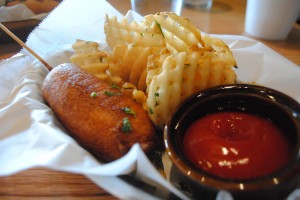 So if you are ever in Atlanta and you want a reasonably-priced chef who has received numerous accolades, check out either Flip Burger Boutique or HD1 and you won't be disappointed!