Try this delicious Farmer's Market Orzo Salad, a great vegetarian dish for summer!
It's summer, which means some of my favorite fruits and vegetables are being harvested! Corn, asparagus, blueberries, and raspberries are now available in stores. This is the perfect time of year to shop local farmer's markets for all of your favorite fruits and vegetables. Our favorite crops (like tomatoes and strawberries) are grown down here during the 'winter months', and these are sold after undergoing allergen and pesticide residue testing to ensure safe products for the consumers. During the summer months, we get our produce from the rest of the country. So when I see all of the beautiful summer-time produce that is available, I tend to shop with my eyes rather than using logic to plan meals in advance. All of the beautiful colors are very inviting! But what happens then? I end up buying lots of fresh fruits and vegetables… without any idea of what to prepare. What's my go-to meal when I have a variety of fresh produce in my home? Farmer's Market Orzo salad! Learn how you can prepare this delicious lunch meal or dinner side dish below.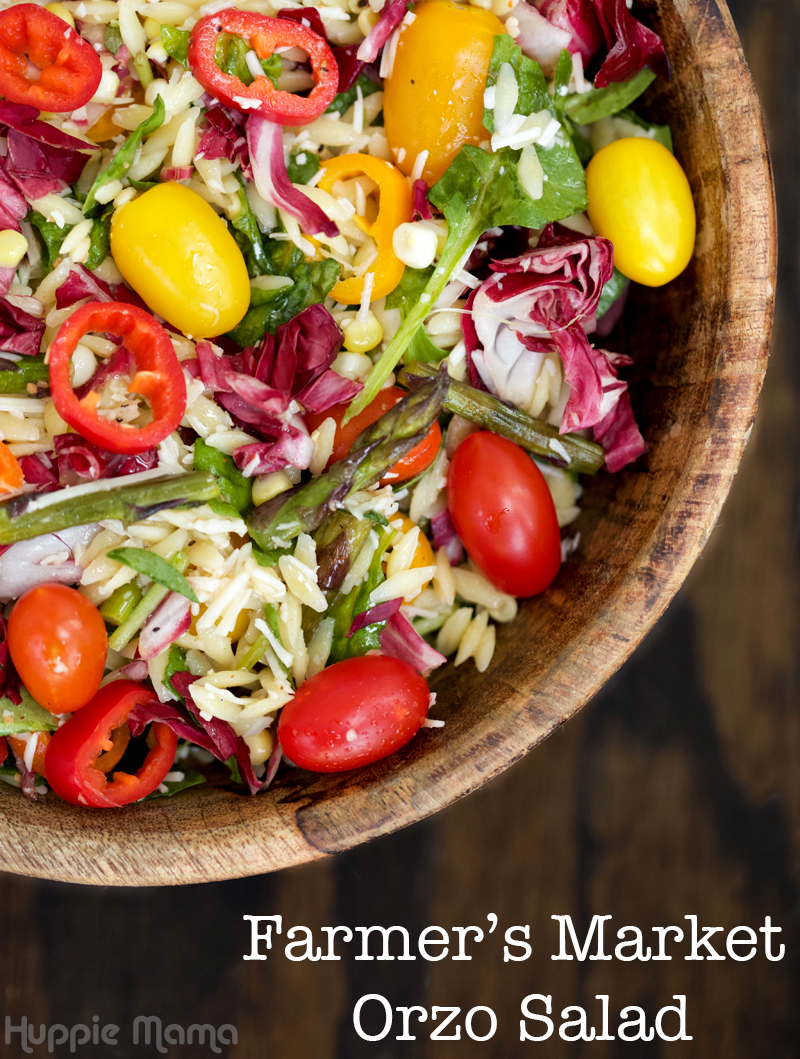 Farmer's Market Orzo Salad Ingredients:
2 cups cooked orzo
2 cups baby spinach
Variety of fresh seasonal vegetables, for a total of 5 chopped cups
1/2 cup Italian cheese blend
1/3 cup Italian dressing
Olive oil
Salt and pepper
Farmer's Market Orzo Salad Directions:
When you can't shop your local farmer's market, visit Walmart for a wide selection of fresh vegetables. For this salad, I selected baby spinach, corn, mini peppers, grape tomatoes, radicchio, and asparagus. This salad really allows you to eat the rainbow, which means you're getting a variety of nutrients in ever bite.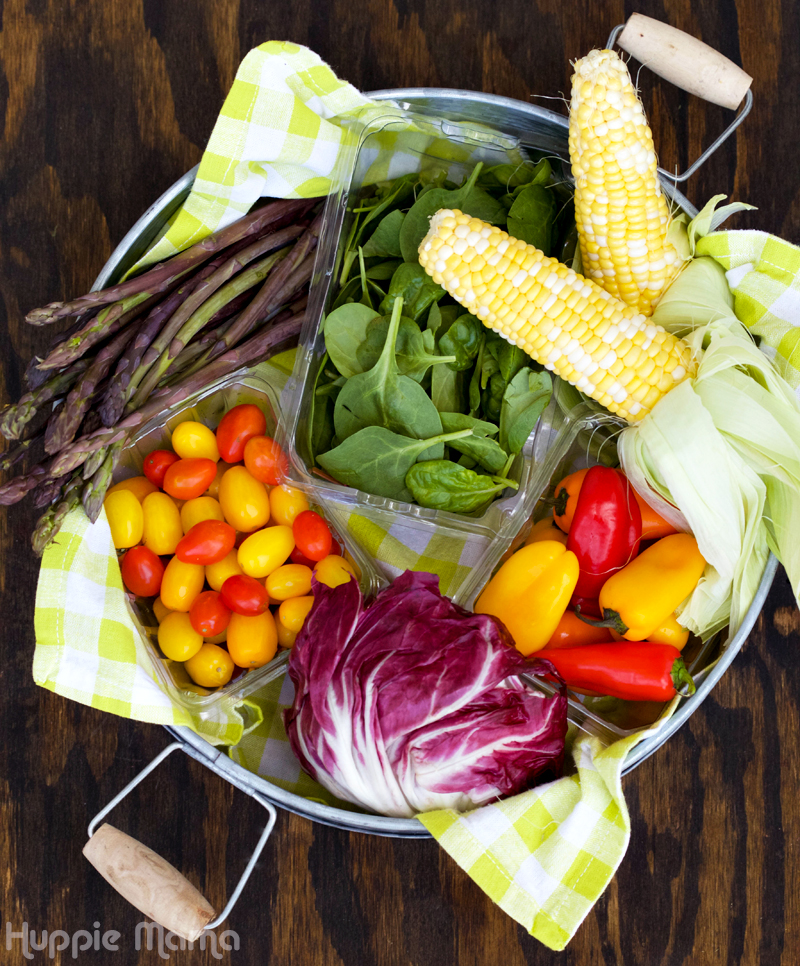 Next, divide your ingredients into those that need to be cooked and those that can be served raw. I chopped my peppers into rings, shredded the radicchio and spinach to form small strips of each, and left my grape tomatoes whole so the juices wouldn't ooze out. Prepare your orzo according to the directions on the package to make it al dente. To make 2 cooked cups of orzo, I used 1 uncooked cup. Cool the orzo to room temperature.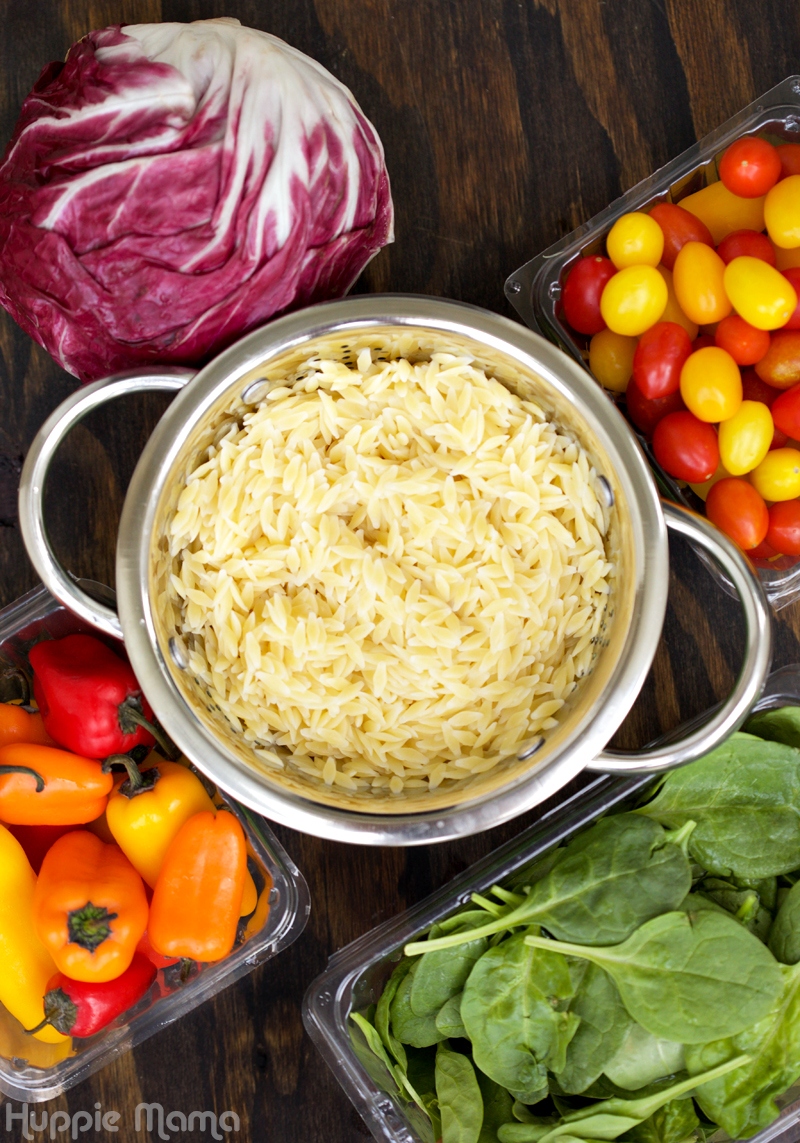 I grilled the asparagus and corn. Simply brush each one with a little olive oil and season with salt and pepper to get a nice little char on the outside. Remove the corn from the cob and cut the asparagus into small bites. I cut mine into thirds.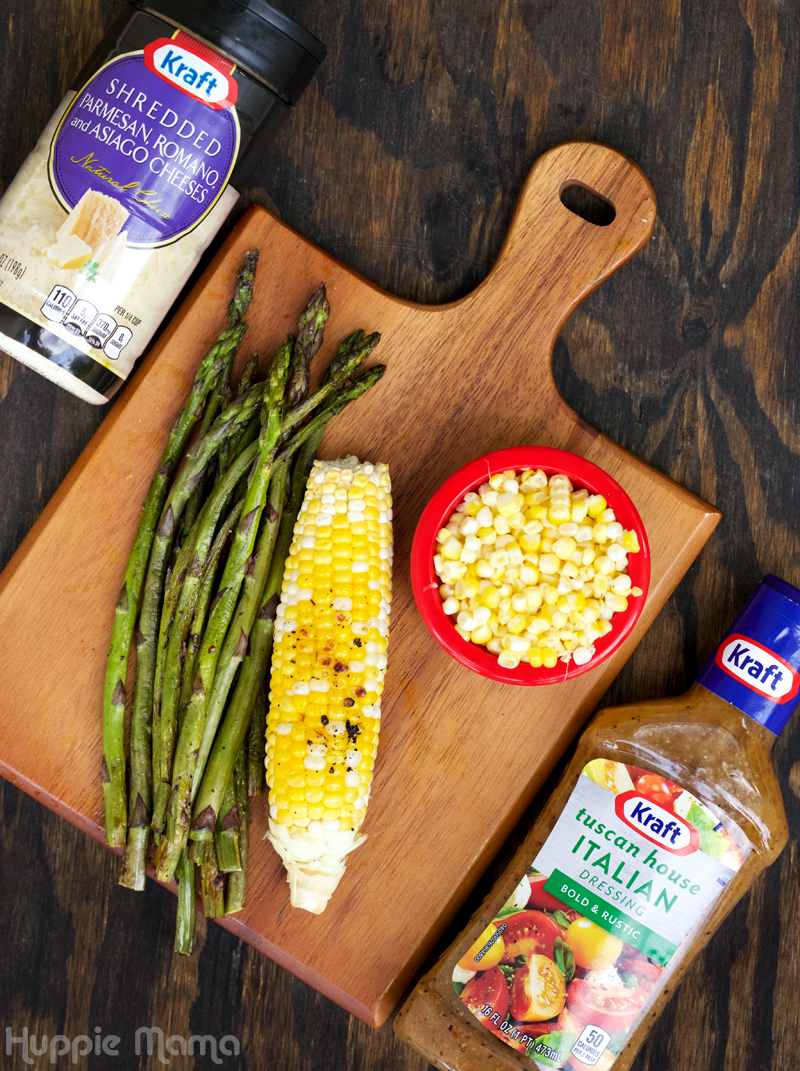 Add all of the cooked and raw vegetables to a large bowl. Combine the vegetables with the orzo. Add 1/3 cup of Italian Dressing and 1/2 cup of Shredded Italian Cheese blend. Toss the salad to distribute the dressing and cheese evenly.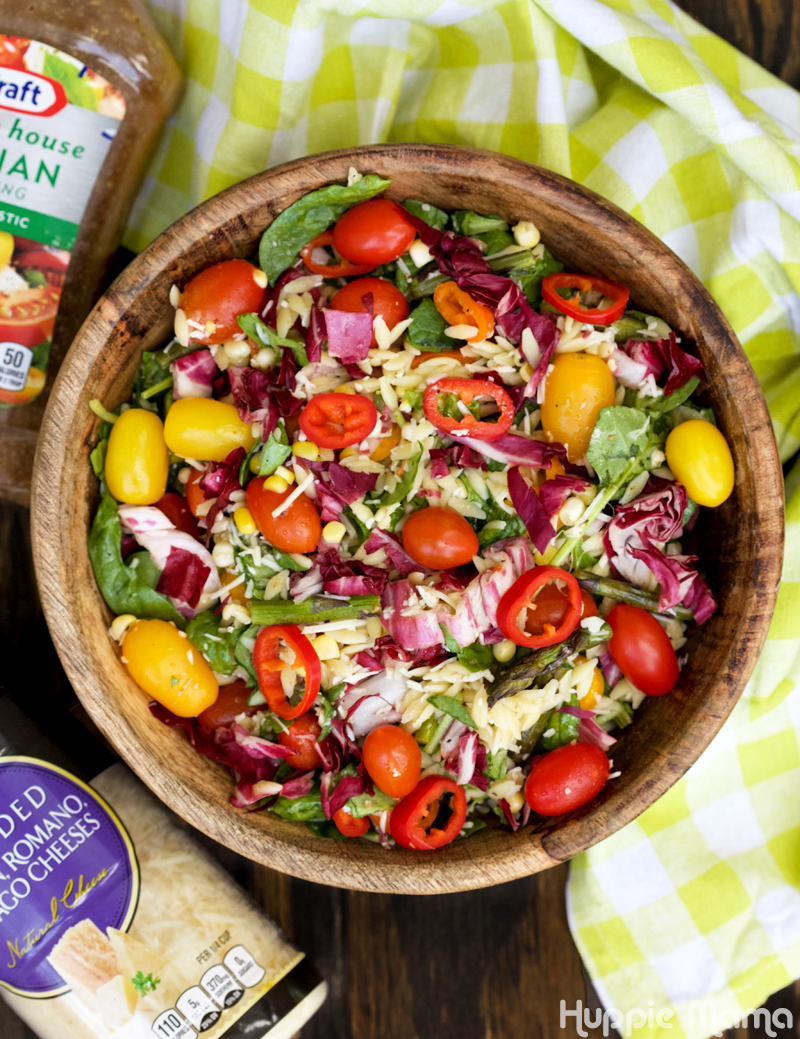 Serve this salad as a complete balanced meal for lunch or as a side item for dinner. It pairs well with rotisserie chicken, grilled steak, or grilled fish to create a nutritious meal featuring all four food groups.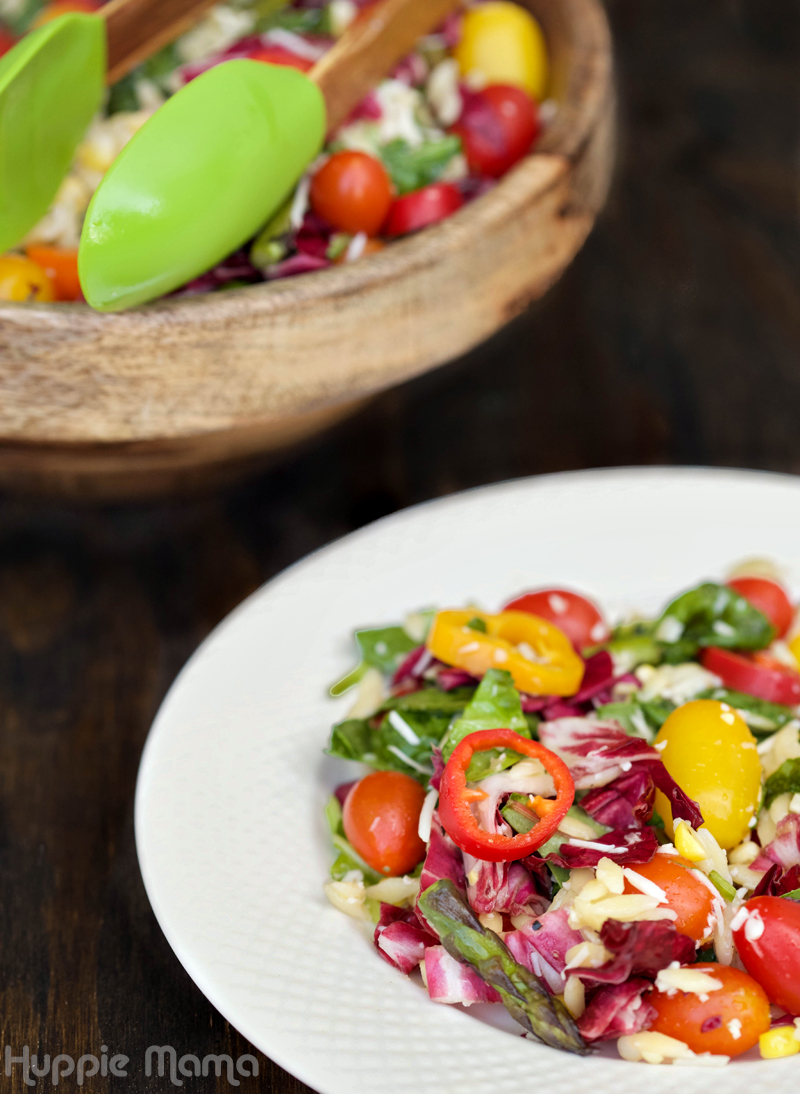 If you're looking for a delicious mix of fresh produce, check out Walmart's produce section. I love that they now carry a variety of organic items, like baby spinach and arugula. This is a great go-to recipe that allows you to include whatever vegetables happen to be in season at that time. Try your favorite Kraft dressing and cheese combination to make a delicious summer salad!
What's your favorite summer recipe that incorporates fresh produce?
Pin the Farmer's Market Salad recipe below!