Your girls will just love these Disney Princess Tea Party Ideas!
How is my little girl turning 6 years old in just a few weeks?! With all of the hectic back-to-school madness, I decided to throw Lydia a Disney Princess Tea Party for her birthday with our play group. I wanted to keep this party-planning simple, so I combined items I already had around the house from hosting previous parties, and I purchased some budget-friendly Disney Princess decorations.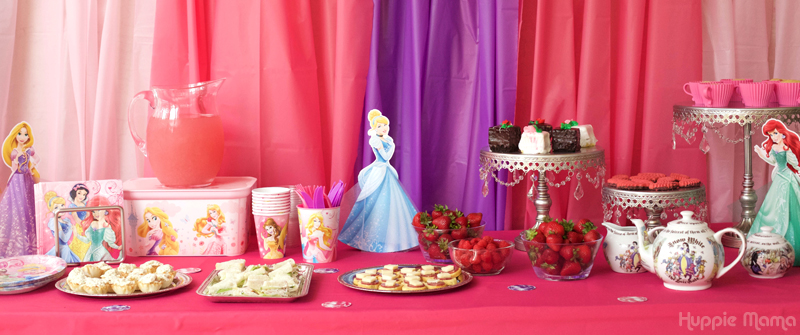 For the backdrop for this party, I borrowed the idea I used for my Inside Out party. A few $1 plastic tablecloths and duct tape and you have an awesome backdrop! Because this was a Disney Princess Party, I wanted everything to be super-girly! Princess paper cups, paper napkins, pink raspberry lemonade, pink and purple utensils, and of course, the Disney Princesses. These stand-up Disney Princesses take just a minute to assemble and make a great table decoration. Plus they feature my two favorite princesses: Ariel and Rapunzel (along with Cinderella).

Disney Princess Tea Party Food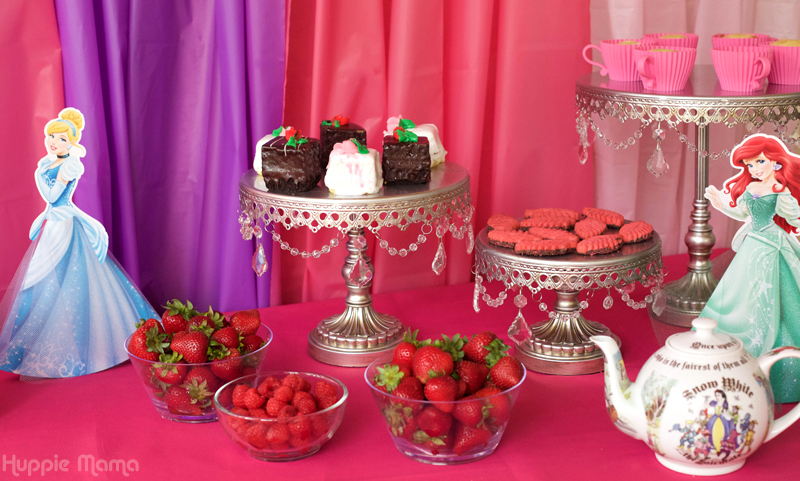 Every tea party needs a lot of small bites of yummy food. I served cakes, cookies, berries, and cupcakes. When hosting a party, I try not to stress myself out too much with the food. Feel free to make one or two simple dishes yourself, then purchase some pre-made items, fresh fruit, vegetables, dips, etc.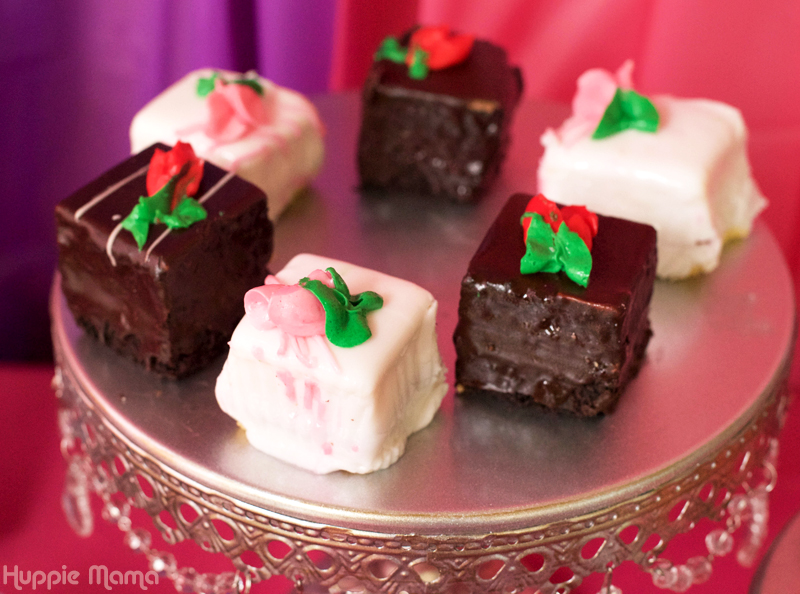 I found these little cakes at my local bakery. Each one was topped with a pink or red rose. How perfect for a Disney Princess Tea Party! Check out the bakery counter at your store to find fun party foods.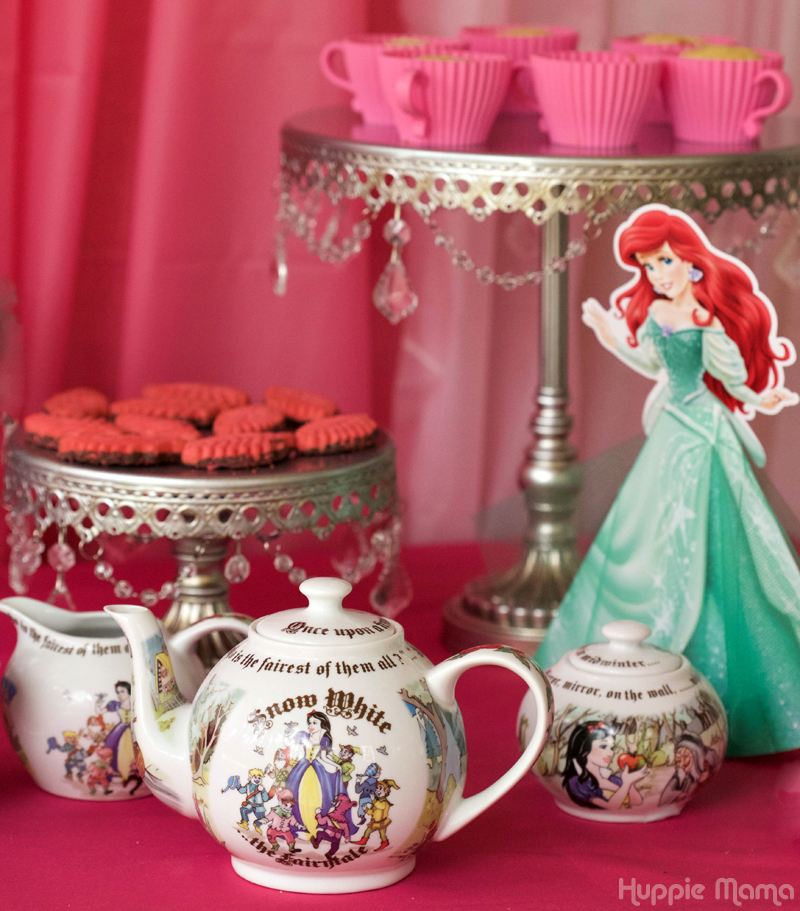 No tea party would be complete without tea. I found this Snow White tea pot recently (along with the cream and sugar containers) and just had to have it. It's so whimsical and looks like a fun antique.
Of course, I served up some savory bites, too. From Left to right — Phyllo cups with chicken salad, tea sandwiches with turkey, avocado, chive cream cheese, and cucumber, and small toasts with salami and cheese. These took just a few minutes to prep.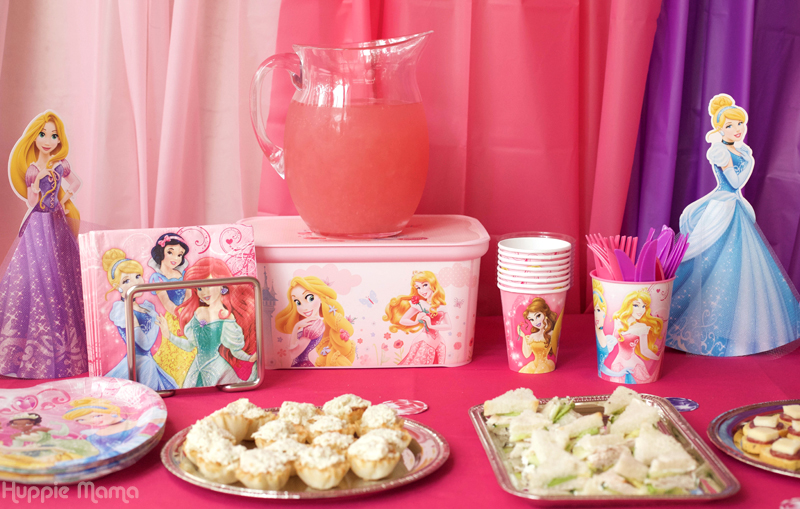 When it was party time, the girls lined up to prepare plates of their favorite foods. Um, and seriously, how cute are they in their princess dresses? Each girl dressed as a different princess – We had Jasmine, Snow White, Ariel, Tiana, Cinderella, and Aurora at our Disney Princess tea party!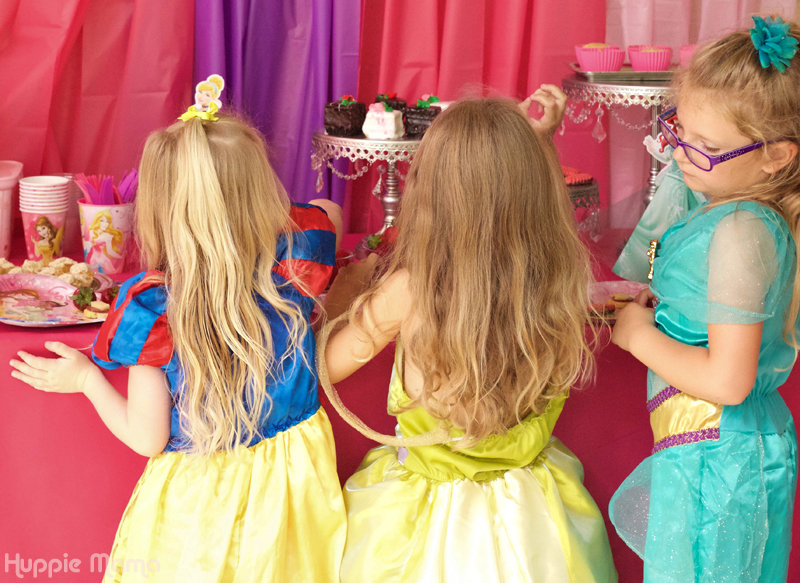 The girls sat at our table outdoors to enjoy their treats. I used a plastic Disney Princess tablecloth and simple Cinderella decorations to decorate the table. This makes for super-simple clean up at the end of the party. Just roll the tablecloth up with all the napkins, plates, etc., and toss it!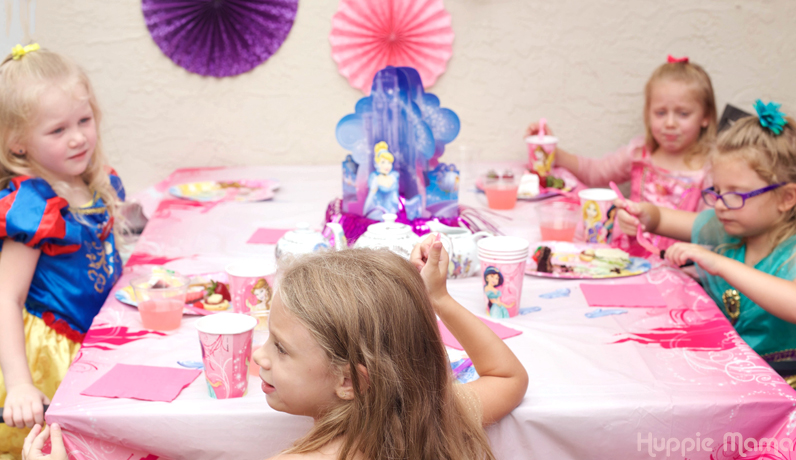 Disney Princess Tea Party Crafts
I like each party to feature at least two activities. The first activity we did was crown-decorating. Every princess needs a princess crown. I found this inexpensive kit filled with craft foam crowns and stickers so each girl can decorate their crowns as they liked.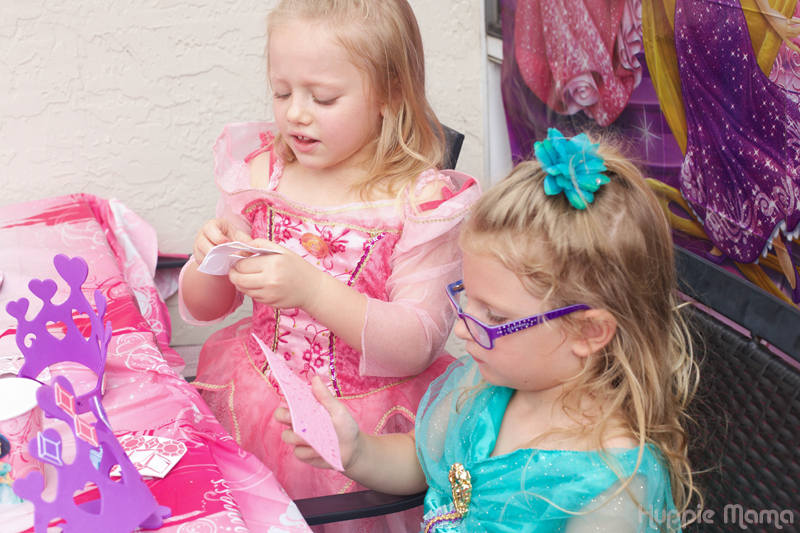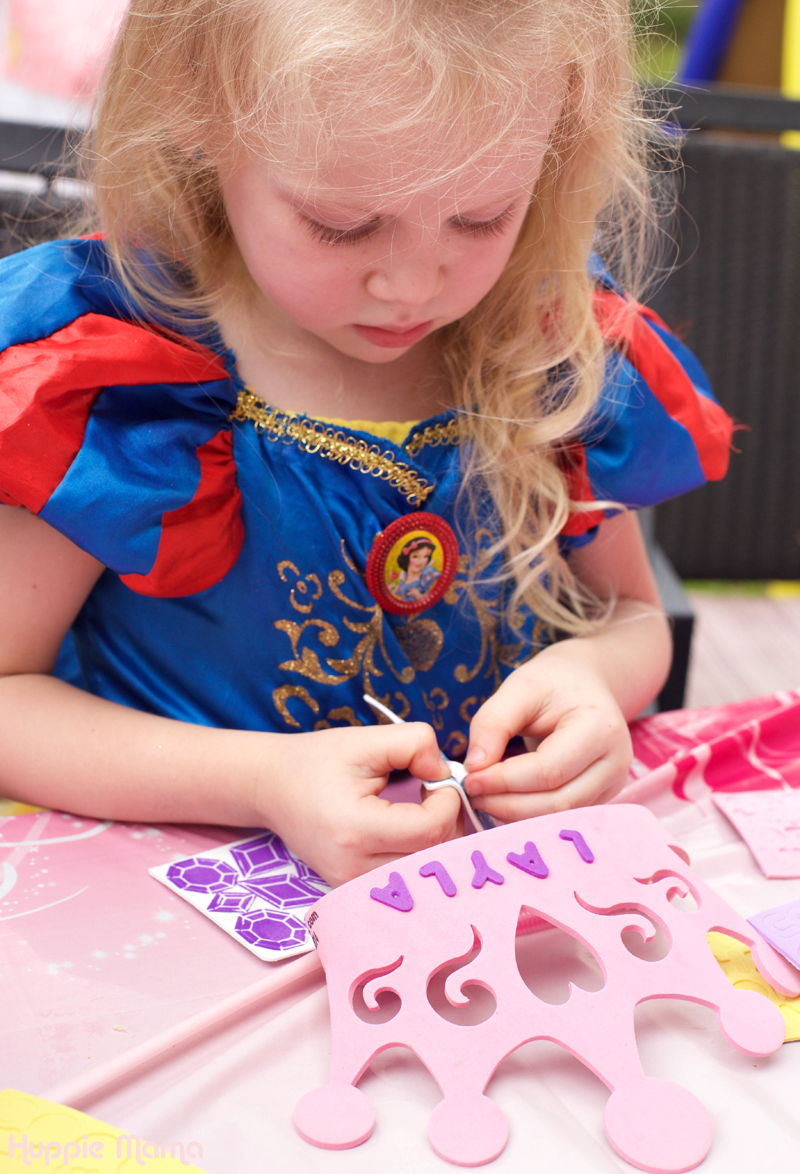 The girls looked absolutely beautiful with their princess dresses and crowns! Can you tell they're all the best of friends?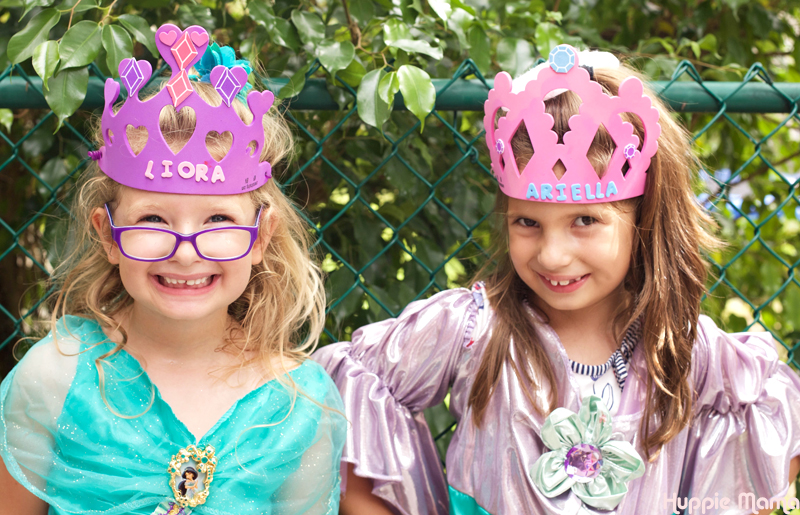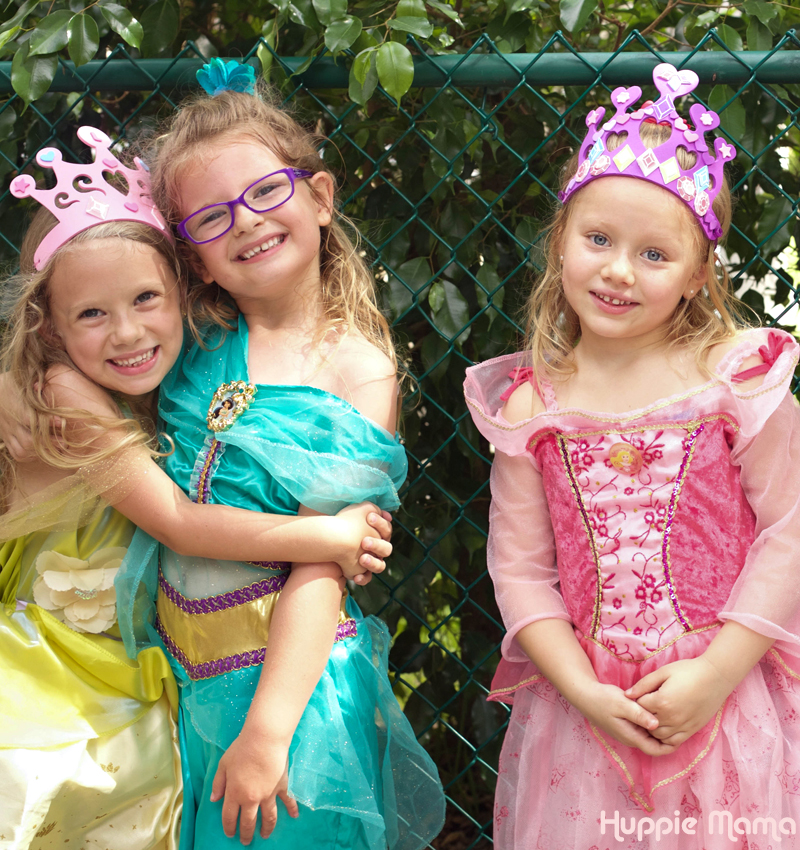 The second activity was cupcake decorating. Did you notice the absolutely adorable tea cup cupcakes in the first shot? While shopping for my decorations, I found these super-cute silicone tea cup baking cups. I just HAD to use them for this party!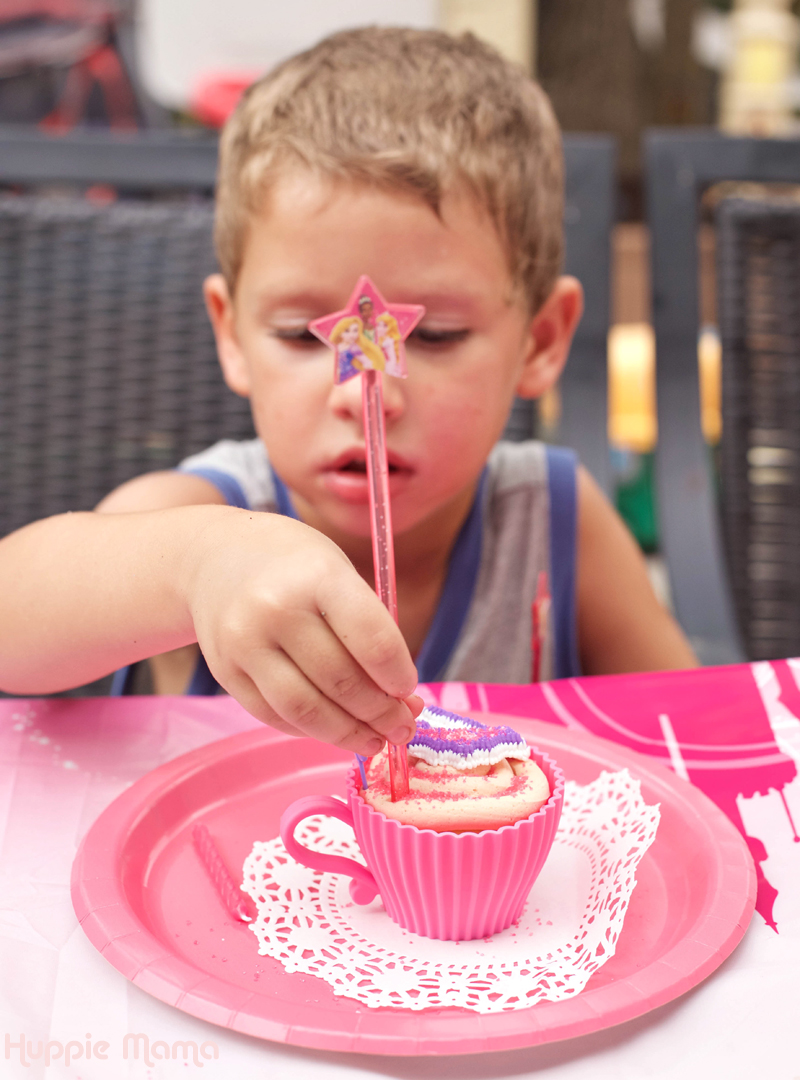 This is when my little prince decided to join the party. Even he can't resist cupcake decorating! For each cupcake, the children used pink frosting, sprinkles, decorations, and a magic Disney Princess wand (or two – you can never have too many magic wands).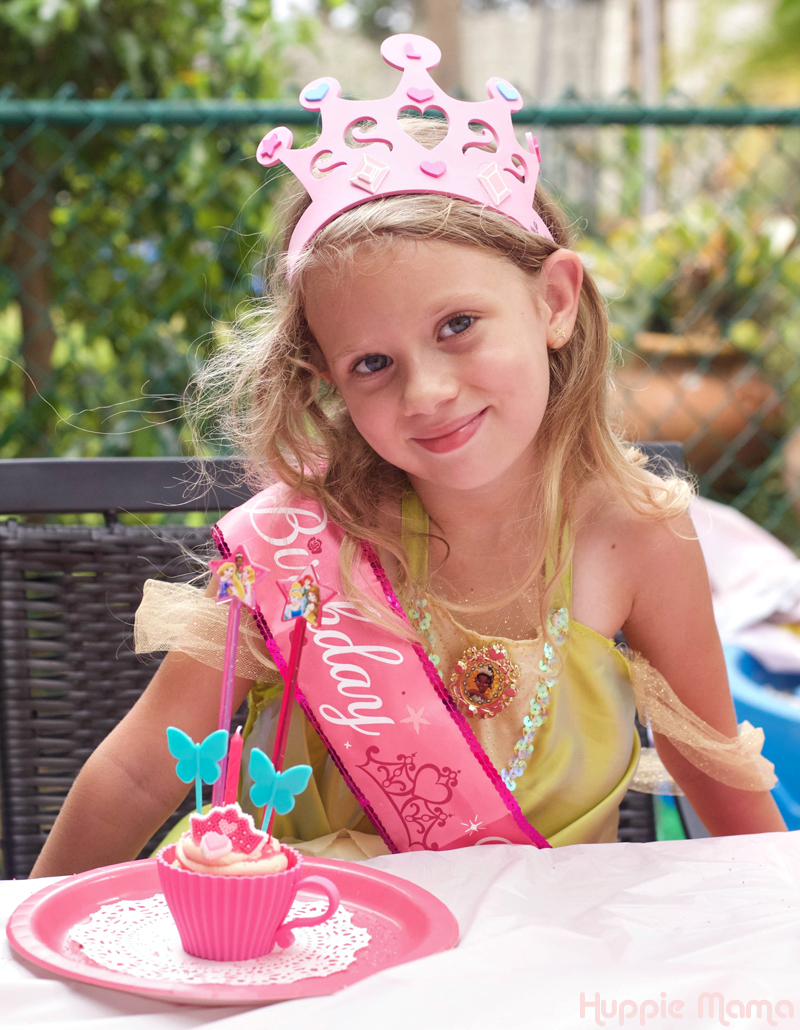 And since we were celebrating Lydia's 6th birthday, she got to wear the Birthday Princess sash. I can't get over what a loving, smart, beautiful girl she has become. And I'm so glad she has so many wonderful friends to share all of these magic moments together!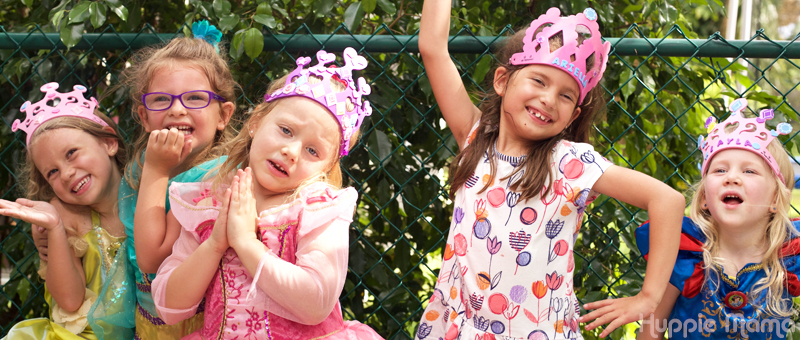 What ideas do you have for throwing a Disney Princess Tea Party?
Pin these Disney Princess Tea Party Ideas for later!