This #SchoolYearReady shop has been compensated by Collective Bias, Inc. and its advertiser. All opinions are mine alone. #CollectiveBias 
While I regularly discuss issues related to child development, I don't really get into my educational background and experiences too often. At the age of 18, I decided I wanted to be a special education teacher. The inspiration? When I was in middle school, I was a peer counselor and peer tutor. My teacher assigned me to a self-contained classroom of children with disabilities. Working with the students in that classroom was such an amazingly rewarding experience, that when I left for college many years later, I knew it was what I wanted to do. The population of students who I felt most drawn to had more moderate to severe disabilities, primarily autism and genetic disorders. Between 2002 – 2008, I worked in the public school system as a special education teacher. When I completed my doctorate in special education in 2008, I worked as lead teacher and then co-director of a nonprofit for children with moderate to severe disabilities until 2012.
One of my favorite things about teaching children with special needs was setting up the classroom environment. There's a certain level of blissful excitement that I experience when I open a fresh pack of printer paper, hear the printer going, and turn on the laminator. In a special education classroom, paper, ink, a printer, and a laminator are some of the most important educational tools. Why? Because when every child's instruction is individualized, you need to make all of the materials from-scratch.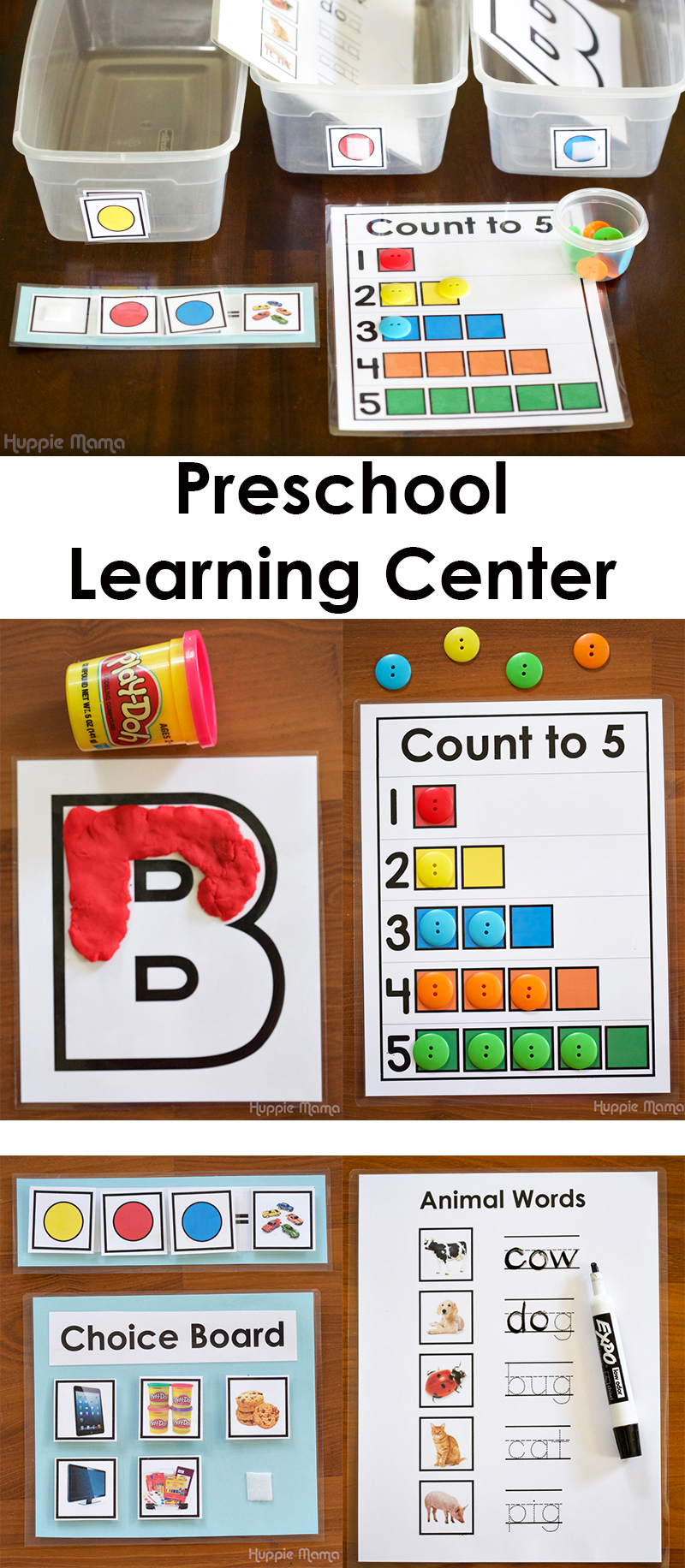 So, I may no longer be a classroom special education teacher, but I like to apply all of my years of experience to many of my other roles, including teaching college courses, private tutoring, and, of course, parenting. Lydia began Kindergarten and Bryce began Preschool this week. I want to make sure they have an organized workspace to complete homework and work on extension activities to reinforce the skills that are being targeted at school. Lydia's workspace is simple. I filled a pencil box with her supplies, like scissors, glue sticks, markers, colored pencils, and #2 pencils. For Bryce, I applied some of my background in special education to create a Preschool Learning Center. I'll walk you through what I created, and why I created it that way.
Materials:
Velcro (rough and soft)
Clear packing tape
Scotch™ Thermal Pouches Letter size (50 pack)
Clear bins
Construction paper
White cardstock
Printer ink
Scotch™ Double-Sided Tape
Scotch™ Mailing Packaging Tape
3 clear baskets/bins, shoe box size
Special Equipment:
Scotch™ Thermal Laminator
Printer with color ink
X-acto, scissors, or paper cutter
Directions:
To create this preschool learning center, you really need to understand why each component has been included. I'll start with an overview of the TEACCH Approach. TEACCH is generally used with individuals who have autism, but can really be effective for any children (and adults). It's a highly-structured, individual-focused organizational system that teaches children how to independently navigate developmentally-appropriate work tasks. Upon completion of a set of tasks, children should receive positive reinforcement to support the child's desire to do the assigned work. The the three main components I have created are:
Choice Board
Task Baskets
Work Strip
Choice Board: Begin by selecting images of your child's favorite things. For Bryce, I found stock images of an iPad, TV, Play-Doh, Cookies, Toy Cars, and Art Supplies. I used Photoshop to create 1.5″ squares and added one preferred item into each square. I printed these 6 images along with the title "Choice Board". I then cut these out. I glued the "Choice Board" title to a piece of blue paper (Bryce chose the color).
Next, I used double-sided tape to stick these small pieces inside my laminator pouch. I spaced them out well so the lamination will seal around the edges of each piece. (Make sure you don't cut the actual pouches before laminating as it can jam up the machine.) After laminating, cut out the separate pieces, leaving a nice edge around each one. Place a square of rough Velcro on the back of each square, and a corresponding piece of soft Velcro on the Choice Board.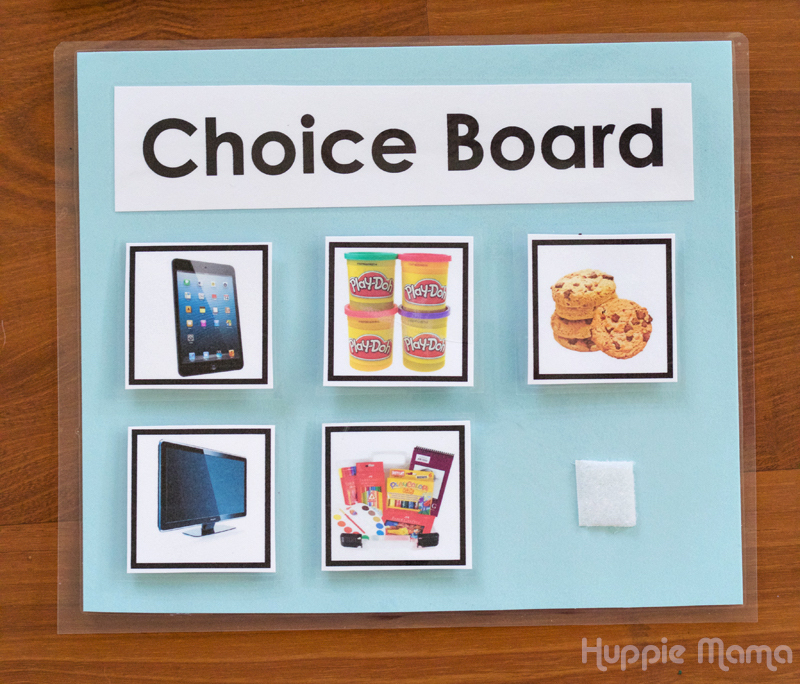 Task Baskets: A task basket is a simple way to present a fun learning activity. Each basket has a symbol on the front (two copies of it), one that is attached to the basket with packaging tape and a matching one that is Velcro'ed over the first one. Each task has a clear beginning and end and can be completed independently in a short amount of time. It's a great way to review previously-taught skills. I created three tasks for Bryce.
The first task addresses one-to-one correspondence, understanding that every written/spoken number represents a set quantity. This free printable task can be found here: Count to 5. Just add colorful buttons, pom-poms, or other small objects! I like that this particular task also has children sorting by color, so it addresses two skills at once.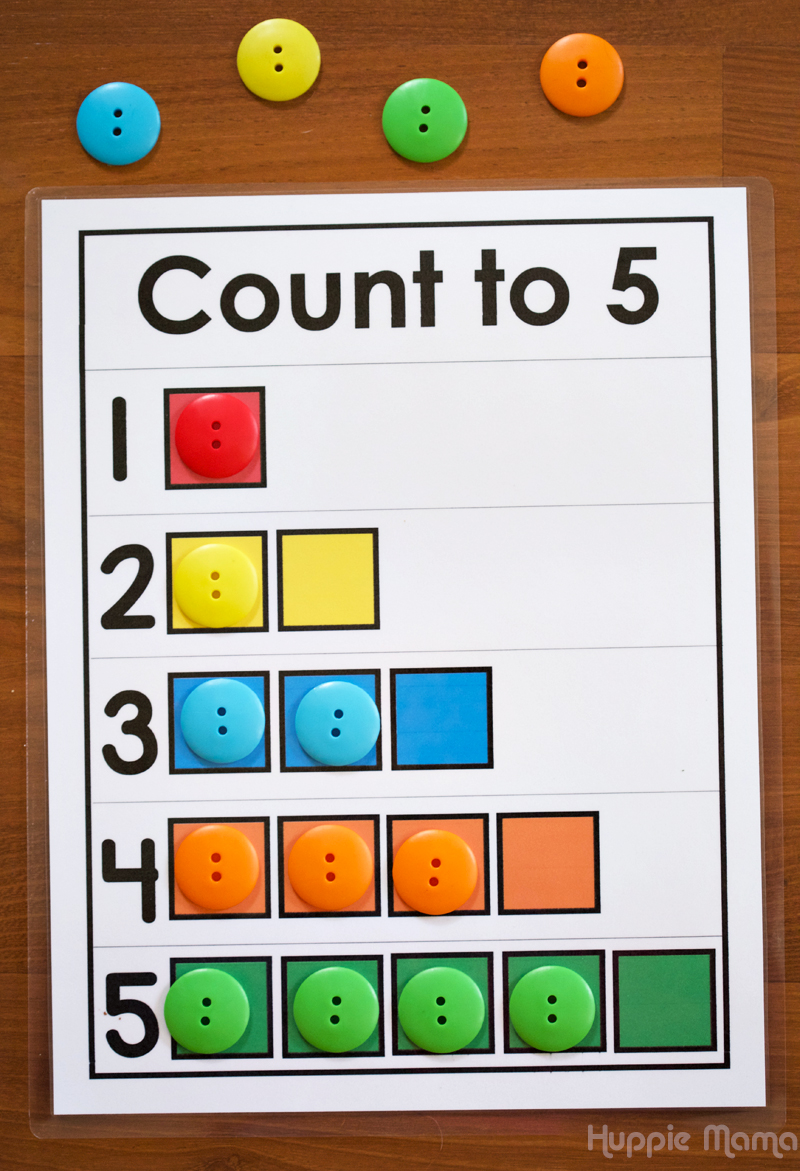 This free printable animal words task allows children to practice writing letters by presenting the written words next to fun animal pictures. Just include a dry erase marker, and the task can be completed over and over again.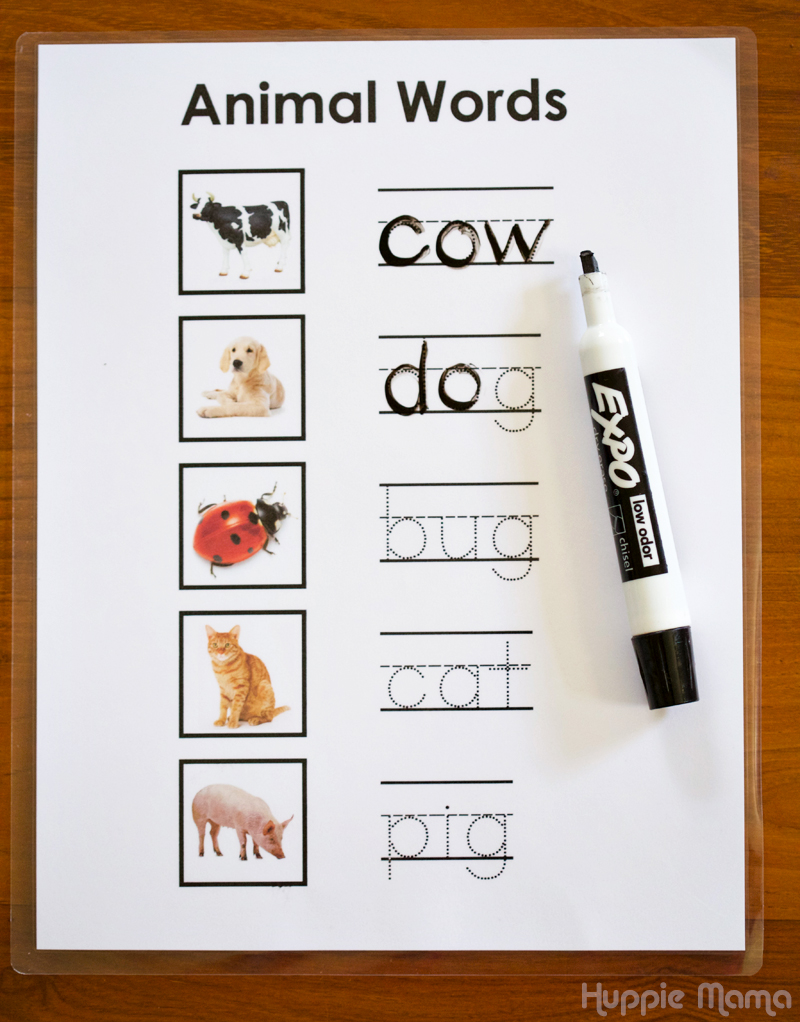 The final task is a fun fine motor task. Simply print a capital letter (I chose "B" for Bryce), laminate it, and your child will fill in the space with Play-Doh. How fun is that? Here are some more fine motor task ideas you can incorporate into your baskets.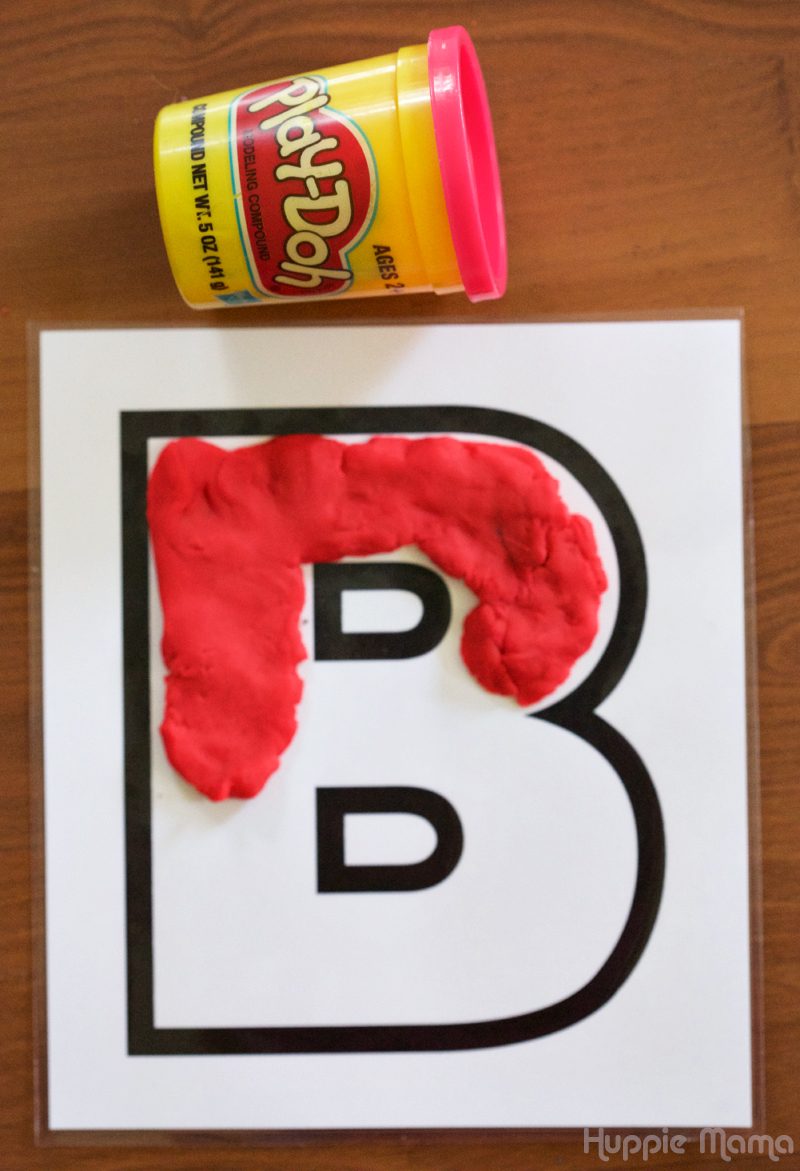 Work Strip:
The final step is to organize your work system. You can download a work strip printable here: TEACCH Visuals. Simply print the strip, cut it out, paste it to a strip of paper that matches your choice board, and laminate it. Add a soft Velcro square in the middle of each square on the work strip.

Place the corresponding task basket symbols on the strip in the order that you will organize them. Ask your child to select an item from the choice board and place it in the final square. When your child completes the three task bins, he will receive the item he selected from the choice board.
Here's the completed Preschool Learning System, ready for a special little preschooler! Remember to always organize tasks from left to right, top to bottom. That will help children as they learn to read and write. When your child has completed all three tasks, be sure to provide lots of positive reinforcement, including the item he selected form his choice board.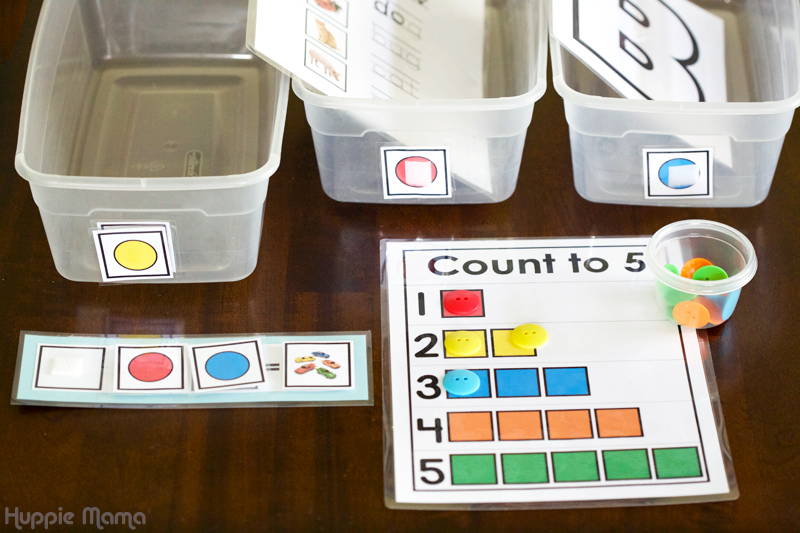 If you'd like to create this Preschool Learning Center, it's easy to make with Scotch™ products. This Thermal Laminator is inexpensive and is such a great tool for making educational materials when you have school-aged children. It warms up in just minutes, and in seconds, your pages are laminated.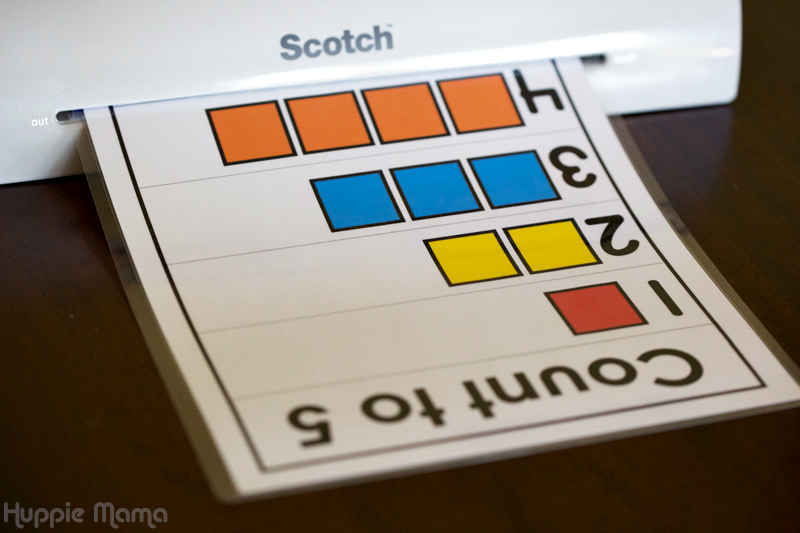 You can find Scotch™ products at Walmart in both the back-to-school section and the stationery section. I actually found the Thermal Laminating Pouches in the stationery section and the Thermal Laminator with the back-to-school supplies.
What back-to-school projects can you make with Scotch™ 3M materials?