In order to understand what Common Core is not, I'm going to begin by providing some educational terminology.
Standard: A statement that describes what a student should be able to do at a certain point in his/her educational career.
Task analysis: Breaking an activity down into all the components, steps, and/or skills needed to complete the activity.
Methodology: The process by which students are taught to arrive at an answer or new understanding of material.
Curriculum: The scope and sequence of skills that are to be learned in a particular subject at a particular grade or level.
Have all your Facebook friends been posting this dreadful example of something that has absolutely nothing to do with Common Core while talking about just how horrible Common Core is, based on this single image of how to solve 32-12?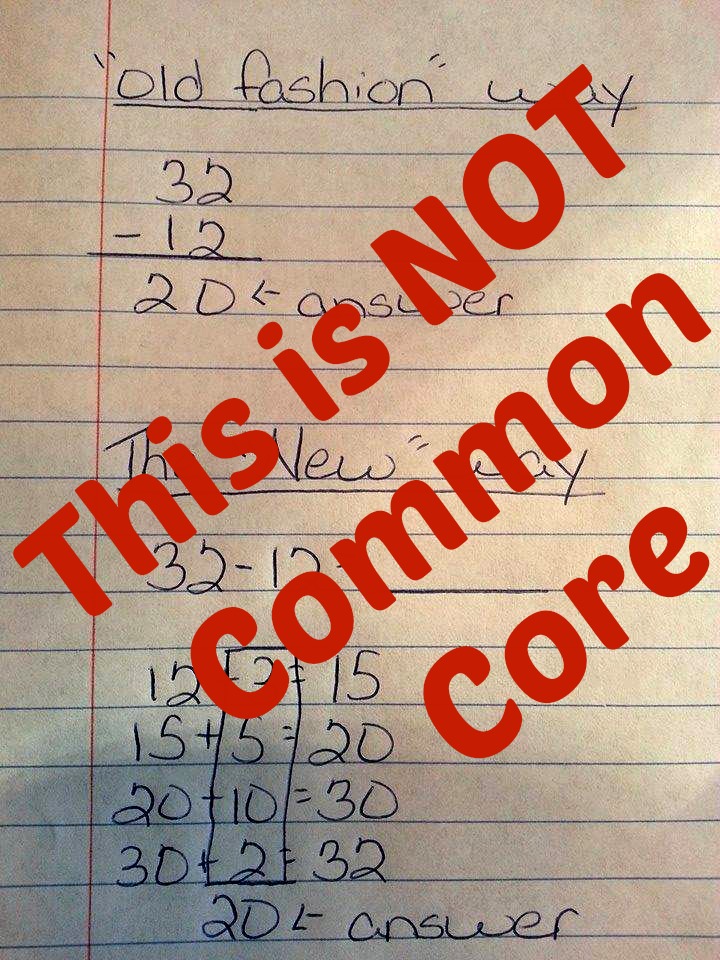 Using the terminology above, what does this image tell us and what does it imply?
The "old fashion" way (which of course should be 'old-fashioned', thus rendering this image useless before reaching the mathematical interpretation) shows us nothing. It's a problem with an answer, missing all of the steps to solving the problem. It does not show how the problem is taught or worked through. None of the aforementioned terms apply.
The "old fashion" way = a problem + an answer. Not Common Core.
The "new" way shows a problem with several steps below the problem. Someone has performed a task analysis of the steps that can be used to solve the problem and created a methodology for solving the problem based on the analysis.
The "new" way = task analysis + methodology. Not Common Core.
This "new" way (which is not actually new; the SRA curriculum company has been teaching using this methodology – since the 1990s) is probably part of a pre-packaged curriculum. Remember, curriculum is the scope and sequence of skills that are to be learned in a particular subject at a particular grade or level. Every few years, a school district adopts a new curriculum to teach a particular subject area. A team of skilled teachers evaluates multiple published curricula and votes to select the curriculum they believe will best meet the needs of the students in that school district. Teachers then must instruct using this pre-packaged curriculum.
Classrooms are an ever-changing learning environment. The classroom dynamics we grew up with are incredibly different than today's classrooms.
When we were children, the state of Florida did not have a class-size amendment (this passed in 2002). This limits the number of children allowed in a class at each grade level.
The inclusion of children with moderate to severe disabilities was quite rare until the 1997 update to the Individuals with Disabilities Education Act, giving children with disabilities the right to a free, appropriate education in the least restrictive environment (which is often the general education classroom).
We also have a growing population of English language learners in our classrooms.
To reach a larger variety of learners, we need to present children with a variety of methods to solve the same problem. What you're not seeing when you look at something as simple as this above example (that is NOT Common Core) is that children were probably working at their seat with number lines, manipulatives like Unifix cubes, using their fingers, etc. to arrive at the "new" way. This is a multi-faceted approach to looking at numbers. Here are several other examples of multiple ways to solve math problems.
Common Core is a set of standards. That's it. Remember, a standard is a statement that describes what a student should be able to do at a certain point in his/her educational career. I just looked at the first grade math Common Core standards, and I found the following standards regarding subtraction:
Operations and Algebraic Thinking
Represent and solve problems involving addition and subtraction.
Understand and apply properties of operations and the relationship between addition and subtraction.
Add and subtract within 20.
Work with addition and subtraction equations.
Number and Operations in Base Ten
Extend the counting sequence.
Understand place value.
Use place value understanding and properties of operations to add and subtract.
When a teacher creates a lesson, she begins with the district's adopted curriculum, identifies which standards correlate with the day's lesson (only role Common Core plays in lesson planning), determines what methodology will be used to teach this (may use multiple methods, most likely provided in the curriculum), and instructs her students. A well-composed lesson consists of the teacher's presentation where methodology is modeled, an opportunity for guided practice is provided, an opportunity for independent practice is provided, and then the teacher evaluates the student's learning.
With the technology available to even the youngest of children today, teaching a child to "just subtract" is futile. That's what cell phones and iPods and iPads and laptops can already do for them. We have to actually teach children to think! Let's provide them with a methodology they can actually use in their heads to quickly perform operations without using a pencil and paper. With that in mind, I have amended the ridiculous image above by performing a task analysis of the "old fashion" way (which I have termed Methodology  #1) along with the task analysis of the "new" way (which I have termed Methodology #2). When we perform subtraction problems using the traditional method, we are generally teaching children to solve problems through rote memory. By providing a step-by-step task analysis, you can teach children the WHY? behind that process. Click here for a visual representation of Methodology #1. Here's my revised version, comparing "old" and "new" that shows all the steps we are really performing. And as you can see, it's actually the same exact number of steps.
*Please understand that this image above still has nothing to do with Common Core. I am only correcting the original image.
"And something else that matters more – We've taught you how to think."
– Dr. Seuss, Hooray for Diffendoofer Day
I'm going to side-step for a moment to complete this post. Forgive my tangental behavior. I graduated high school in 1997. At that time, in my school district, the grading scale was as follows:
94 – 100 = A
85 – 93 = B
75 – 84 = C
65 – 74 = D
below 65 = F
Why is this relevant? Well, if everyone who was educated in Broward County Public Schools attended college in Broward County, this would not be an issue. That is not what happens. Future college attendees applied to colleges across the state, maybe even across the nation. But here's the problem… all of the 90 – 93% 'B' grades I earned were A's in other states (perhaps other school districts in Florida). This meant my GPA may have been significantly lower than others applying to college with the same earned percentages in equivalent courses. I was being compared to others whose grades did not reflect the degree to which I learned the same material.
By standardizing expectations nationally, a child should be graduating from high school with the same opportunities regardless of where they are educated, so that when they apply to colleges, they are equally as likely to have mastered the same material. At least if the standards were the same from state-to-state, colleges can better gauge what an incoming freshman's prior knowledge should be across multiple academic disciplines.
I welcome questions and comments on this post!
FOLLOW-UP: After reading all of the wonderful comments, concerns, and suggestions below, I have written an additional post – Parent Advocacy in the Public School System – with ideas about how you can address your concerns at multiple levels to truly support your child's learning.
FOLLOW-UP, the sequel: I continue to see "Common Core Math" examples floating around social media. I gathered several of these examples to create an additional post, Common Core Math Standards in Action.