After writing my wildly-popular What Common Core is NOT post last week, I realized something: most people are developing opinions about Common Core State Standards based on worksheets and work samples being passed around on Facebook. Instead of allowing a few examples of how Common Core math standards are being implemented to shape your views, here are additional examples of worksheets from a variety of publishing companies that aim to target these standards. I collected these images by typing the search terms "awful common core math" into Google and viewed the images. As these have been spread over and over again, I do not know how to give proper credit, but feel free to comment below if you know where credit should be given.
Reminder: Common Core is a set of standards, not a curriculum. These are merely interpretations of how those standards can be taught.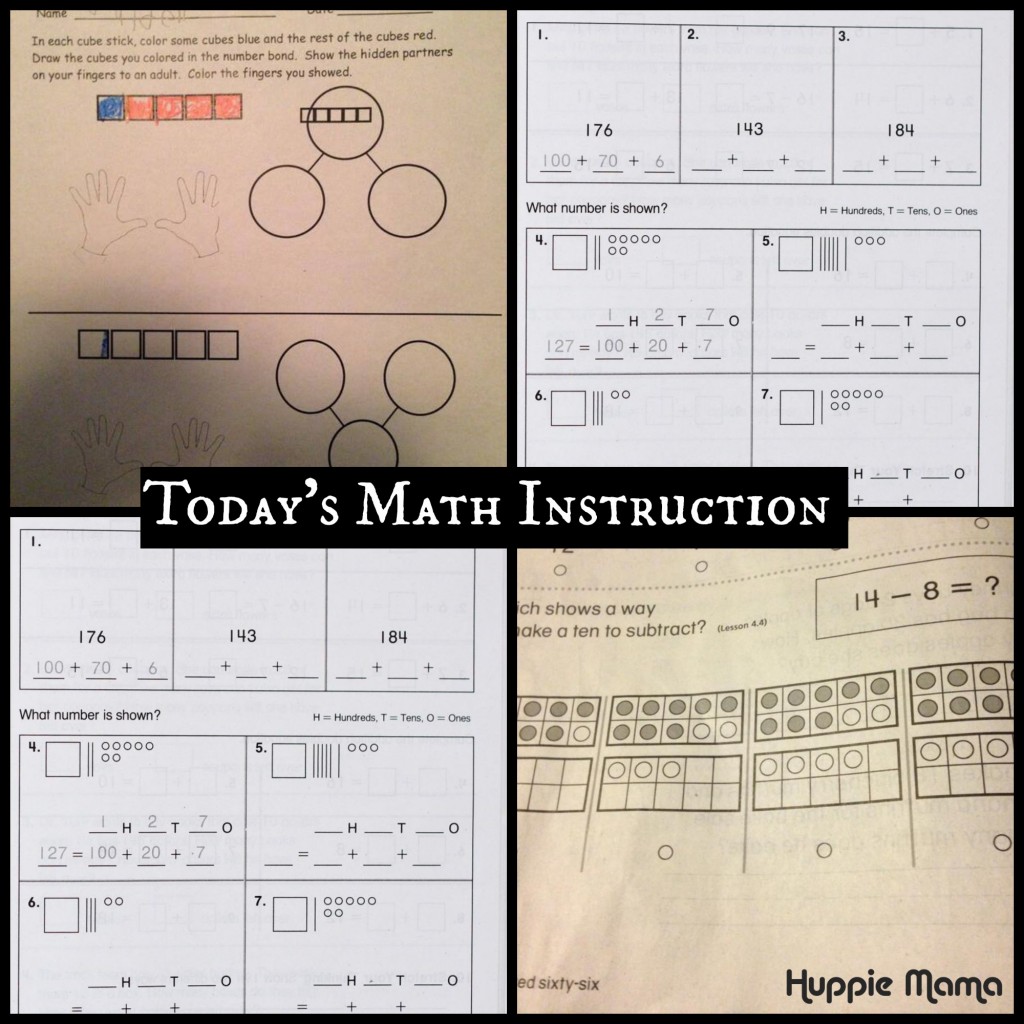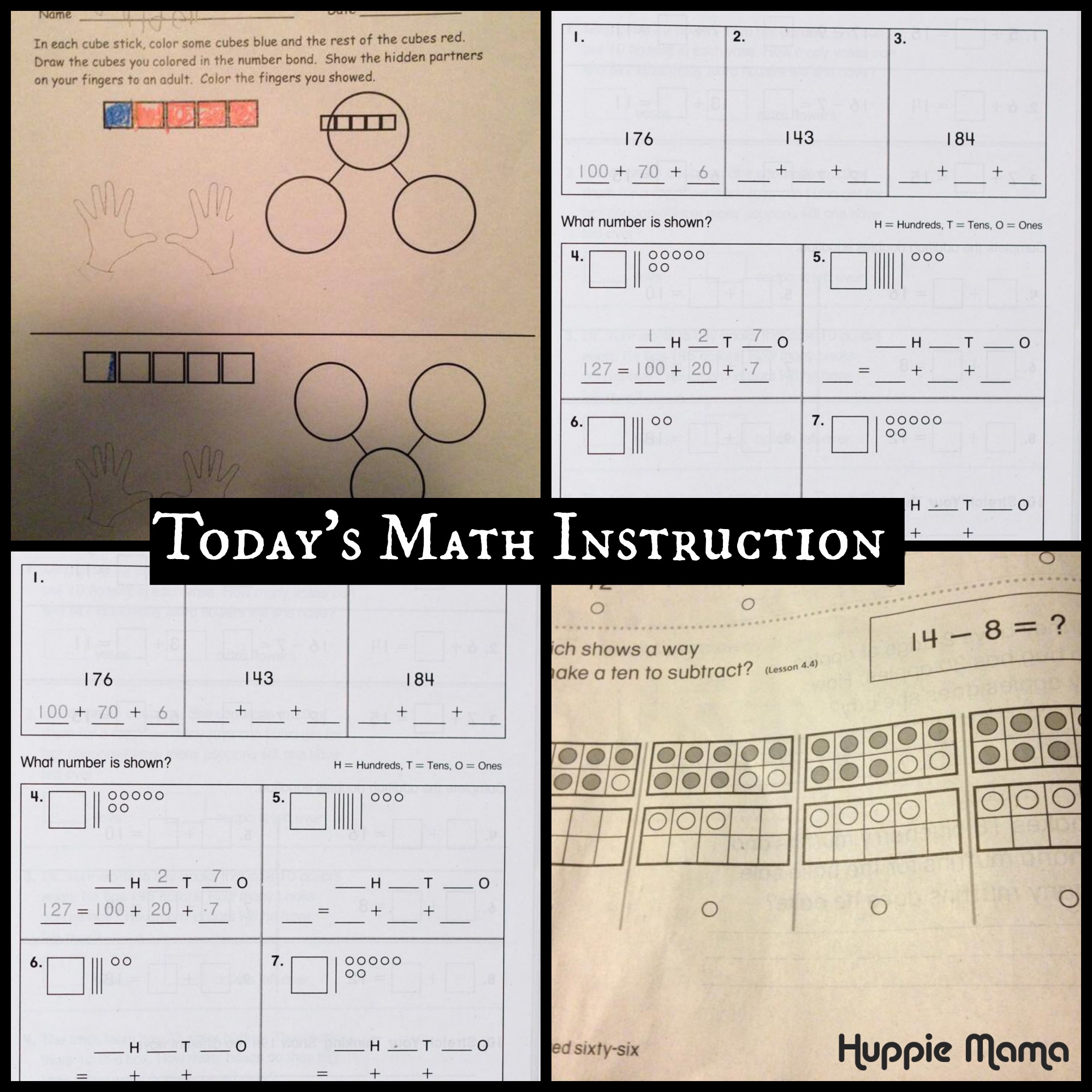 Without each worksheet displaying the grade level, I will attempt to sequence these from most simplistic to most complex and provide a description.
Worksheet #1: I would imagine this worksheet is part of a Kindergarten or 1st Grade math curriculum. This particular image seems to be causing a great stir on social media. Here's what most people fail to recognize – You did not sit in class while the corresponding lesson was taught; your child did.
This appears to be an extension activity, an engaging way to continue a hands-on learning experience the children engaged in during class. I'm picturing tables set up in groups with a variety of manipulatives for children to explore. The idea appears to be to teach children that 1.) you can count anything (fingers, small blocks, etc.) and 2.) you can use many different methods to add up to the same sum of 5. This particular worksheet seems to be giving the children the freedom to create their own methods for arriving at 5. Using the basic concept of one-to-one correspondence (something that has been taught as far back as I was in Kindergarten for sure), children are matching the number of colored blocks to the number of fingers being held up. I would imagine if you colored 3 blue and 2 red, you'd likely hold up 3 fingers on your left hand and 2 on your right hand. When you 'bond' those squares, fingers, etc. together, you have a sum of 5. Giving children the freedom to select their own numbers with a sum of 5 allows them to think about the problem multi-dimensionally, teaching different number families.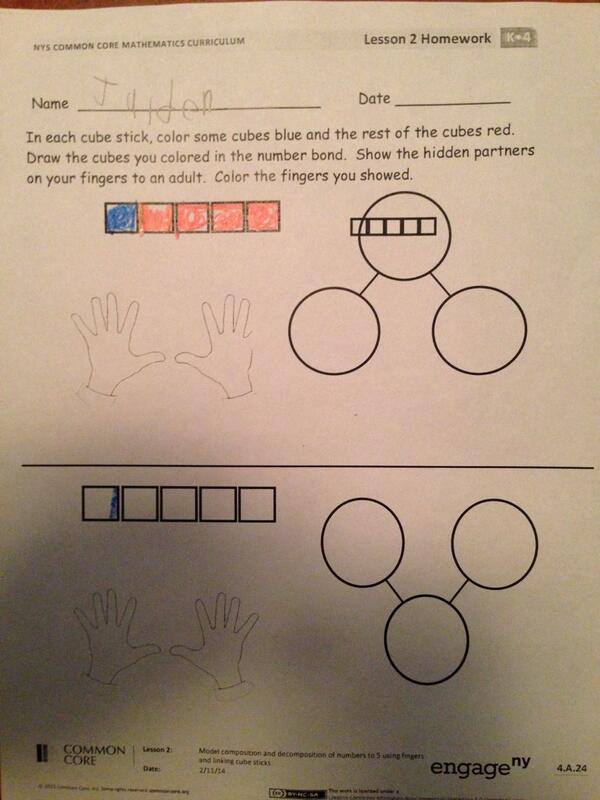 Worksheet #2: This one is pretty straight-forward. It's exactly what we were taught as children when learning to make sets of 10. Only difference is that they are laying on their side (we generally saw these sets of 10 positioned vertically), and they are drawn in two rows of 5 each. I personally would not choose to represent 10 as two sets of 5, but I'm guessing it ties in with previously-learned material (like skip-counting by 5). This worksheet demonstrates that when we subtract, we can begin by showing our groups of tens, draw circles inside each small box indicating the larger number (14), shading in the number we are subtracting (8) and counting how many circles are unshaded (6). Rather than asking the child to solve the problem, the worksheet is asking which image represents the problem visually. This will prepare children for creating their own visual representations for more complex problems.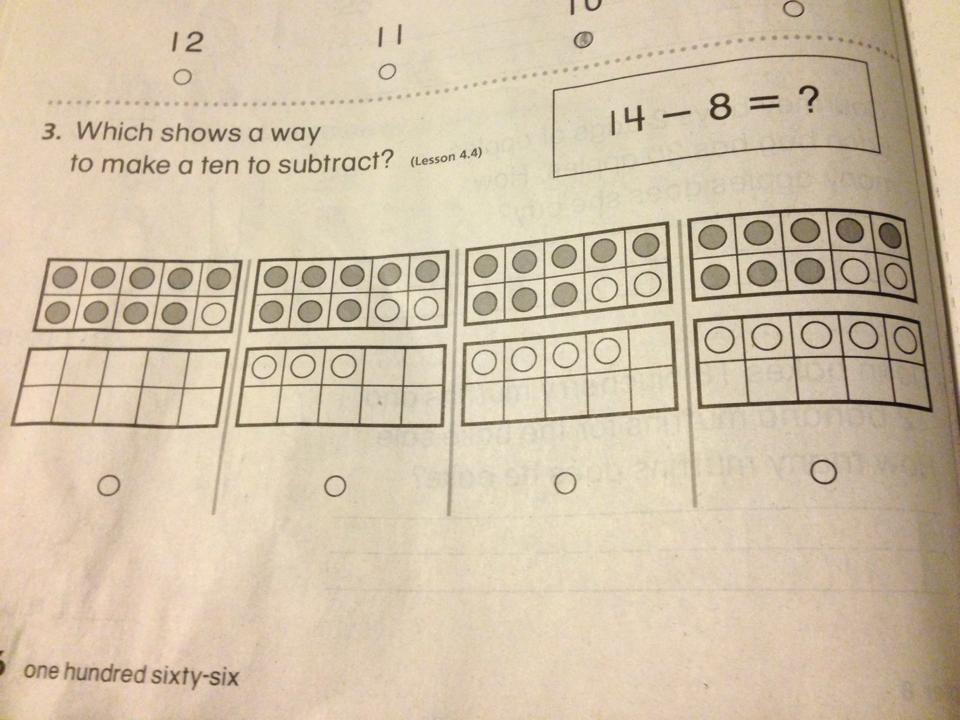 Worksheet #3: This is the type of math worksheet I remember completing as a child to learn place value. To understand that each digit in a 3-digit number represents ones, tens, and hundreds, children will expand the numbers by basically creating an addition problem. This is very similar to the method I illustrated to do addition in my original Common Core post. Again, children were probably given manipulatives in class to practice this concept.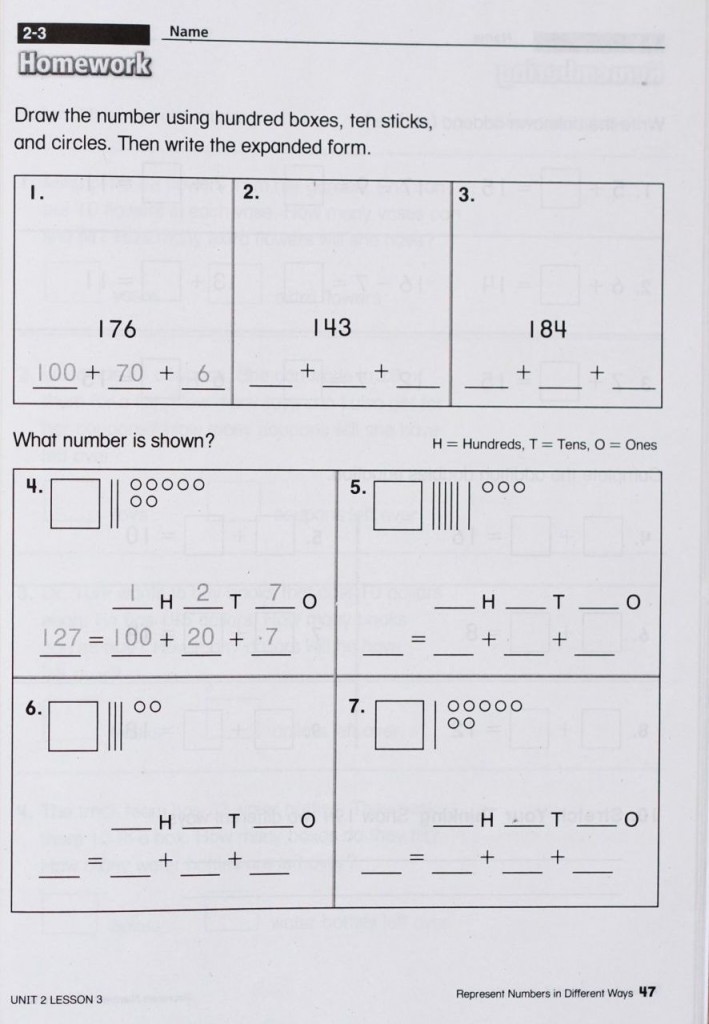 Worksheet #4: My nerdy math self must confess something – I really like this worksheet! I'm guessing this is first grade math, and I actually had to think about it. I genuinely appreciate being shown all of the different ways to approach the same math problem. Since this is titled "Solving Another Addition Story Problem", these concepts have been taught previously, so this is a review. The text clearly describes each method being used and the numbers represent the method visually. I kinda think it's brilliant! Using number lines, hundreds chart, skip-counting, Unifix cubes, rounding off – these are all skills that have been taught in isolation, integrated into one assignment. It got me excited about helping my children with their math homework one day. Many critics of Common Core suggest that the curricula being created to target the standards is "dumbed down", but to be honest, this is the type of work I remember doing in my gifted class in elementary school as it's actually thought-provoking, relying little on rote memory to solve a problem.
My husband made a good point when we discussed this the other day – "Since when is a child supposed to earn an A on every assignment?"and that applies to this worksheet. Perhaps your child will earn a 50% trying to solve problems one way, an 80% solving problems a different way, and 100% solving problems the third way. Clearly, it demonstrates what method works best for your child and how he/she will probably solve problems independent of schoolwork.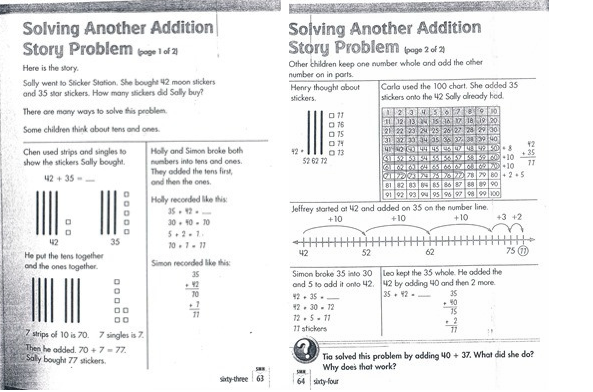 Worksheet #5: This is an incomplete worksheet, probably 3rd grade math. When we use the standard algorithm for multiplying a 3-digit number by a 1-digit number, we have to both understand what it is that we are doing and keep tabs on what place we are in as we are multiplying. By expanding the problem as it is done below, it's much simpler to solve and easier to keep your place as you go. Now students can also apply the multiplication facts they have memorized to quickly solve the problem. Great way for teaching more complex multiplication problems.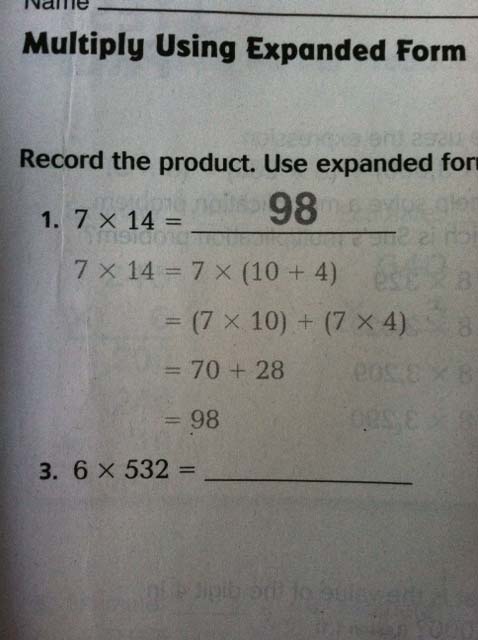 Worksheet #6: Final example from a third grade workbook. This simply teaches the relationship between multiplication and division. The terminology being used is the same terminology I remember using as a child: number sentences, whole numbers, and product. Again, instead of teaching multiplication and division separately, they are being taught concurrently. Makes perfect sense.

After seeing all 6 examples of math worksheets reflecting the Common Core standards, do you still take issue with the methods currently being used to teach math? If so, why? Keep in mind, you were not present when these lessons were being taught; your children were. Homework is an extension of what is taught at school; it is not the instruction itself. However, I am certain if you asked the teacher to demonstrate the methods being used, you could easily schedule a conference to learn more so that you can help your children if they struggle to grasp the concepts.