This Fortune Cookies Recipe is perfect for celebrating Chinese New Year.
When I was in elementary school, I had the most incredible teacher. I can credit so much of my early hands-on learning experiences and cultural awareness to the lessons she taught us. We created masks to wear to our classroom Medieval Fair, made planets out of papier mache, celebrated Hispanic culture with a huge feast, and visited the Everglades to learn all about nature. We even made our own inventions, and I found a 1989 newspaper article about it. Mrs. Agopian inspired me to want to teach. Unfortunately, she lost her battle with cancer when I was in college, but the lessons she taught me and so many others will stay with us forever. One really important celebration I remember learning about was Chinese New Year. When I was in third grade and a new Asian market opened up in our community, we took a walking field trip to buy supplies to celebrate this holiday.
I learned from my teacher the tradition of giving small red envelopes filled with money to children and unmarried adults to celebrate Chinese New Year. The color red symbolizes luck and is used to ward off evil. The money is given in even numbers, as those are considered luckier. (Leftover Chanukah gelt works quite well, too!) In addition to giving red envelopes, to celebrate Chinese New Year with my family this year, we made fortune cookies.
2 egg whites
1/2 cup flour
1/2 cup sugar
3 T water
1 t almond extract
butter
Directions:
Before baking your cookies, you need to write fortunes to place inside. We took small strips of paper, a fine-point marker, and small red stickers to make our fortunes. My 5-year old daughter loved helping me with this. She even came up with her own ideas. Can you tell which fortunes she wrote?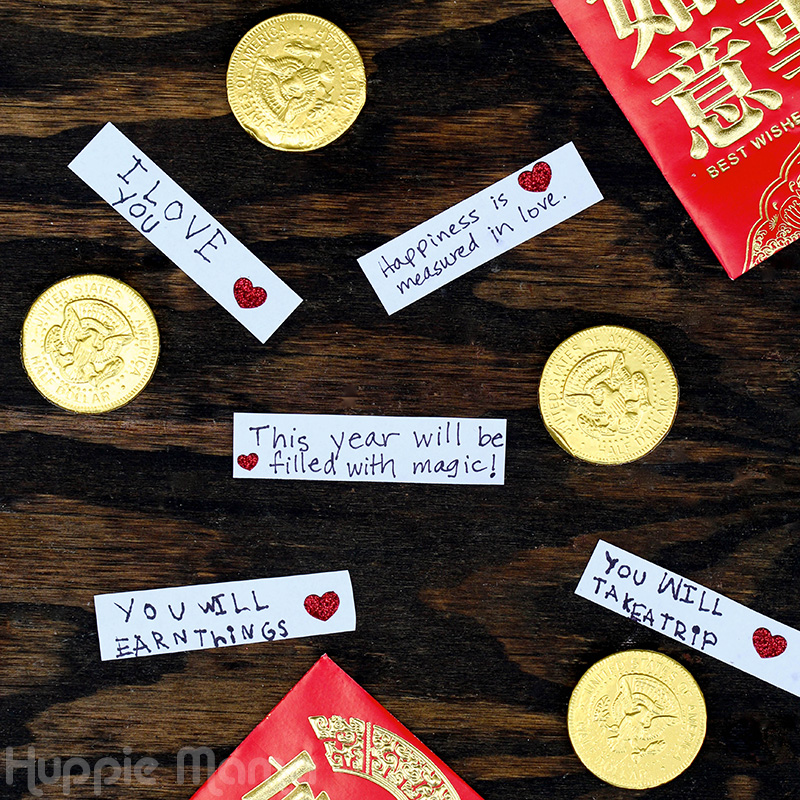 To make the cookies, preheat oven to 400 degrees. In a stand mixer, beat egg whites until they are foamy. Mix in flour, sugar, and almond extract. Add the water one tablespoon at a time until you reach a pancake-like batter. Lightly butter your pan, place a tablespoon of the batter on the pan, and spread to make a large circle (about 4″ in diameter). I was able to make 3 cookies at a time. Bake about 5 – 7 minutes, until the edges begin to brown. While the cookie is still warm, remove immediately from the pan and place the fortune in the center.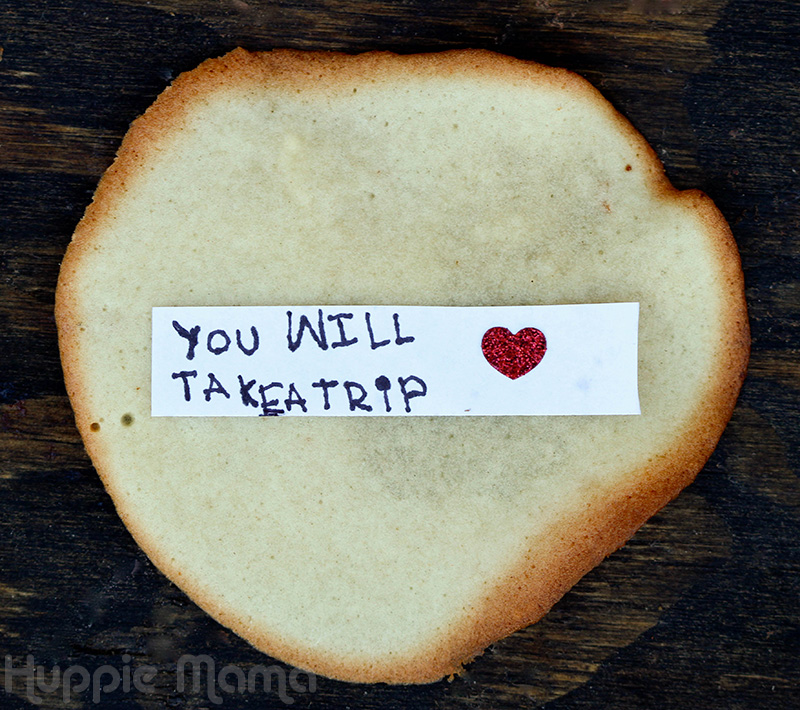 Fold the warm cookie in half like a taco and bring the edges together. Move quickly to avoid cracking. Fold the two ends of the "taco" together to form a traditional fortune cookie shape with the fortune on the inside.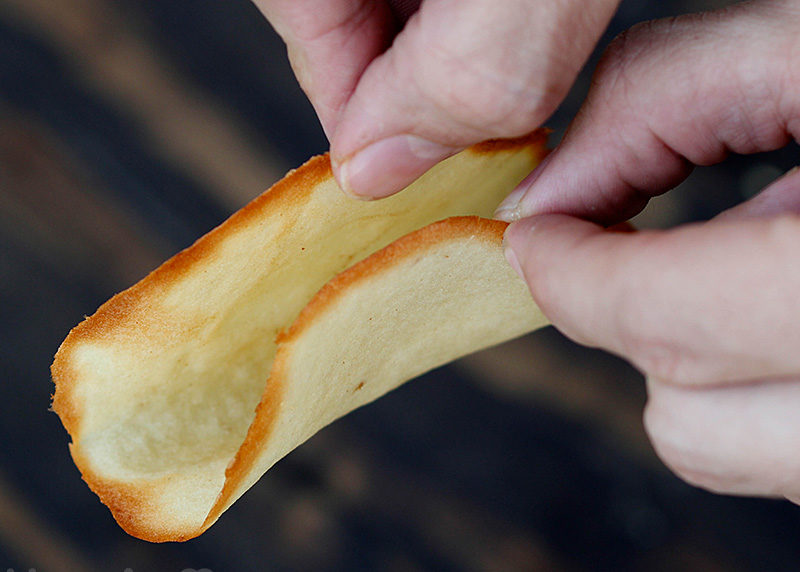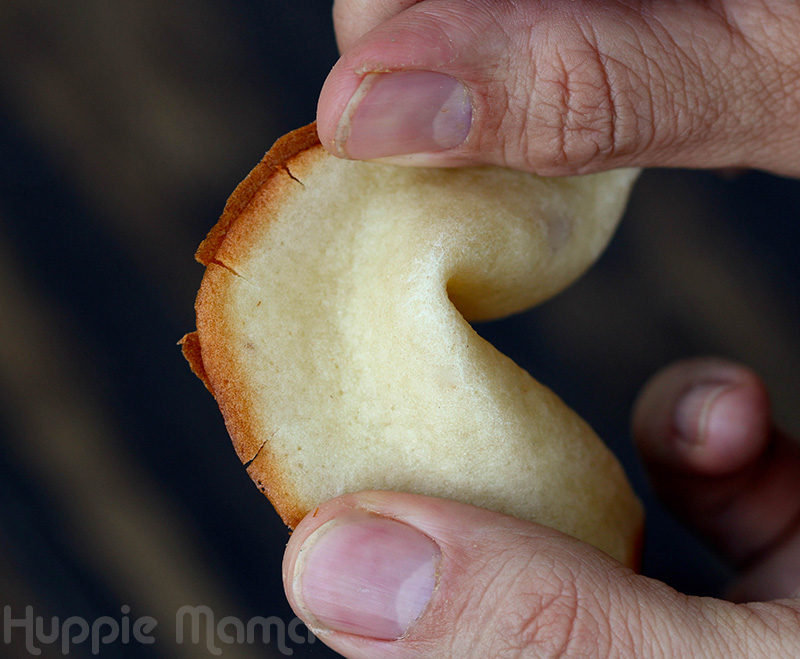 To maintain the shape of the fortune cookies as they cool, place each cookie inside the opening of a muffin tin. As they cool, they will become crispy like the fortune cookies you traditionally get in Chinese restaurants.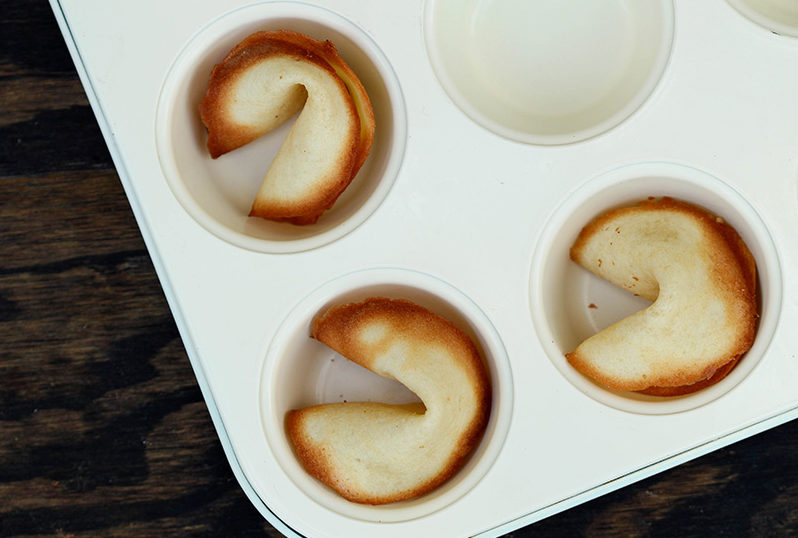 And now, your cookies are ready to serve! Have fun sharing these with your children. They just love to crack them open and read the fortunes inside.
Want to try this Fortune Cookies recipe at home? Pin the image below!