I received tickets to experience Washington DC attractions in exchange for an honest review.
When I first started planning our Ultimate Family Road Trip, I planned it around where we would be on the 4th of July. And honestly, what better place to be than our nation's capital? Then I thought "Is it crazy to celebrate the 4th of July in Washington DC?" The answer: NO. It's awesome! So here are ideas for what to do and see if you decide to take your family to Washington DC to celebrate the 4th of July.
WHERE TO GO
My first suggestion is that you arrive the morning of July 3rd so you can do all the things that are closed on the 4th. We began with two guided tours to get a sense of what's actually in DC and where it is located since we had never visited. Totally UNsponsored here, but I highly recommend the Hyatt hotel in the Capitol Hill area. It was walking distance to pretty much everything we wanted to do and see while there (walking distance = within 2 miles). So the first guided tour we took was the DC Duck Tour.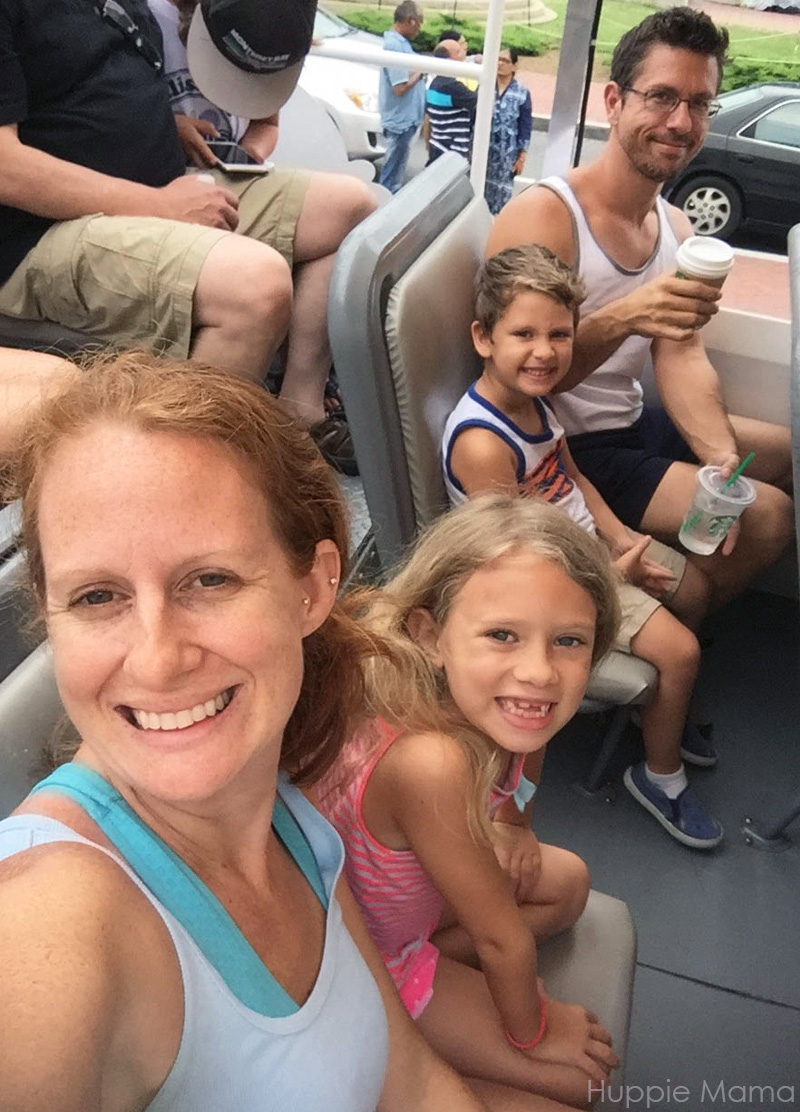 If you've never been on a Duck tour, it's basically a large vehicle that travels on land and sea. While it may seem a little touristy, it really is a wonderful way to introduce children to a nice city. We got to see so many of the sites, like the Washington Monument.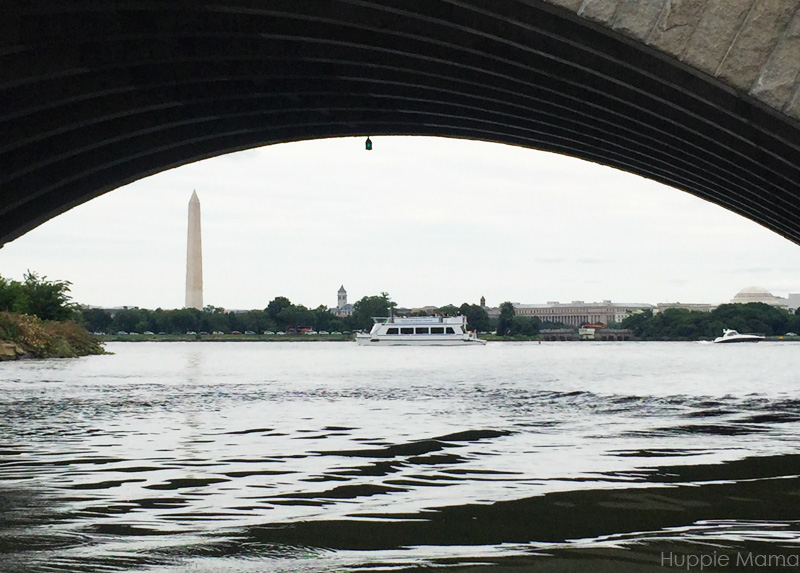 Our tour guide was very knowledgable. Fun fact: Washington DC has a greater variety of trees than any other city in the world. And maybe the best part of all? The children got to drive the Duck when it was in the water. They had so much fun!
And of course, everyone gets duck whistles to quack throughout the second half of the tour. Cheesy, but adorable! The kids certainly had fun with it.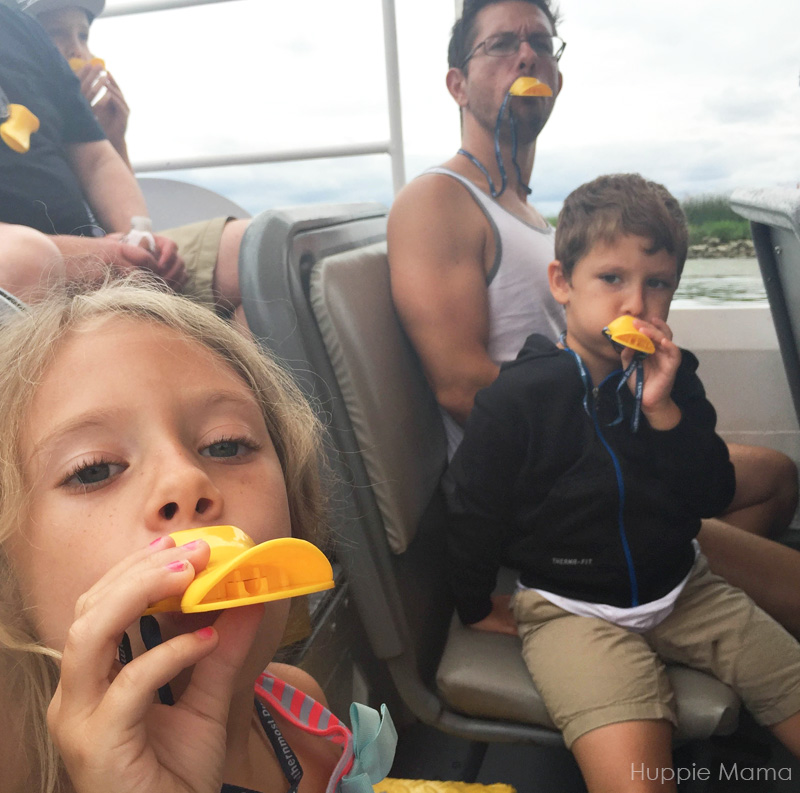 The second tour we took on July 3rd was the Monuments by Moonlight Night Tour. This tour was on a large bus, and it departed at around 8 pm (several time slots are available) and lasted about 2.5 hours. Even though this was late for my children, the driving portions were long enough for them to nap briefly between each stop.
The guided tour allowed us to stop and experience five monuments/memorials: Thomas Jefferson Memorial, Martin Luther King, Jr. National Memorial, Iwo Jima Memorial, Abraham Lincoln Memorial, and Washington Monument. We began at the Jefferson Memorial when the sun was just starting to set.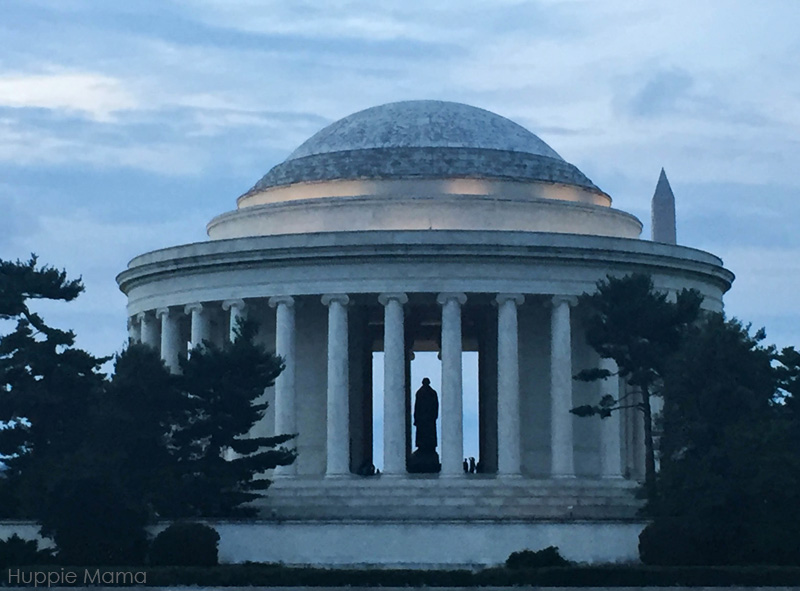 Our next stop was the Martin Luther King Memorial. Surrounding this statue were walls filled with some of his famous quotes, like
"The ultimate measure of a man is not where he stands in moments of comfort and convenience, but where he stands at times of challenge and controversy."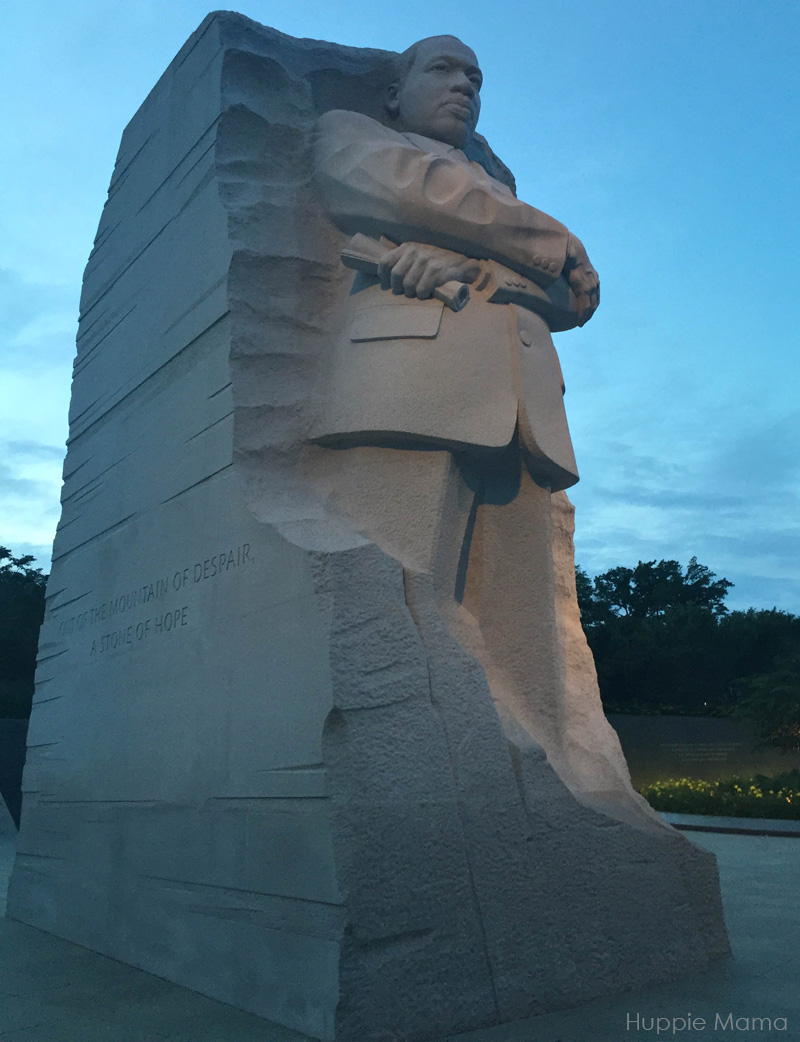 Next up was the US Marine Corps War Memorial – Iwo Jima. This was probably the most impactful of the memorials we visited that evening. I knew very little about this memorial before visiting. The statue represents a Pulitzer Prize-winning image taken by Joe Rosenthal. Two of the men represented in the statue died during combat, while three survived and posed for the sculptor to model their faces.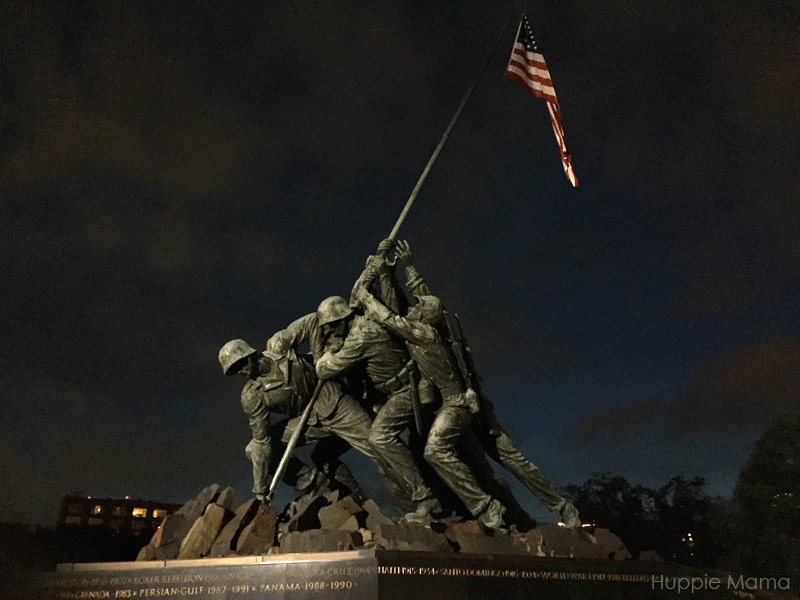 Our final stop was the Lincoln Memorial to one side and the Washington Monument to the other. The Lincoln Memorial was so much grander than I anticipated. Lincoln himself is 19 feet tall, carved from white marble. Seeing the Washington Monument in real life reminded me of that seen in Forrest Gump when Forrest is speaking on the microphone, but the plug is pulled, and Jenny runs through the water to see him. I love that movie!
WHAT TO DO
We woke up the next morning ready to explore DC by foot. Our first stop was the Japanese American Memorial. While I have a pretty decent mental timeline of what events happened when in American history, I admittedly knew little about our treatment of Japanese-Americans during/after World War II. Walking through the memorial, I began to understand how poorly innocent people were treated and how little was done after the war to correct what was done.
We continued our walk toward the National Mall. Because it was the 4th of July, the streets were extra lively with interactive, family-friendly stops along the way.
Tip: In front of the National Archives, we got to sign a copy of the Declaration of Independence. There was a band performing on the steps to the building.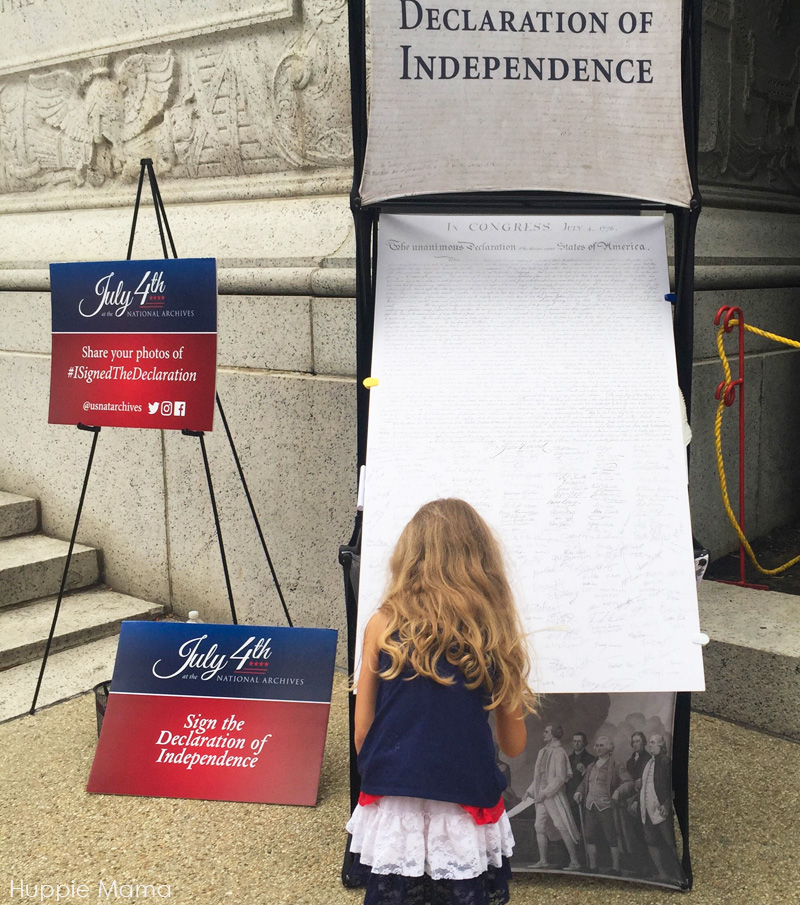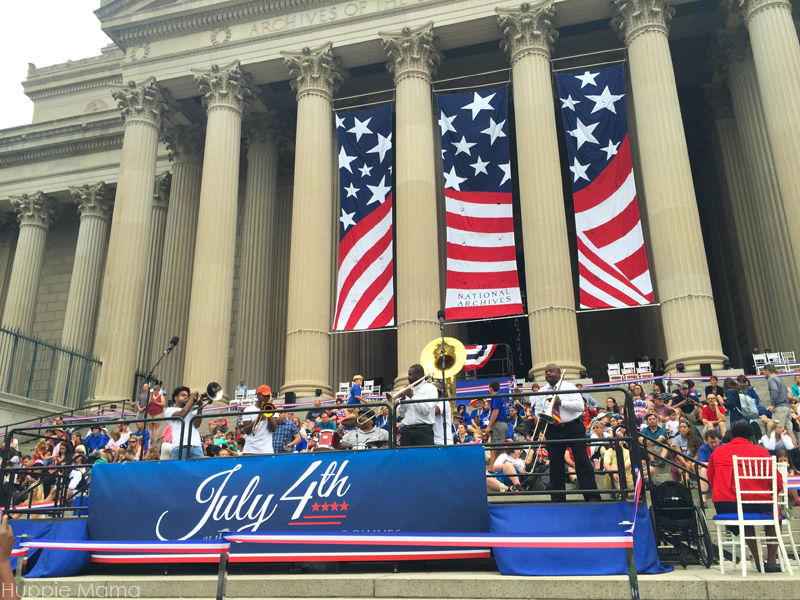 Next, we visited the Smithsonian Museums. Fun fact: the museums are absolutely free! This makes for a very affordable day exploring Washington DC. The first museum we visited was the Smithsonian Air and Space Museum. This one is fun for children and adults!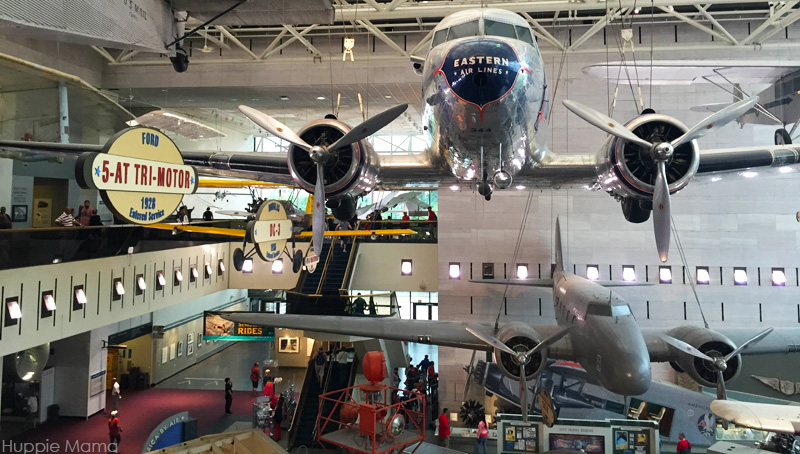 My favorite part is when we got to touch a real piece of the moon. We decided to put our hands together to get this picture. Just looking at this makes me smile.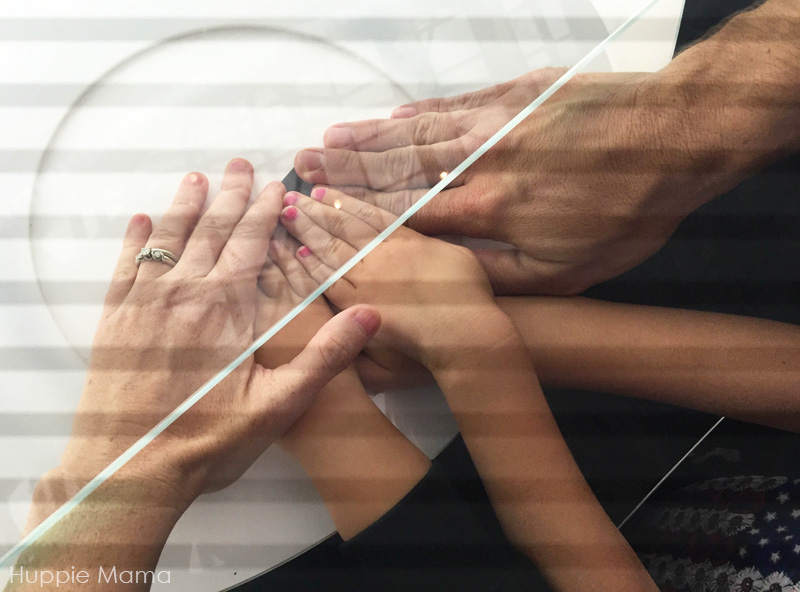 While walking to the Smithsonian Museum of Natural History, we saw the 4th of July parade. What I loved about the parade is that it embraced the diversity that is such a part of our American history.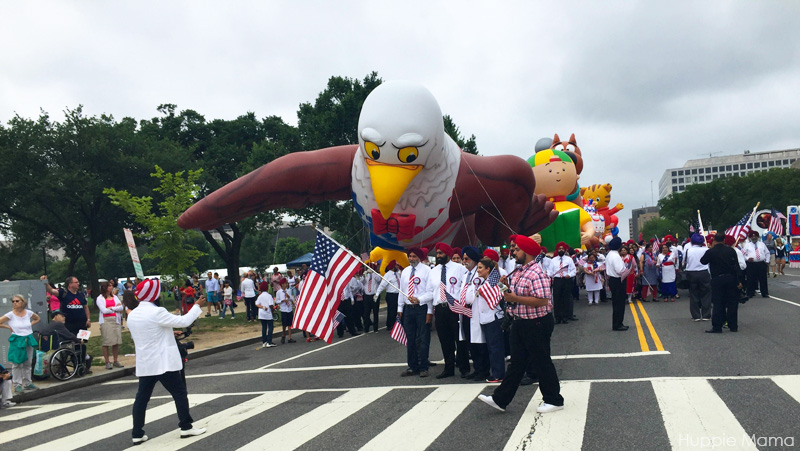 The National Museum of Natural History is incredible! I have always loved learning about early man, and this museum is filled with skeletons representing different steps/branches in our evolution and artifacts that document their way of life.
Tip: We almost left the museum without seeing the best part! In an off-to-the-side location within the museum, there's a huge room with over 6,000 artifacts that children can explore (some with adult assistance, some independently). The kids loved being little scientists!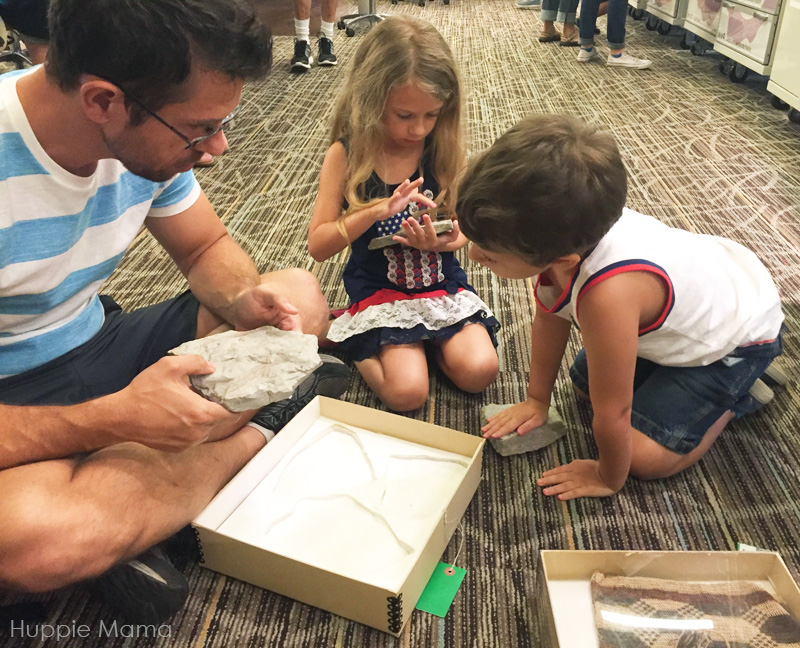 We had very odd weather as we walked around Washington DC. It went from overcast to drizzly to an actual rainfall throughout the day. When the rain picked up, we headed to the United States Botanic Garden, which is primarily indoors.
Tip: If you go there with your children, ask an employee for the children's explorer books. With pages in the book specific to each room, your children will be challenged to different activities, like locate specific plants and draw pictures of their favorites.
Our final museum of the day was the National Museum of American History. Some of the highlights of this museum include Julia Child's actual kitchen, first ladies' outfits, old trains, the ruby slippers from the Wizard of Oz, and this fun photo opp in front of an old Good Humor Ice Cream truck.
Tip: If you're looking for a memorable token of your trip there, the gift store sells a Little Golden Book with the history of the American flag.
After dinner, it was time to head back to the National Mall to enjoy the fireworks. Unfortunately, it was very dreary and foggy outside, so it was hard to get great pictures, but we had such an incredible day as a family in Washington DC! What a wonderful experience! (Sorry for the grainy images, but these were really the best we could take under the circumstances.)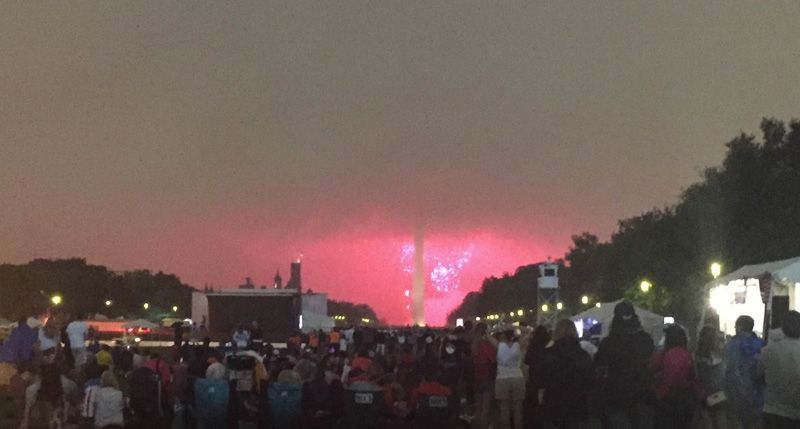 Visiting Washington DC was so much better than I would have thought! It was the best American History lesson I could have possibly given my children, and it was a wonderful way for me to connect all that I've learned about our nation's history throughout my life with real-life experiences. I'm so glad we went on the 4th of July!