This is a sponsored conversation written by me on behalf of Boba. The opinions and text are all mine.
I'm going to share a story in this post that I never had the courage to write before. After reading it, you'll understand why I feel strongly about babywearing. When Lydia was about 10 months old, I met up with some college friends at Sea World for a reunion. It was July in Central Florida and horribly hot outside. I brought a stroller and a soft-structured baby carrier, similar to a Boba. My husband went on a ride, and I stayed with Lydia. I was feeling a bit dizzy and light-headed. I saw a large bear statue and decided to take some pictures of Lydia in front of it. I took her out of the stroller and placed her on the ground. I took the pictures, put my camera and other belongings back in my stroller, and I started to walk away. Within probably less than 10 seconds (although it felt like a lifetime) a woman goes "You forgot your baby!" I did WHAT?! In a daze, I guess I put all my things in the stroller, and I forgot to put Lydia back in there. Had I been wearing her then, this would not have happened.
I can't believe I just told that story on my blog after holding it in for over 3 years… Moving forward, since becoming a mother over 4 years ago, I knew my style aligned with that of attachment parenting. My husband and I believe in extended breastfeeding, baby-led weaning, bed-sharing, and babywearing.  Babywearing is an integral way we bond with our children. Here are some of the benefits of babywearing:
Babywearing creates a trusting relationship with your children because they know you are physically and emotionally available to them.
Babywearing allows your baby to experience what you are experiencing. While in a stroller, they can really only look in one direction at one height, but when you are wearing your baby, he/she can look all around, up and down.
As a breastfeeding advocate, babywearing helped me to pick up on my children's cues easily. Because they were close to me, they were able to make requests by rooting, touching, signing, and pointing to my chest easily, so I knew when they were hungry.
Proper babywearing (baby is faced toward you, supported to at least the knee) in a Boba Carrier mimics the natural way babies are held by parents.
Babywearing allows parents to be hands-free. That means they can engage their children and hold them close while doing things like household chores and grocery shopping.
Not only do I wear my children still at age 2 and age 4, my husband wears them, too. My sister has even worn them. (Hooray for awesome aunts!) We've worn our children while climbing waterfalls, exploring caves hundreds of feet underground, shopping all day on Black Friday, walking around Disney World, touring farms, and picking blueberries (to name a few). My husband Richard and I experience parenting with our children alongside our bodies, to love, hold, and share long-lasting memories. We are a babywearing family.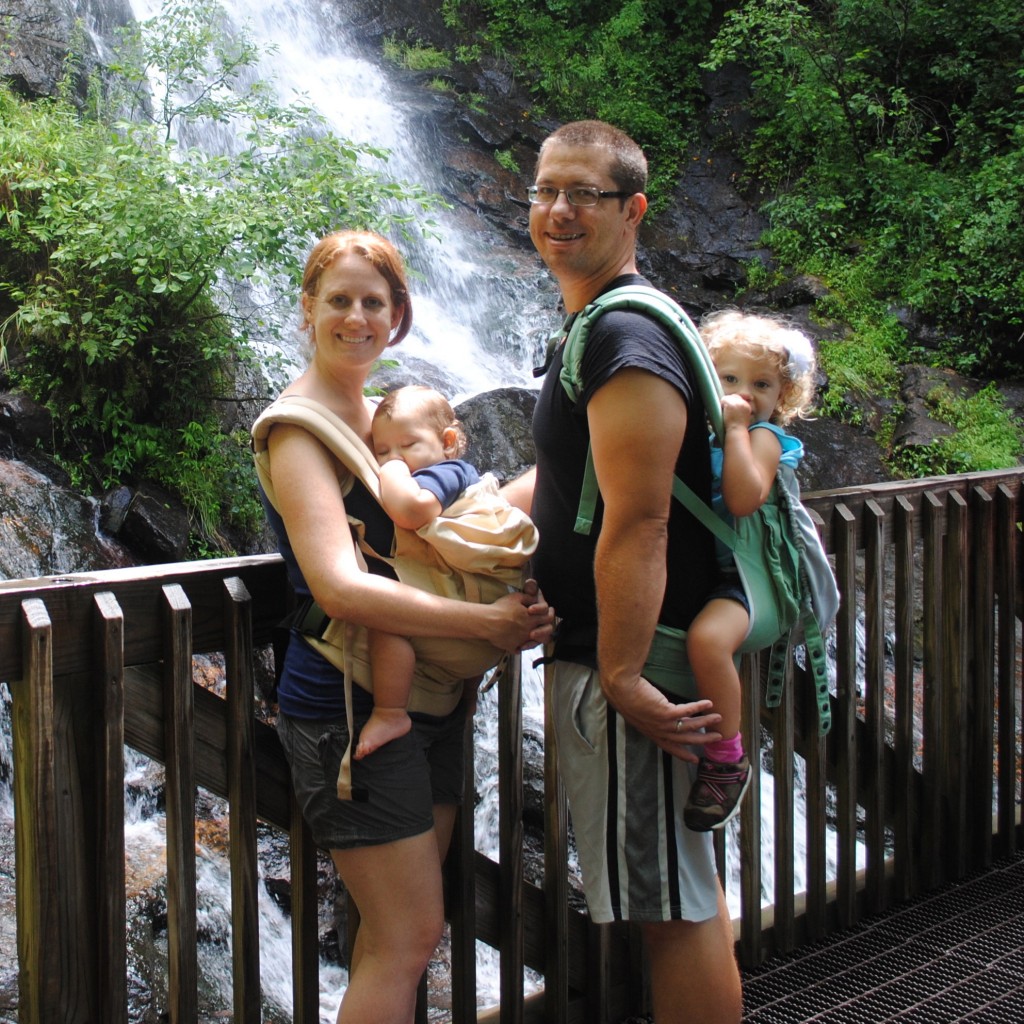 Here are more ways to bond with your little ones:
To learn more and connect with Boba, Like them on Facebook  and follow them on Twitter.