Learn how to plan an Avengers Party for the little superheroes in your life!
Originally, I planned this Avengers party for the release of MARVEL's The Avengers: Age of Ultron, but these party ideas would also be great for MARVEL'S new release The Avengers: Infinity War.  I decided to focus on four main characters: the Hulk, Captain America, Thor, and Iron Man. As an avid toy collector myself, I wanted to incorporate the toys into the tablescape.
Avengers Party Ideas: Food
I thought the kids would really like it! I'll start with my favorite idea: Hulk's hands holding "Hulk Punch" (a.k.a. Bolthouse Farm's Green Goddess Juice). Get it? Hulk punch?
Next up? Iron Man hands! I tried to have the hands hold up The Avengers Cheez-Its in a similar fashion to the Hulk hands, but I was not as successful, so I did this instead. These hands are so cool because one lights up and makes different sounds. The kids loved trying them out!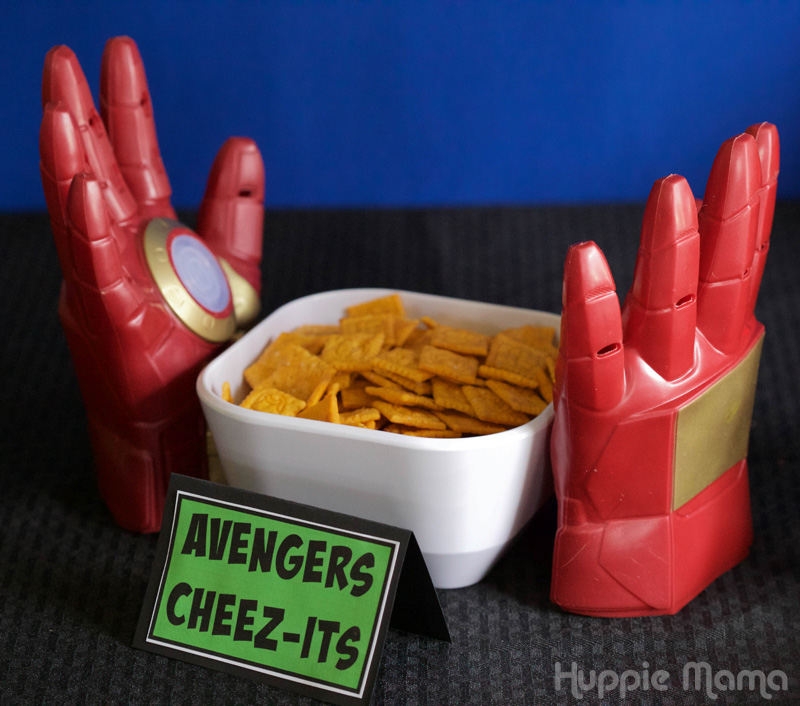 The Hulk got some more action by holding The Avengers on DVD (although the box is empty – all the dads went into my family room to watch the movie). Iron Man made a great plate holder.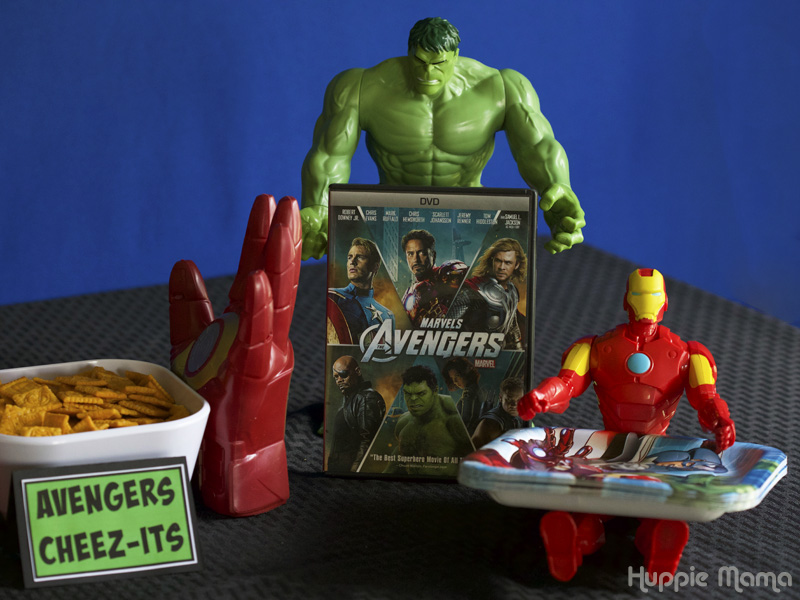 Captain America made his presence known by holding the napkins. And you must check out the awesome Captain America Pizza! You can make this with store-bought pizza dough, sauce, slices of cheese, black olives, and pepperoni. Looked really cool and tasted delicious!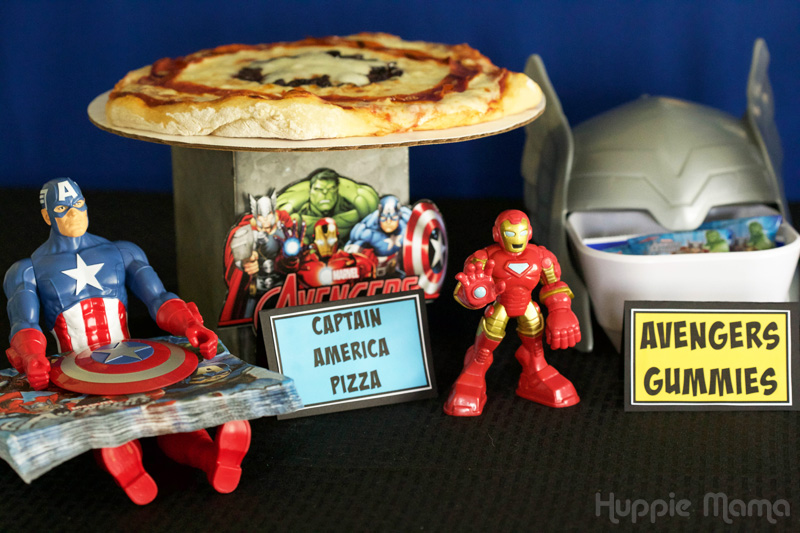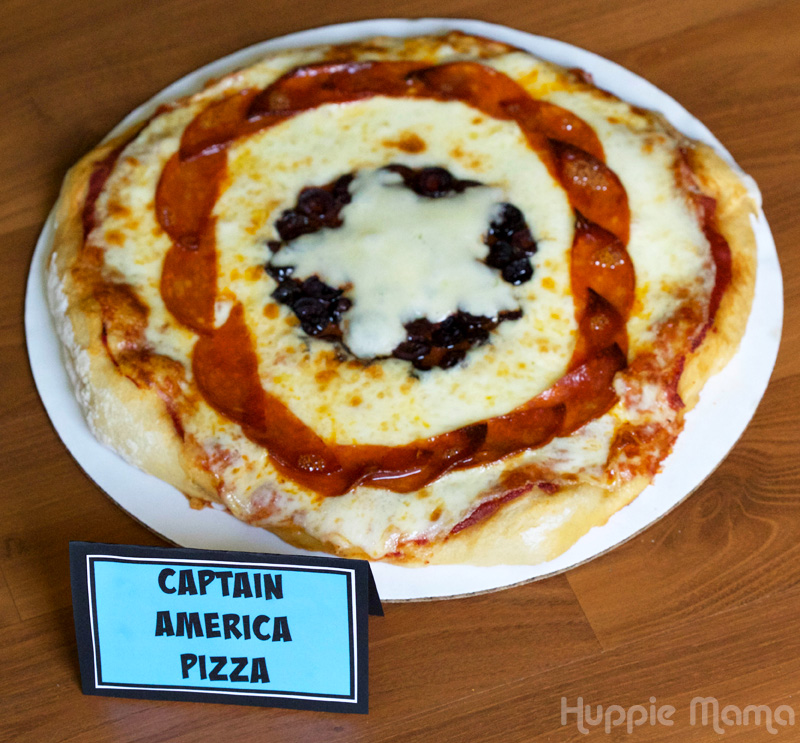 We also made Captain America strawberries. These are dipped in melted white chocolate and then blue sprinkles. The kids loved this fun snack!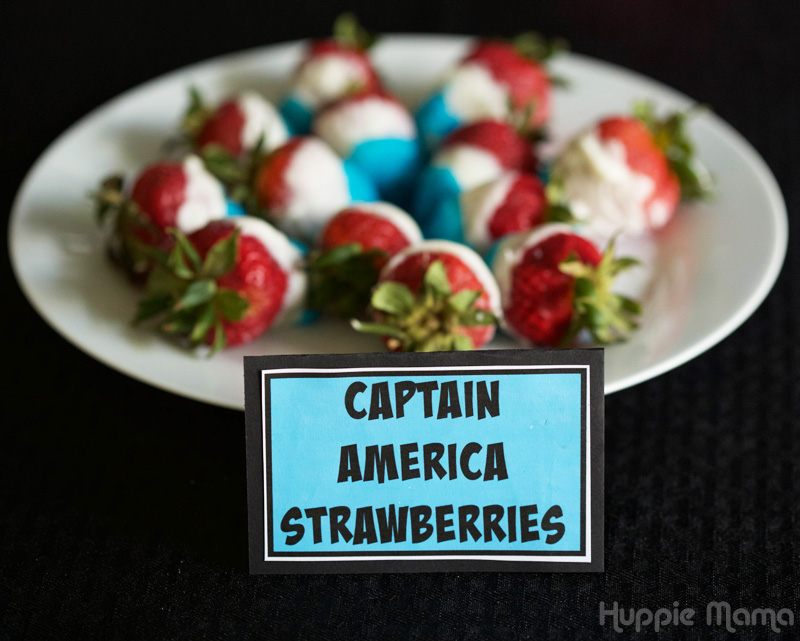 This Thor mask attached to my bowl to make a fun serving dish for The Avengers fruit snacks.
Now to the rest of the food! I needed something else green to represent Hulk. I purchased all of our favorite green veggies (sugar snap peas, broccoli, cucumbers, green peppers, and celery). I sliced them and made a dip for the center. To recreate this Hulk dip, combine bottled ranch dressing and a smashed avocado.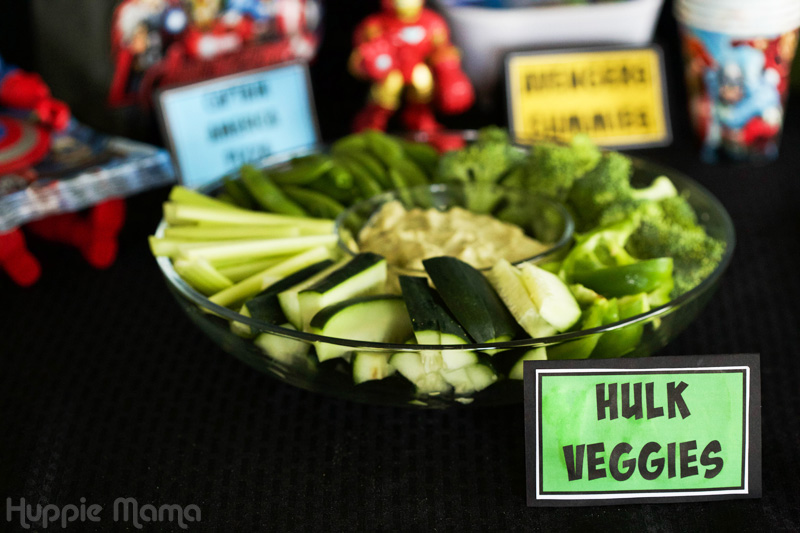 We needed a sweet treat, too, so I made these awesome Iron Man cookies. I started out with my favorite sugar cookie dough, divided it in half, and added red dye to one half (hooray for vegetable-based dyes). I then molded the regular dough into a log, and rolled the red dough with a rolling pin. I wrapped the red around the regular dough, and sliced the cookies. I added crystal sugar sprinkles to the regular dough portion and baked according to the directions. I think these came out awesome!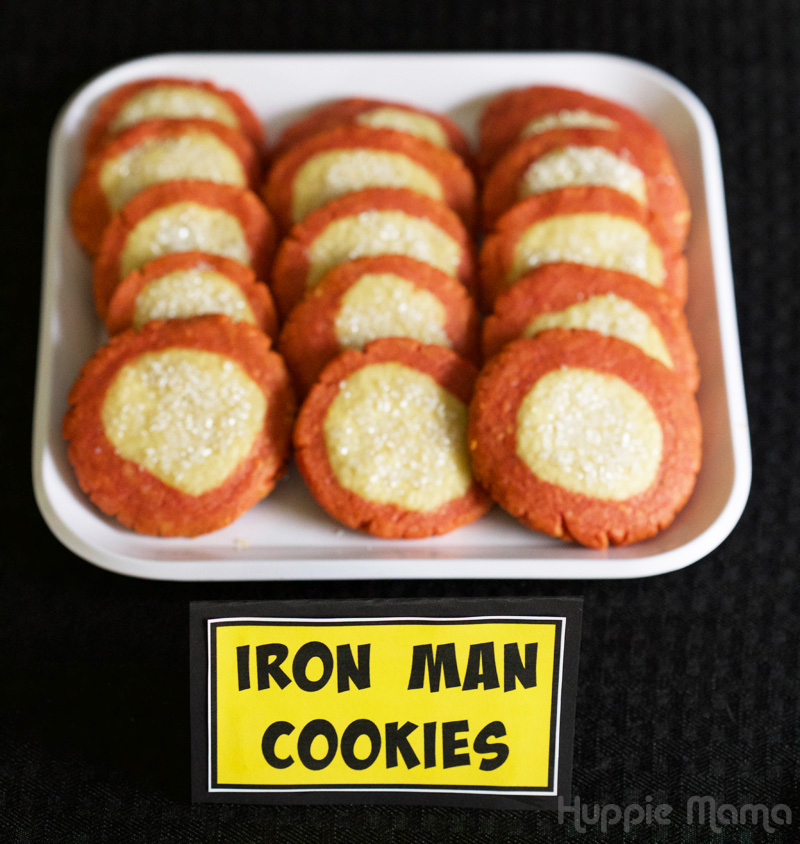 For the backdrop, I used a large piece of dark blue knit fabric (wrinkle-free and the perfect superhero color) and added The Avengers paper masks. My tablescape was now complete!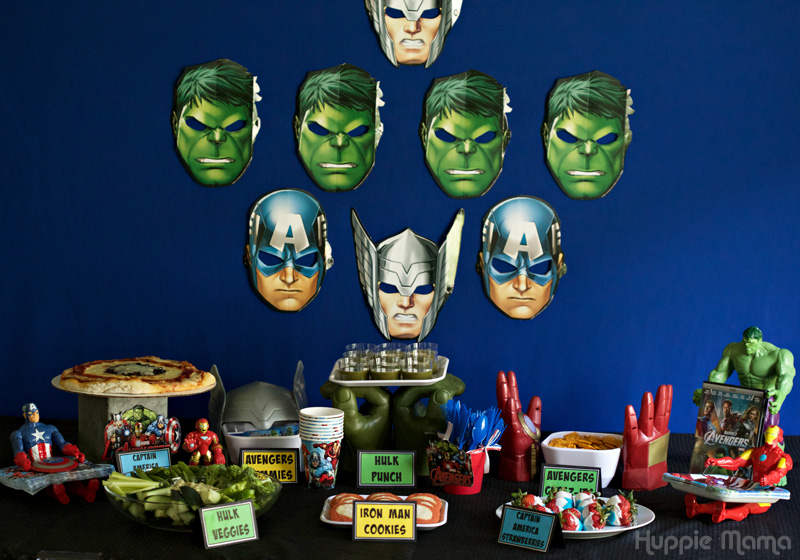 Avengers Party Ideas: Crafts
Every children's party needs to include crafts, right? I wanted the crafts to be fun for all of our guests, boys and girls. We started with a fun Superhero Puppet craft. Each child picked out a person's body made of cardboard, a mask, and a cape. Along with those items, the kids were also given a popsicle stick, two wiggly eyes, craft glue, and a little bundle of crayons.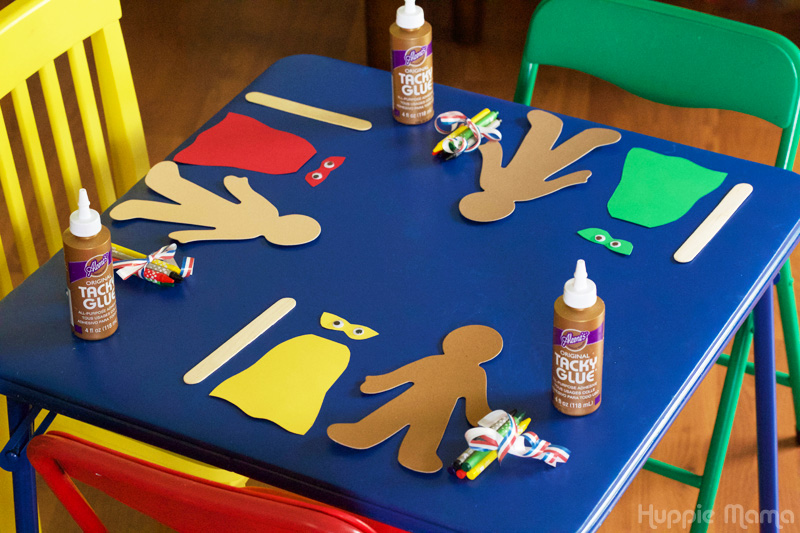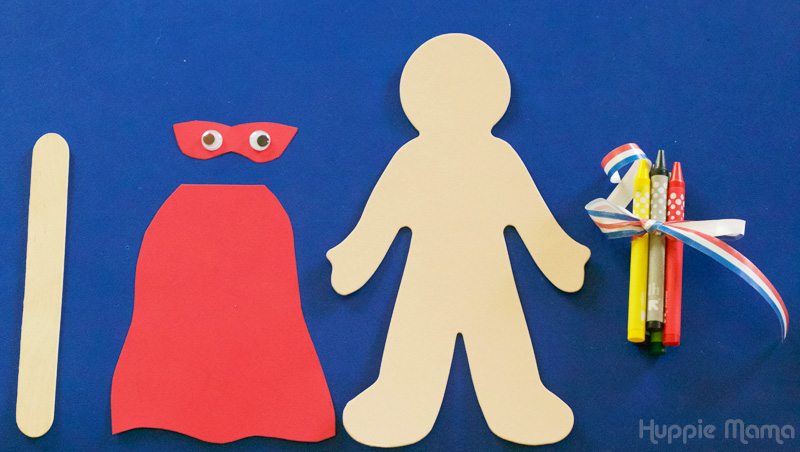 The kids had so much fun personalizing their superheroes. My daughter and another friend even put the cape on the front so it looked more like a dress. So clever!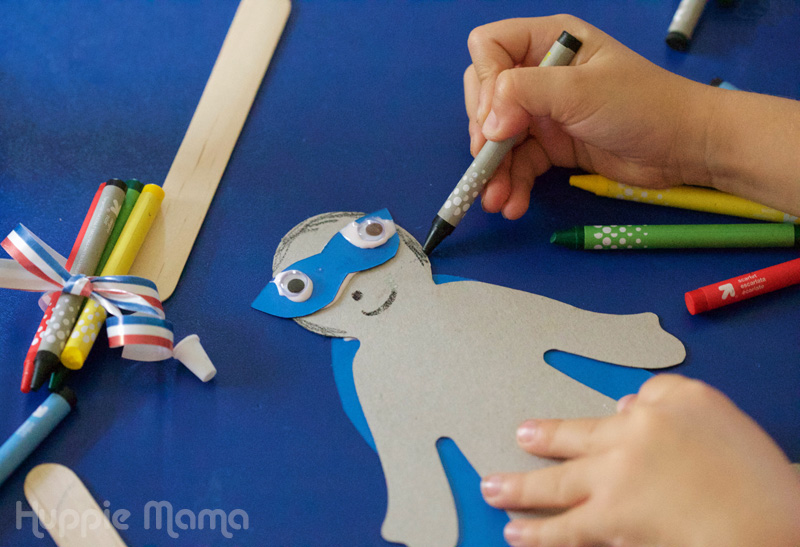 For the second craft, the kids made awesome Captain America inspired shields out of craft foam. I cut concentric circles out of all different colors of foam and white stars for the center. I also adhered a piece of black elastic to the back with crazy glue.
Using craft glue, the children placed layers of circles in order from largest to smallest (four circles per shield) with the star in the center.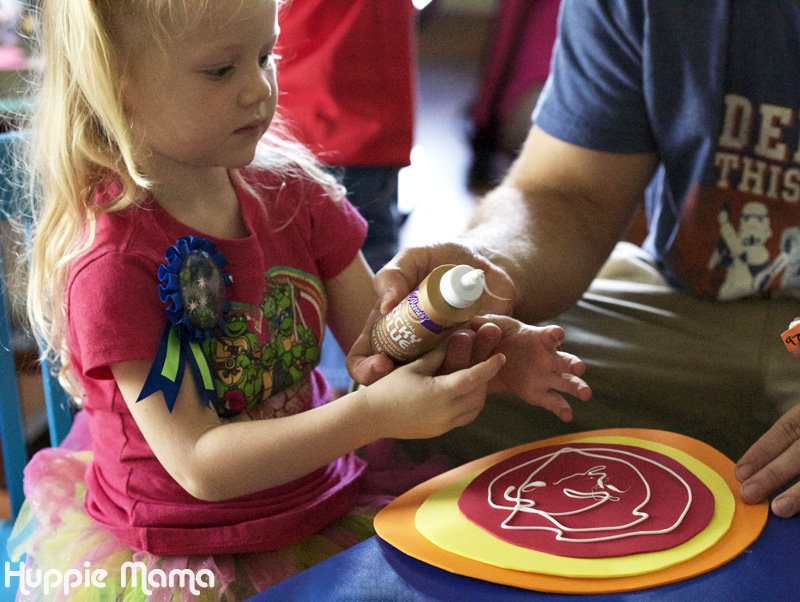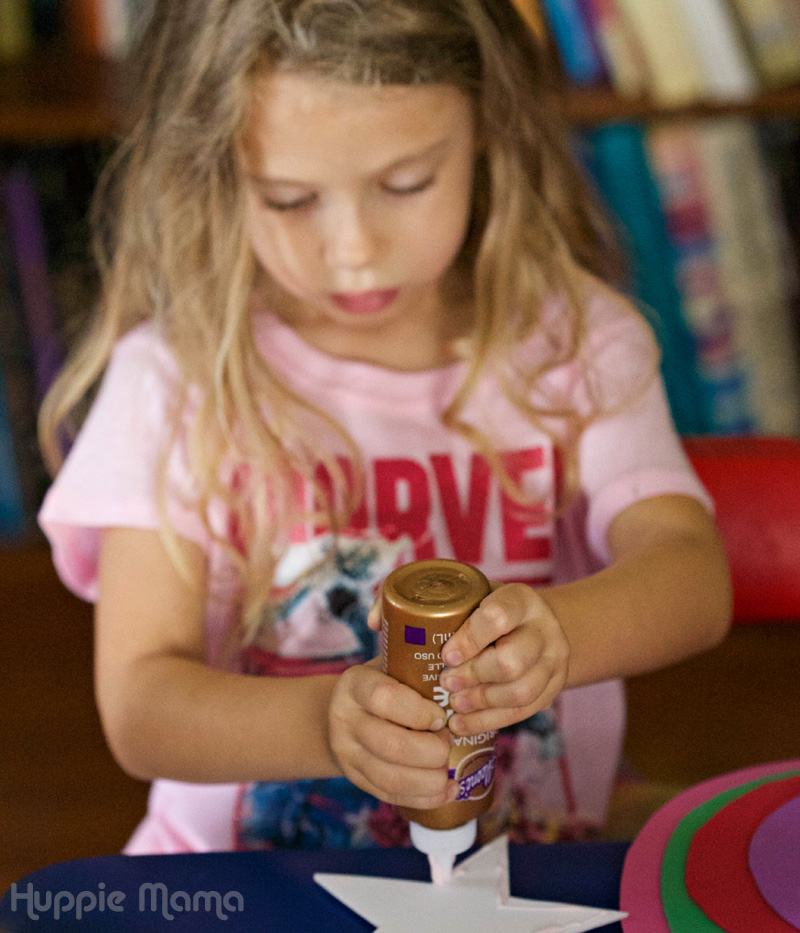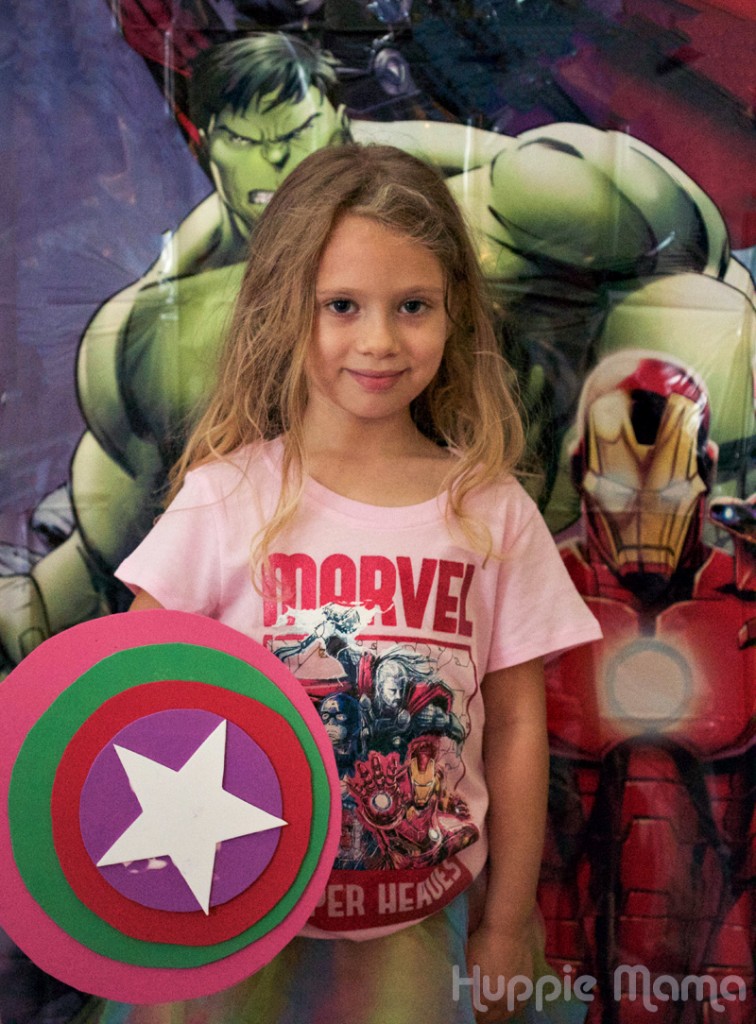 The kids and parents had such a fun time at our MARVEL's The Avengers: Infinity War party!
Head here for more Disney Craft Ideas for Kids.
How would you plan an Avengers Party for Boys & Girls?
Pin the Avengers Party ideas below!
Follow Huppie Mama's board Avengers Party Ideas on Pinterest.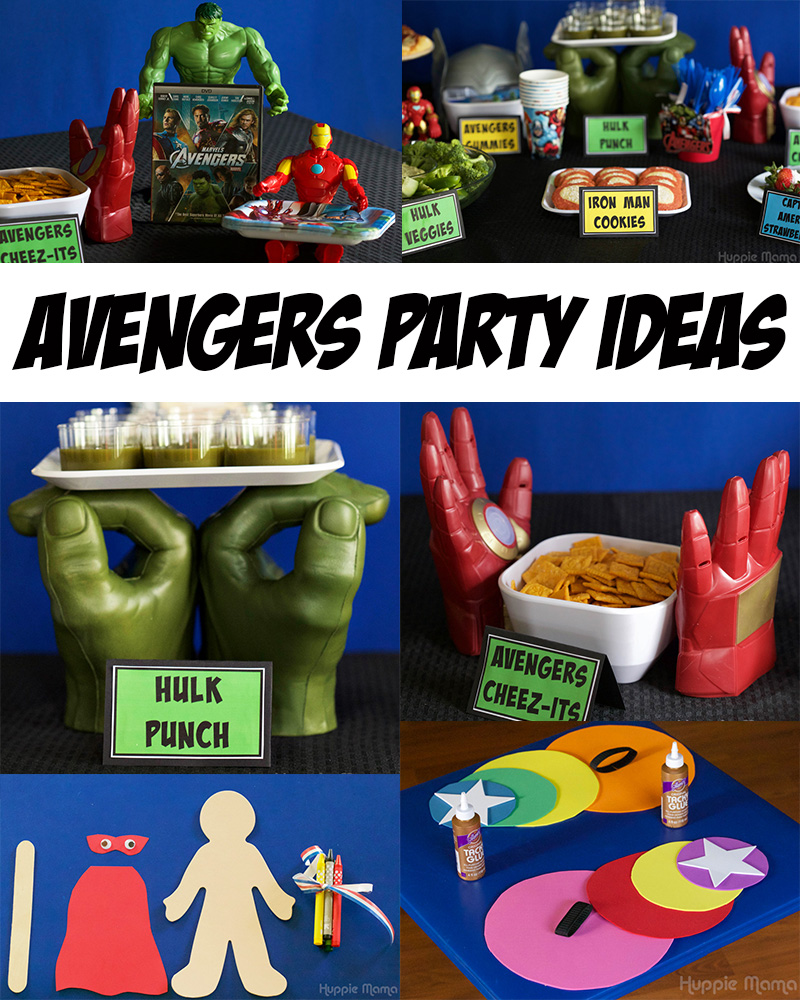 Originally published 4.24.2015