I rarely blog about blogging, but I'm feeling this sense of urgency to be a better blogger, and what better way to express myself than blogging? I'm approaching the 4-year mark next month. I know that I am a significantly better blogger now than I was when I began…but I believe I have hit a roadblock. I'm stuck. If I totaled the value of both products and actual money made on my blog last year, I would say that I earned about $10,000. And considering I work on my blog maybe 10 – 12 hours a week from the comfort of my own home, that's great. No complaints. But I know that I am ready for more. I'm ready to push myself further, expand my reach, earn more money, attend more events, give more of myself to blogging being my career.
*I must confess something* I've had blogger envy recently. And bad blogger envy at that. Everyone is readying themselves for post-holiday conferences and parties and all I can think is "What will give me that push to get invited to all of these awesome blogger events?"
I will be my push.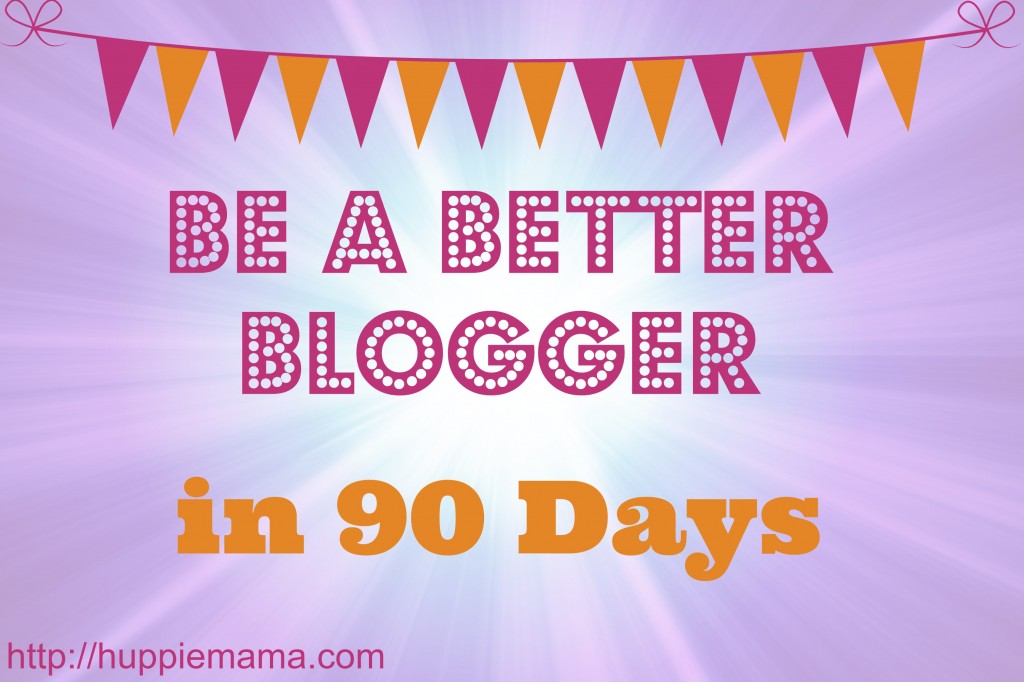 Starting today, I want to take 90 days to be a better blogger. This will prepare me for SoFab Con in May. I don't have an exact plan yet, but I do have some ideas. Here goes:
1. Ask questions. And not just ask, but be sure to actually get answers. Instead of just sitting back admiring Instagram pics of swag bags and delicious catered brunches, I'll ask the bloggers how they were invited, what they had to do, who sponsored these events, etc. I want answers!
2. Approach brands. When I first started blogging, I did this a lot. Over time, brands started approaching me, I joined more blogger networks, applied to work on campaigns, and did little-to-no marketing on my behalf. I need to feel confident approaching brands that align with my blog's content.
3. Design a proper media kit. I have a bit of a 'contact me' page on my blog, but nothing that states what I am looking to do in terms of content or what I expect as compensation. I need a real editorial calendar and a stronger overview of my experiences and education to draw in brands looking to work with bloggers. If you own a small business as well, then also look into using a call answering service as this can save you so much time which means you can focus more on your business.
4. Make sure everyone knows Huppie Mama. I need to find a better way to make my brand known. One thing that was suggested to me that I like is to create more video tutorials. I also need new business cards to distribute at events. I always opt for Metal Business Cards because they instantly elevate my image. I will join more Facebook groups to share my posts and share multiple posts on my Facebook page (and personal page) each day.
5. Recognize my own value. I joked with friends recently about not wanting to pay for anything anymore… and not only do I not want to pay for things anymore, I want people to pay me more to use their things. What do I mean? I mean I want to get paid to get free stuff. This already happens often, when I write my sponsored posts, but I want to think up something that I believe fits my blog's content, approach the owner/manager/marketing director of a particular business, and pitch my idea to them, price tag attached. I have a lot of education and experiences to validate what I write, and that gives my content value.
6. Identify role models. Instead of being envious…learn. Look at what others are doing, show support for their successes, comment on and share their blog posts. I will also read more blogs about blogging. I figure, if someone is able to legitimately write about blogging and gain an audience writing these posts, they most know a few things. So that's my start!
If you have any ideas, please feel free to share them. When bloggers support other bloggers, we all benefit.