These Witch Halloween Party ideas include a fun tablescape and spooky brownie recipe!
I say it every year, but I just have to repeat myself: Halloween is my favorite holiday! Adding Halloween content – especially parties – to my blog is true bliss. Last year, I created a Spider Halloween Party. This year? A Witch Halloween Party!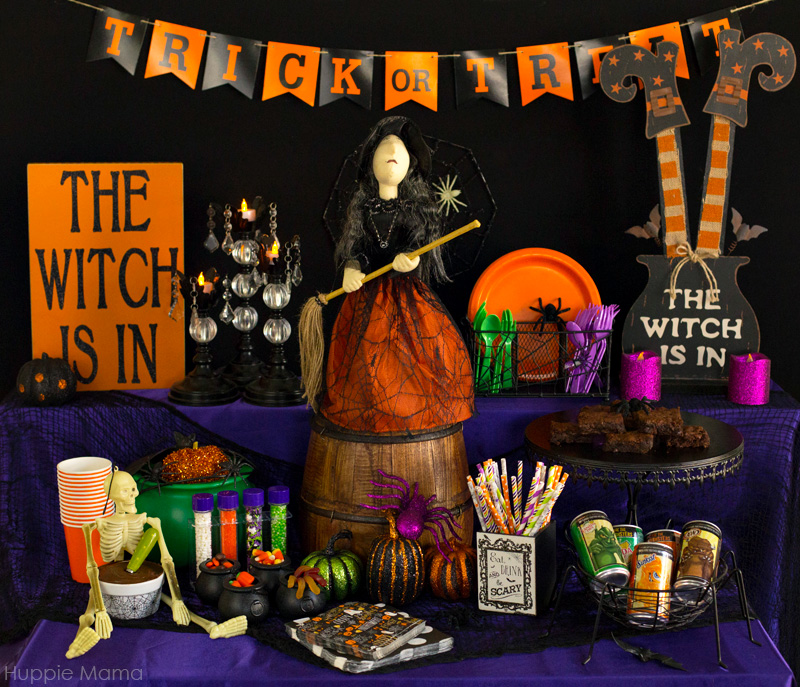 When I was in 6th grade, rather than trick-or-treating, my parents threw a Halloween party for me and all my friends. It was awesome (and probably one of the reasons Halloween is my favorite holiday). It was like a Pinterest party 20 years before Pinterest was around. Spooky food, games, and contests. And guess what I dressed as that year? A WITCH! With that as my inspiration, it's time to share all my party ideas with you!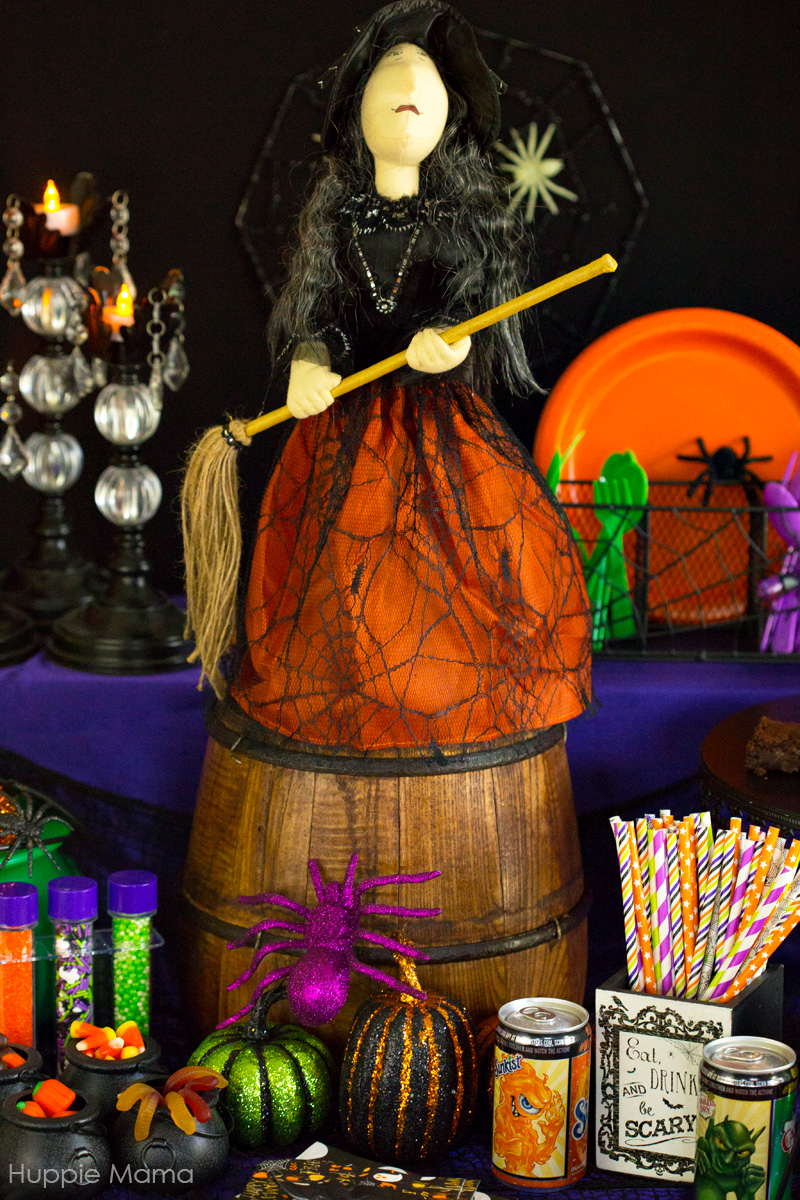 Every Halloween Witch Party requires a witch centerpiece. I wanted this tablescape to be mostly black with pops of bright orange, green, and purple, so when I found this witch with the orange and black skirt, I knew she'd be just perfect at the center of my table.
A few additional witch accessories were certainly required. I couldn't choose between the two "The Witch Is In" signs, so I just got both and placed one at each end of the table. Candlesticks with flameless LED candles help set the mood (and are safe around kids).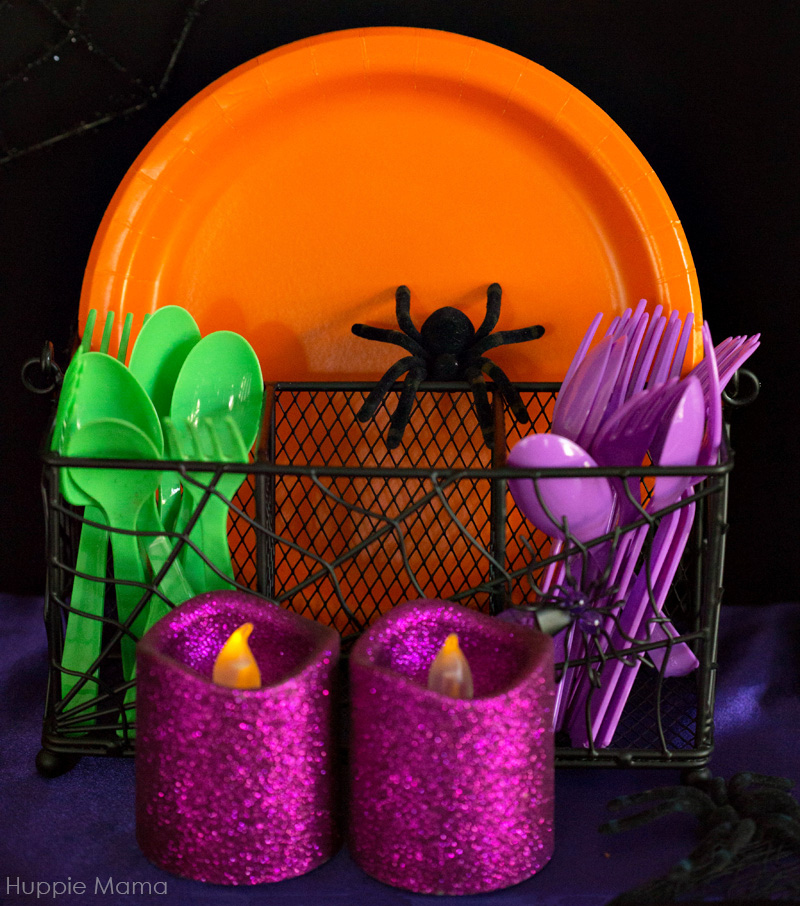 Orange paper plates and purple and green plasticware complimented the colors on this Witch Party table. Watch out for the spiders! I placed them around the table to make it even spookier.
And now, it's time to talk about the food and drinks for this Witch Halloween Party!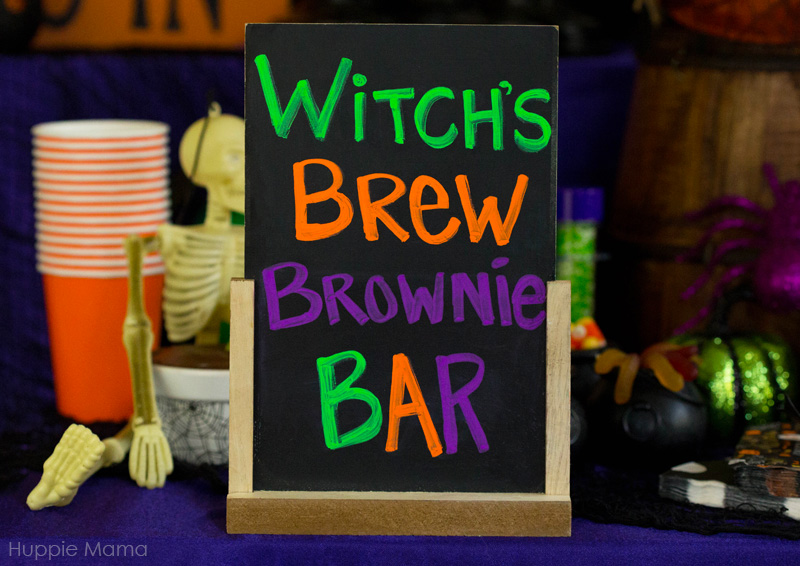 No Halloween party would be complete without deliciously spooky treats. I started to think about what I'd put in a witch's brew made of candy, but instead of actually mixing up a brew, I put the creepy brew ingredients on top of tasty, fudgy brownies!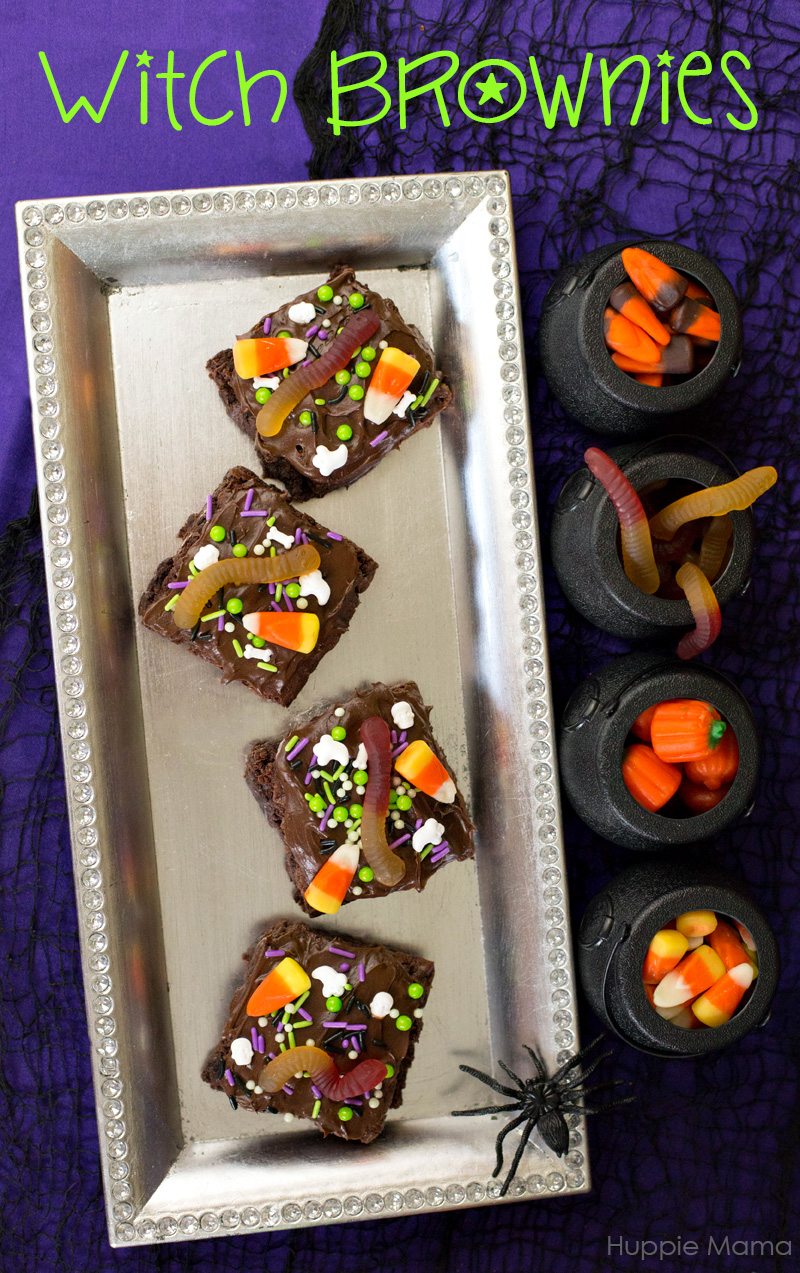 Begin by preparing the brownies. You can make them from scratch by following your favorite recipe or purchase a box of brownie mix on your next trip to Walmart. I found a brownie mix with chocolate chips, perfect for this recipe!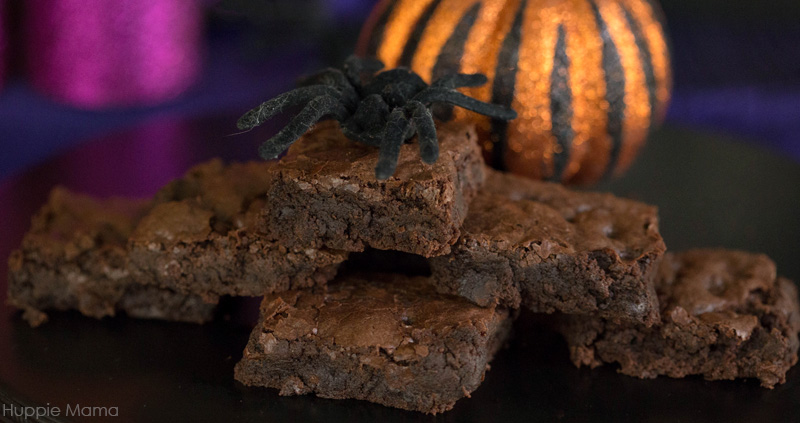 Next, top each brownie with chocolate frosting. If your family and friends aren't into brownies, you can always make Witch Cookies by baking sugar cookies and using a fun-colored, vanilla-flavored frosting, like orange or purple.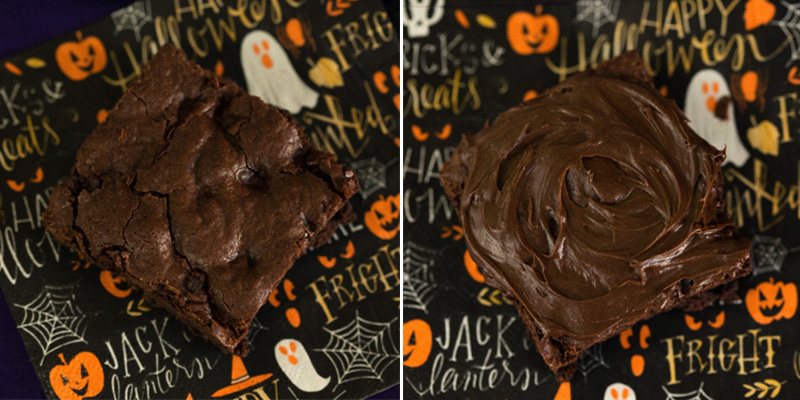 Create a topping bar with a variety of colorful candies. Here are some ideas:
Gummy worms
Sprinkles
Eyeball candies
Candy corns
Candy pumpkins
Non-pareils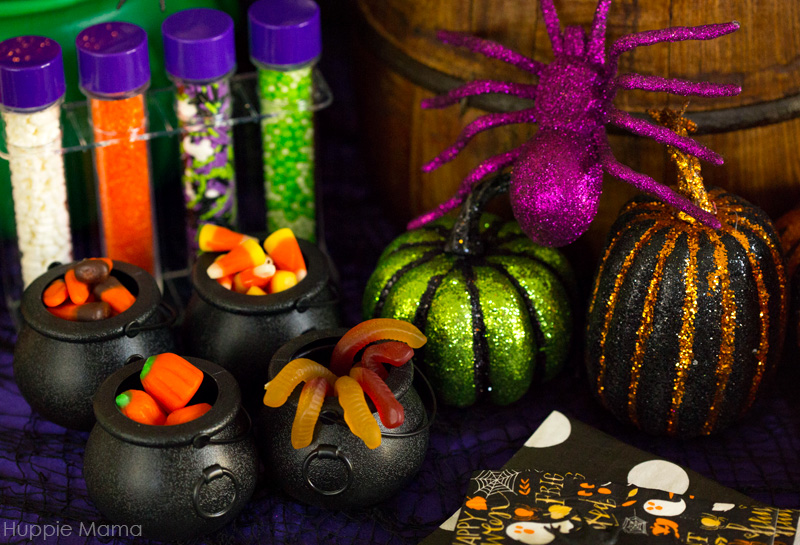 Top your brownies with all of your favorite deliciously spooky toppings. Both kids and adults will have so much fun with this do-it-yourself dessert. And now, your witch brownies are ready to devour!
To go with your brownies, serve some of your favorite beverages. These may look like normal 7.5 ounce cans of soda, including Sunkist®, A&W® Root Beer, 7UP®, Canada Dry®, Squirt®, and Big Red®, but looks are very deceiving!
You did notice those monsters on each mini-can of soda, right? Check this out!
Download the Mini Monsters app (on your Apple or Android phone).
Place either one or two different mini cans on a flat surface.
Scan your cans using the Mini Monsters app.
Your cans will appear to come to life through this augmented reality experience.
Have fun filming videos and taking selfies with the monsters!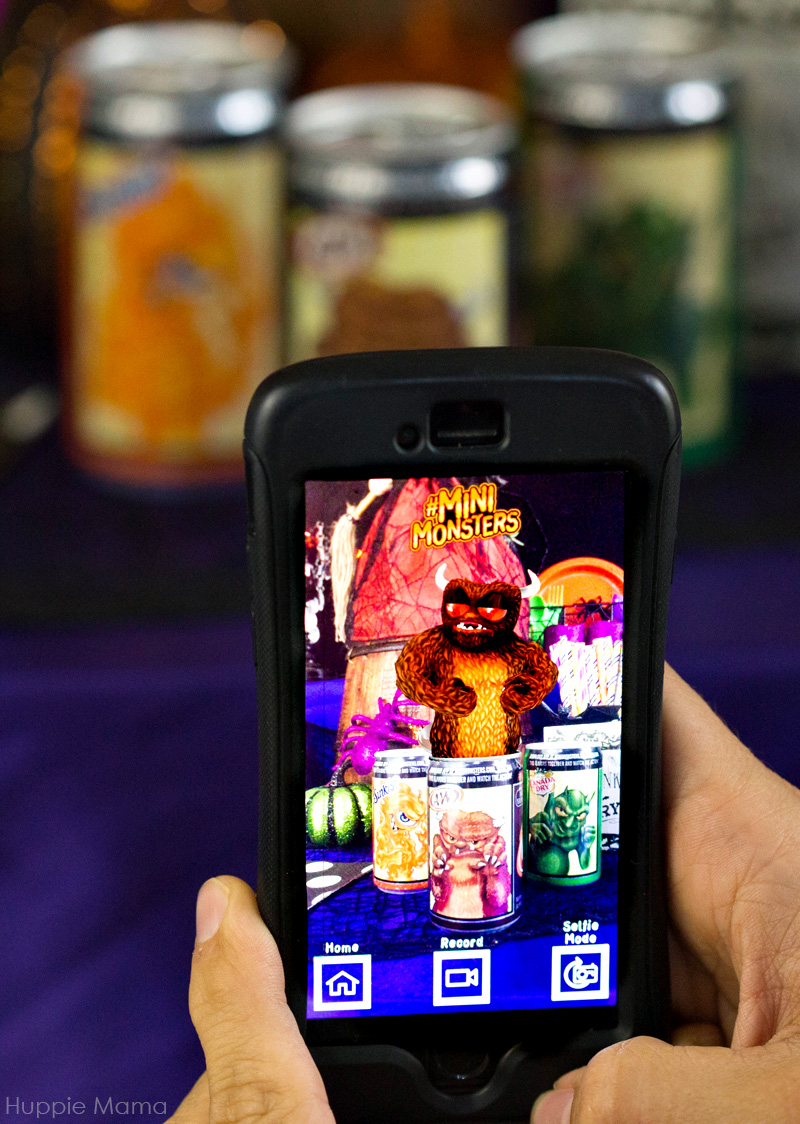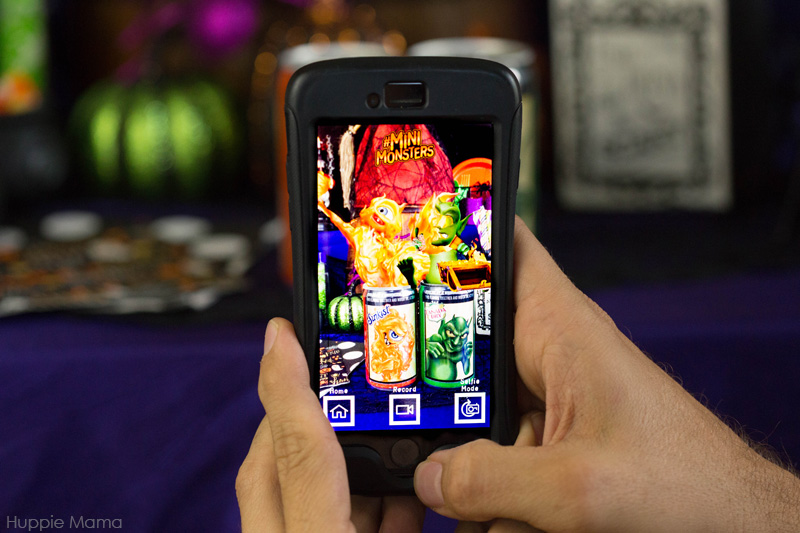 Your party is now complete! The perfect snacks, #MiniMonsters, beverages, and help from Walmart will make this party absolutely bewitching! Have fun celebrating Halloween with some of your favorite adults and children this Halloween.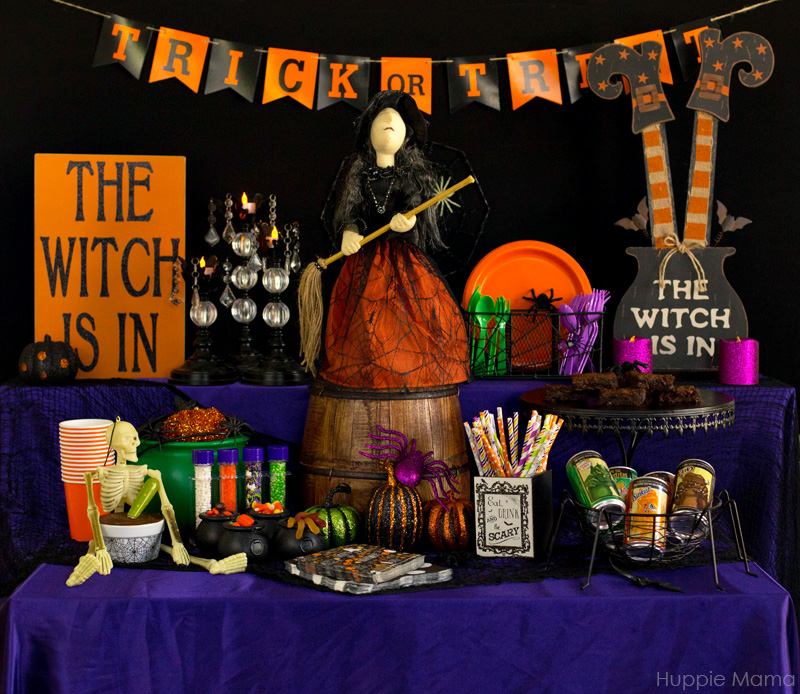 What are your ideas for a Witch Halloween Party?
Pin these Witch Halloween Party ideas and brownie recipe below!