This Teacher Appreciation Lunch post is sponsored by BabbleBoxx.com on behalf of Chick-fil-A.
Plan a Teacher Appreciation Lunch to show gratitude for all that the staff at your child's school does to support your community!
A year and a half ago, we moved from South Florida to North Central Florida, and one of the main reasons we made that move was to give my children the best educational opportunities possible. We researched schools that provided them with quality learning experiences in a diverse setting.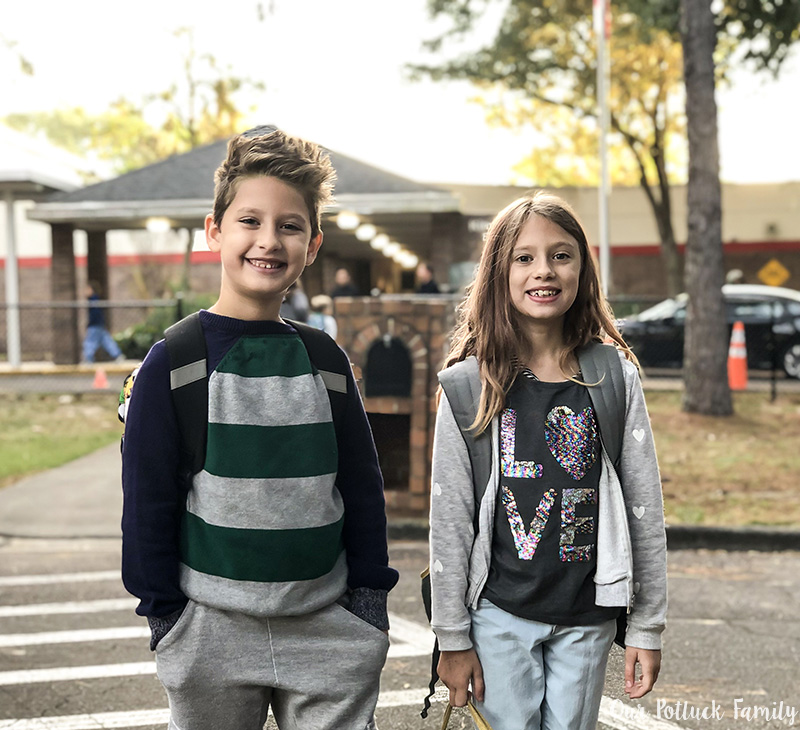 We are incredibly grateful for the teachers and support staff at their elementary school, and as a result, we spend a lot of time volunteering through the school's PTA and as classroom volunteers. I even put my teaching degrees to use as a substitute teacher! To show the teachers and staff just how much we appreciate all they do for the children at the school, I decided to plan a teacher appreciation lunch with the help of Chick-fil-A catering and next year we have already planned for a lovely Event Banquet Room with the help of local catering services.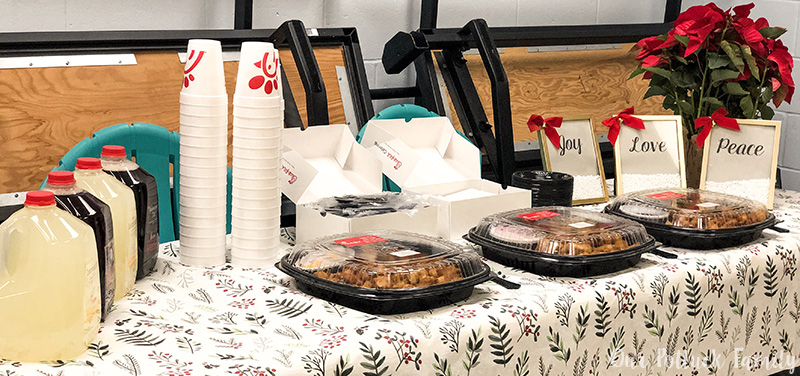 Use Chick-Fil-A catering for your next Teacher Appreciation Lunch!
I was able to download the mobile app and place my order two days in advance. The app was so easy to use – I could choose the time to pick up my order, see all of the trays and other options available and how many people they would feed. I made my selections and placed the order for pick-up. The morning of the lunch, I picked everything up at my local Chick-fil-A. In fact, they were gracious enough to bring the order out to my car, complete with all of the necessary plasticware and paper goods.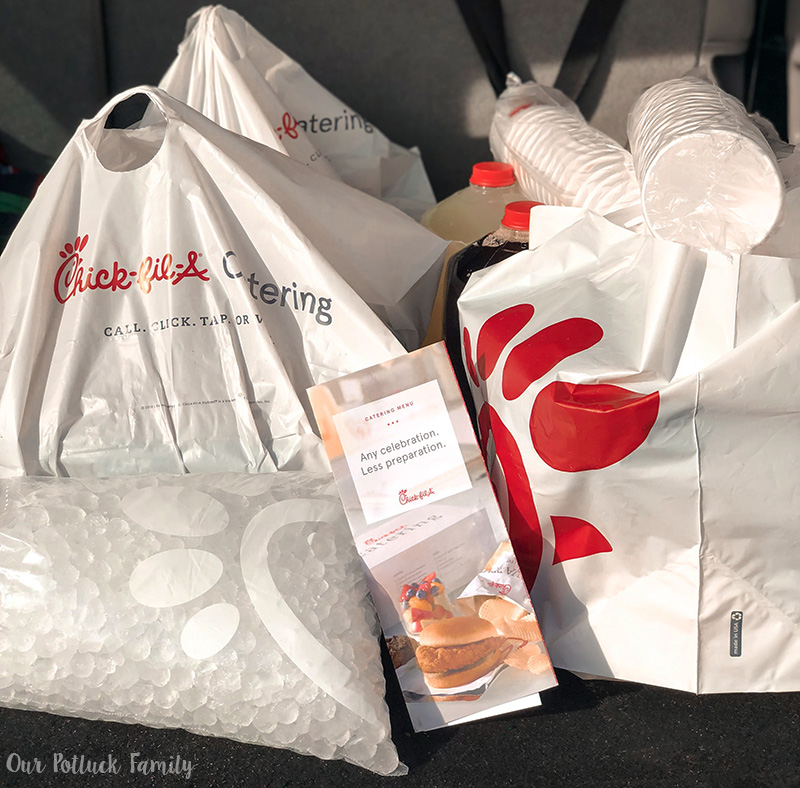 I brought the Chick-fil-A items into the teacher's lounge to set up their lunch. I ordered 3 medium Chick-fil-A Nugget Trays and a gallon each of lemonade, diet lemonade, sweetened tea, and unsweetened tea. Each Nugget Tray came with an eight-ounce container of sauce. I had six sauces to choose from, and I selected Barbecue, Polynesian, and Honey Mustard.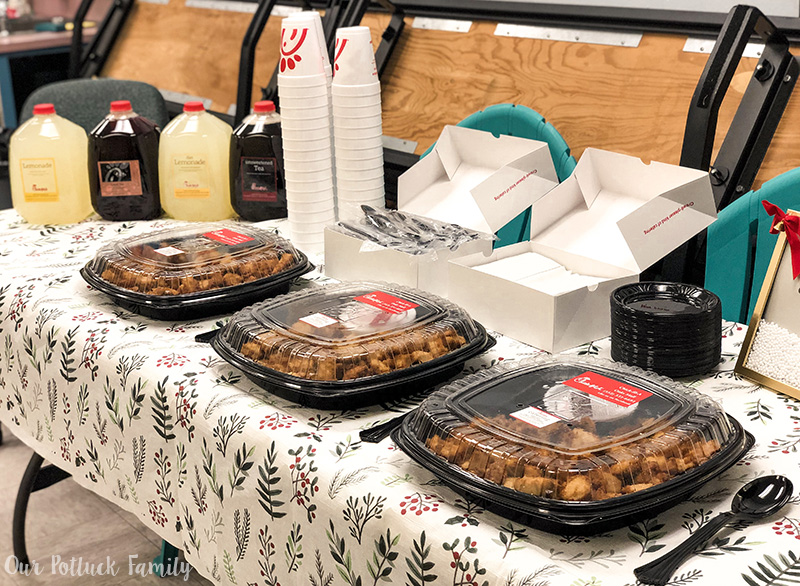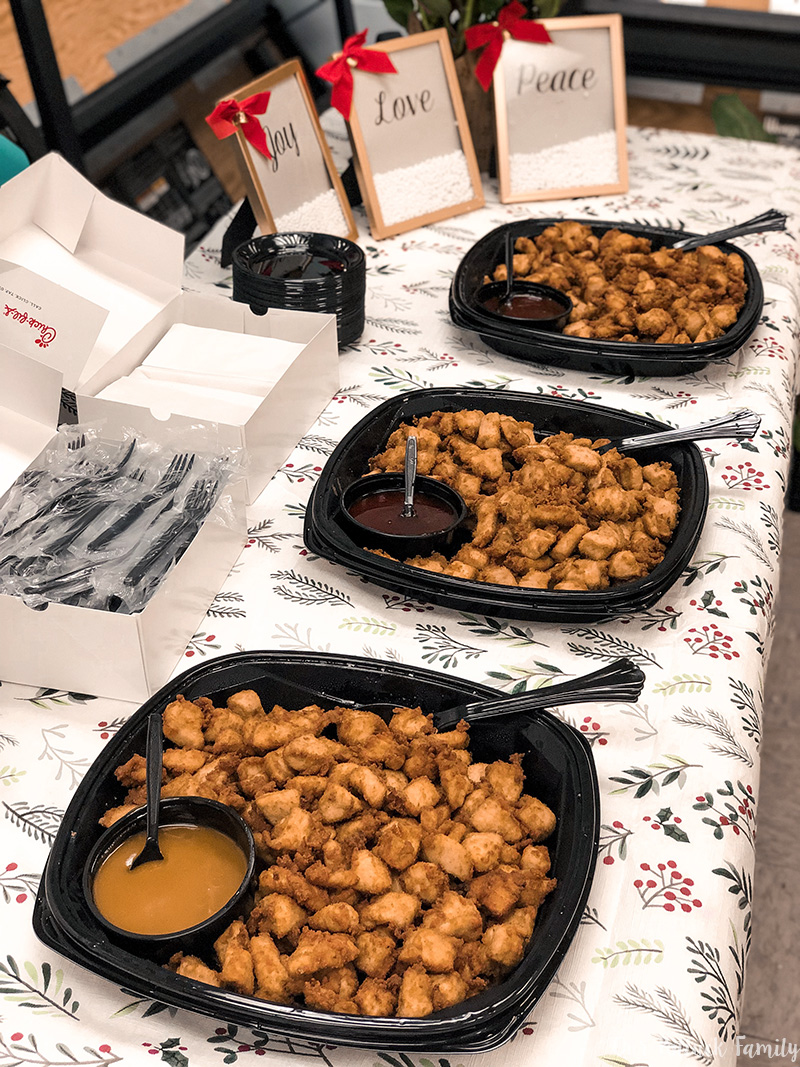 As stated above, my catering order included all of the plasticware and paper goods we needed, along with serving utensils. This made setting up the table for this Teacher Appreciation Lunch super easy! It makes clean-up easy as well. It took about 5 minutes to clear the table and get everything back in order.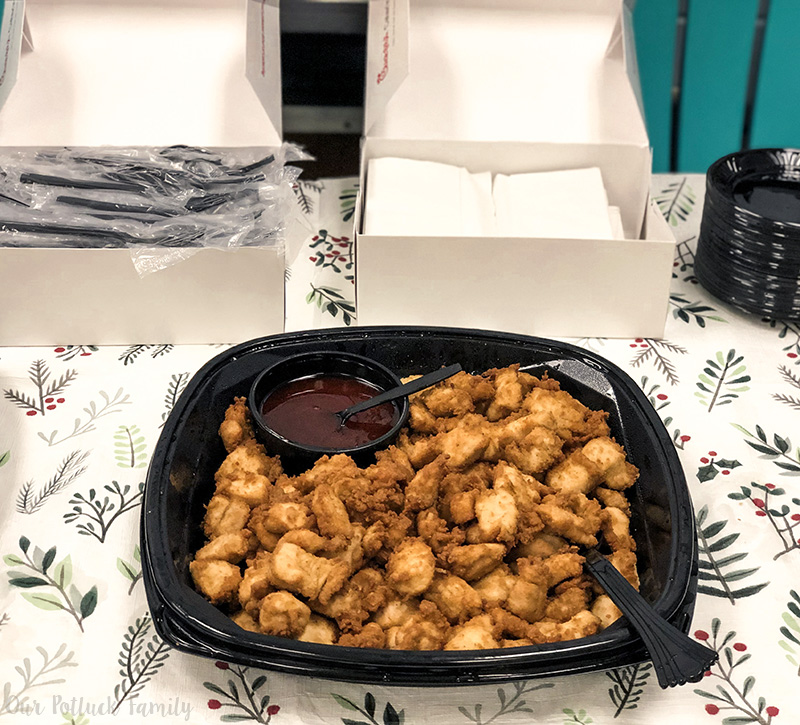 To make the table extra-special, I brought a few touches: a festive tablecloth, fresh poinsettia, and holiday signs I created myself that said Joy, Love, and Peace. I really hope the teachers and staff at my children's school felt appreciated!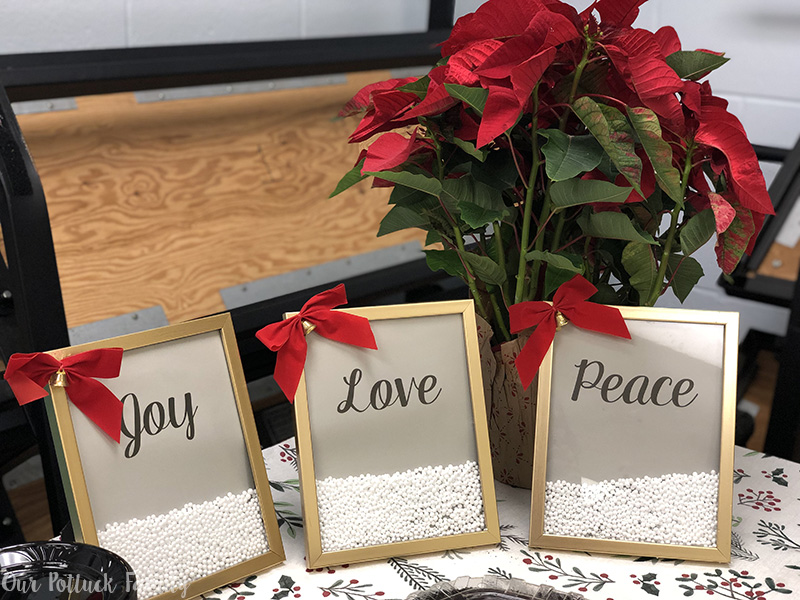 Looking to place a Chick-fil-A catering order this holiday season? Here are some pointers:
Download the Chick-fil-A mobile app. You will be instructed to select your location, catering date/time, and the items you wish to order. Bonus: You can collect points that can be redeemed to save on future purchases through the Chick-fil-A One Membership Program. Score!

Don't forget to grab drinks! Everyone loves Chick-fil-A's Lemonade and Iced Tea.

Chick-fil-A also has freshly-baked Chocolate Chunk Cookies you can add to your order.

Bags of ice are also available for purchase at Chick-fil-A – so convenient!

Be sure to let them know how many guests you will be serving so they can provide you with the correct number of plates, cups, napkins, and plastic utensils.
Chick-fil-A chicken is breaded by hand and menu items are freshly-prepared for your order.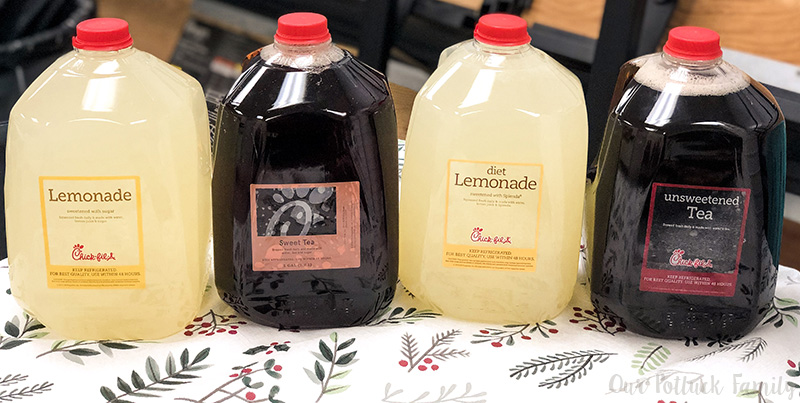 What ideas do you have for a Teacher Appreciation Lunch at your child's school? It's a wonderful way to express gratitude around the holidays!