This Sweet & Spicy Candied Bacon Recipe will be your absolute favorite new crave-able snack food!
You must try this recipe for Sweet & Spicy Candied Bacon. This is like everything you enjoy about eating bacon for breakfast that may have gotten a sprinkle of maple syrup from your pancakes with the sugary crunch of a great peanut brittle and a little kick of heat. Basically… it's awesome! It can be served alone as a snack, like eating beef jerky, or added to other dishes like salads, cocktails, or cooked vegetables.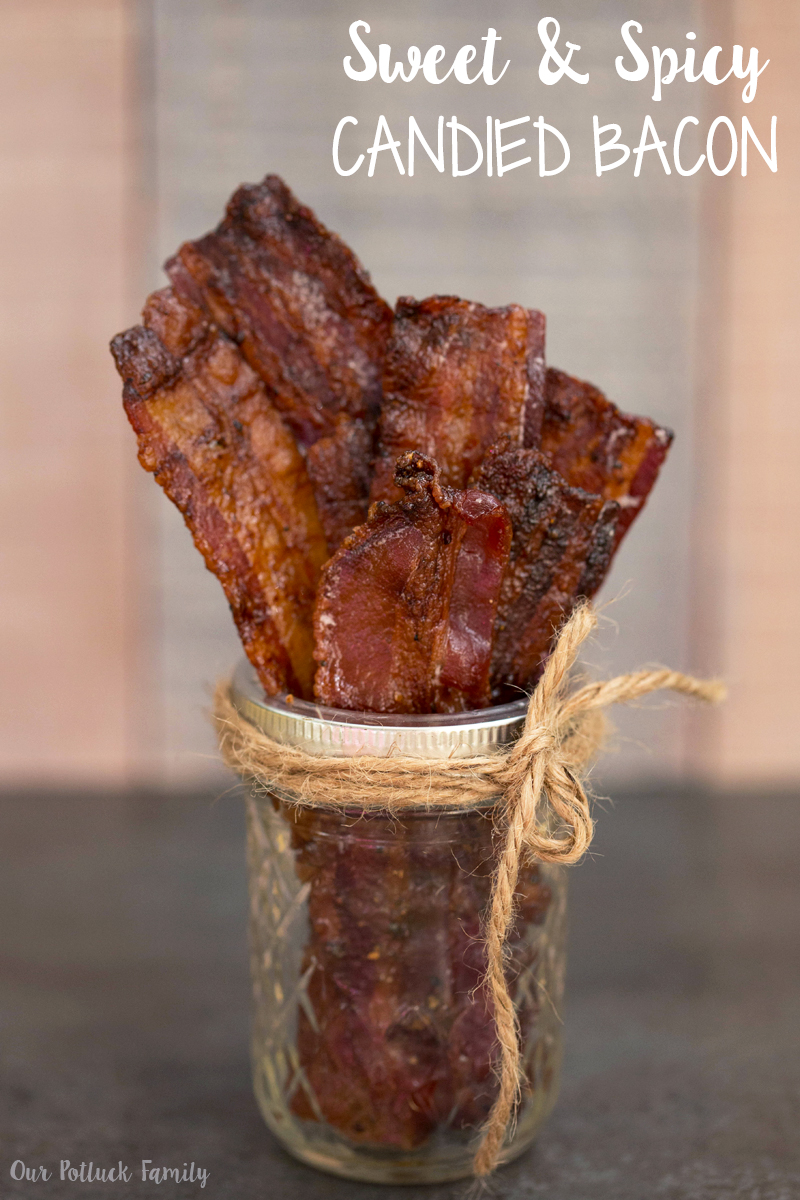 Ingredients for Sweet & Spicy Candied Bacon:
8 ounces of uncooked bacon
2 T brown sugar
1 T real maple syrup
1 t whole grain mustard
1/2 t coarsely ground black pepper
1/8 t chili powder
Directions for Sweet & Spicy Candied Bacon:
Preheat your oven to 350 degrees F. In a large bowl, mix together the brown sugar, maple syrup, whole grain mustard, black pepper, and chili powder. I love heat, so I used a habanero chili powder, but you can use something milder or omit it altogether. The whole grain mustard adds a great flavor and texture to the bacon.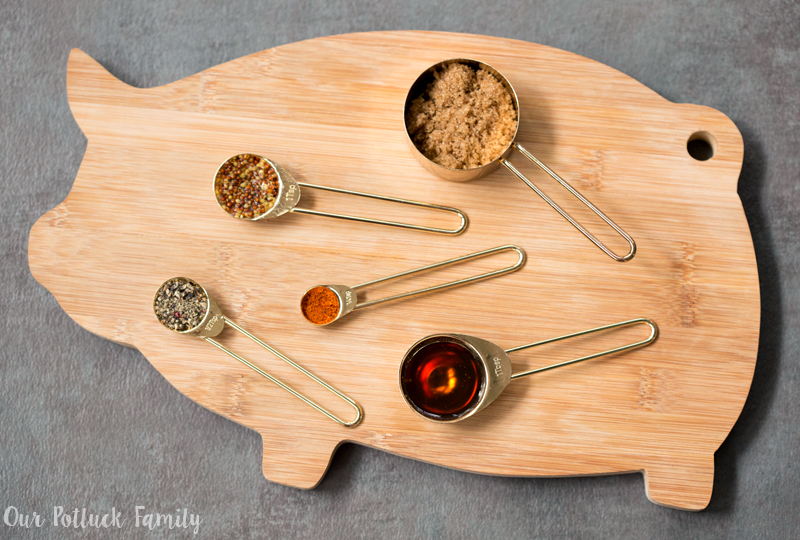 Add your bacon to the bowl with the brown sugar mixture. Evenly coat each piece of bacon. Line a half sheet pan with aluminum foil, add a cooling rack, and place your bacon on the rack. This way, the fat will drop down to the bottom as the bacon cooks.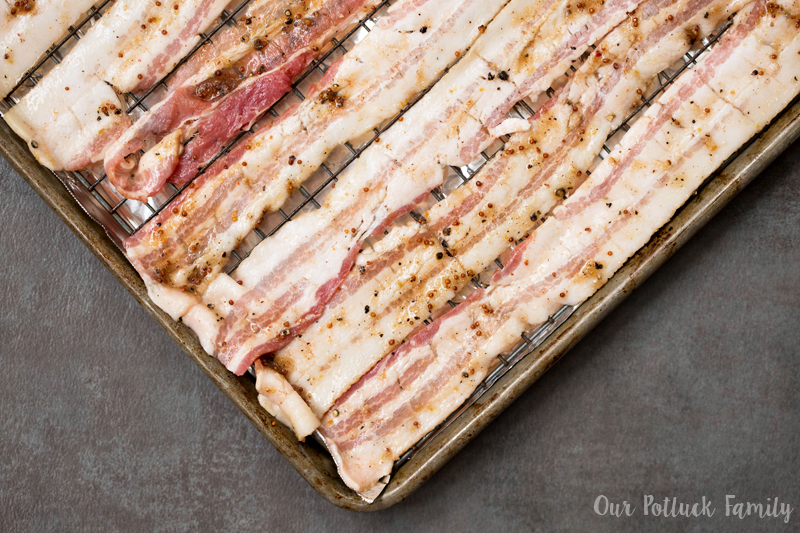 Place your bacon in the oven for 15 minutes. At that time, flip each piece of bacon over and return to the oven for 10 mins. After 10 mins, flip the bacon over again and return to the oven for 10 minutes. Your bacon should look nicely caramelized. Remove it from the oven and allow it to cool completely.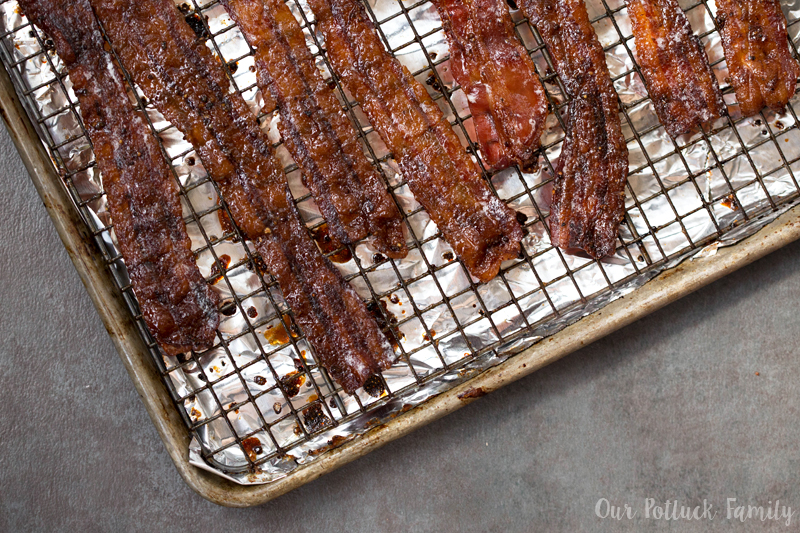 As the bacon cools, it will get a crispy, crunchy texture as the sugars solidify. This is how you get that peanut brittle feel to your candied bacon. If you can wait this long – and I will tell you it is not easy with how delicious your house will smell as you cook it – you can enjoy this delicious Sweet & Spicy Candied Bacon.
This Sweet & Spicy Candied Bacon would be delicious on a Blueberry Corn Summer Salad.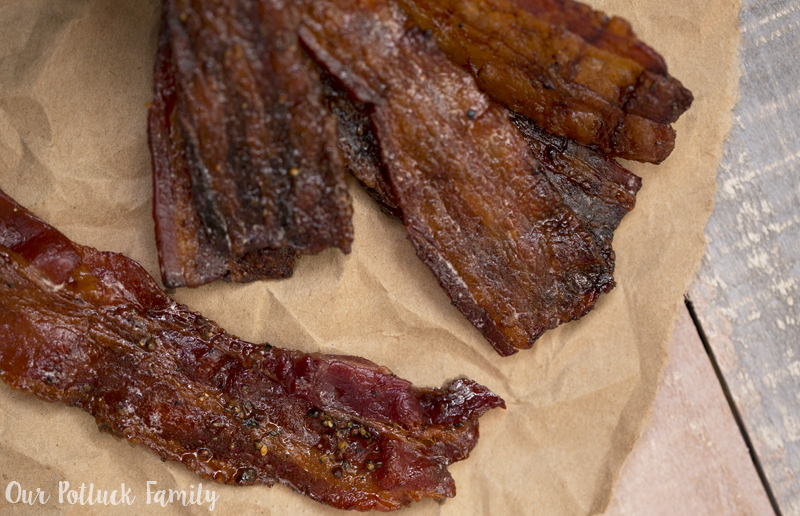 Looking for more tasty bacon recipes? Try these!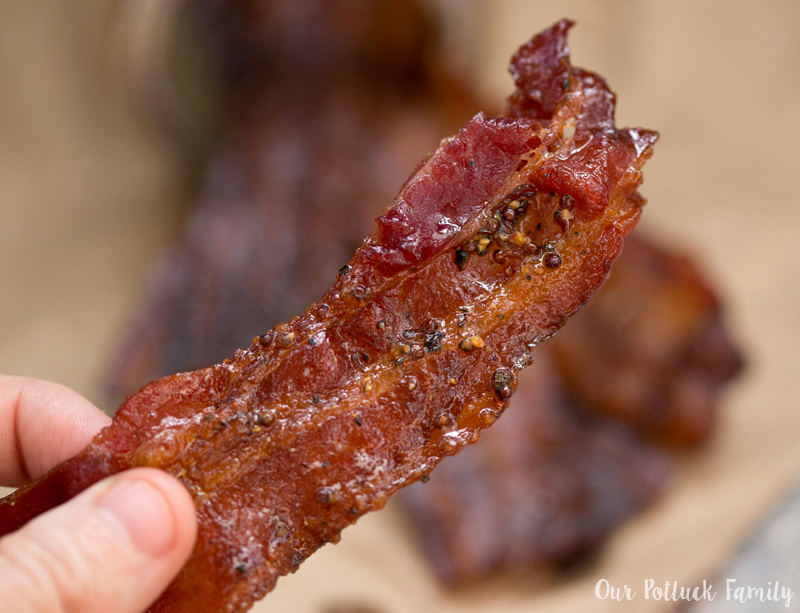 Want to prepare this Sweet & Spicy Bacon Recipe later?
Just pin it below!

Originally published 2.16.2017.
[tasty-recipe id="27182″]