I received compensation from Alka-Seltzer® to write this post. All opinions are entirely my own. #MyFoodMoment #CollectiveBias
Try this sweet and spicy Strawberry Habañero Salsa recipe, perfect for snack time cravings!
I'm always looking for delicious and spicy flavor combinations I can snack on between meals. Basically anything that can go on a chip – queso, salsa, guacamole, spinach dip – and I'm a happy girl! My latest recipe? Strawberry Habañero Salsa. I experimented with different fruit salsa recipes over the summer, like pineapple and mango, and I thought strawberry salsa would be a fun one, too! And every delicious salsa recipes needs some heat, so why not go all the way with habañeros? I love spicy foods, the hotter the better, so I'll also be sharing tips below to manage the occasional heartburn and occasional sleeplessness  you may experience when eating some of your favorite spicy dishes. For now… on to this delicious Strawberry Habañero Salsa recipe!
Strawberry Habañero Salsa Ingredients:
1 1/2 cups finely diced strawberries
1 finely diced habañero
1/2 cup finely diced red onion
1/2 cup finely diced cucumber
1/2 cup chopped cilantro
juice of 1/2 a lime
Salt & pepper
Strawberry Habañero Salsa Directions:
Begin by selecting the ingredients for your strawberry habañero salsa. I've spoken before about balance in my recipes. For this salsa, the strawberry provides the sweetness, the habañero provides the spice, the cucumber has a cooling effect, and the lime gives it just the pop of acid that brings it all together. If you prefer a different fruit, try mango or pineapple. If you can't take the heat, you can select a milder chili like jalapeño or poblano or even bell pepper.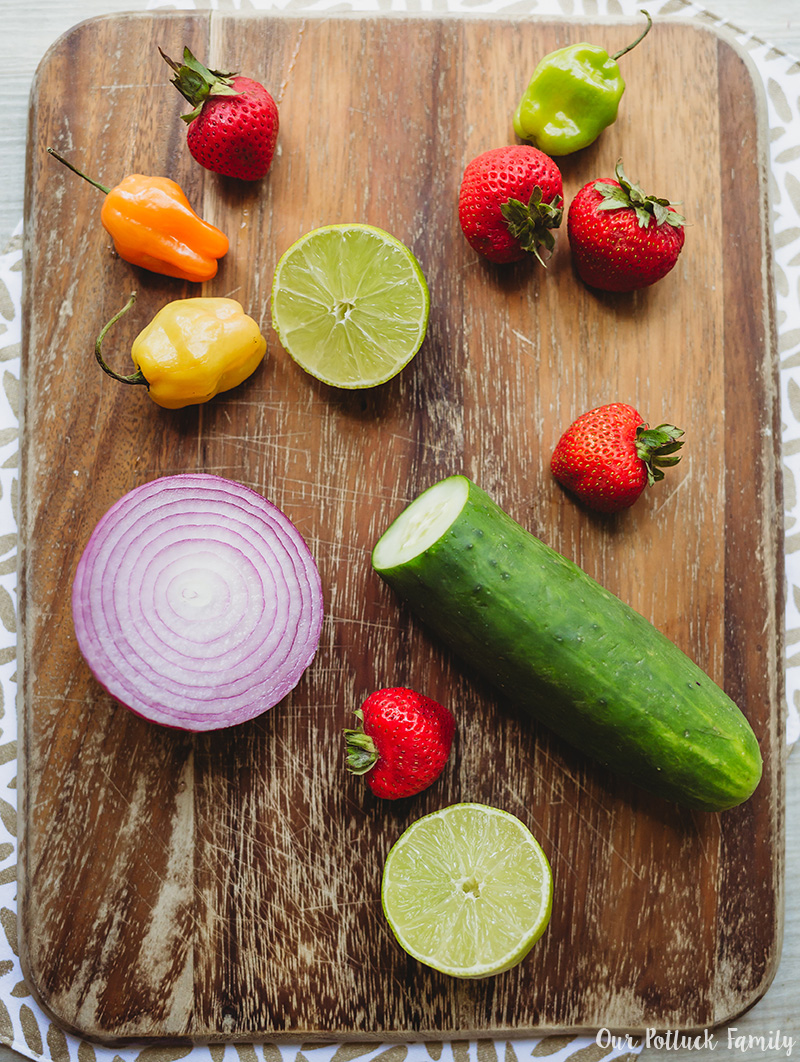 The most important part of this recipe is to finely dice all of the ingredients. I'm sure you could use a food processor if you want a more pureed texture, but I like to hand-cut the fruits and vegetables to make a pico de gallo style salsa. Here are a few pointers when preparing your ingredients:
For the strawberries, just remove the stems, slice the strawberries, slice again into sticks, then again to make small cubes
For the habañero, cut it in half and remove the seeds and veins. Use the tip of your knife to slice the habañero into very small strips and finely dice.
For the cucumber, slice in half, remove and discard the seeds, create sticks, and finely dice.
For the red onion, slice in half to have a flat side, then finely dice.
Measure out and combine these finely chopped ingredients in a bowl.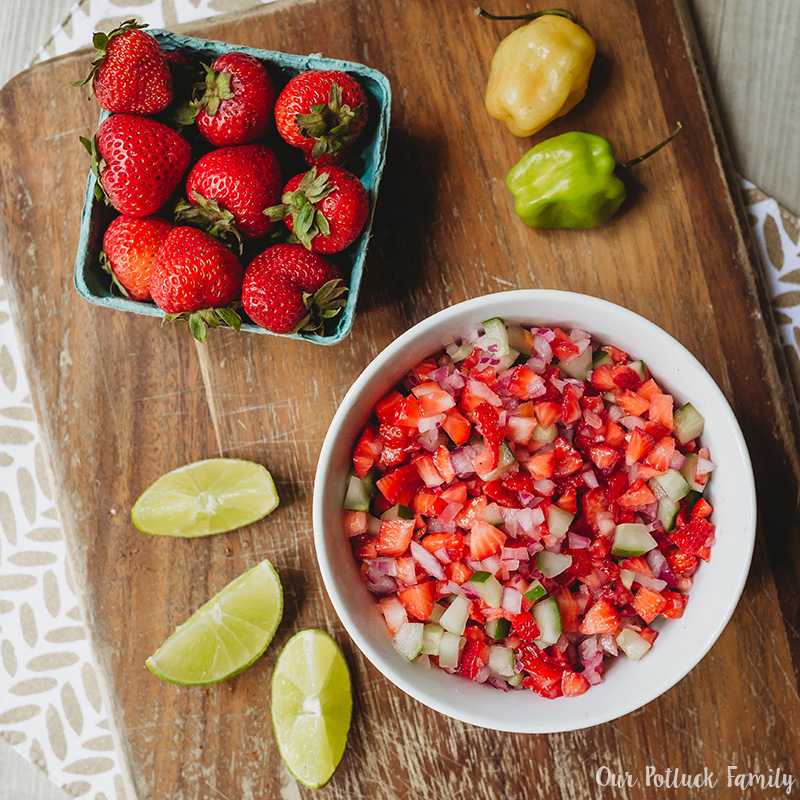 Add the juice of one lime to your chopped fruits an vegetables. The acid from the lime juice adds that pop of flavor to balance the sweet and spicy flavors in this salsa. It also helps to break down the strawberries to give the perfect texture to your salsa.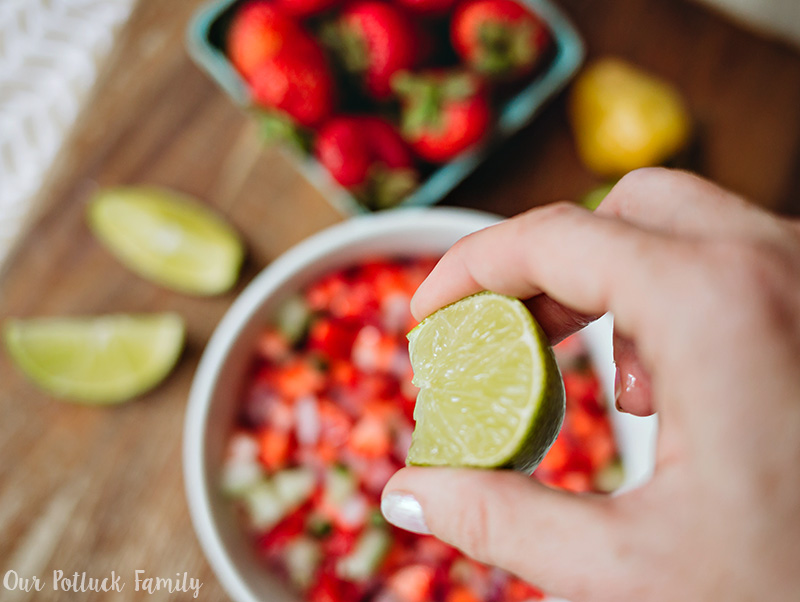 The final step is to add in chopped cilantro. Cilantro is one of my favorite herbs because it adds a fresh flavor to dishes, but if you don't like cilantro, you can try flat leaf parsley or even fresh mint. Have fun experimenting with different fresh herbs to make the perfect salsa! Season with salt and pepper, and your Strawberry Habañero Salsa is ready to serve!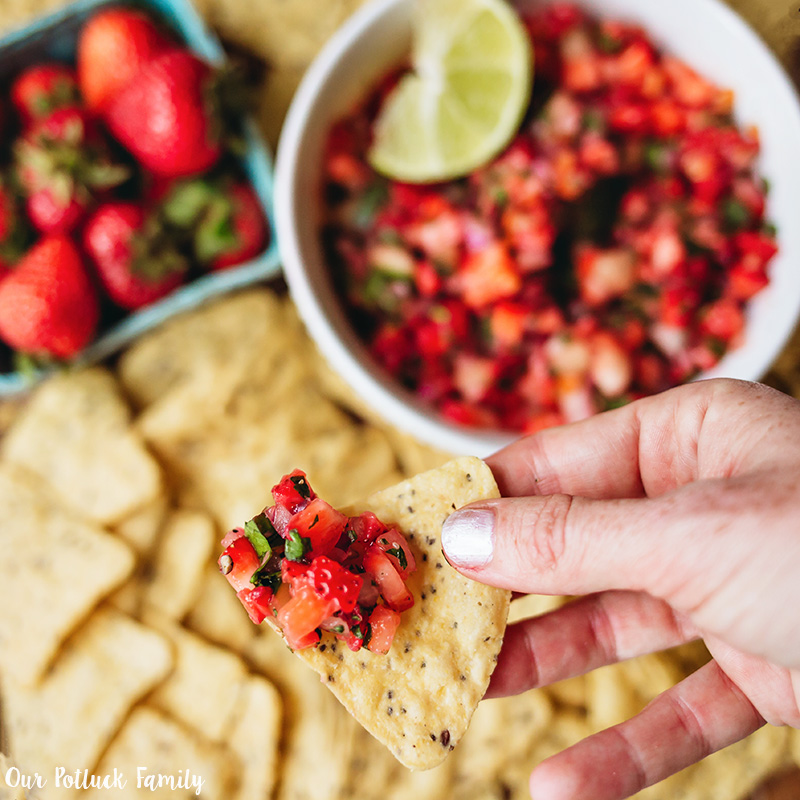 Do you suffer from occasional heartburn with occasional sleeplessness?  As I get older, I find that while I absolutely love spicy foods, they can definitely affect me differently than they did when I was younger. If you do enjoy spicy foods and experience occasional heartburn, Alka-Seltzer® PM Gummies allows you to enjoy the spicy foods that you love. It's the only fast relief of occasional heartburn with sleeplessness.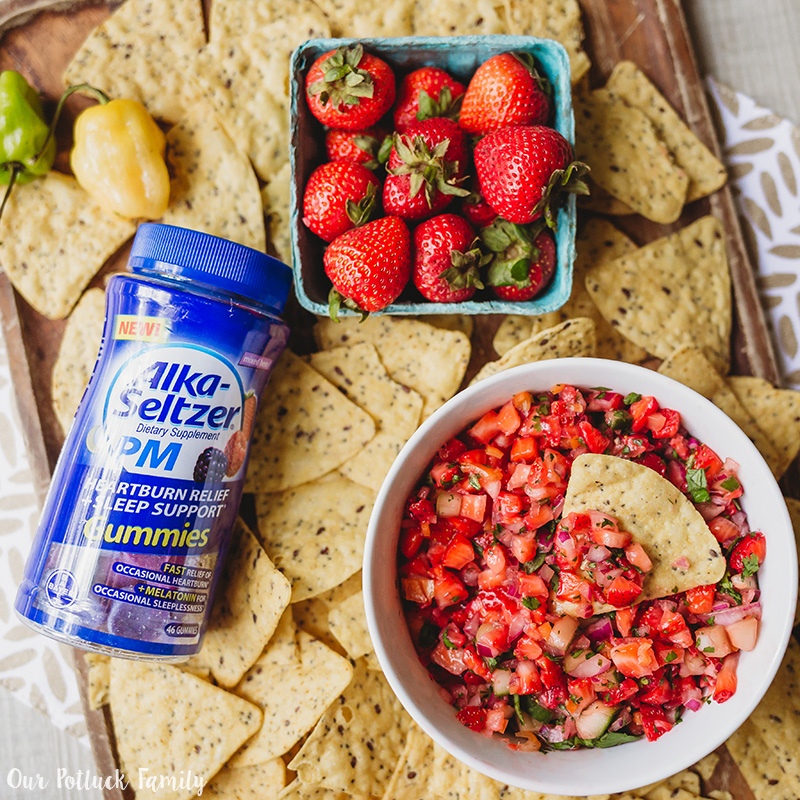 Head to Walmart where you can find Alka-Seltzer® PM Gummies in the pharmacy section. Try Alka-Seltzer® PM Gummies for the fast relief of occasional heartburn with melatonin for sleeplessness. Now you can enjoy all your favorite spicy foods!
Save on Alka-Seltzer® PM Gummies with this offer!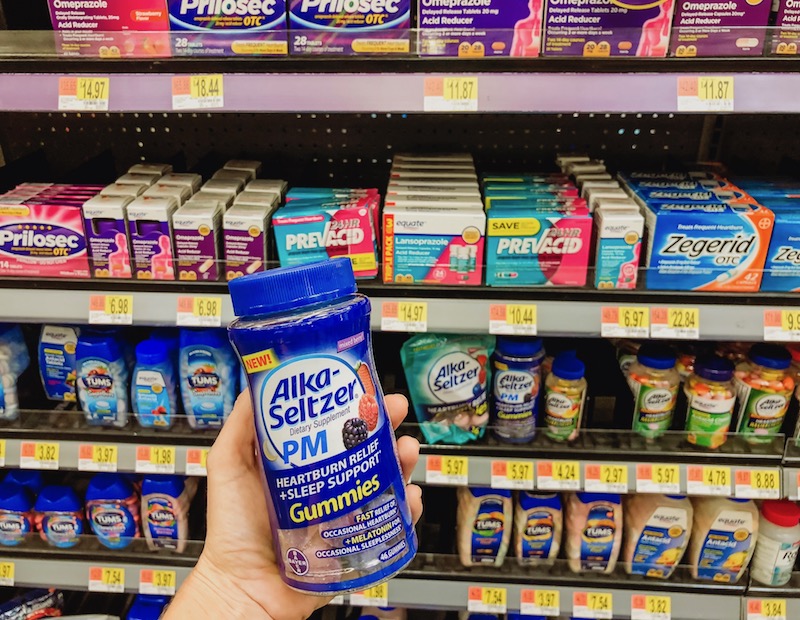 Looking for a tasty new salsa that balances sweet and spicy?
Pin this Strawberry Habañero Salsa Recipe below!

[tasty-recipe id="27130″]