This Sourdough Cinnamon Roll Recipe can be made at home with your sourdough starter.
I'm really been enjoying my sourdough starter. I've found that sourdough makes the fluffiest, smoothest dough that creates a soft yet chewy texture in some of my favorite baked goods. I saw a friend pinned this recipe for Sourdough Cinnamon Rolls. I made a few alterations, and thought the recipe was worth sharing with my readers. I added a copy-cat Cinnabon frosting to thoroughly enjoy the decadence of this delicious treat. Let me know if you make them!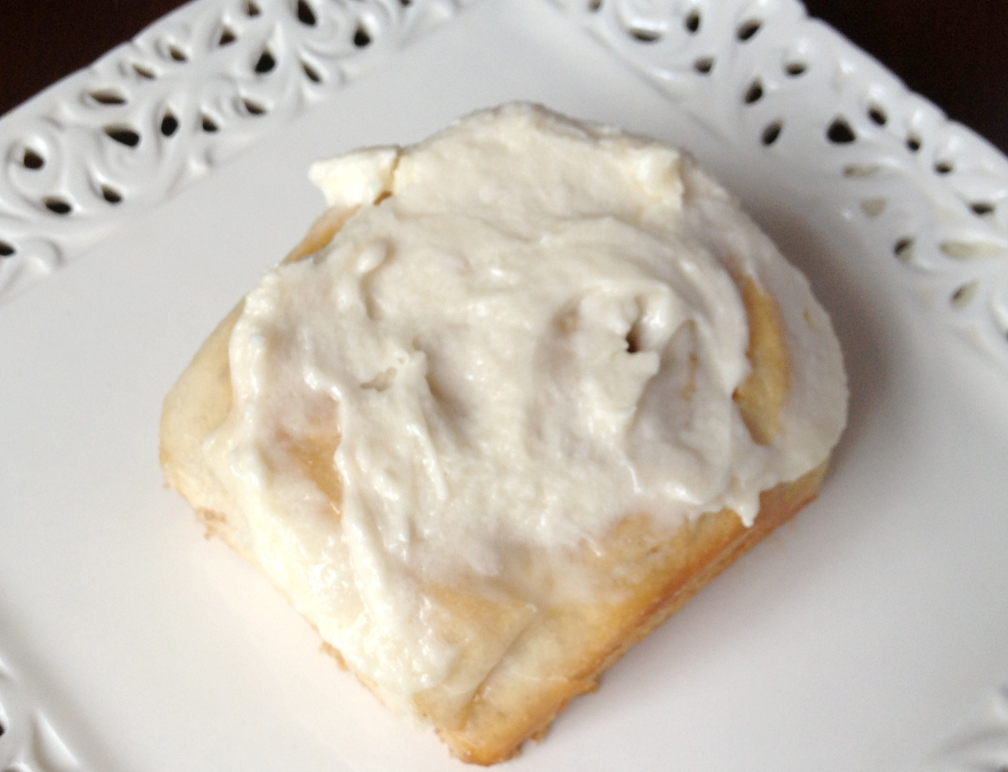 Dough:
1 cup sourdough starter (fed)
1/2 cup whole milk
1 3/4 cup unbleached flour + extra for dusting your surface
1 t vanilla extract
2 T sugar
1/4 t salt
1 T butter
Filling:
1/3 cup brown sugar
1/3 cup pecans
2 T melted butter
1 1/2 tsp cinnamon
Frosting:
2 oz softened butter
2 oz cream cheese
a cup of powdered sugar
1/4 t lemon oil (or 1/2 t lemon zest)
1/2 t vanilla extract
Directions for Sourdough Cinnamon Rolls:
1. Begin by combining the dough ingredients. I highly recommend a stand mixer with a dough hook attached, but if you don't have one, you can make this dough in a bowl by hand. Knead the dough for about 5 minutes. The dough should be slightly sticky and pliable. If it's too tacky, you can add more flour while kneading. The dough should be very smooth.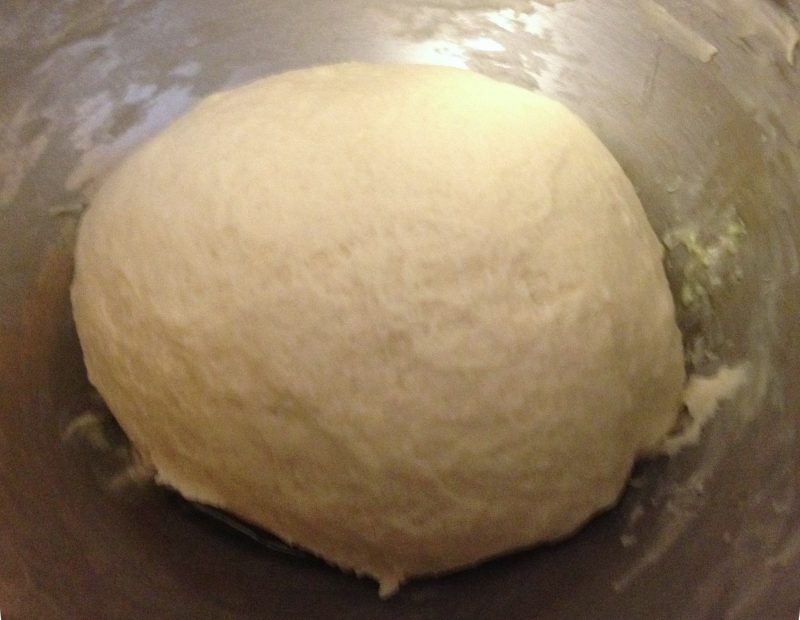 2. After kneading the dough, put the dough in a greased bowl and place a warm moist towel over the bowl. Set the bowl in a warm place (I put it in either the oven with the light on or the microwave) and allow to rise for about 3-5 hours. The longer you let it rise, the more sour the flavor will be.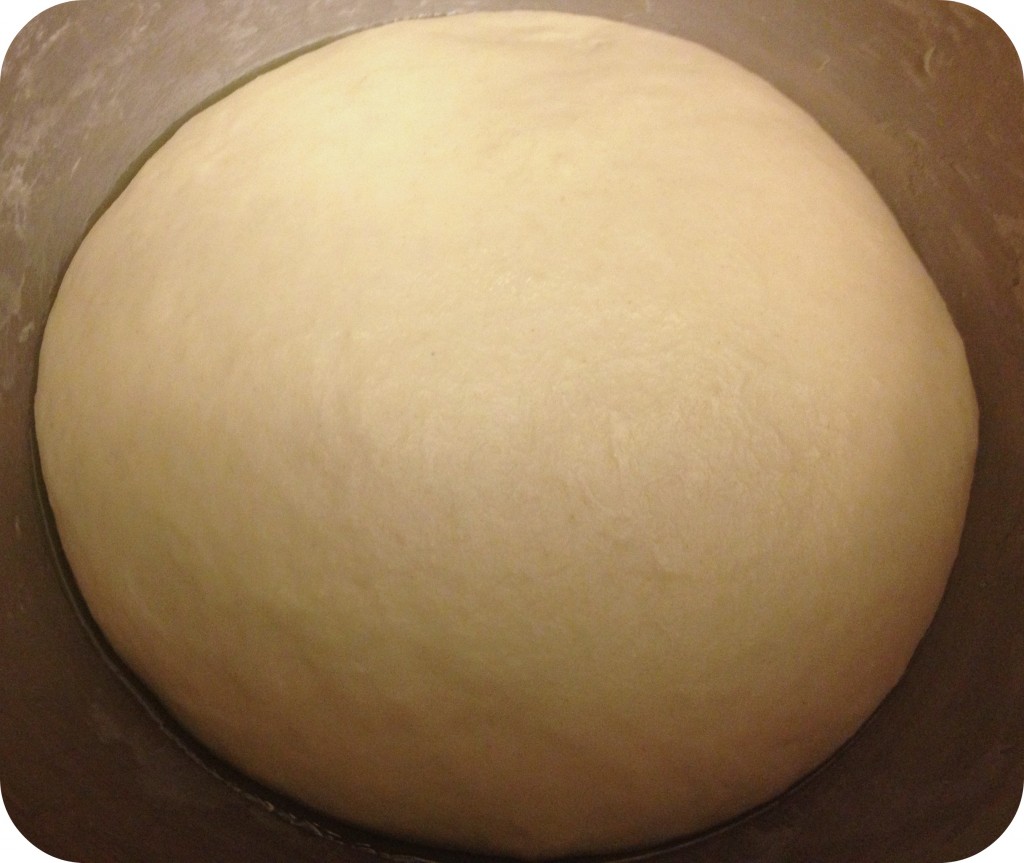 3. After the first rise, bring the dough to the floured surface and use a rolling pin to flatten it into a rectangular shape. As you can see, this is not an exact science – try your best!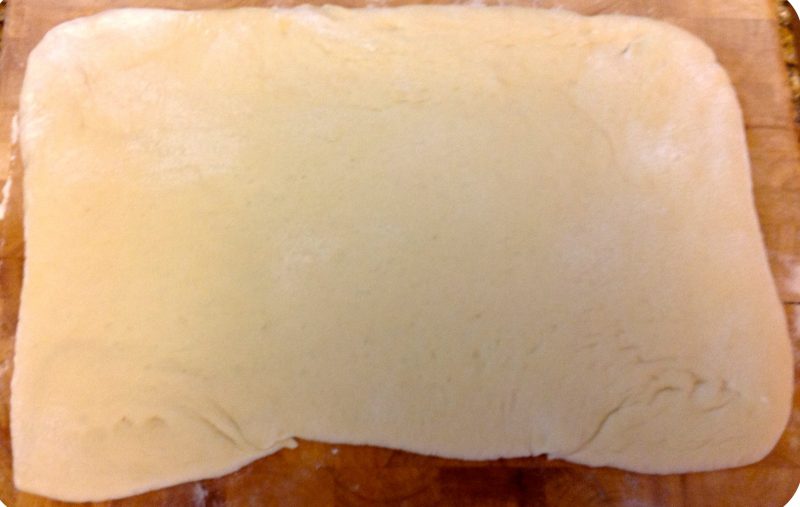 4. For the filling, combine the brown sugar, chopped pecans, and cinnamon in a small bowl. Use a pastry brush to spread melted butter on the flattened dough. Sprinkle filling mixture over butter and make sure it's spread evenly.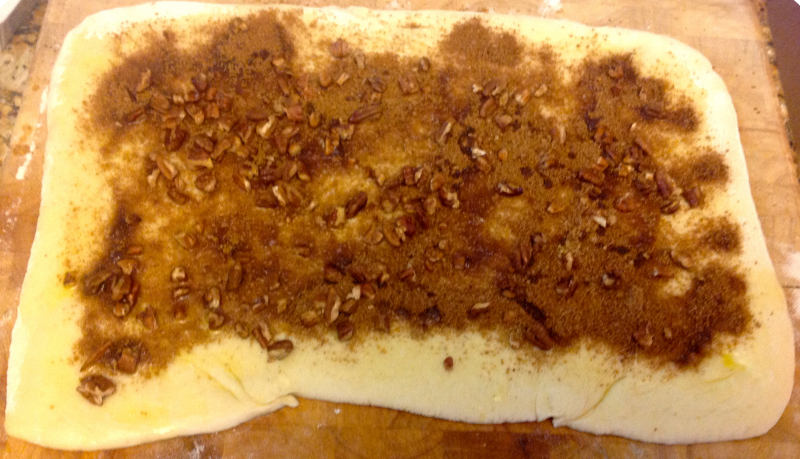 5. Roll up the dough firmly lengthwise, but don't wrap it too tightly. You don't want the dough to break. Use a sharp knife to cut the rolled up dough log into nine individual cinnamon rolls. I began by cutting it into thirds, then cut the thirds into three pieces.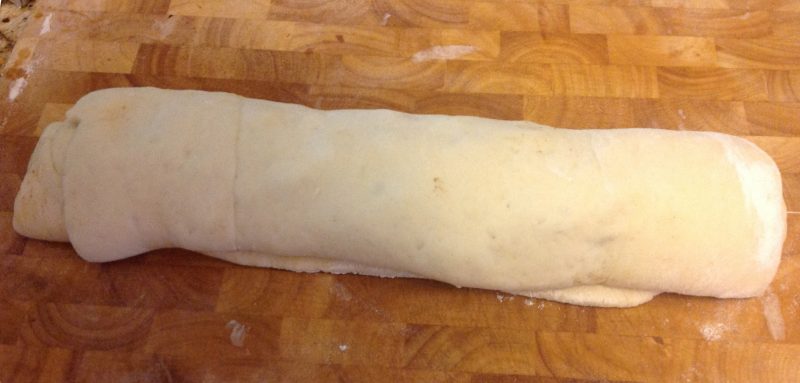 6. Grease an 8″ x  8″ pan with butter and place the cinnamon rolls into the pan. Let the dough rise a second time for about 2 hours. The dough will expand at this time and the rolls will push together.
This is how it looks before the second rise.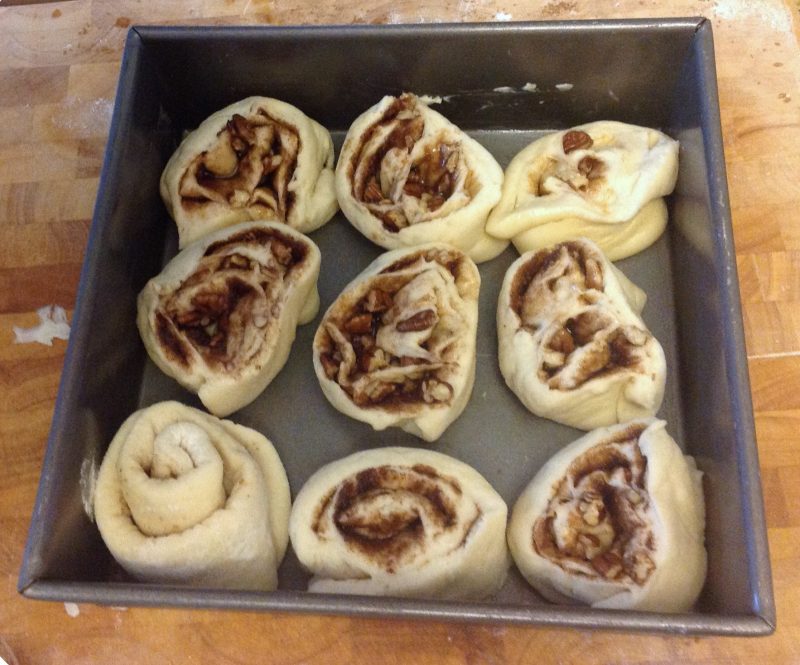 This is how it looks after the second rise.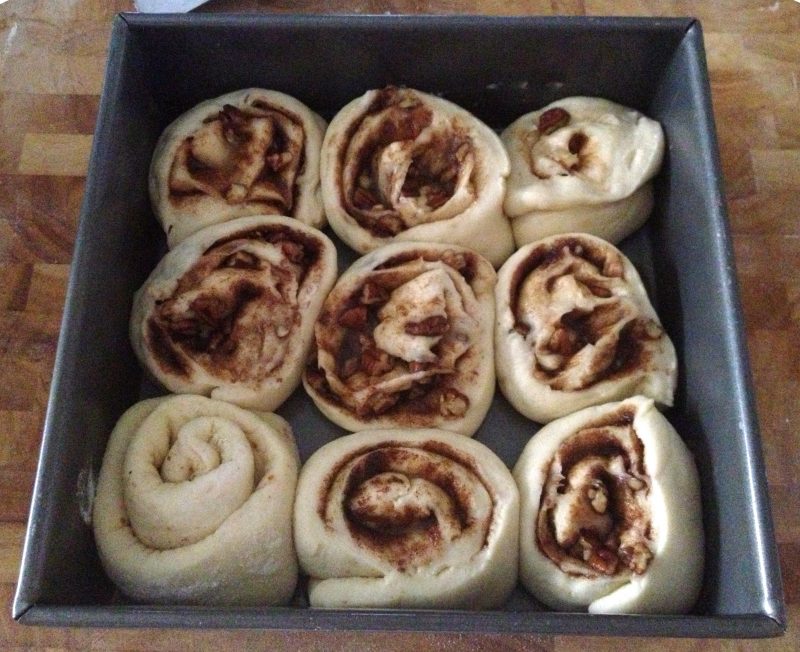 7. Pre-heat the oven to 350° F. Bake for about 25 minutes or until the tops have slightly browned. Next time, I am going to brush the tops with additional butter to help them brown more.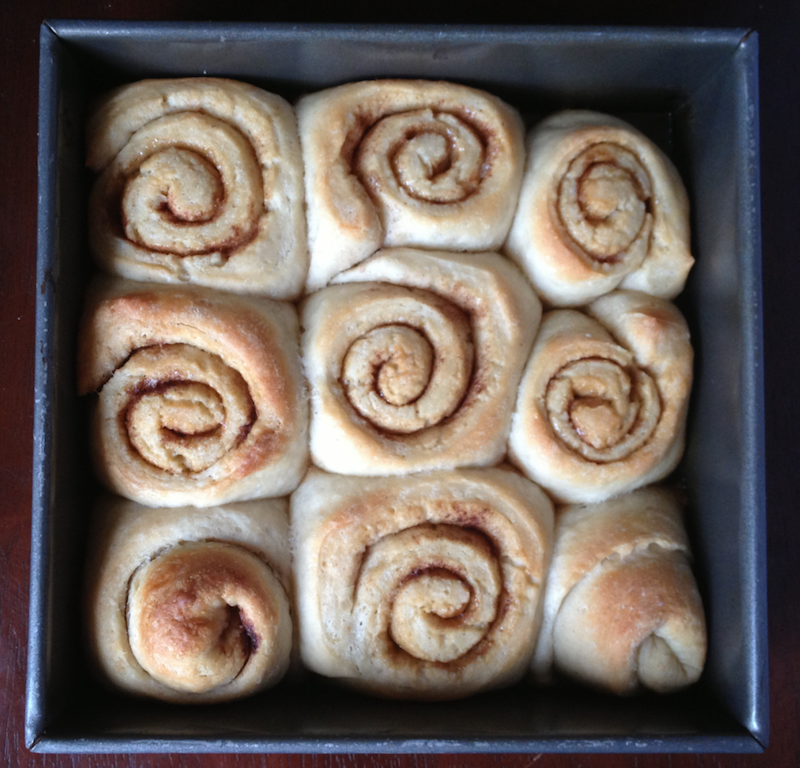 8. Let buns cool before cutting them. If you want to add frosting, check out step 9. If not, they taste great just like this.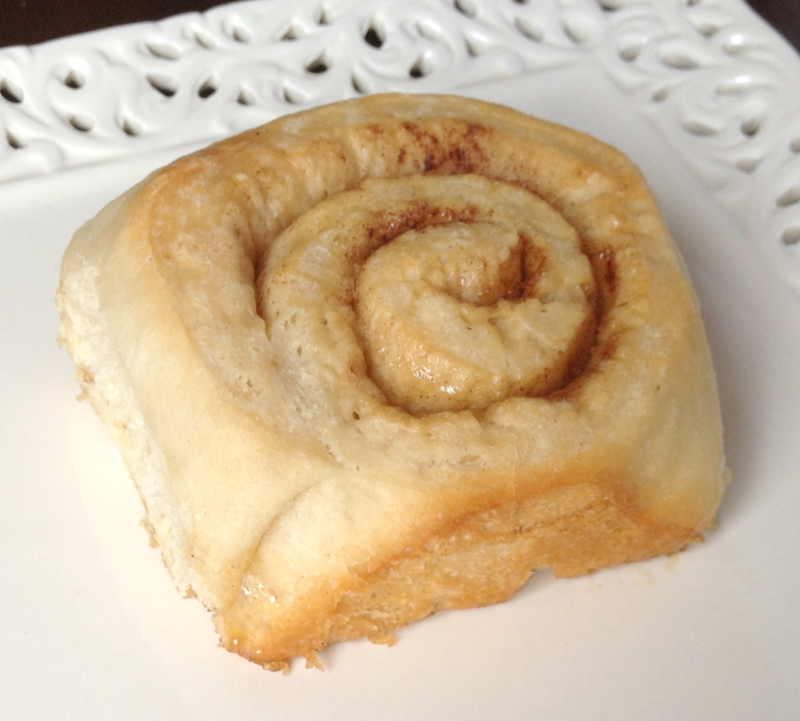 9. To make frosting, combine butter, cream cheese, powdered sugar, lemon oil, and vanilla extract in a mixer fitted with a paddle or whisk. Let it go for a long time – like 10 minutes – to get a fluffy frosting. If doing this by hand, make sure your butter and cream cheese are very soft so you can whisk them easily. To frost, simply spread frosting over buns with a spoon. I recommend eating them while they are still a bit warm. Yum!
Have you tried this Sourdough Cinnamon Roll Recipe? If so, leave a comment below!
Don't forget to PIN me!