We plan on having a real birthday party for Lydia (closer to Bryce's birthday) and making a bigger cake, so I asked her what kind of cake she wanted for her little party the day of her birthday. She said she wanted a Rainbow Cake (mommy scratches her head…) First thing I thought of were those little Italian rainbow cookies. Lydia loves them (and so do I), so I searched for a recipe on Pinterest to make an Italian Rainbow Cake, and I was lucky enough to find one! I made a few adjustments and substitutions – here's the recipe.
Italian Rainbow Cake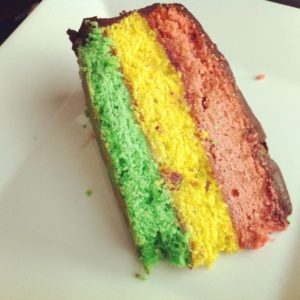 Ingredients:
2 sticks of butter, softened
1 cup sucanat or raw sugar
4 large eggs
7 oz tube of almond paste, grated
2 t pure almond extract
2 cups unbleached flour
2 t baking powder
red gel food coloring
green gel food coloring
yellow gel food coloring
1/2 cup organic raspberry jam
1/2 cup heavy cream
6 oz semisweet chocolate
Special equipment: Three 9″ round pans, buttered and floured, with a circle of parchment paper on the bottom

1. In the base of an electric mixer, cream the butter and sugar until fluffy. About 5 minutes. Add the eggs and continue to beat for 3 more minutes. Add the grated almond paste and almond extract and beat until well combined.

2. In a separate bowl, sift together the flour and baking powder then slowly add to the almond paste batter and mix until combined. The batter will look like this.

3. Separate the mixture evenly into three bowls. Dye each bowl a different shade (one yellow, one green, one red). I used a minimal amount of dye, so my colors were a bit muted.

4. Pour each color of the mixture into individual pans making sure to smooth out the top. Bake at 350 degrees for approximately 15 – 20 minutes. Remove from the oven and let cool for 5 minutes before inverting onto a cooling rack. Remove the parchment paper and let cool completely.

5. While the cake is cooling, prepare the ganache by heating 1/2 cup of heavy cream in a small saucepan just until bubbles start to form around the edge. Turn off the heat and pour over the chocolate in a large bowl. Stir continuously until melted completely and smooth. Let cool to room temperature.

Assembling the cake:

6. Start with the green layer of the cake and spread with the raspberry jam until it nearly reaches the edges of the cake. Top with the yellow cake and again spread a layer of raspberry jam. Top with the final pink layer. Then I trimmed around the edges to make sure the layers of the cake lined up perfectly (and, you know, to taste it to make sure it was delicious…and it was!)

7. Use a spoon to pour the ganache over the cake, using an offset spatula to even the sides and make sure the cake is completely covered. Use as much ganache as you need. Let sit at room temperature in a cool spot for 1-2 hours until completely set. Chill if you want a nice hardened ganache on the outside.
I don't necessarily make the prettiest cakes, but it definitely tasted delicious! Lydia loved her rainbow birthday cake.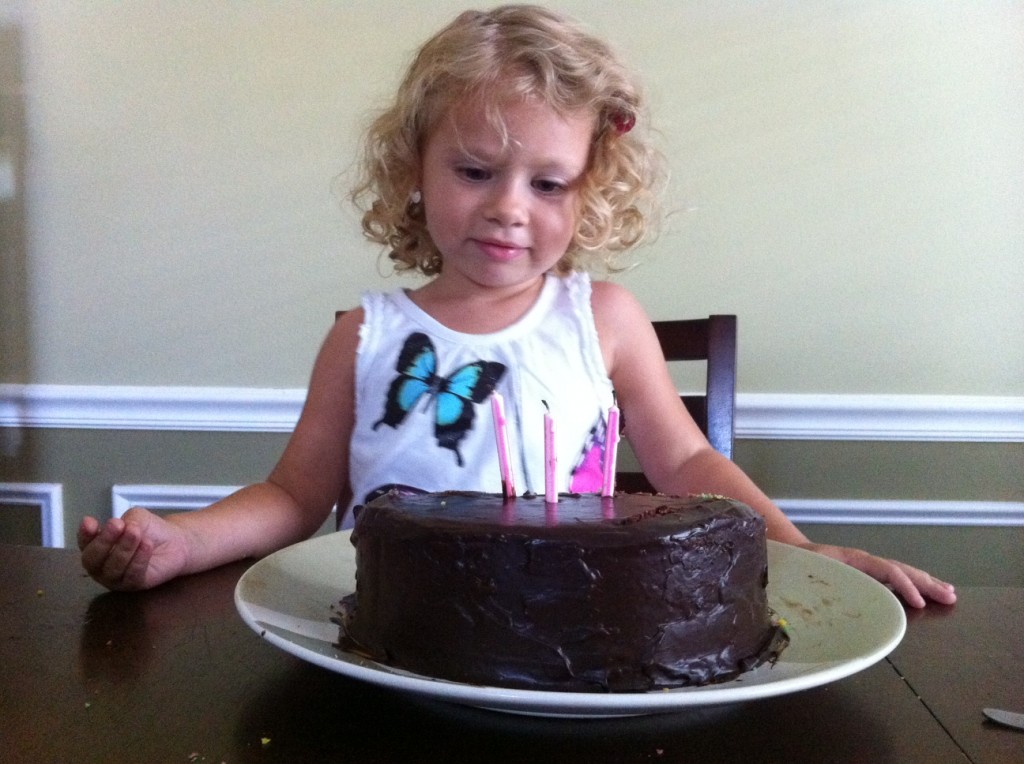 Happy 3rd Birthday, my sweet Lydia!