My husband is an English teacher, and today he returned to work to start the 2012 – 2013 school year. As a family, we decided we wanted to do something special before it began. Yesterday, Richard, Lydia, Bryce, and my sister Jamie drove down to the Keys together. We left around 8, and our first stop was our favorite breakfast join, Bob's Bunz in Islamorada. They are known for their delicious cinnamon buns, key lime desserts…and for making our wedding cake!
After breakfast, we went to Anne's Beach. The Florida Keys doesn't actually have any real sand beaches. The 'sand' is more like a wet clay. And the water is very calm and shallow, so you can walk out what seems like endlessly, and it won't even be up to your waist. It's good for little ones! Lydia was trying to catch fish and Bryce was pointing to a little crab.
After Anne's Beach, we headed to Hawk's Cay on Duck Key. It's a more high-end resort…but we kinda cheated and used their facilities. They have an area with dolphins – Lydia enjoyed pointing to them as they jumped out of the water. Then we swam in the lagoon and the swimming pool. It was a lot of fun!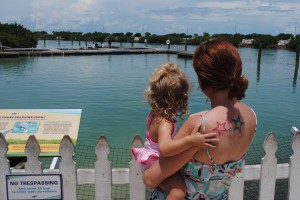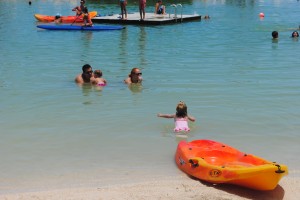 Our final stop was Lazy Days, the restaurant in Islamorada where we had our wedding lunch. We ordered Oysters Rockefeller, Lazy Days Clams (similar to clams casino), conch fritters, and caesar salad (with their homemade key lime caesar dressing).Oh, and did I mention the pina coladas?!
Everything was delicious! Bryce is officially a real Bahamian ~ he loved the conch fritters!