This shop has been compensated by Collective Bias, Inc. and its advertiser. All opinions are mine alone. #DinnerOnDemand #CollectiveBias
As a busy woman, I am always looking for satisfying meals I can quickly prepare from-scratch in my kitchen. And not only do I want them to be from-scratch, I want them to have a unique combination of flavors each night (I get bored with food easily). So for my latest edible creation, I combined two of my favorite pasta preparations into one dish: pesto and Alfredo. The best thing about this dish? It's a complete, balanced meal that can be prepared in just 12 minutes start-to-finish. 12 MINUTES! How awesome is that? Imagine preparing dinner after working all day or putting together a delicious date night at home in just 12 minutes. It can absolutely be done and it is delicious! Check out this One Pot Chicken + Veggie Pesto Alfredo Penne.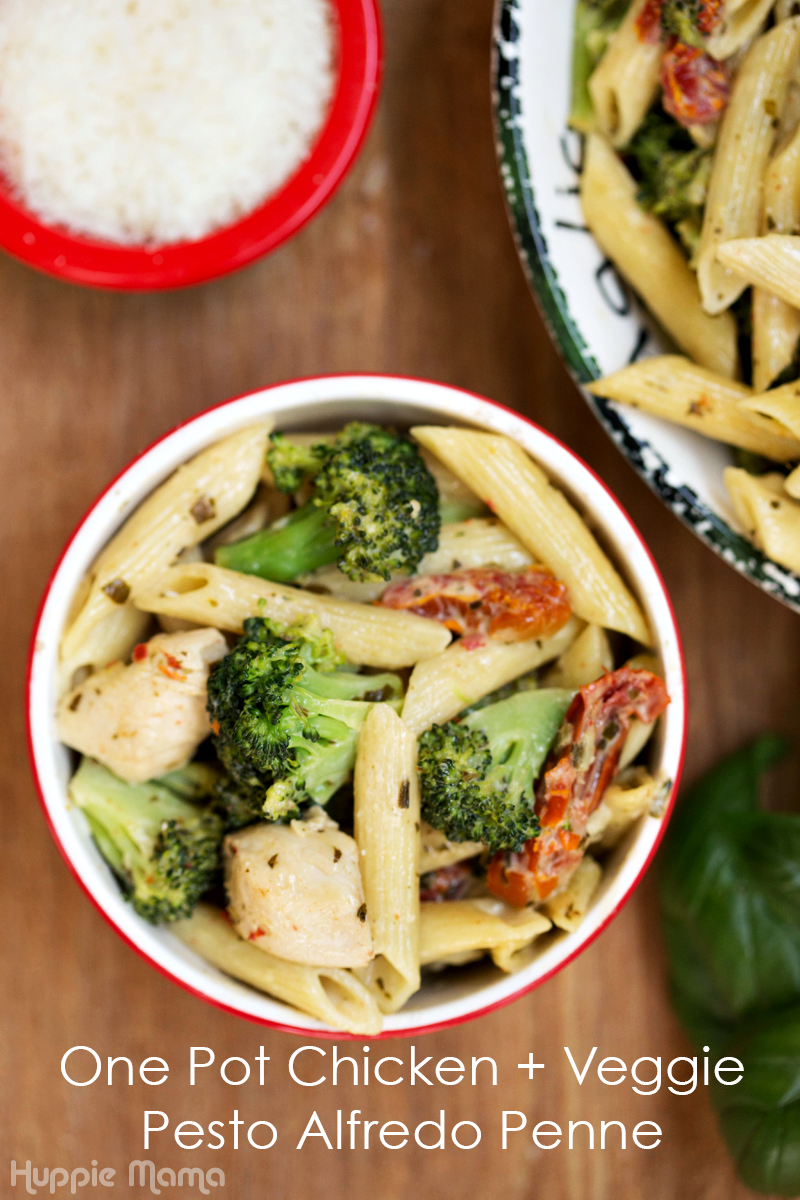 Ingredients:
3 1/2 cups chicken broth
1 package Barilla Pronto Penne
1 pound boneless, skinless chicken tenderloins
1/4 cup Barilla Pesto
12 ounce package of broccoli florets
1/2 cup sun-dried tomatoes
1 cup heavy cream
1/2 cup grated parmesan cheese
Directions:
Gather your ingredients. To make this a one-pot, 12-minute recipe, I recommend a few shortcuts. First, purchase boneless, skinless chicken tenderloins. They look like narrow strips of chicken breast. It will take you just a few seconds to cut them into 1″ chunks to use in this recipe. Second, buy your broccoli florets pre-cut in a bag in the fresh produce section. And third, purchase Barilla Pronto Penne. This pasta doesn't require you to wait for the water to boil, cook it, then drain. All you do is toss it in with your ingredients, bring to a simmer, and it's ready in just 10 minutes. Rather than cooking the pasta with water, I used chicken broth to add extra flavor and nutrients.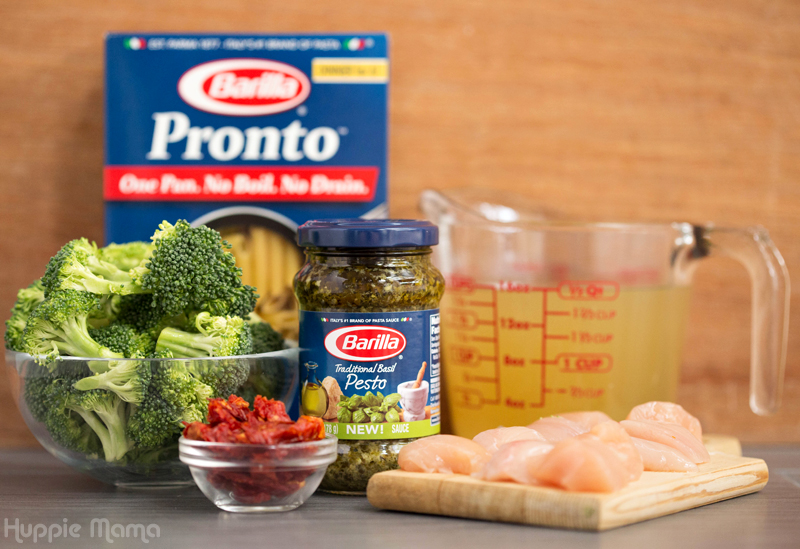 In a large pot over a medium-high heat, combine the Barilla Pronto Penne, chicken broth, diced chicken, Barilla Pesto, and sun-dried tomatoes. Bring to a bubbling simmer. The sun-dried tomatoes are the fancy, restaurant-style touch in this recipe. If you can't find them, you can omit them. The recipe is delicious with or without.
After 5 minutes, add the broccoli. Broccoli takes less time to cook, so it gets added mid-way through.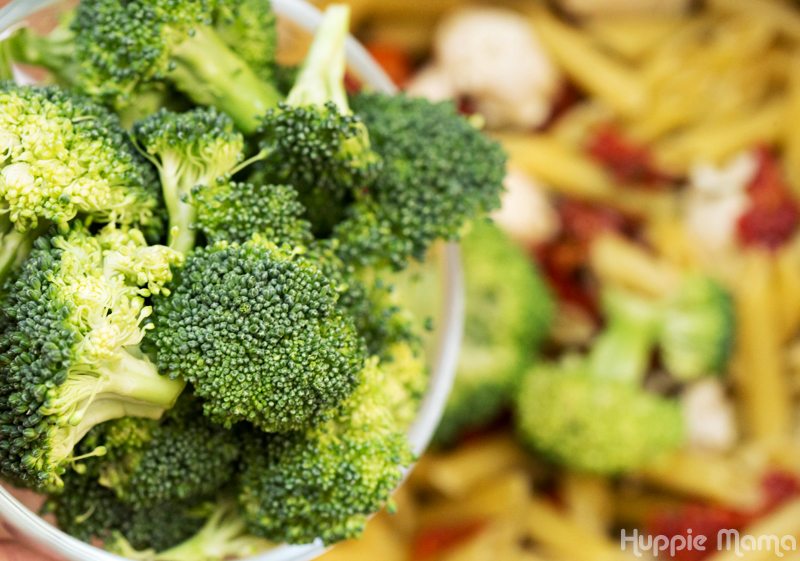 Simmer the mixture with the broccoli for 5 additional minutes. At this point, your pasta is cooked through, most of the chicken broth has been absorbed/evaporated, and your broccoli and chicken are perfectly cooked. This would be a delicious recipe as is – But I have a few special touches to make it even more delicious!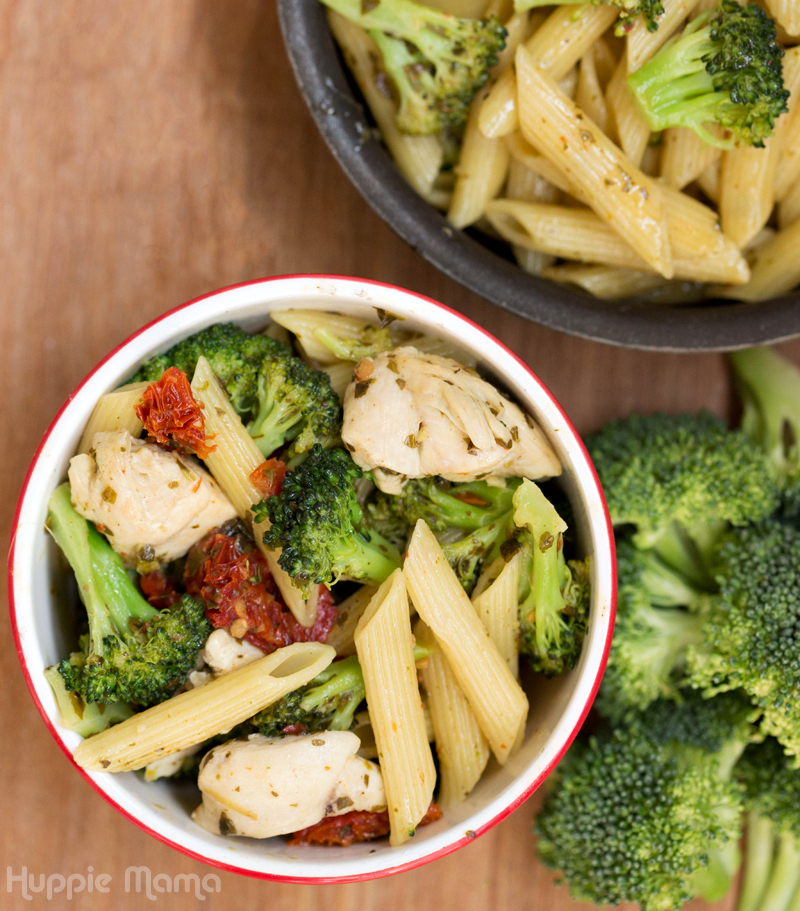 Next, add the cream followed by the grated parmesan cheese. I recommend purchasing the cheese from the deli or refrigerated cheese section (not the stuff in the canister). It does a much better job thickening this delicious Alfredo-style sauce.
After two minutes of simmering, the sauce is thickened, and it is ready to serve. The entire meal has been prepared in just 12 minutes. Each component enhances the flavors and textures in this dish. The recipe serves 4, but you can also make individual servings and freeze them to heat up another day. You may just need to add a splash of broth or cream when re-heating.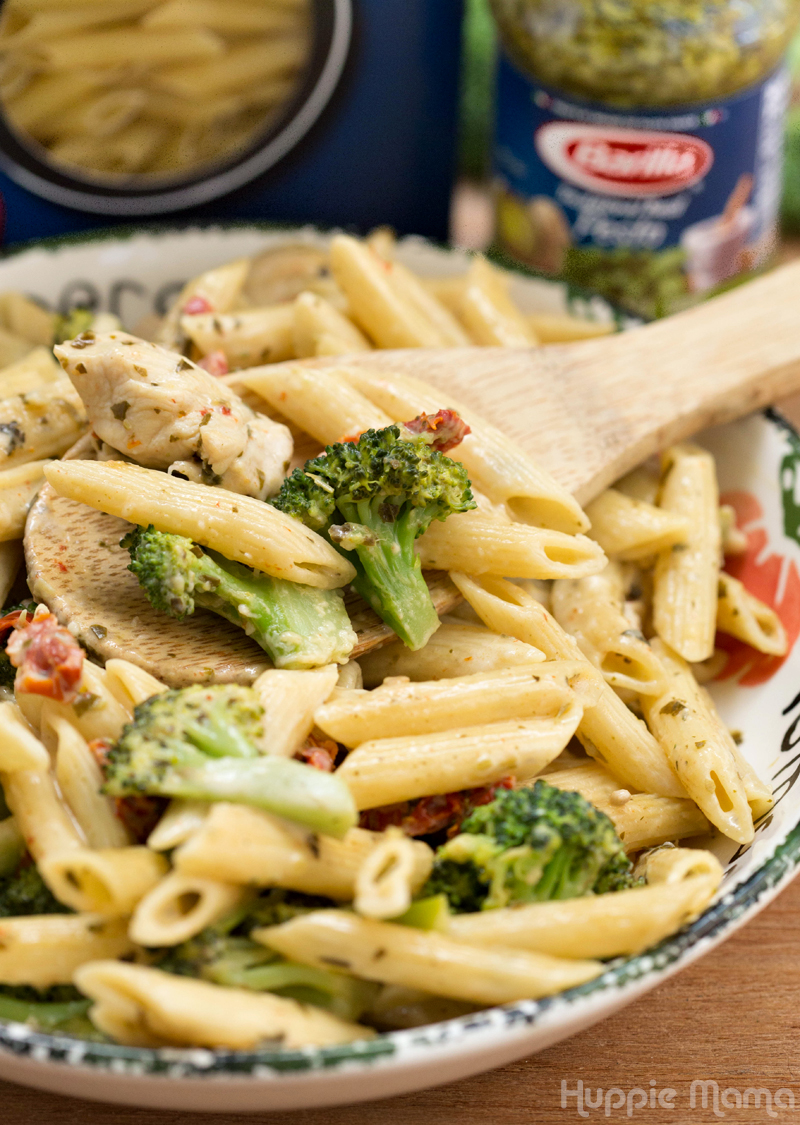 This is a great recipe for a date night at home, potluck with friends, or Sunday night family dinner. Serve along with a delicious salad and garlic bread for a traditional Italian meal.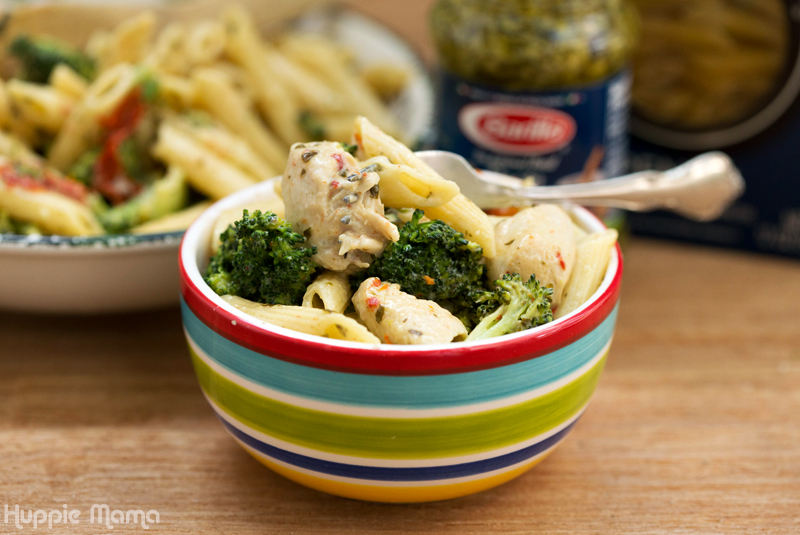 Here's a quick video tutorial you can follow to prepare this meal. I've been told forever that I should make cooking tutorial videos, and I finally did it! Tell me what you think.
Head to Walmart where you can purchase Barilla Pronto pasta in several varieties, including Spaghetti, Penne, Rotini, and Elbow. Look for the large "Pronto" written on the box for pasta that cooks up in just minutes without having to boil the water and drain it. Also look for Barilla Pesto and Marinara sauces. The Pesto was a bit tricky to find as it was on the top shelf at my store.
What's your favorite one-pot pasta dish?