When I was a little girl, I love arts and crafts especially sewing and stitching using a needle, a thread, and a needlepoint canvas. Probably early elementary age, I started sewing doll clothes. They probably looked like random pieces of misshapen bits of felt and other scraps hand-sewn together, but I remember really enjoying it and feeling proud of my accomplishments. I remember sewing my mom a pair of shorts when I was about 8. I think I actually expected her to wear them, too. When I was maybe 10 or 12, I made my mom a pillow by crocheting some pink yarn (it looked like a spider web), and sewing that to some blue felt, then stuffing it.
I have probably purchased 4 or 5 different sewing machines and either donating them or returning them to the store because I never actually learn to use them properly. Finally, I decided to get a new sewing machine and register for a class at a local studio called Learn 2 Sew. The class covered all the basics ~ how to wind a bobbin, how to thread the machine, how to start a project with a reverse stitch, how to do a straight stitch, pivot to sew a square, and sew in a circle. We learned which foot and needle to use with which project, how to read patterns, the type of patterns we should look for, etc. So much information! I took some photos while I was there to remember what to do: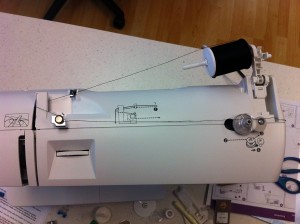 Making a bobbin ~ I thought you had to buy these pre-made.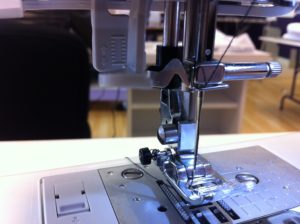 Threading the machine ~ this used to be so intimidating!
I sewed a straight line and learned to pivot.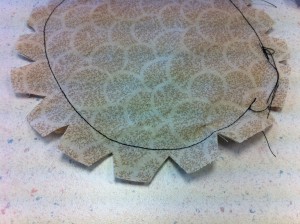 And I learned to sew a circle.
I also learned you have to cut out those triangles to make it so the fabric doesn't bunch when you turn it inside out.
As a mom, I find little to no time for myself. Cooking is really my only "me" time, and it allows me to learn more, but most of that is self-taught. It was nice to actually follow the instructions of someone who has more experience and try something that, while slightly familiar, was pretty much a brand new skill. I feel confident now to practice some basic projects. I can't wait to make clothing for the kids!