Ideas for How to Host a Tapas Party at home!
I remember my first experience in a tapas restaurant. It was on a trip to my old college town in Spring 2008. My husband was graduating with his Master's degree (he completed a distance program), and I wanted to dine somewhere really special. I searched the internet, reading every restaurant review and menu until I found the perfect place to celebrate this special occasion. It was a tapas restaurant that opened after I moved away (I moved in 2002). I had never tried tapas before, but the menu looked phenomenal. Tapas are small plates of food, originating from Spain. Read more below to learn how to host a tapas party.
Spanish cuisine is filled with recipes that contain simple ingredients to create bold flavors. Generally when I host a party, I try to focus on just a few dishes, but for a tapas party, I had to create a full spread of amazing food. However, nobody wants to spend an entire day in the kitchen. I mean, if you're actually hosting a dinner party, you need some time to get pretty, right? So each of these dishes can be made in just minutes. Follow these directions to learn how to host a tapas party.

Tapas Party Decor
I'm going to guide you through this party set-up so you know how to host a tapas party, starting with the background. I thought about the colors of both springtime and my ideas for a Spanish tapas menu. I decided to go bright and bold with royal blue, red, yellow, orange, and white to cool things down.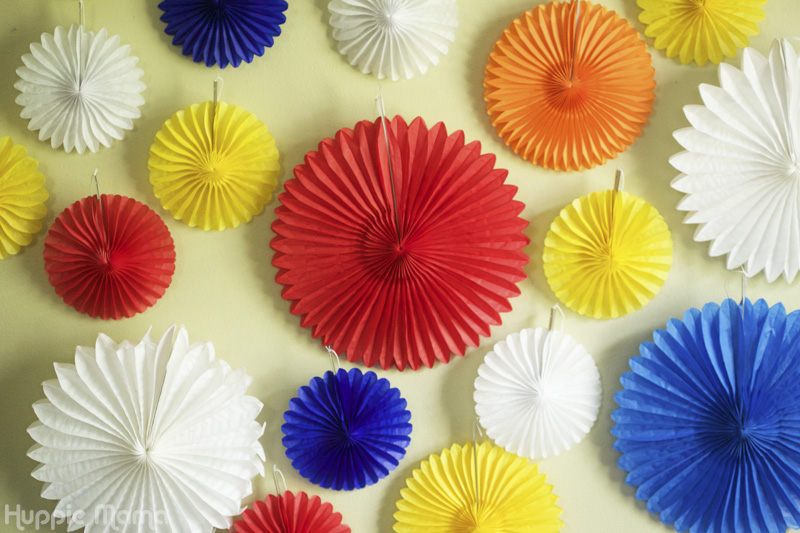 I paired this background with a beige tablecloth and patterned table runner that reminded me of the paper fan background. I chose beige so it would not detract from the beauty of the food. Then I found yellow and blue floral fabric napkins, the perfect touch! The actual dishes I used were a mix of red, white, orange, and other colors to give an old world eclectic appearance.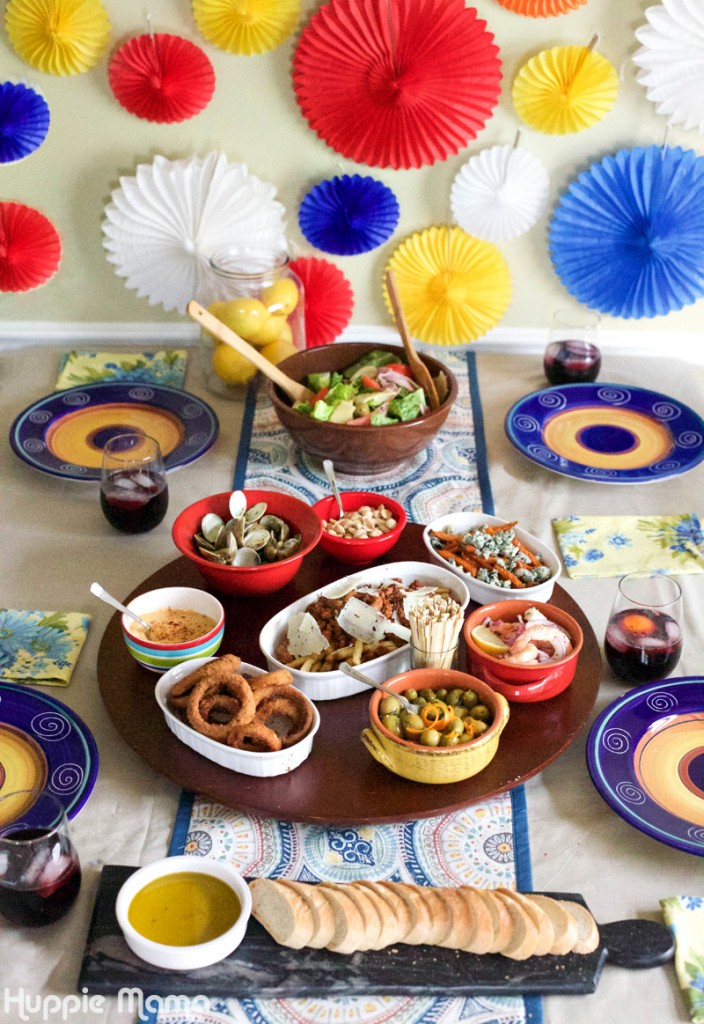 I added a lazy Susan to the middle of the table and placed most of the dishes on it. What I love about using a lazy Susan is that everyone at the table can have access to the different food items without having to pass them across the table or reach over everyone. And when you are eating small bites like this, everyone is always reaching toward the center of the table to refill their plates. The small wooden fork-like toothpicks are placed in the middle to assist with service. These are fun ways for how to host a tapas party.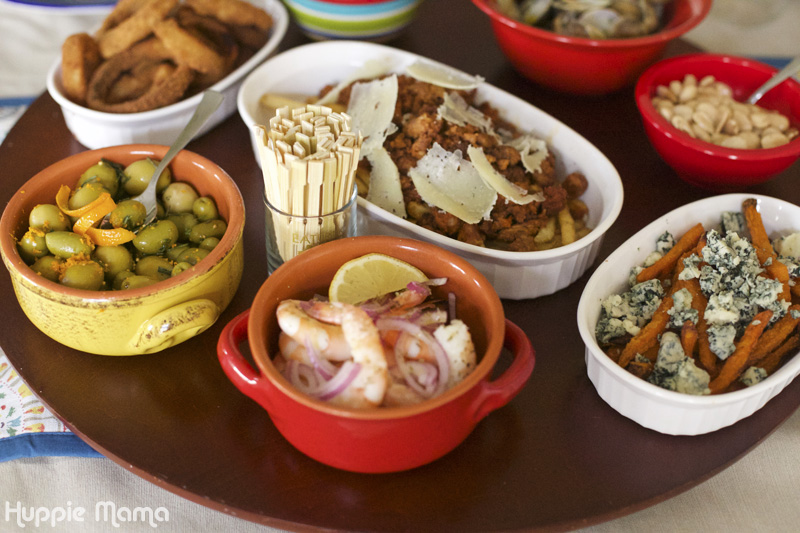 For me, I reserve hearty, comfort foods for cool weather, but as things are really heating up (which happens early in the season in South Florida), I like light bites with bold flavors. That's why this tapas menu is perfect for this time of the year! Plus, it brings me back to that time years ago when my husband and I celebrated his graduation May 2008.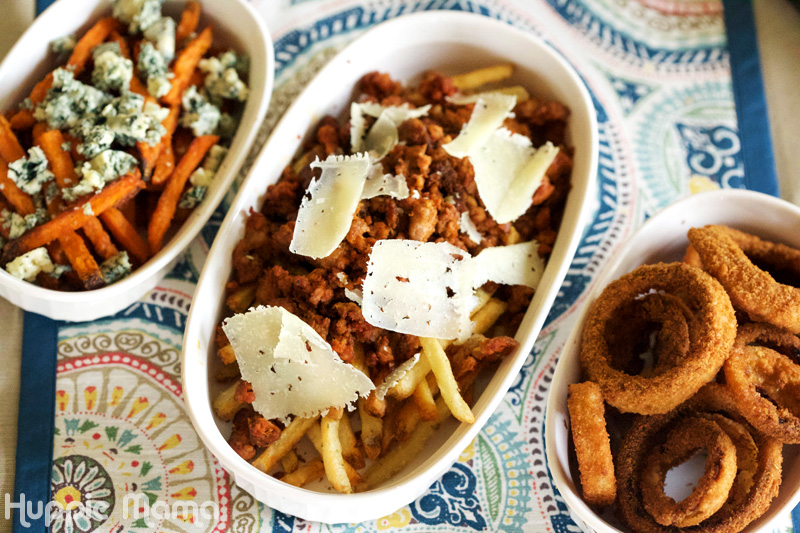 Tapas Party Recipes
When I met my husband, he thought he hated olives because all he had ever tried were the black ones that come in a can. Well, did I open his eyes! Now, my whole family loves olives. For this recipe, I purchased about a pound of green olives (pits still in). I added 1/4 of a cup of Spanish olive oil, a teaspoon of freshly-chopped rosemary, a teaspoon of yellow mustard seeds, and a teaspoon of orange zest. They were delicious!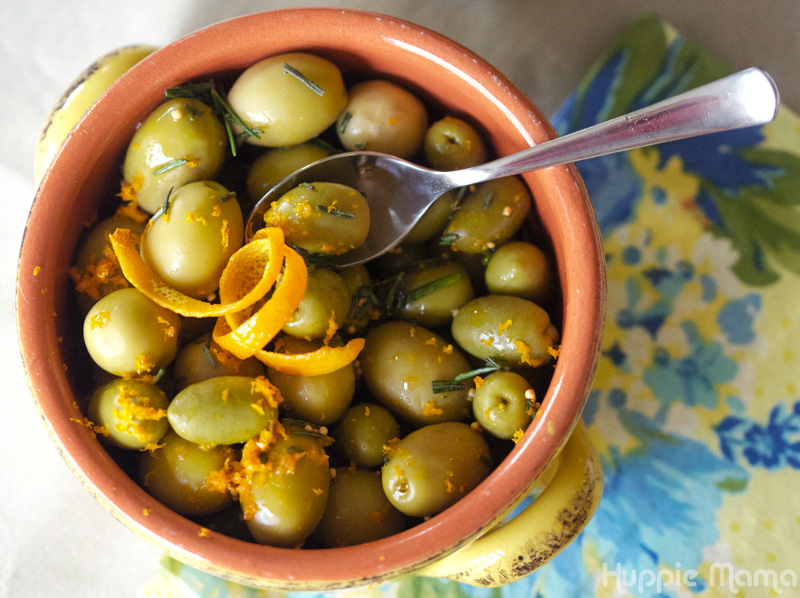 Many tapas recipes include potatoes, so I decided to make my own twist to include Rosemary Fries and Sweet Potato Fries.
Rosemary Fries with Chorizo Sausage
Ingredients:
1 bag Rosemary French fries
1 pound Chorizo sausage
Manchego cheese
Directions:
Begin by heating the fries according to the directions on the package. The rosemary fries pair deliciously with the bold flavors in this dish. At the same time, remove a pound of chorizo sausage from its casing and cook in a pan on your stovetop. When the fries are heated through, top with the chorizo sausage and add thin slices of delicious manchego cheese.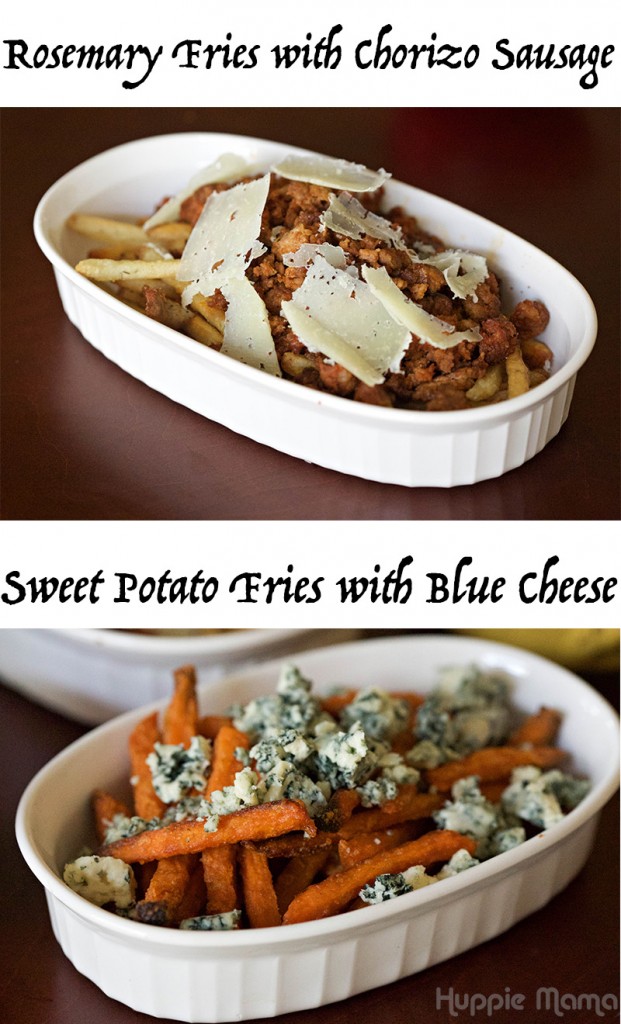 For the sweet potato fries, I purchased a piece of crumbly blue cheese (Cabrales is a great Spanish blue cheese). I prepared the sweet potato fries according to the directions on the package. When they cooled a bit, I added a nice serving of crumbled blue cheese over the top. The sweetness of the fries and saltiness of the blue cheese is the perfect combination.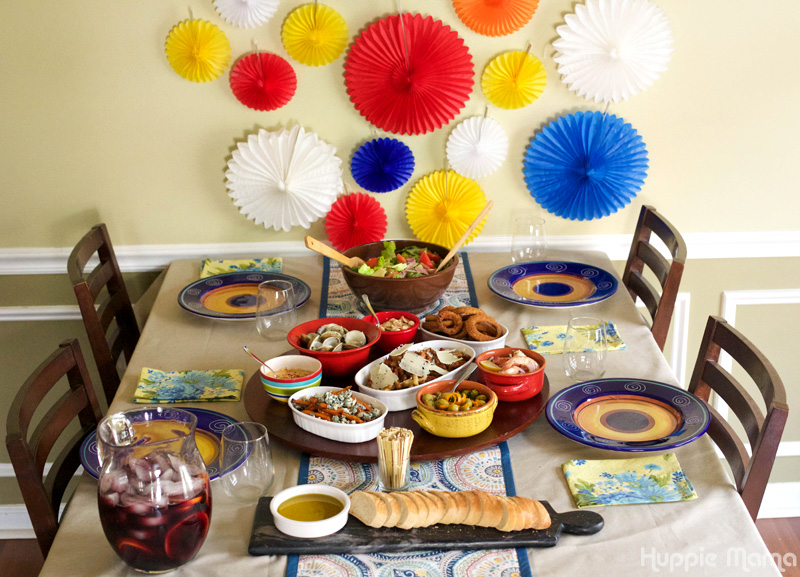 Tapas Party Sangria
No tapas party is complete without a pitcher of Sangria! I purchased a bottle of red sangria at the store and added slices of orange to highlight the citrus flavors in some of my other dishes. Served chilled with lots of ice for a refreshing adult beverage.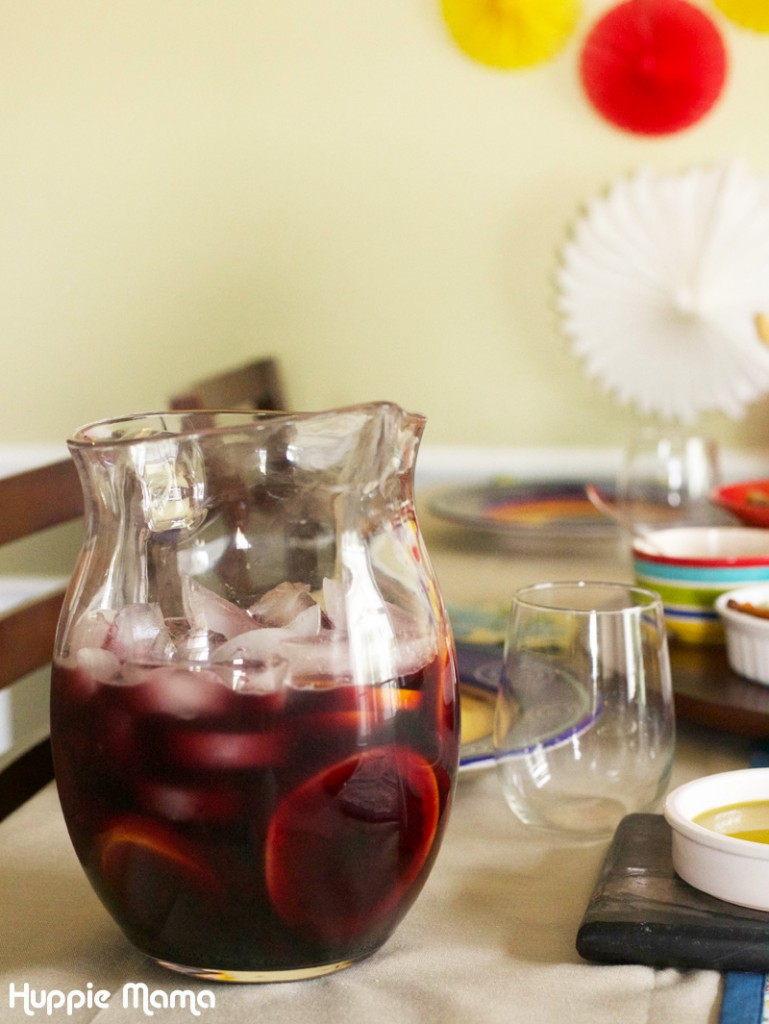 And of course, some seafood. These shrimp and clams were both so easy to prepare. I boiled each of them separately. For the clams, I melted four tablespoons of herb butter and poured it over the top. For the shrimp, I combined two tablespoons of Spanish olive oil, a tablespoon of lemon juice, sliced red onions, and a sprinkling of Italian seasoning.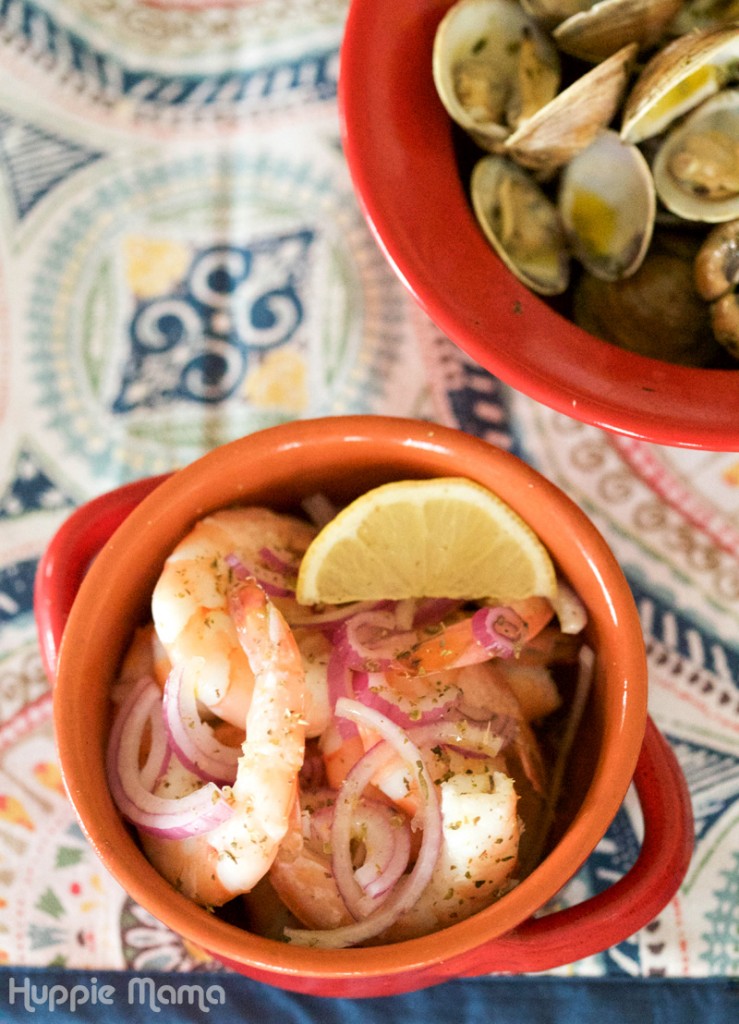 When my daughter was just 6 months old, we took her on her first vacation to St. Augustine, Florida and Savannah, Georgia. Everyone told me I just had to try The Columbia Restaurant in St. Augustine, which I did, and it was phenomenal. It's a traditional Spanish restaurant with the most delicious salad you have ever tried. With a few slight variations, like romaine lettuce instead of iceberg, I created the 1905 salad to add to my tapas menu.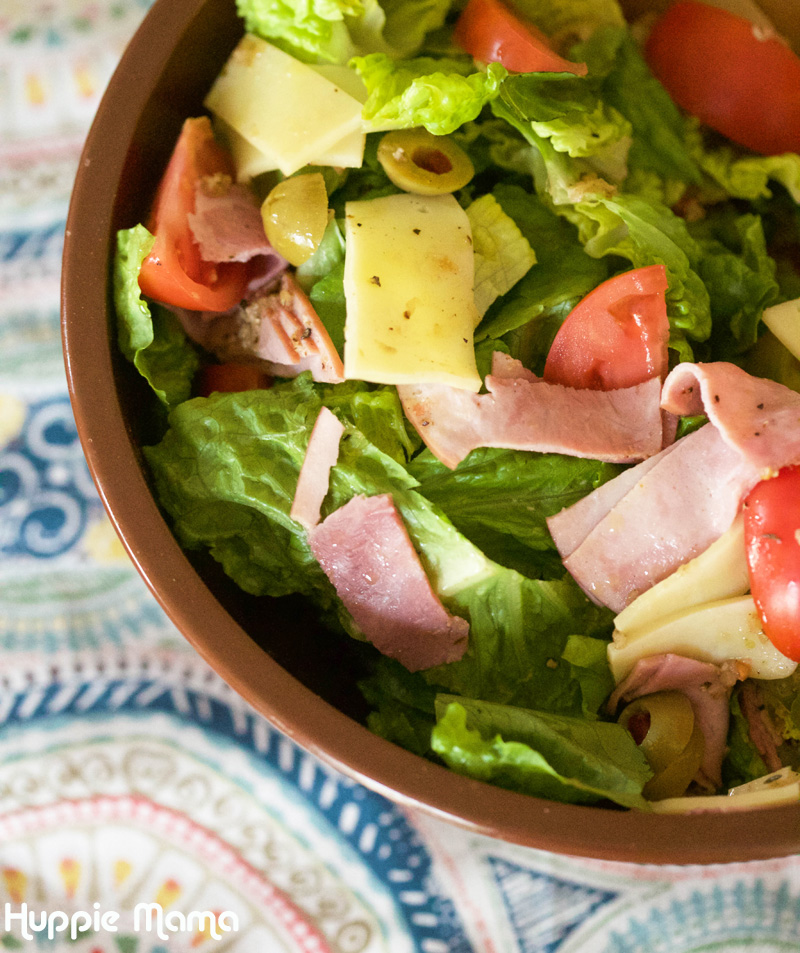 In addition to the recipes above, I served a dish of Marcona almonds with a sprinkling of sea salt and crusty bread with anchovy-garlic oil.  I also made a delicious smoked paprika dip by combining a cup of mayo, 1/4 cup of olive oil, 2 teaspoons of lemon juice, and 1/4 teaspoon smoked paprika. This made the perfect dip for the onion rings.
And then, it was time for my children, husband, and parents to enjoy this delicious meal. Salud!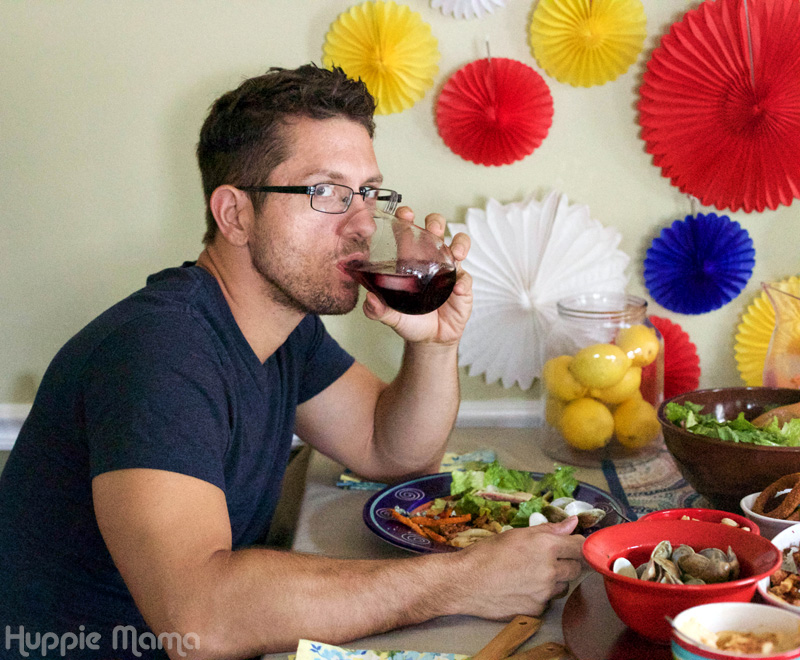 Follow Huppie Mama's board Spanish Tapas Party Ideas on Pinterest.
Pin these How to Host a Tapas Party ideas below!