This post is sponsored by Santa Cruz Organic but the content and opinions expressed here are my own.
Learn how teachers prepare for back-to-school with classroom snacks!
So I guess it's time to officially announce this on my blog – I got a full-time teaching job! I'm teaching 3rd grade at my children's classical school, and I cannot be more excited! It's been a long time since I had my own classroom, so I'm ready to dive right in. I was there the last two weeks setting up my classroom, meeting my team members, and getting a jump start on lesson planning. Working from home for many years, I'm used to setting my own schedule, so things are definitely changing for me, and I'm totally ready for these changes. Now, public and private schools are starting the year and here's my routine.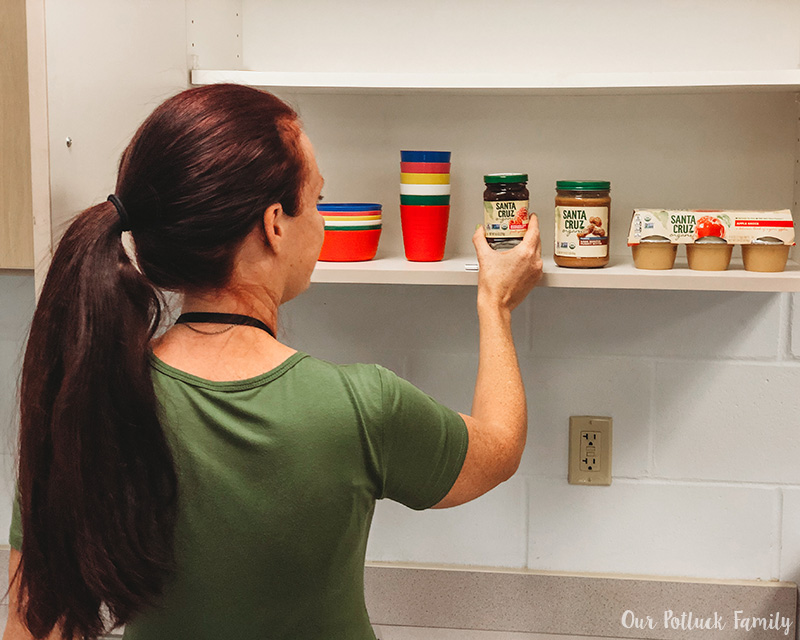 While I obviously need to fill my classroom with learning materials, textbooks, and other school supplies, I also want to keep a well-stocked pantry of healthy food for me to snack on throughout the day. Raspberries are my absolute favorite fruit. I love how they are simultaneously tart and sweet, so I knew I wanted to keep a jar of Santa Cruz Organic Seedless Red Raspberry Spread in my classroom. This organic fruit spread has a homemade style taste and spreadable texture. Along with the fruit spread, I purchased Santa Cruz Organic Dark Roasted Creamy Peanut Butter. Santa Cruz Organic peanut butters are made with USDA certified organic peanuts and salt – Just two ingredients! The fruit spread and peanut butter are great because I can use them to top crackers to enjoy during my planning break while the kids are in their special classes, like art, music, and physical education.
Click the links above to learn more about Santa Cruz Organic products available in a store near you.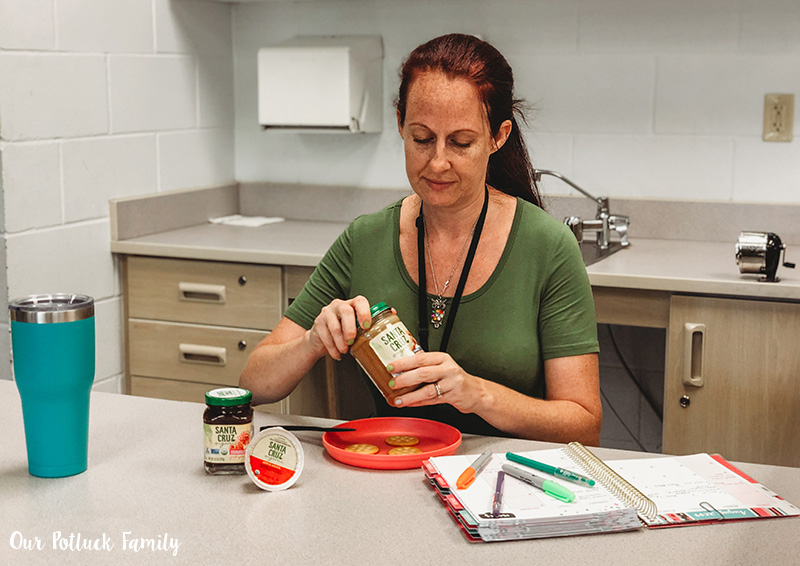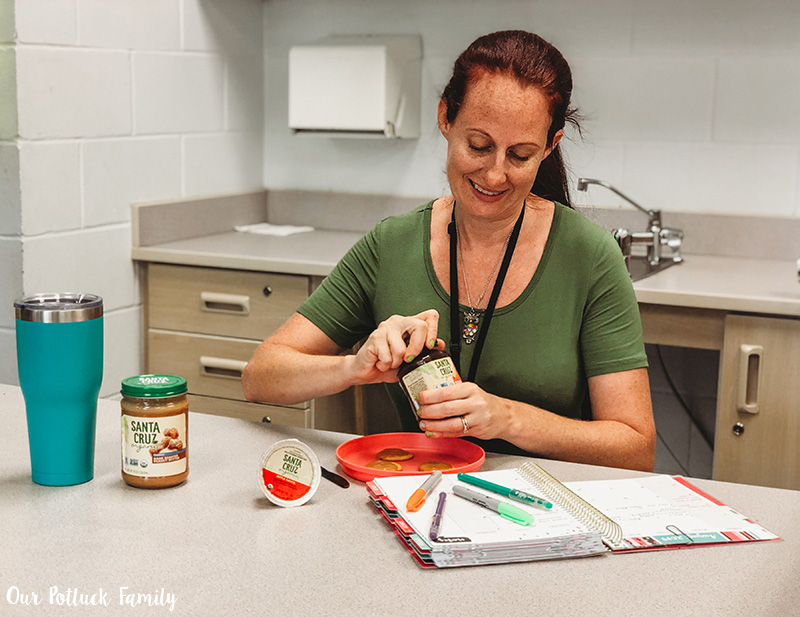 My morning schedule consists of an hour of math instruction followed by ninety minutes of language arts instruction. That's a long time to go without snacking, so I'm glad I can fill up with a tasty snack that is made with quality ingredients. In addition to the fruit spread and peanut butter, I also purchased Santa Cruz Organic Applesauce. My students will come from all different surrounding communities and all different socioeconomic backgrounds, so I like to keep extra snacks in my classroom for children as well, just in case they do not have snacks at home. Each 4-ounce cup of Santa Cruz Organic applesauce provides 100% of your daily intake of Vitamin C, making it a great option for kids.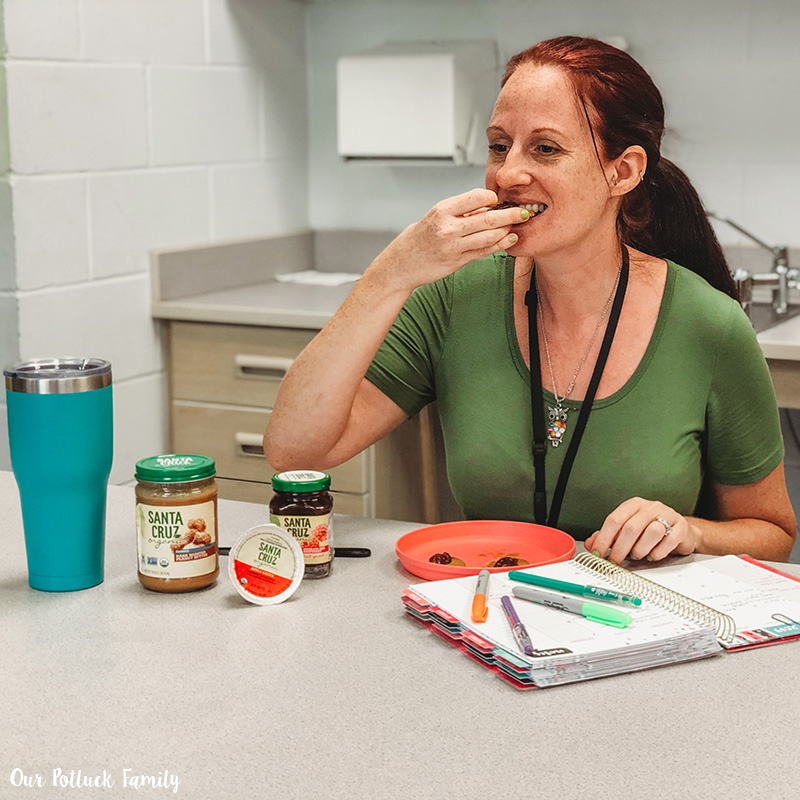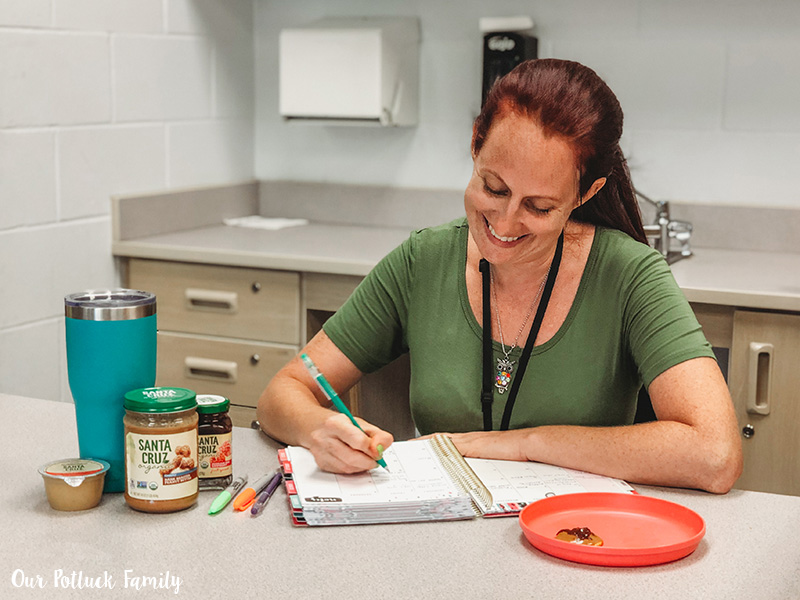 Now, it's time to finish decorating and organizing my classroom, plan my lessons for the first month, and meet my awesome new students. I know this is going to be a great school year!
How does your family prepare for back-to-school?
Click here to learn more about organic products your family will love!