This is a compensated post written for Post Honey Bunches of Oats. The opinions expressed are my own.
Last month, I worked on a super-fun zoo animal party post that featured several varieties of Post Honey Bunches of Oats cereal. I even mentioned the new Honey Bunches of Oats Chocolate, a combination of crispy flakes, crunchy bunches, and real cocoa. Whether served with milk for breakfast or used in a delicious recipe, this treat is great for when a sweet craving strikes. This is the kinda cereal that even gives your milk a delicious chocolatey taste. Yum!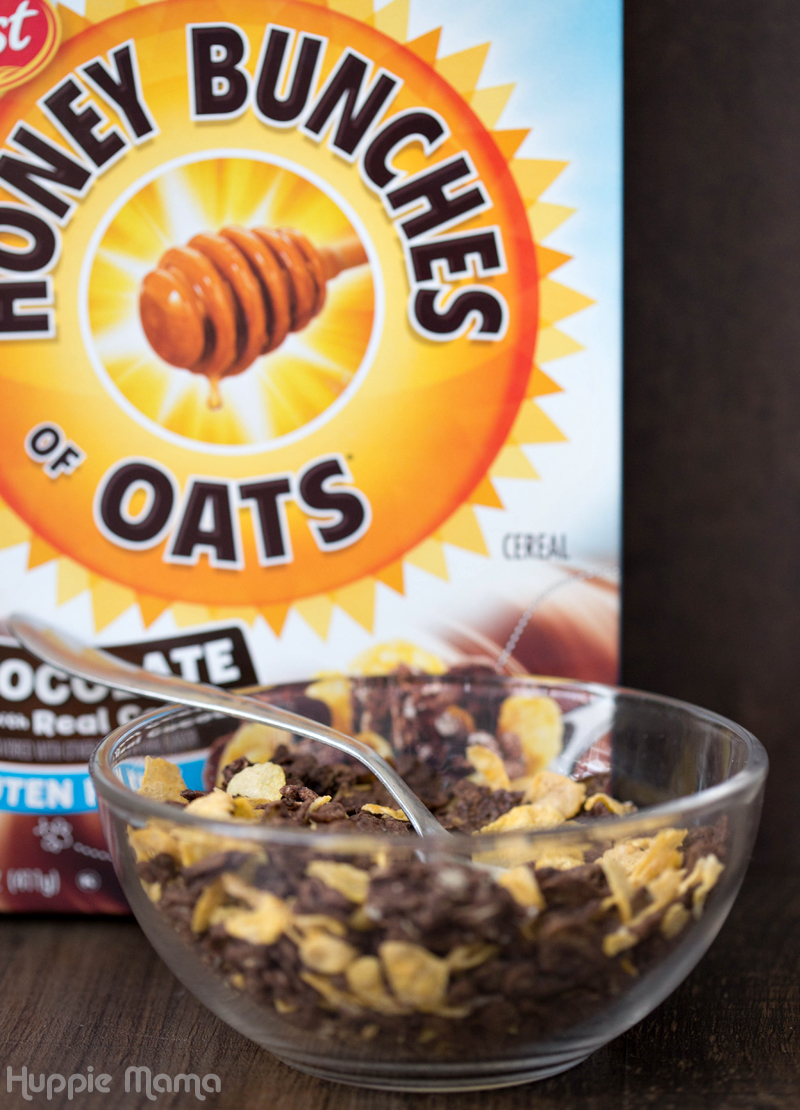 For the past few years, my husband has experienced discomfort throughout several regions of his body, so he began a diet to reduce inflammation. One of the key components of this diet is the elimination of gluten. As recently as 5 years ago, gluten-free foods were hard to find in stores. For the most part, you had to make your own snacks completely from scratch with a combination of different nut-based and grain-based flours that did not include wheat. The availability of gluten-free products on shelves in stores now is pretty incredible for people like Richard who truly benefit from this diet. Now, I'm sharing this delicious treat with you: Gluten-Free Rocky Road Cereal Bars. This tasty dessert really highlights the chocolatey flavor of this new cereal by pairing it with some of my favorites – almonds, marshmallows, and chocolate chips.
Ingredients:
3 cups Honey Bunches of Oats Chocolate
2 1/2 cups miniature marshmallows (for melting)
2 T butter
1/2 cup frozen miniature marshmallows
1/2 cup frozen chocolate chips
1/2 cup slivered almonds
Directions:
Begin by measuring your ingredients. In advance, place 1/2 cup miniature marshmallows and 1/2 cup chocolate chips in the freezer. This way, when you stir the ingredients into your warm cereal bar mixture, they will not melt.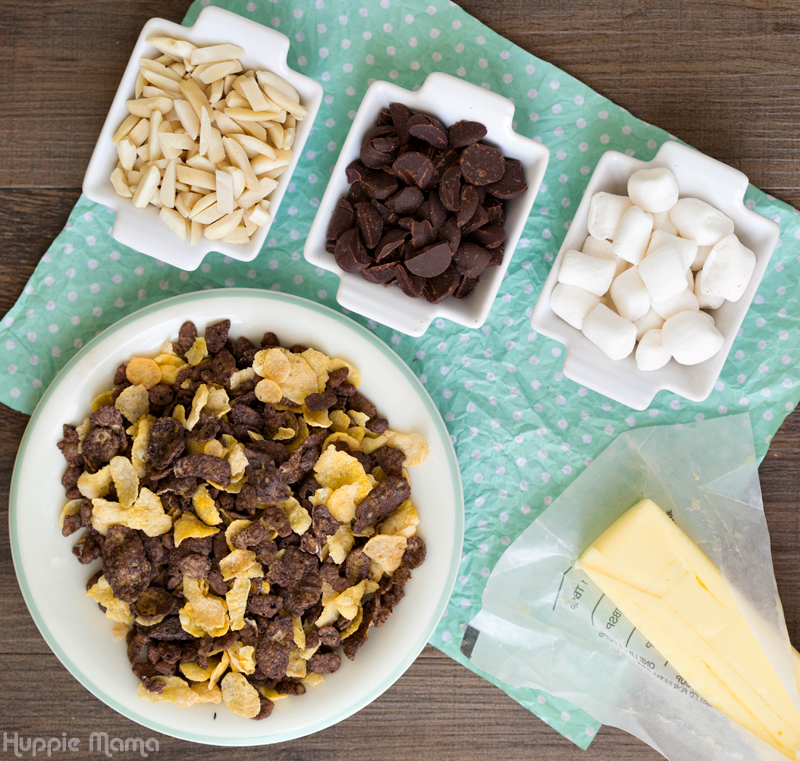 In a large saucepan, melt butter over low heat. Add the 2 1/2 cups of marshmallows and stir until they are completely melted. Remove this mixture from the heat. Add in the Honey Bunches of Oats Chocolate cereal and stir to combine. Then stir in the slivered almonds, frozen chocolate chips, and frozen marshmallows.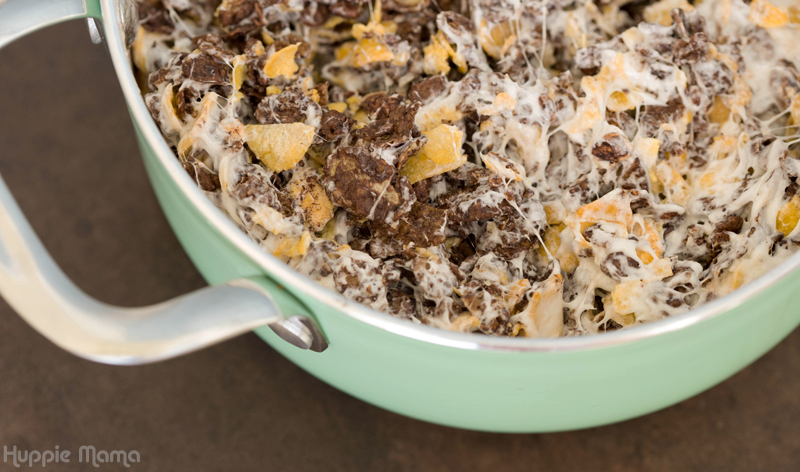 Line an 8″ x 8″ pan with parchment paper. Press the cereal mixture into the pan. Allow the mixture to cool until set (do not refrigerate). Remove from the pan and cut into 2″ x 2″ squares for a total of 16 Gluten-Free Rocky Road Cereal Bars.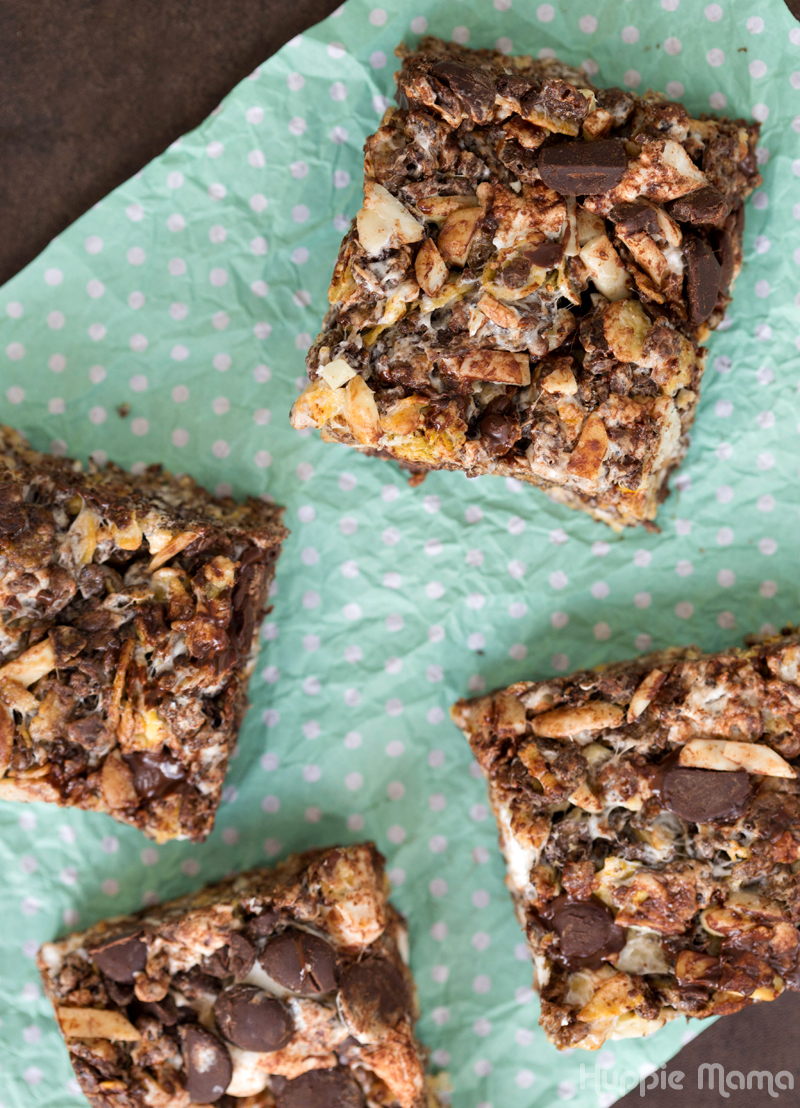 These delicious chocolatey treats make the perfect snack. They can be stored in your pantry in an airtight container for up to 48 hours… if they last that long in your home!
What's your favorite chocolatey treat?