Store-bought Oreo cookies seem to be one of those foods that other people think are absolutely delicious, but I think are just kinda "eh". I followed the smitten kitchen recipe for Oreos a few years back, and they were amazing. Unfortunately, they contained a few ingredients that I do not prefer to cook with regularly, so I modified the recipe to make these gluten-free Oreo cookies, which were just as delicious. I not only substituted out the flour, I also removed the vegetable shortening and replaced it with coconut oil. This gives the cookies a slight coconut flavor that we really enjoyed. And I used organic coconut sugar in place of the white sugar.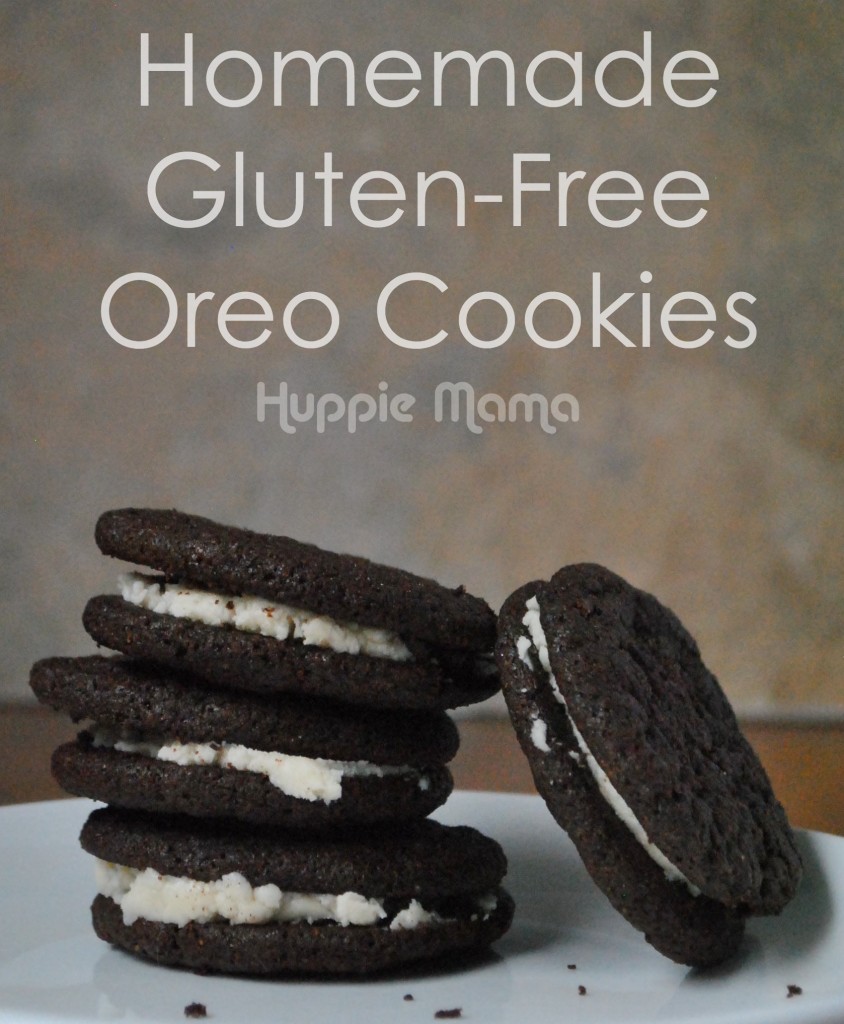 Cookie Ingredients:
1 1/4 c all-purpose gluten-free flour (see below for the blend I used)
1/2 c cocoa powder (I used a double-dark cocoa powder)
1 t baking soda
1/2 t baking powder
1/4 t salt
1 c sugar (I used coconut sugar)
1/2 c + 2 T butter, softened
1 egg
Filling Ingredients:
1/4 c coconut oil
1/4 c butter
1 t vanilla
2 c powdered sugar
Directions:
Step 1 – Preheat oven to 375 degrees F. Combine the flour, cocoa powder, baking soda, baking powder, salt, and sugar in a mixer. Add in butter and egg until a consist cookie dough forms.
Step 2 – Line a cookie sheet with parchment paper or a silicon mat. Place rounded teaspoons of cookie dough on the cookie sheet and press down. Bake for about 9 minutes, until the cookie has flattened out and looks like a chocolate wafer.
Step 3 – Place chocolate cookies on a cooling rack. Allow to cool completely.
Step 4 – In a mixer, combine coconut oil, vanilla, and butter. Slowly add the powdered sugar, and mix until it resembles an Oreo cookie filling.
Step 5 – When the cookies have cooled completely, place a spoonful of filling on a cookie and top with a second cookie. Because of the coconut oil, I stored these cookies in the refrigerator. This made them crisp and delicious!
Recipe makes approximately 2 dozen sandwich cookies.
My gluten-free flour blend:
1/3 cup white rice flour
1/3 cup tapioca flour
1/3 cup potato flour
1/4 cup coconut flour