I received tickets to this attraction in exchange for an honest review.
Last month, Richard, the kids, and I invited both grandmothers to visit the South Florida Science Center with us in West Palm for a day of family fun. This is a fun museum that has lots to do for younger kids, older kids, and adults. Check out what there is to do there!
Learn more about our previous trip to South Florida Science Center two years ago.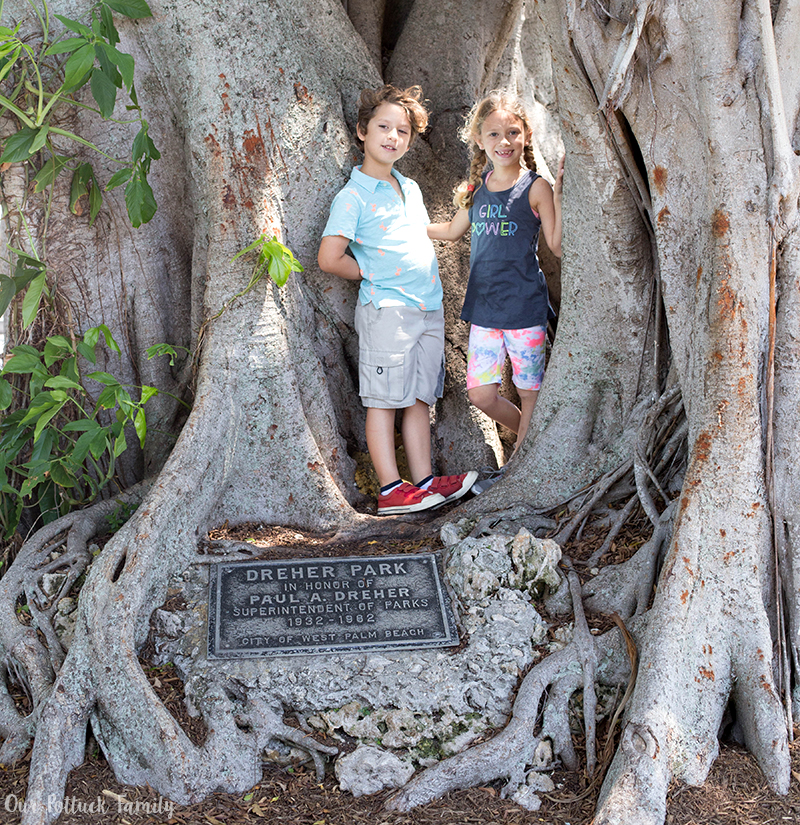 Our first stop was the younger children's play area. The kids love water play, and this is a really nice area that inspires children to add small plastic panels to different areas of the water table to create dams and rivers. They put on their goggles and got to work. Bryce could play here all day if we left him alone! And while the kids enjoyed the water area, Richard had fun playing with the life-size light bright. Who says dads can't act like big kids?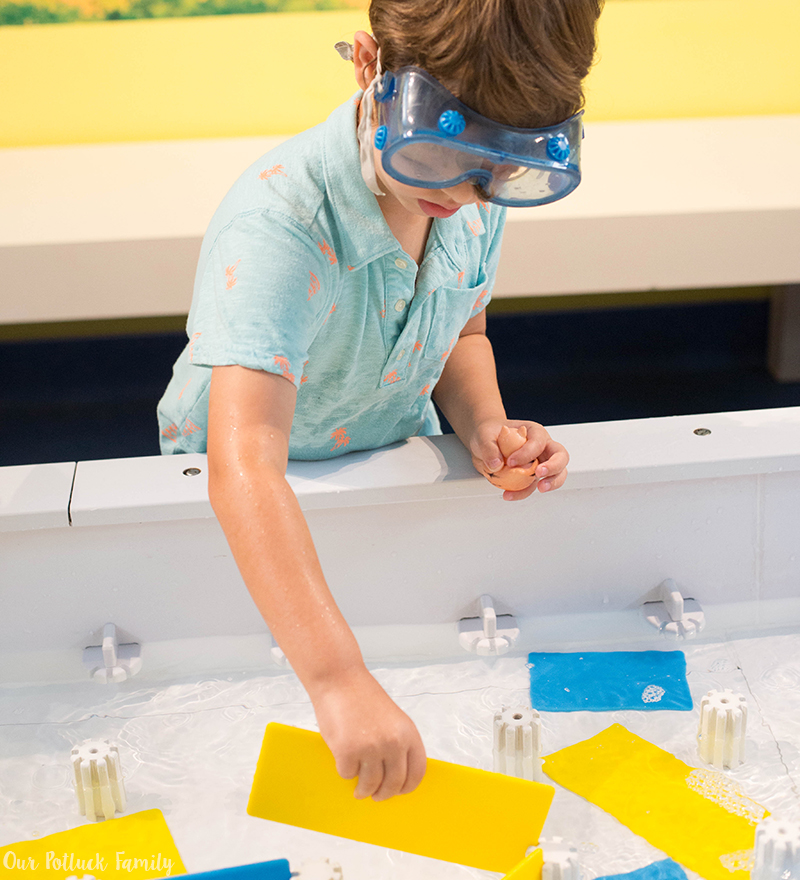 Then there was my mom. She has always been very interested in astronomy and space exploration, so she had fun reading about the astronauts… and posing with one. They make a nice couple, right? There's also a piece of moon rock you can touch and information about different weather conditions. Jump in the hurricane tunnel to experience some seriously strong winds.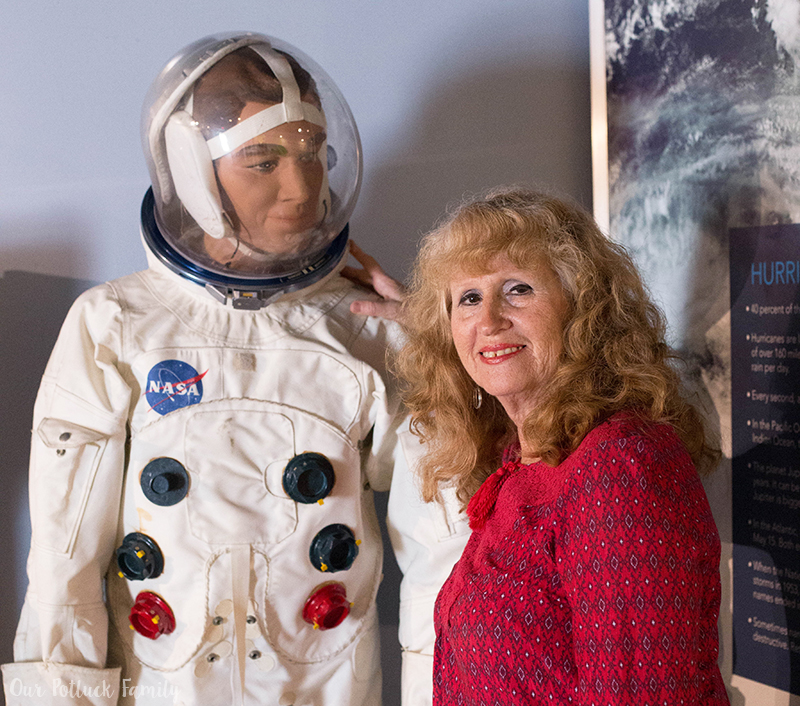 As we moved through the museum, there are many different areas with puzzles and learning activities. We tried a few of the puzzles, and they were definitely a challenge, for both kids and adults. And of course, every child loves playing with this electricity exhibit.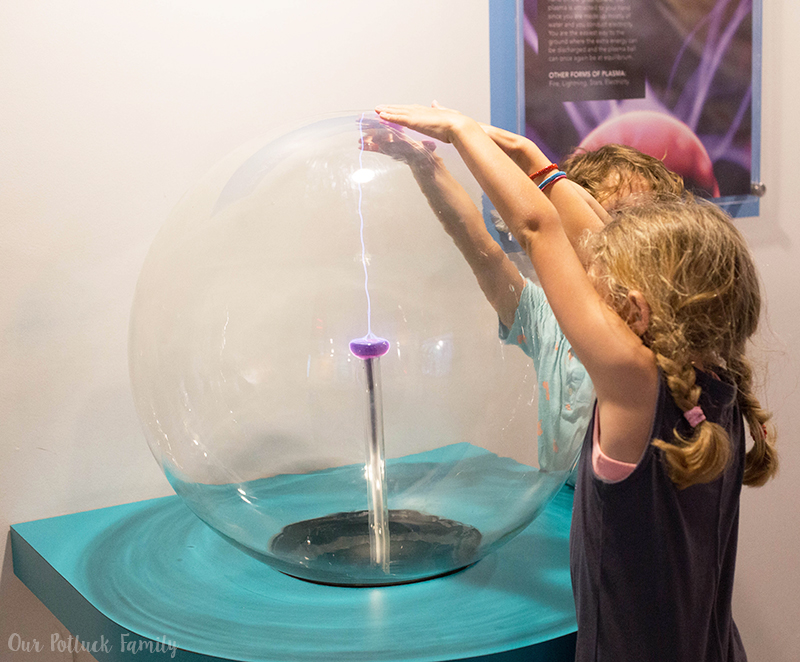 From there, we moved to the aquarium portion of the museum. This section has a variety of freshwater and saltwater creatures. The kids love these fish tanks that they can basically climb inside to see all of the different fish. They also enjoyed watching the crabs and other small ocean critters being fed. And check out the super-cute photo opp below. Lydia made a funny pufferfish!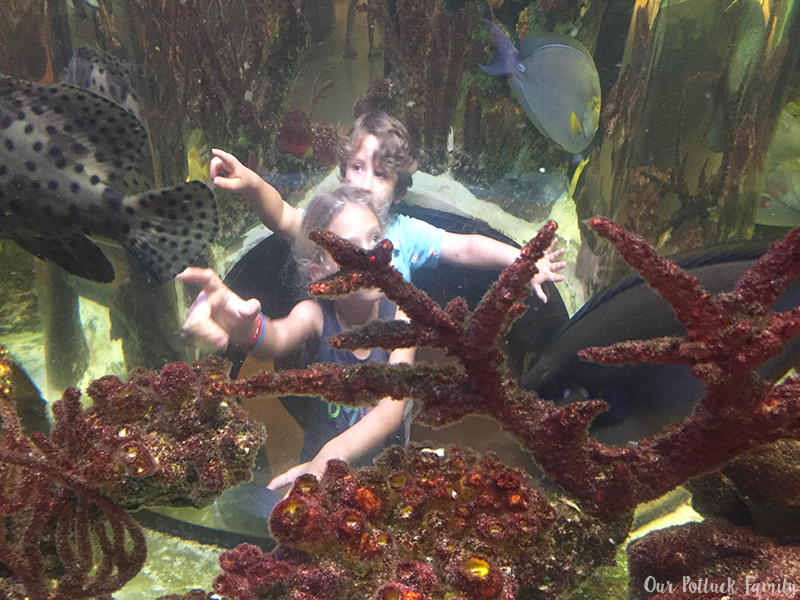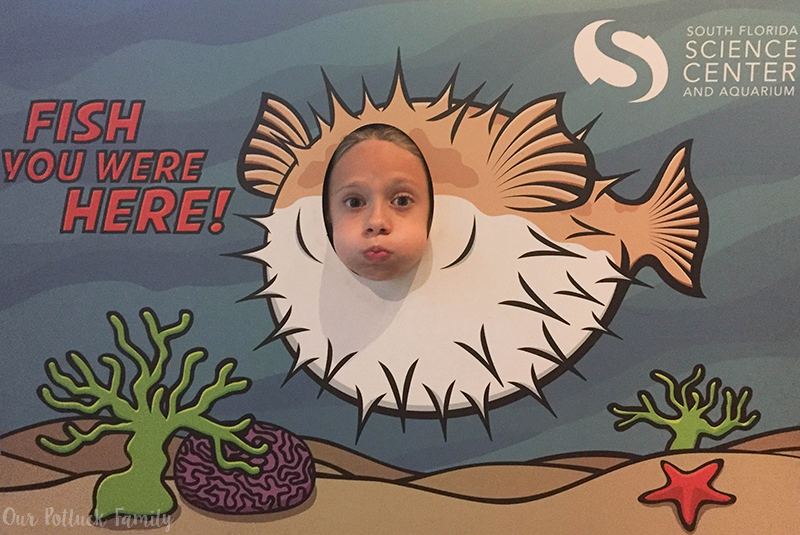 Next we went to the temporary exhibit: Amazing Butterflies. This exhibit is available until September 29, 2017. Museum visitors are able to navigate through the lifecycle of a butterfly. Learn about how eggs hatch to become caterpillars, caterpillars form chrysalises, and butterflies emerge from those chrysalises. You will also learn about how to avoid predators and what the butterfly's habitat looks like.
When you have finished exploring indoors, head outside to enjoy several other fun activities, like the bubble play. Also, don't miss out on the new Conservation Course – a miniature golf course, surrounded by beautiful native plants, a babbling brook, and butterfly garden. For an additional fee, you can enjoy a round of golf with the family or see a show in the museum's planetarium.
Check out the South Florida Science Center website for more information, including location, admission, and hours, if you would like to visit with your family. 
What plans do you have for family time this summer?