It's fall! It's fall! Okay, not really, but the pumpkin beverages hit the stores September 1st, the cinnamon scented candles, the Halloween decorations — and since I love fall, even though it's still in the 90s in South Florida, it's time for a fall decorating party! Woohoo! We used this Labor Day weekend to make the front of our house look just awesome for this time of the year. We had fun, but I will warn you, it gets a little messy. I'll show you how to clean up after.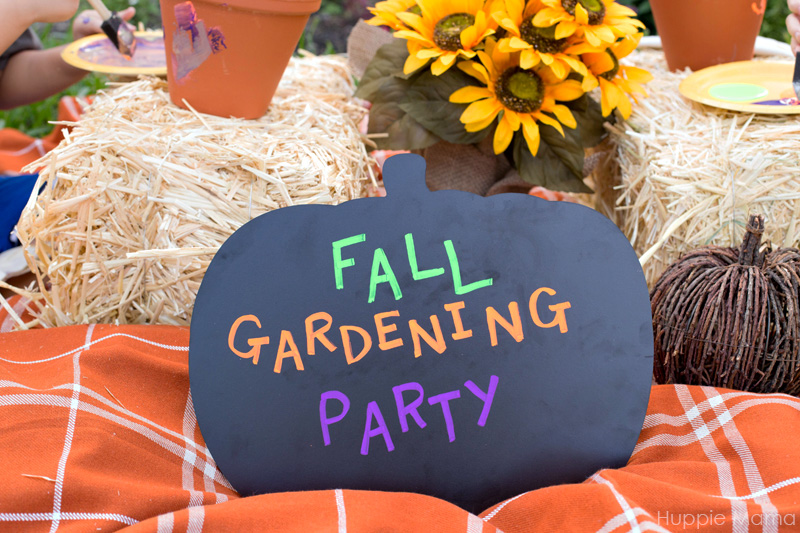 We began this gardening and decorating party with a painting craft. Each child was given a clay pot, a foam brush, and three colors of paint: orange, green, and purple. The kids had fun painting their pots (and got a little messy in the process). We placed the pots on haystacks on a large tablecloth to capture that fall feel.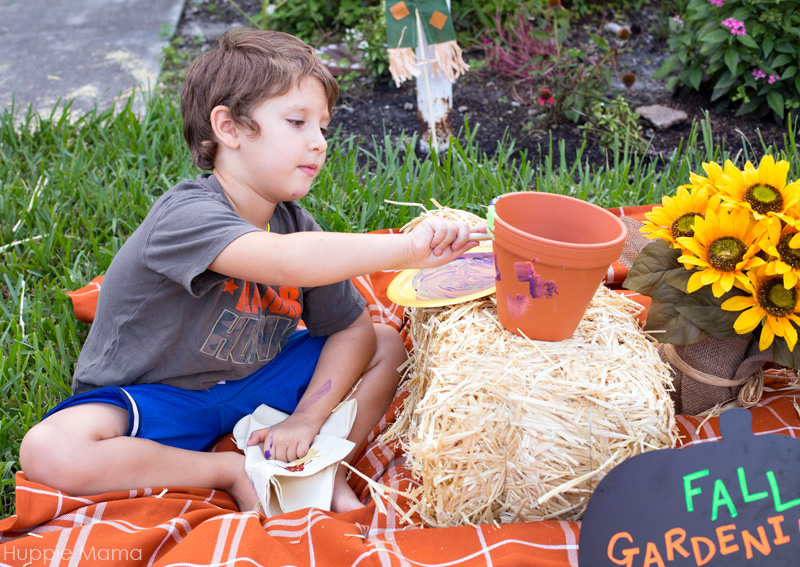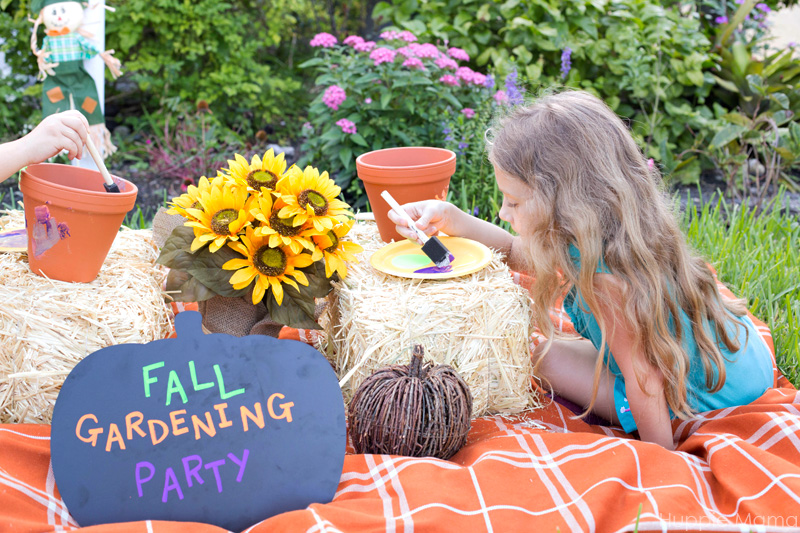 Lydia decided to add handprints and her name to her pot, which meant lots of paint all over her hands. What a mess on her body and clothing! No worries… I have some cleaning tricks up my sleeve! Keep reading.
The kids cleaned up the paint by wiping their hands off on rags, and we moved on to the next portion of our decorating party while the paint on the clay pots dried. To clean our rags and very dirty tablecloth and clothing, we used all® free clear. Next, we cleared the haystacks and paint and made room for a gardening project. I purchased two large metal containers and a smaller wooden container to use as planters. You can get creative and use all sorts containers as fall planters! Richard drilled holes at the bottom so that water can drain out – remember to do this to all of your containers. (Use safety goggles and make sure the children are inside the house while drilling.)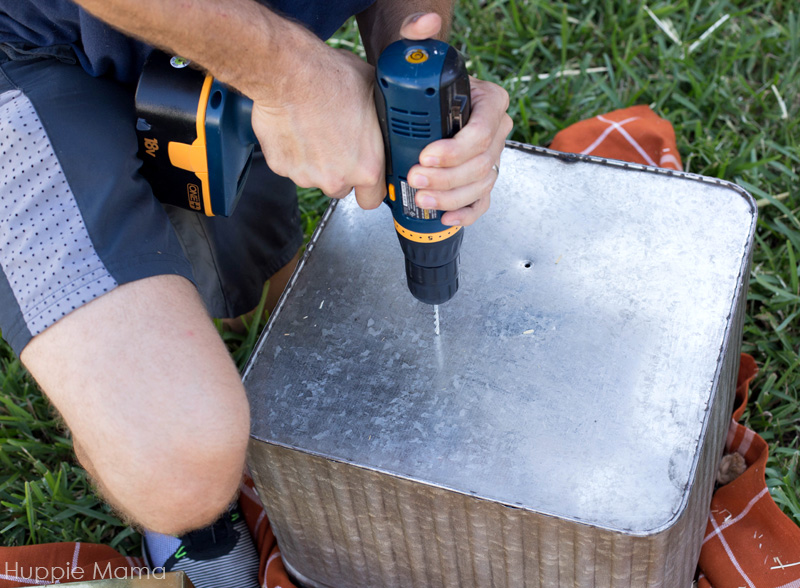 Fill all of your containers with potting soil. This is a great job for little hands. We had a shovel, but who wants to use a shovel when you can make an even bigger mess without one? My kids were free to be messy with this project!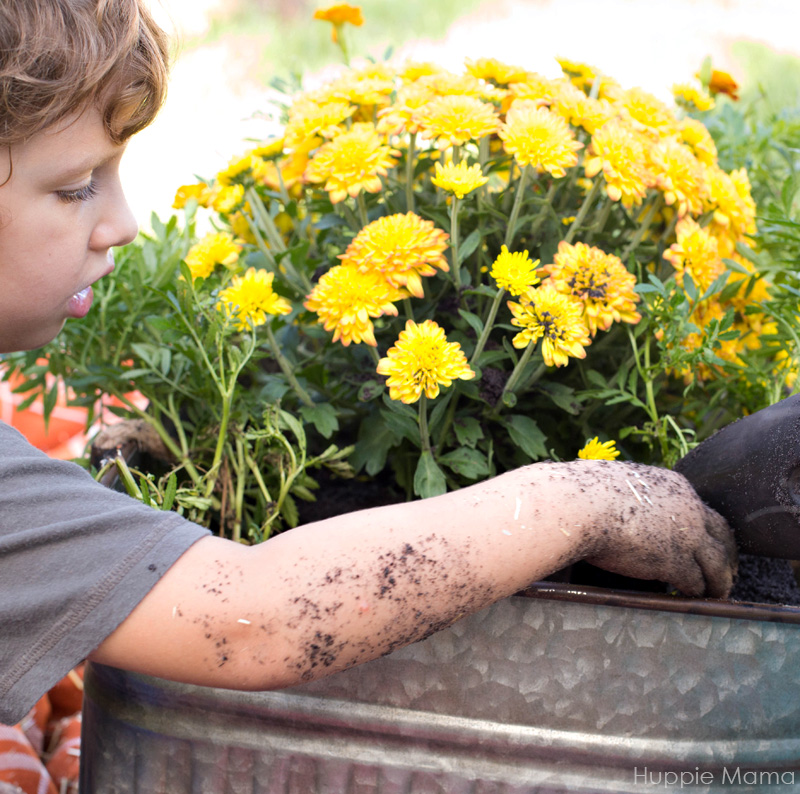 The kids helped me select fall-looking plants at Walmart. We chose yellow mums and dark-colored marigolds for the large planter. This color combination is vibrant and goes well with the rest of our fall decor for the front of our home.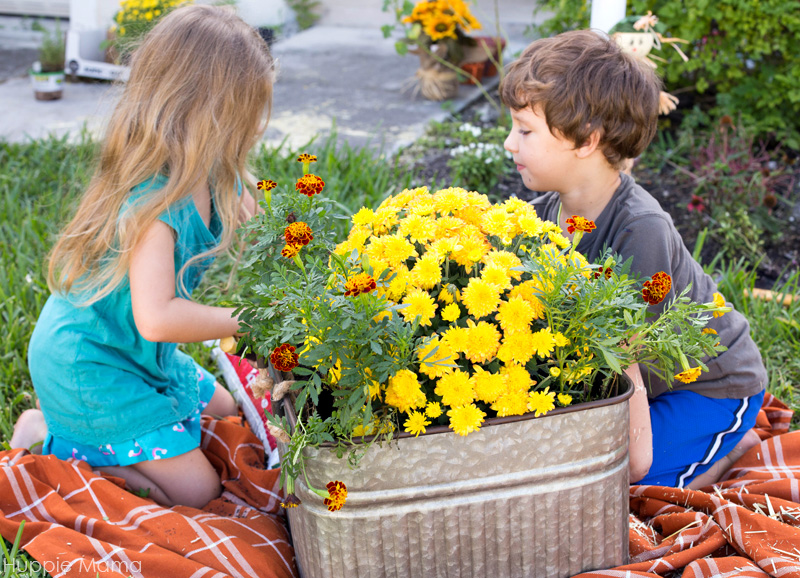 For a smaller, brass-colored planter, I found this reddish-green plant at a local nursery. I liked how it added a new color to our fall decor. Once the painted clay pots dried, each child picked out an herb plant to place inside the pots. Lydia planted sage, the perfect fall herb. Bryce chose oregano for his clay pot.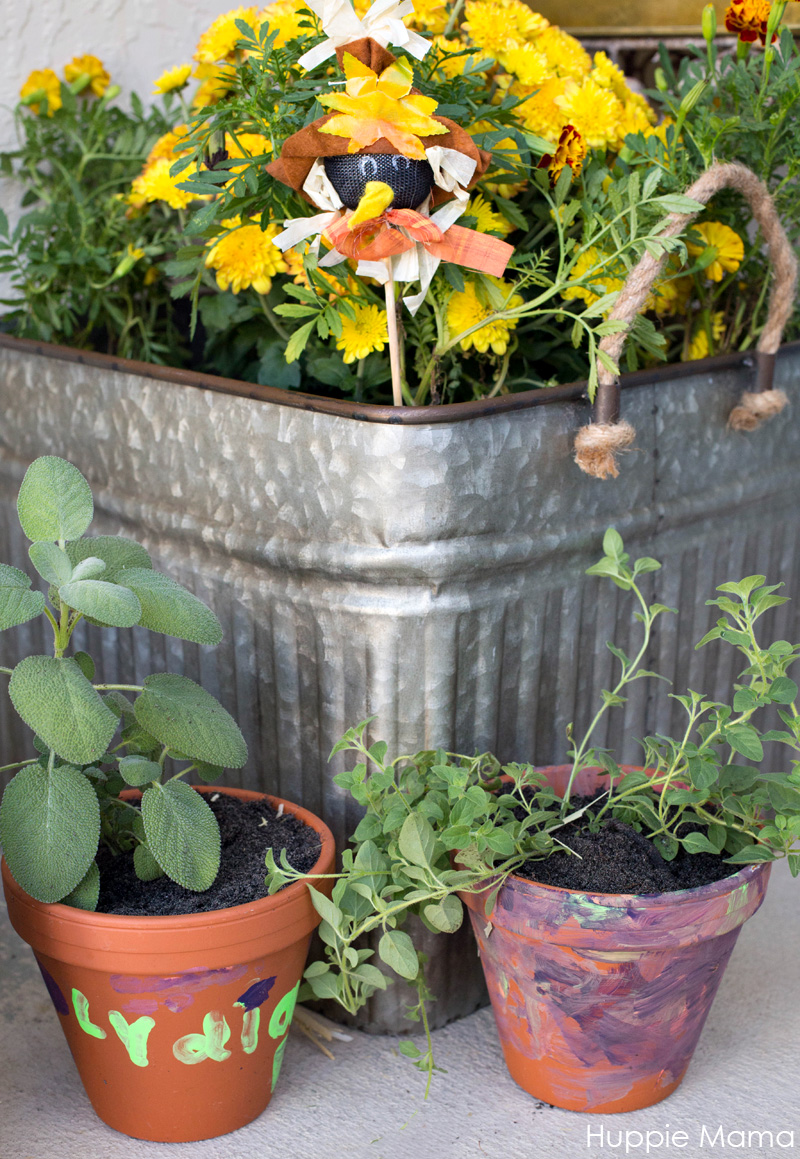 Once we finished our craft projects and our planters/pots were filled with beautiful flowers and herbs, it was time to assemble the decor in front of our home. This is the fun part! I'll show you the entire set-up, then break it down by section.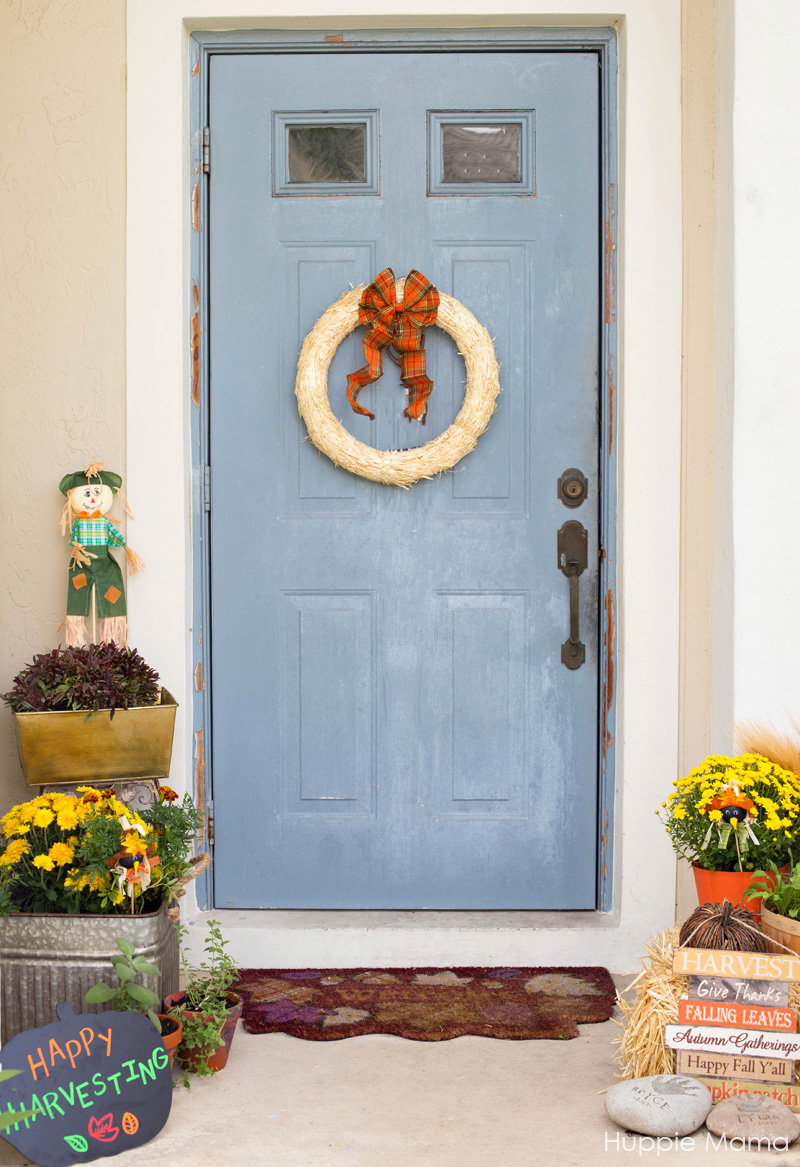 To the left, we placed the large planter and the small painted pots. Lydia placed a crow scarecrow (oxymoron?) pick inside the planter for an added touch of fall. We placed the brass planter, filled with the large red-green plant, in a small metal table above this section. In that planter, we placed a larger scarecrow.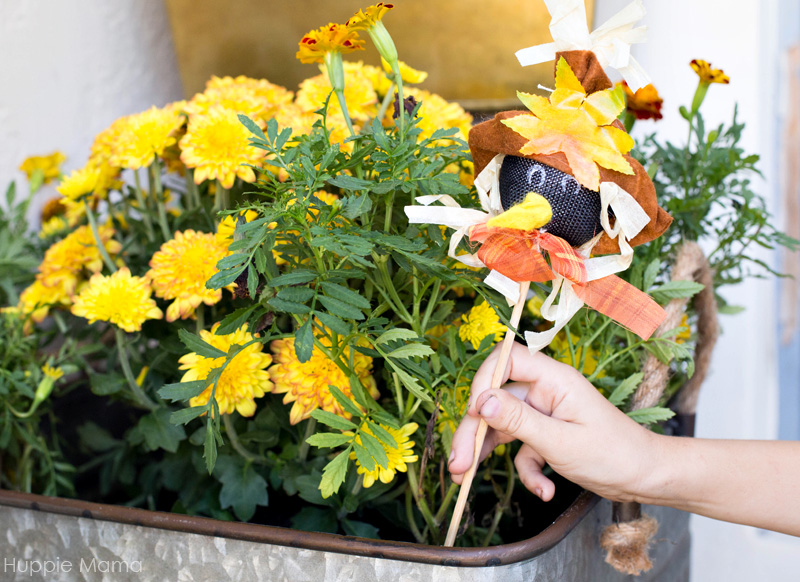 To the right of the front door, we placed the haystacks, some tall wheat, a large yellow plant (with another crow pick), a wooden planter with arugula and rosemary, and a twig pumpkin. I found a fun fall harvest side to hang from the pumpkin. In the front, I placed two stones with the children's handprints. We got these made several years back.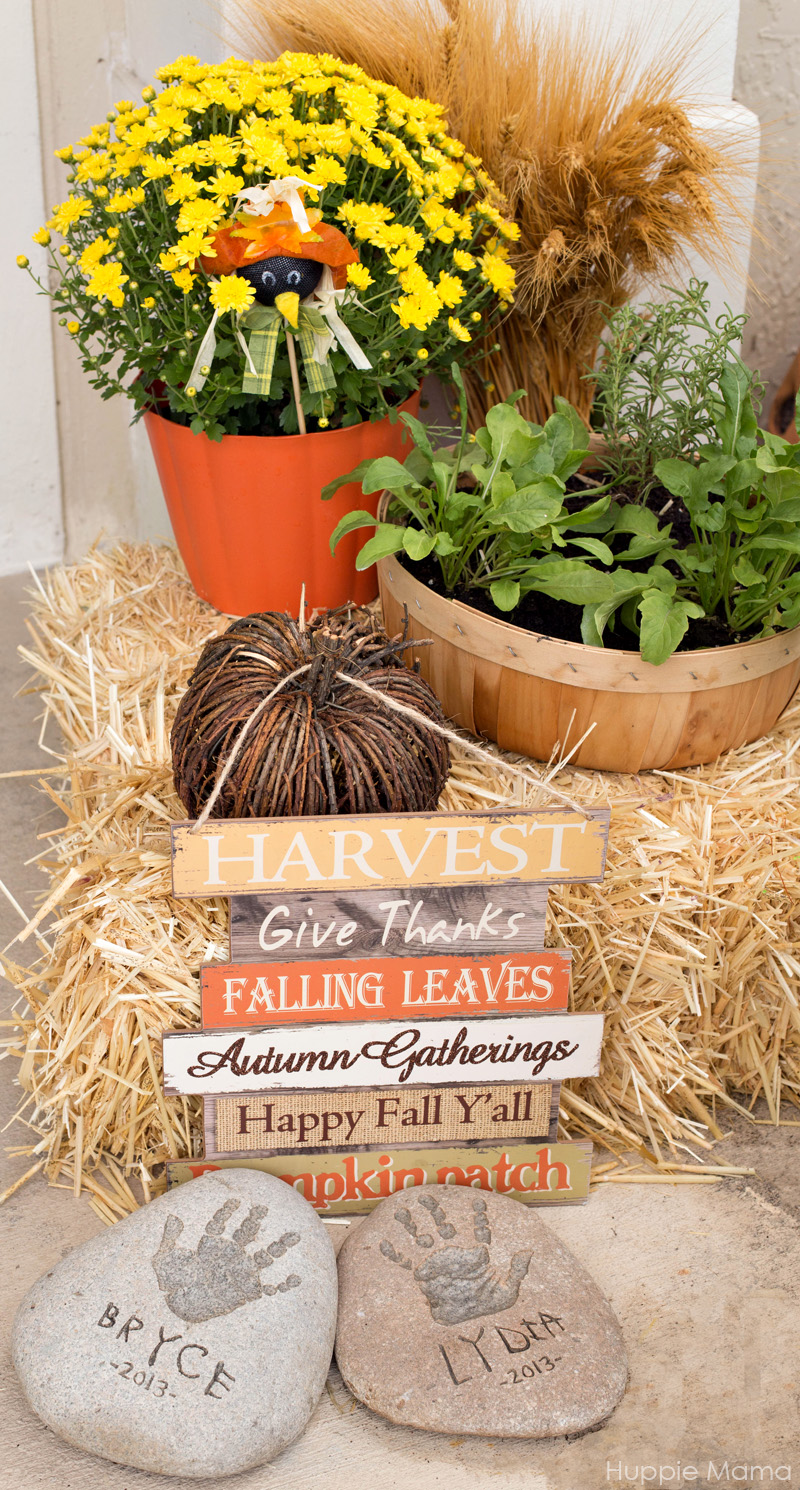 Add a festive wreath, and pumpkin-shaped sign, and a fall-themed door mat, and the look is complete! What do you think? Looks awesome, right?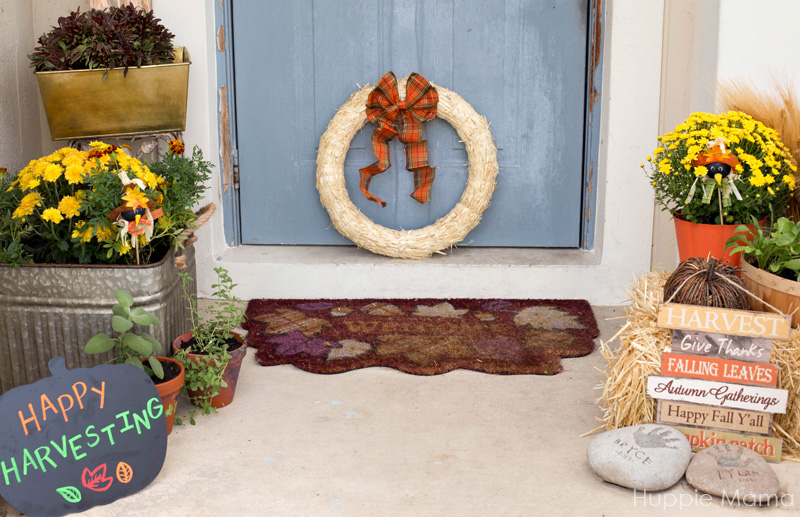 The one down'fall' to decorating outdoors? Lots of clean-up afterwards. But that's okay, with the help of all® free clear liquid detergent and all® free clear Mighty Pacs®.
How do you decorate for fall with your family?