Since moving to Gainesville, I have been stalking a place called Hammer & Stain on Facebook. It's a make-and-take type workshop, where you create different pieces made from wood for your home. They had a Black Friday sale, and I jumped on it so that I could make my first piece! It was like an open holiday workshop, so I selected my project from about half a dozen choices. I decided to make this fun, vintage-inspired Christmas Tree Farm sign, and I just love how it turned out. I think it was the perfect addition to my fireplace holiday decor.
Materials & Equipment:
Framed-out piece of wood, about 18″ x 24″
Variety of wood stains
Variety of craft paint
Custom stencil
Makeup sponges
Tweezers
Foam paintbrushes
Sandpaper
Hair dryer
Paper towels
Plastic scraper tool
Directions:
When I arrived at Hammer & Stain, I was provided with the framed-out piece of wood and customized stencil. You can create stencils like this using a Cricut or Silhouette, or you can purchase pre-made stencils at your local craft store. When buying the wood, you can also check the reclaimed lumber Denver for their cheap prices.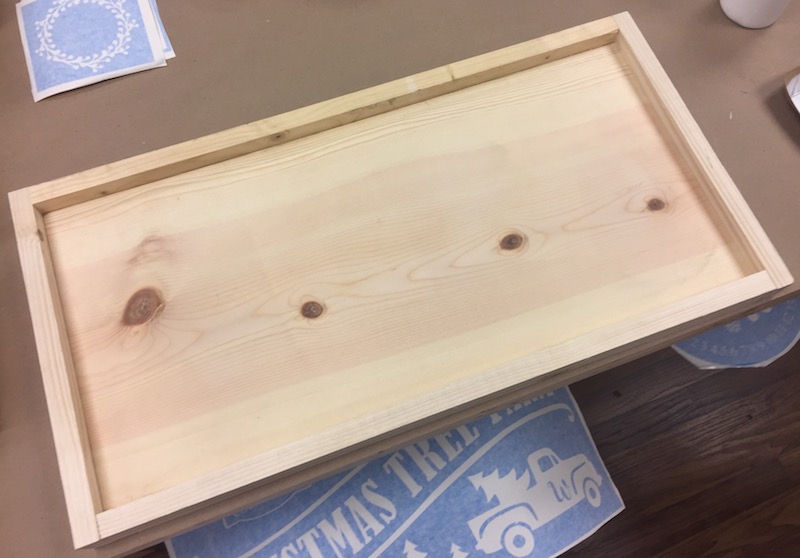 I selected a white stain for the background, but I wanted the wood grain to show through, so I applied it with a foam paintbrush and wiped it away with a paper towel until I reached a desired color.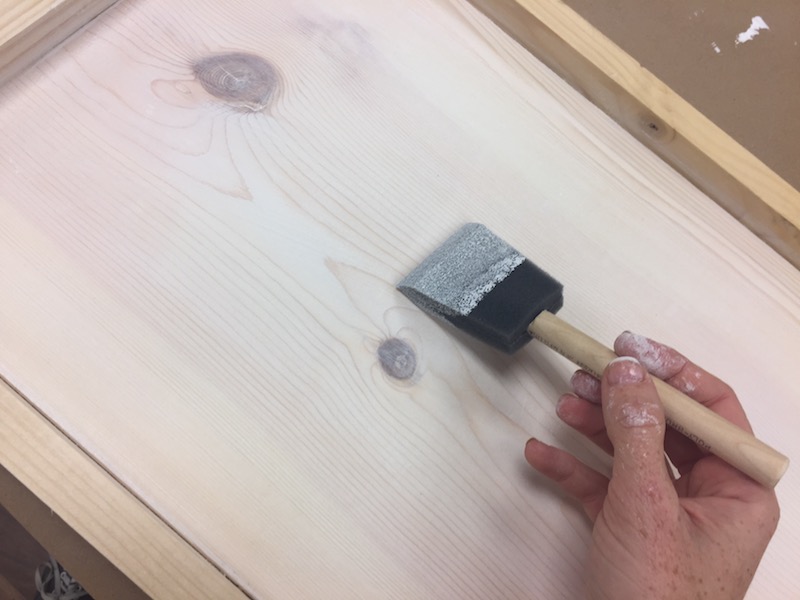 I dried the white stain with a hair dryer, then taped off around the inner border so I could stain the framed portion a darker brown color. I like the contrast between the white stain and darker stain.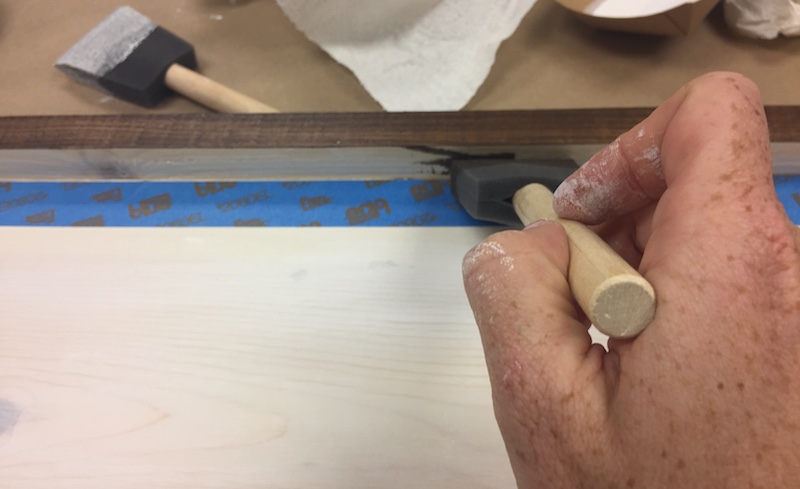 Next, I removed the painter's tape and placed the custom stencil over the wood. I used a plastic scraper tool to adhere the stencil to my wood. I made sure to go over it carefully near the detailed portions, like the cursive writing. Then I peeled off the wax-like top paper.
I used a makeup sponge to apply the paint to my stencil. I mixed colors to get what I thought would be a fun vintage color palette. My colors included a forest green, cranberry red, and muted navy blue. Oh, and black for the truck tires.
When I was done painting, I carefully peeled back the stencil. You can use tweezers to remove the small pieces of stencil that tear off from the main piece.
A little touching up, and my sign was complete. They take photos of all projects to share on their Facebook page, so here's my final photo. I love all the projects in the background, too!
This is what my entire fireplace looks like now. This Christmas Tree Farm sign was the perfect touch of farmhouse chic to complete my mantle. What do you think?
How do you decorate your home for the holidays?