This post was sponsored by Landscape Structures as part of a Influencer Activation for Influence Central and all opinions expressed in my post are my own.
Visit the amazing Depot Park in Gainesville, Florida.
Anyone who knows me personally know that I absolutely love where I live! I attended the University of Florida in Gainesville from 1997 – 2002. After having children, I dreamed of moving back here, and that's exactly what we did June 2017. If you've never been, Gainesville is a diverse, progressive city located in North-Central Florida. It's home to a school our family loves, awesome new friends, beautiful trees, great local businesses, and incredible parks. Have a construction project on your mind? Contact these professionals for extra help.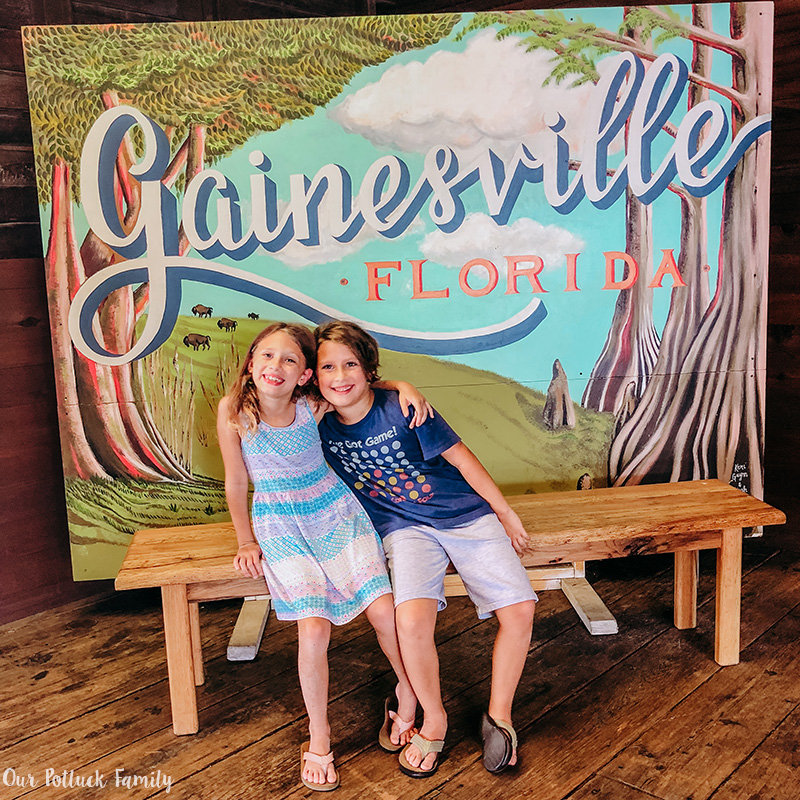 When I was a college student here many years ago, there was a dilapidated train station in a part of town that I scarcely visited. As we were planning our move here in 2016-2017, I learned about Depot Park. The original design for Depot Park was to create the Central Park of Gainesville. It began with a grant the city received in 1997, and required the removal of the contaminated earth and water treatment from so many years as a railroad depot. In 2012, old train cars were restored and are now used as event spaces and a bar, and in 2016, the entire park – including walking/biking trails with beautiful foliage, a concert stage, ponds, a general store, and amazing accessible playground – were complete.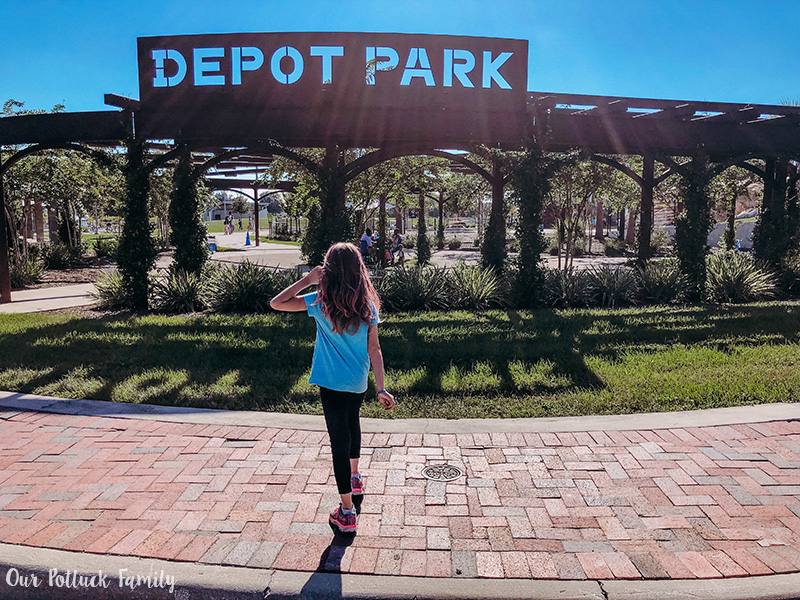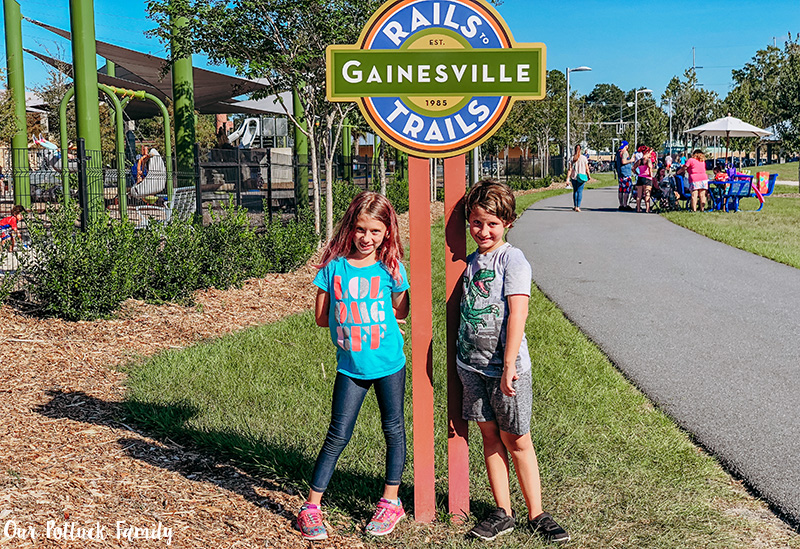 The park is completely enclosed, which is great for little ones who have a tendency to run off. It contains multiple play spaces for children of different ages, a covered mini-stage, and a splash pad. The playground areas are outfitted with Landscape Structures equipment. Each area has a sign that explains the appropriate age range with safety precautions.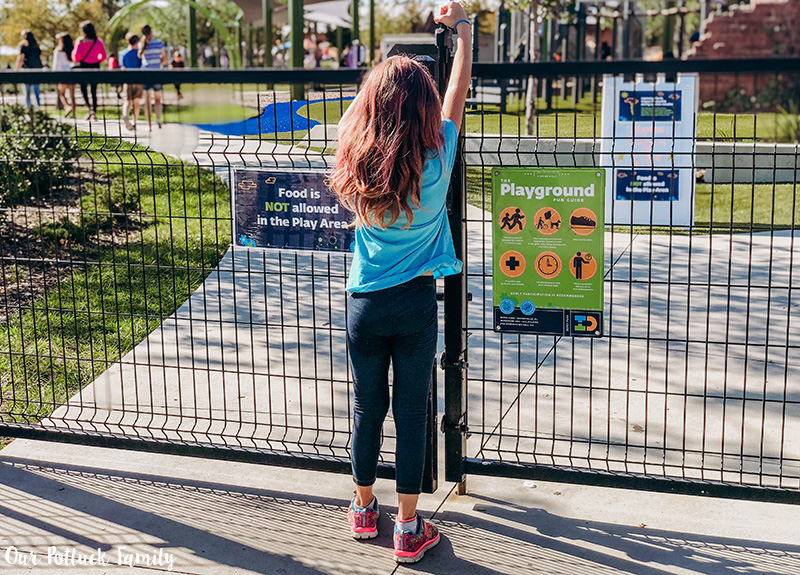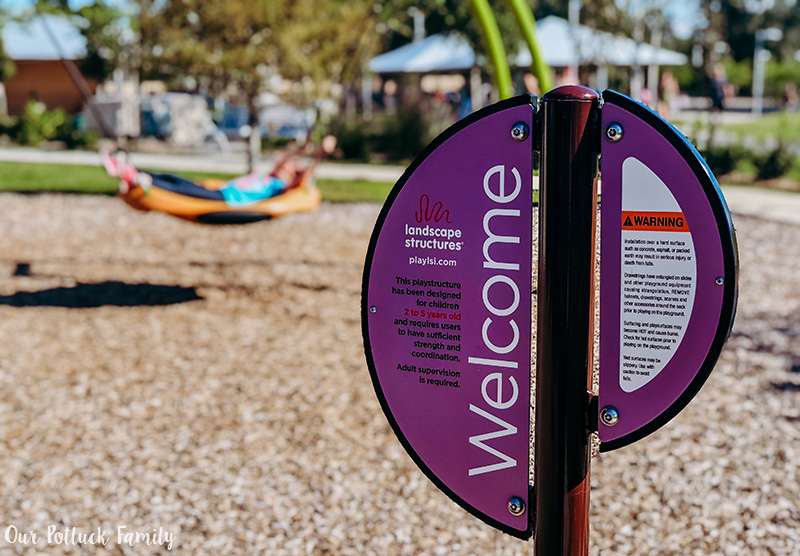 What I love about Landscape Structures is the way they really think about accessibility. I was a special education teacher for 10 years, and I still substitute teach in classes with children who have special needs. Leisurely outings for children with special needs can be a real challenge due to physical limitations, sensory issues, and behavioral struggles. The large swings below are amazing for individuals of all ages who are dependent upon physical assistance to enjoy playground equipment. As you can see, they provide full-body protection and a solid locking system at the base.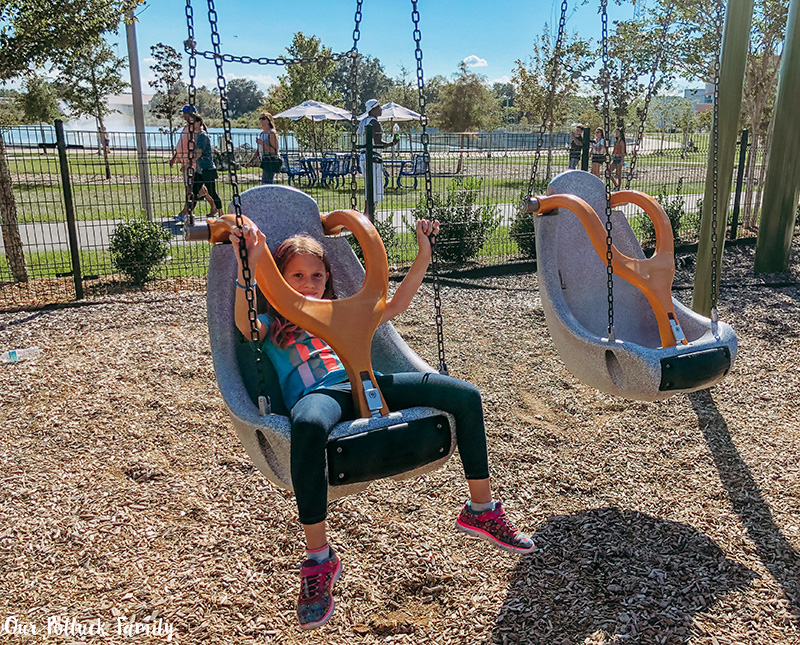 This platform swing is also wonderful for children who are working on their strength, coordination, and motor planning. It requires them to use their core to maintain balance as they swing. It's also great for two children at a time. My kids just love it!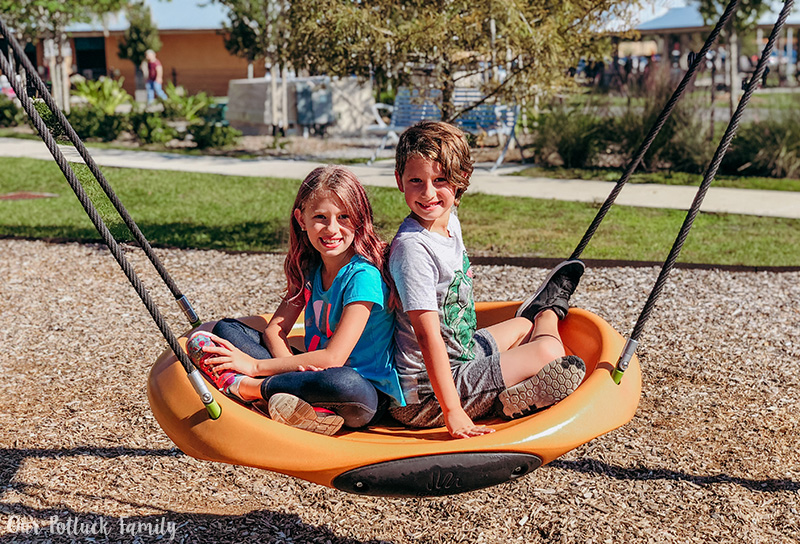 There are many other ways children can work on gross motor skills at Depot Park. These diggers require upper body strength and coordination to dig through the sand. Kids can also tap into their imaginative play skills to pretend to be construction workers and big machine operators. A variety of steps, slides, climbers, monkey bars, and tunnels are available for motor development and sensory play as well.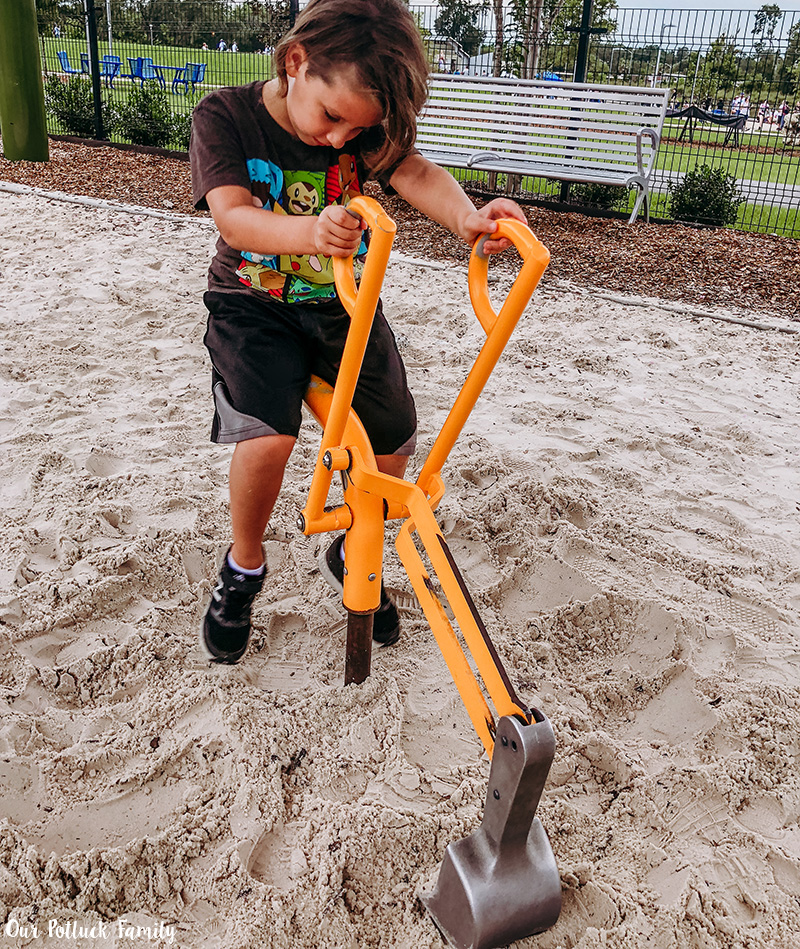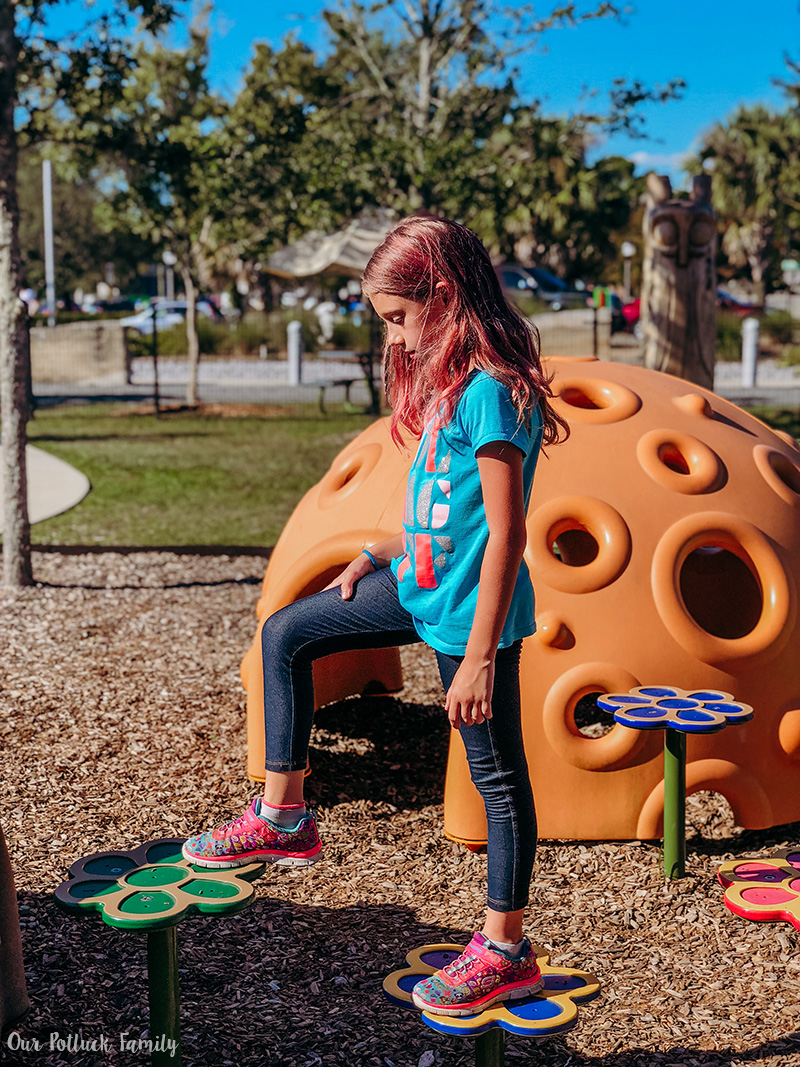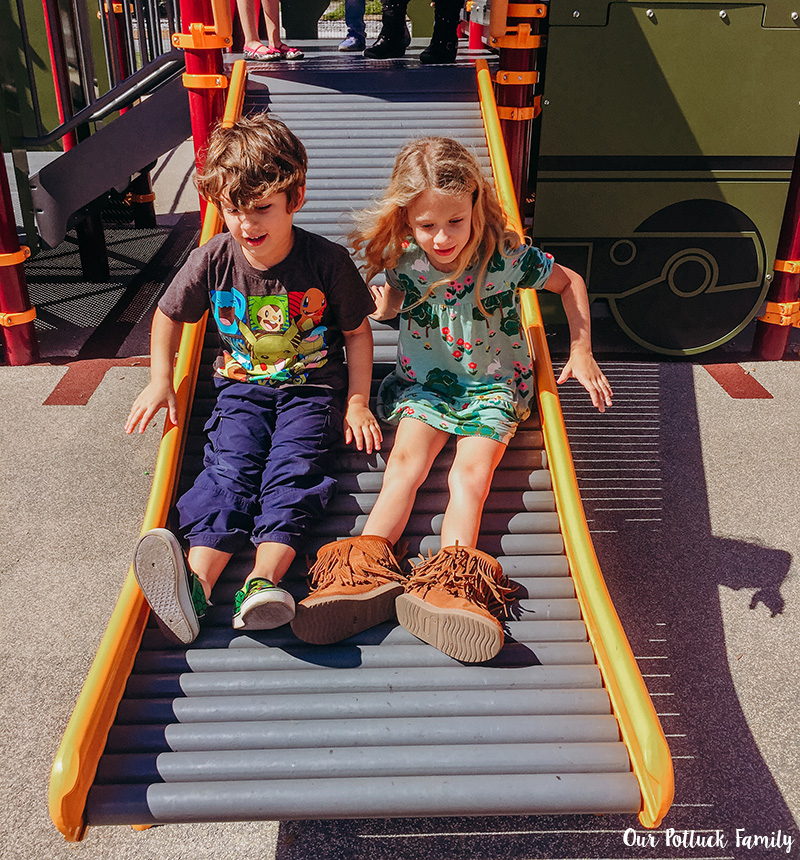 Landscape Structures as also designed themed play areas, like this tree with woodland creatures. There's also a castle-themed play area and train-themed play area, perfect for a park that was once a train station. These imaginative play features are great for children of all ages.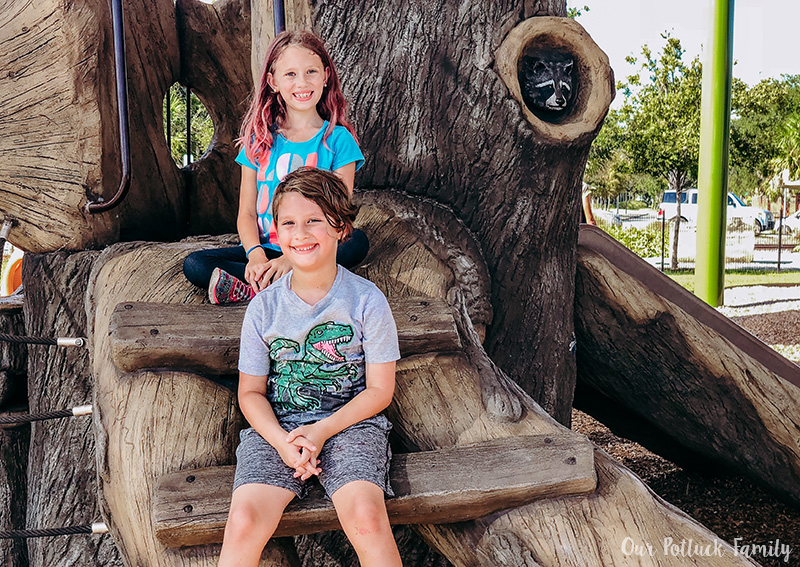 Do you have an awesome park like Depot Park within your community?