It was 8:30 pm. I wanted to started a sewing project for my daughter's birthday, but I was thoroughly exhausted. I'm not an energy drink or coffee drinker, so I had to find something else to keep me awake. What about…dark chocolate ice cream?? Perfect! I looked through a number of recipes before coming up with my own. This was the best chocolate ice cream I've probably ever had. It was fudgy, rich, and bittersweet. It's everything I wanted to keep me awake…and it did…until 2 am.
Dark Chocolate Ice Cream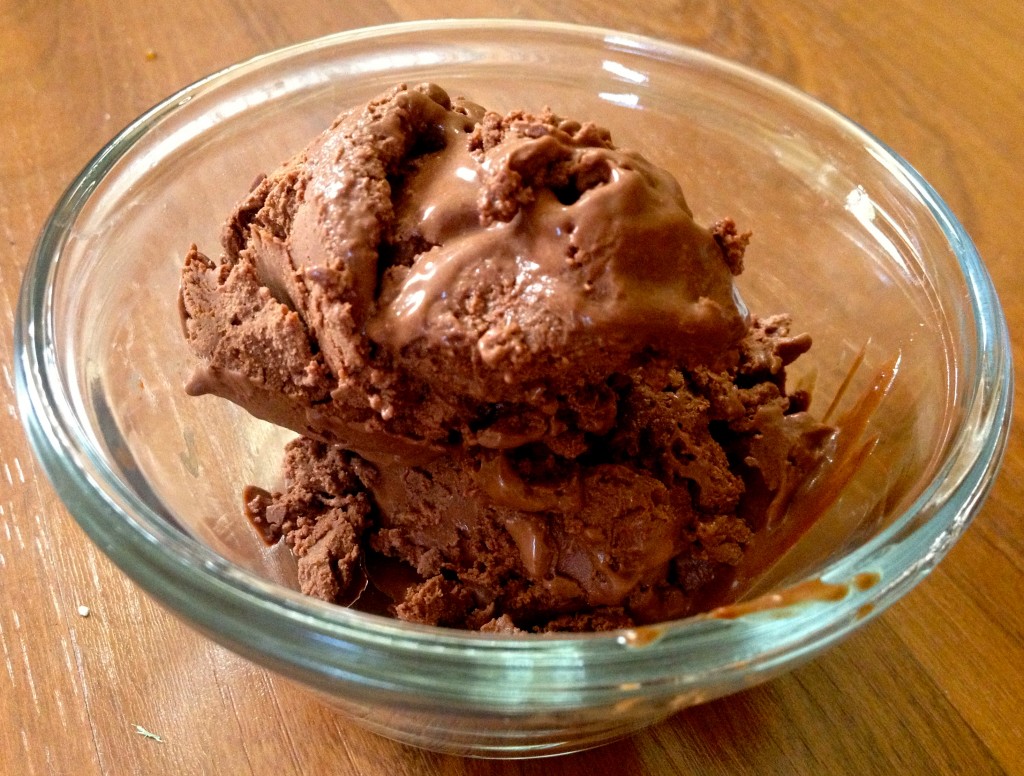 Ingredients: 
3/4 cup organic whole milk
3/4 cup organic heavy cream
1/3 cup sugar
2 egg yolks (preferably from pastured eggs)
2 oz dark chocolate
1/2 cup raw cacao
2 – 3 T prepared coffee
pinch of salt
Directions:
Place milk, cream, sugar, and salt in pot on the stove. Slowly bring it to a simmer, whisking the whole time. Whisk in the dark chocolate until it melts. Next, whisk in the raw cacao and two egg yolks until the mixture thickens. Then add the coffee, and pull the mixture off the stove. Mixture will be quite thick, almost like a chocolate pudding.
Pass ice cream mixture through a fine-mesh strainer to remove any possible lumps.
Place ice cream mixture in a bowl in the freezer, stirring every so often to make sure it chills evenly.
When the mixture is thoroughly cooled, pour into your ice cream maker. If you want to be even more indulgent, you can add chocolate chunks to the mixture as it is churning, but it's very decadent without.
Turn off the ice cream machine when the ice cream is a nice texture/consistency. I recommend eating it immediately, but place in the freezer to store the leftovers…if there are any.
Makes 1 pint of ice cream.