My daughter brought home a note from school today. Being the stellar student she is, she immediately handed it to me, stapled to her planner. She was excited about an upcoming classroom celebration, and I genuinely wanted to be excited for her. Admittedly, I read it quickly, thought it seemed a little off, and told her I would select something to send in and sign it later.
And then I thought about it some more.
And then I briefly talked to my husband.
And before I decided to be my normal over-the-top self, I took it to Facebook. I posted a copy of the image along with a basic "THOUGHTS?" and absence of my opinion. I wanted to gain other perspectives before expressing my own.
You see, I didn't want to fuss too much. Just last week, the parents received a notification that the classroom teacher would be out for a while, and this woman would be the substitute teacher. The letter went on to say that this substitute teacher had a lot of knowledge and classroom experience. I met her, Lydia seemed happy, and truly that is what matters… right? 
So here is the letter: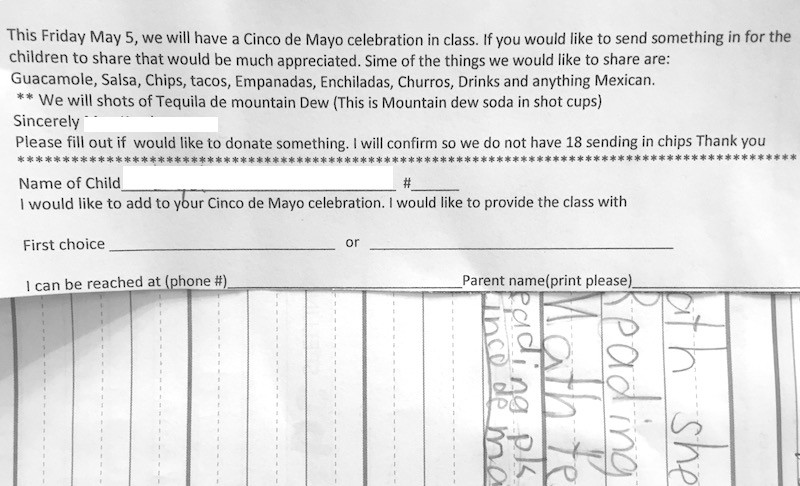 Honestly, I don't know where to begin my rant. I'd like to start by saying that I actually feel bad for this woman. I feel bad that she wanted to do something fun for the kids. I feel bad that she didn't follow correct protocol and run the letter by administration. But primarily, I need to do right by the kids. As an educator myself, I feel an ethical responsibility to correct the situation. As a blogger, I feel a responsibility to make others aware of just how important it is for us to advocate for our kids. As a parent, I feel a responsibility to my children to ensure they learn culture and history, not stereotypes and inaccuracies. As a human, I feel a responsibility to teach compassion over ignorance. So here goes my list of issues.
Superficially, the grammar. It's atrocious. Please proofread anything that goes home to parents, that gets sent in emails, etc. It's simple; just re-read and make corrections. I'm hoping she doesn't write on the board like this.
Food allergies are a serious issue, and schools need to be exceptionally aware of exactly what ingredients are in any dishes that are brought into a classroom. You cannot ask children to bring prepared foods into schools in my district; that is incredibly unsafe.
I don't know what is worse when it comes to the whole "taking shots" thing. Again, I know she was trying to have fun with the kids, but teaching kids to get drunk? Poor choice. The fact that she was using Mt. Dew, assuming parents regularly give their kids soda? Poor choice. What this teacher truly failed to do in this "fun" activity was remember that she's the teacher. What is she teaching them? Where is the lesson here? It's okay to be an alcoholic? Let's excessively drink soda and pretend it's alcohol? No.
And here's the real problem. The real lesson taught here: the assumption that there's a holiday in Mexico where people get drunk and eat food that Americans think is Mexican. Again, it's fun to celebrate, it's fun to have classroom parties, it's fun to eat, drink, and be merry. It's not fun to perpetuate historical inaccuracies and appropriate cultures.
Young children look toward their teachers to be their childhood heroes in a sense. Teachers are role models. It's a huge responsibility you knowingly take on the very moment you step foot in a classroom. Primary-aged children are especially impressionable. They haven't learned to be skeptics. They haven't learned to question authority. They are sponges attempting to absorb every ounce of knowledge presented to them.
As educators, we must be dually aware of two very important things: explicit instruction and implicit instruction.
Explicit instruction is what we intend to teach children. We follow guidelines, benchmarks, standards with the hopes of children reaching mastery on standardized tests. It's a necessary evil in our American educational system, and it serves its purpose at the post-secondary level.
And then there's implicit instruction. It's what happens when we teach children things like "in 1492, Columbus sailed the ocean blue" and "found America". It's what happens when we teach children that the British peacefully arrived here and celebrated a bountiful harvest with the Native Americans who gladly shared their land with the newcomers. It's what happens when we teach kids that slaves were emancipated by Lincoln and were free to immediately join the workforce as respected citizens with comparable wages. It's what happens every day in this country when people accept what they are told about others who look or speak or dress or act any way that is different from themselves. We reinforce fear of the unknown over perspective-taking. We assume the belief of one individual in a group is indicative of everyone in that group. It's easiest to believe what you've always known to be "the truth" over learning the truth.
I'm 37 years old. I hold a doctorate in education. I have taught preschool, elementary school, middle school, high school, undergraduate, and graduate students over the last almost two decades. I'm going to admit something right now: until about 2 hours ago, I knew very little about Cinco de Mayo. And if you had asked me to throw a Cinco de Mayo party, it would be guacamole, chips, tequila, sombreros, piñatas, and some mariachi music. I want my kids to be better than me.
Here's an article about Cinco de Mayo from National Geographic that provides a brief historical overview: Cinco de Mayo, From Mexican Fiesta to Popular U.S. Holiday. I encourage you to learn more than you were taught.
On a personal level, I want to thank this teacher for opening my eyes. I want to thank my Facebook friends for their honest opinions. I want to thank you for reading this.