At Soom™ Foods, sesame is their passion. Here's how their Tehina is made:
Soom™ Foods sesame seeds come from the North West Metema region of Ethiopia, on the border of Sudan.  The seeds are a variety called White Humera – the best grade in Ethiopia. There are hundreds of farmers who harvest their seeds and sell them to the Ethiopian Commodities Exchange, which  then bid the seeds to various processing plants and other buyers.  Our company's goal is to one day buy our seeds directly from the farmers through a supported collective. From Ethiopia, our sesame seeds are sent to Israel, where they are manufactured into Tehina in a factory in the North.  The sesame seeds are cleaned, roasted, then pressed and cooled to create delicious, 100% Humera Tehina.
Tehina is 100% sesame; roasted and pressed. It's Gluten-Free and peanut-free, delicious, and nutritious!
I have used tehina in a variety of recipes, including hummus, salad dressings, and halvah. For this review/giveaway, I wanted to try a new recipe. I found this recipe for Chocolate Tahini Shortbread Bars from Spabettie that are vegan and gluten-free, but I modified the recipe to create the Chocolate Tehina Shortbread Bars below. With layers of shortbread cookie, tehina filling, and chocolate, the taste is across between halvah and a peanut butter cup. Not too sweet, but just right – the kids and my husband love them!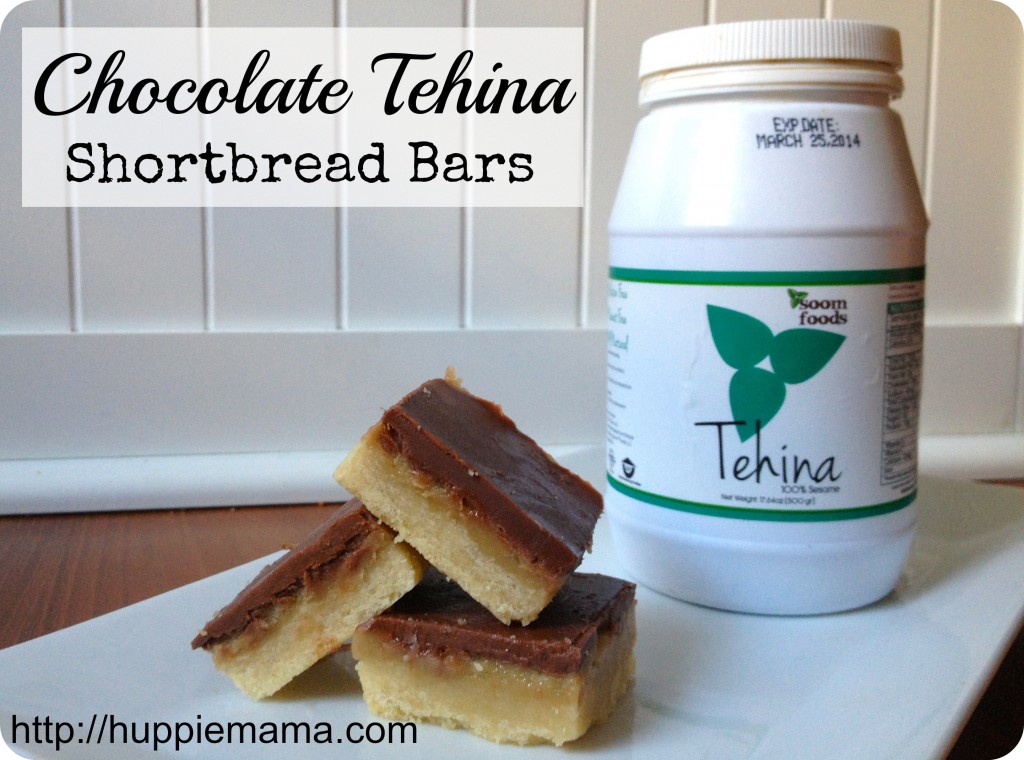 To make the Shortbread Cookie Base:
1/2 cup butter (softened)
3 T sugar
1 t vanilla extract
1 cup unbleached, all-purpose flour
Preheat oven to 350 degrees. Cream together butter, sugar, and vanilla. Stir in flour 1/2 cup at a time. Combine until dough forms (do not over mix). Press into an 8″ x 8″ pan lined with parchment paper, and bake for 20 minutes until it sets up. Remove from oven and cool.
To make the Tehina Filling:
3/4 cup Soom Tehina
1/4 cup butter (softened)
2 cups powdered sugar
1 – 2 T water
Cream together tehina, butter, and powdered sugar; add water (1 teaspoon at a time) and stir until you reach a consistency about the same as the shortbread dough. When cookie base is cool, spread tehina filling in an even layer. Place in refrigerator to set while preparing chocolate topping.
To make the Chocolate Topping:
6 ounces milk chocolate
1 T coconut oil
In a small saucepan, melt chocolate and coconut oil to form a smooth consistency. Remove bars from refrigerator, pour chocolate over top, and spread  a smooth layer over tehina. Tap the pan on the counter to smooth out the surface. Return to refrigerator to set. Cut into 20 bars and serve.
BUY IT! Learn how you can purchase Soom Foods Tehina here.
WIN IT! Enter below to win a 17.6 oz jar of Soom Foods Tehina.
*I received this product for free to review. The opinions expressed are honest and provided without monetary compensation.