This Chocolate-Dipped Pistachio Apricot Biscotti recipe pairs perfectly with a warm Chai tea or cup of cappuccino.
January is Hot Tea Month, which means I have the opportunity to share one of my favorite stories from when Richard and I first started dating. One time when we still lived in Orlando (in separate places), he had a really bad day, and I decided to bring a special treat to his house to cheer him up. I had just seen a chef on the Food Network make chai tea, and it looked delicious. I went to the grocery store, grabbed a box of tea, all of the required spices, and milk. I returned home to make a pot of tea to bring to his house. The warm, earthy spices are so comforting on a bad day. He loved it! This became our tradition: when Richard had a bad day, I'd make him a pot chai tea. Today, I'm sharing a shortcut to making vanilla chai tea along with a delicious recipe for Chocolate-Dipped Pistachio Apricot Biscotti, the perfect pairing.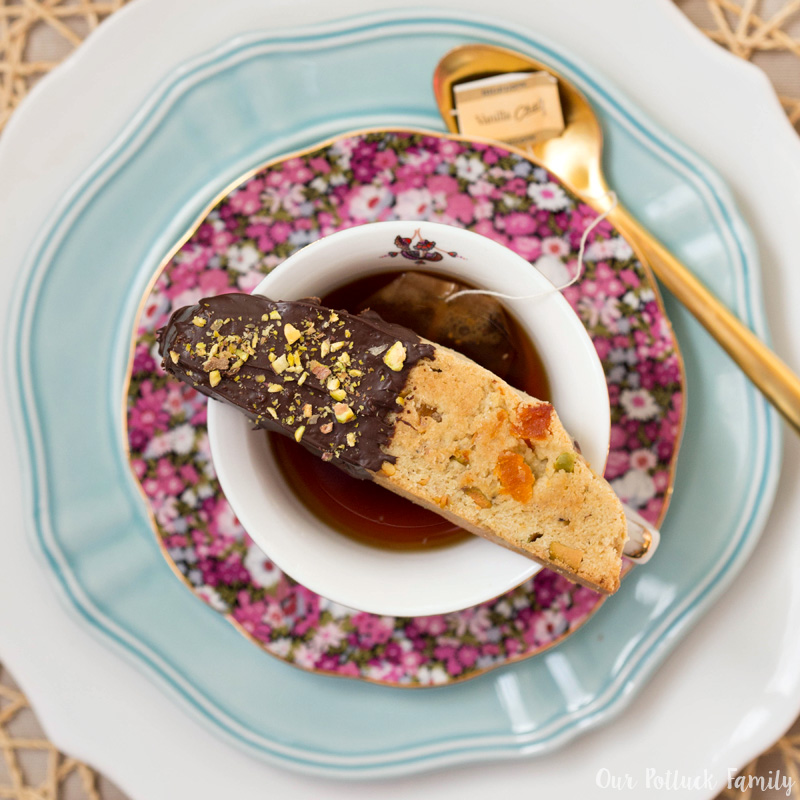 Ingredients:
1 1/2 c flour
1/2 c sugar
1 stick butter, softened
1 egg
1/2 t baking powder
1/2 t vanilla extract
1/8 t ground cloves
1/3 c roughly chopped pistachios + 2T finely chopped pistachios
1/3 c diced dried apricots
4 ounces dark chocolate chips
Directions:
Preheat the oven to 350 degrees F. Begin by gathering all of your ingredients. I tried to select flavors for this biscotti that I thought would complement the flavors of the vanilla chai tea: pistachios, dried apricots, vanilla, and ground cloves. These are all very warm, earthy ingredients that go well with each other.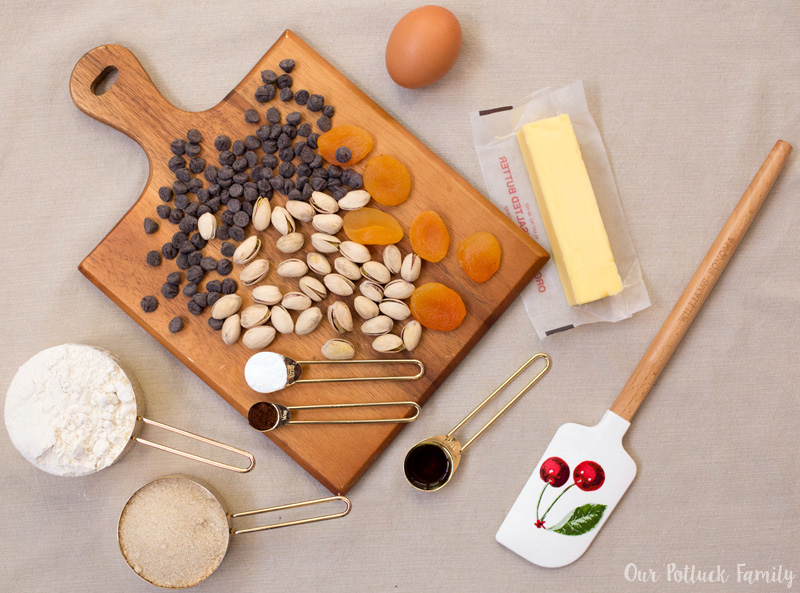 In a stand mixer, cream together the butter and sugar for several minutes until light and fluffy. Add the egg and vanilla until combined. In a separate bowl, sift together the flour, baking powder, and cloves. Slowly add the dry ingredients to the wet ingredients until combined. Then quickly stir in the roughly chopped pistachios and diced dried apricot.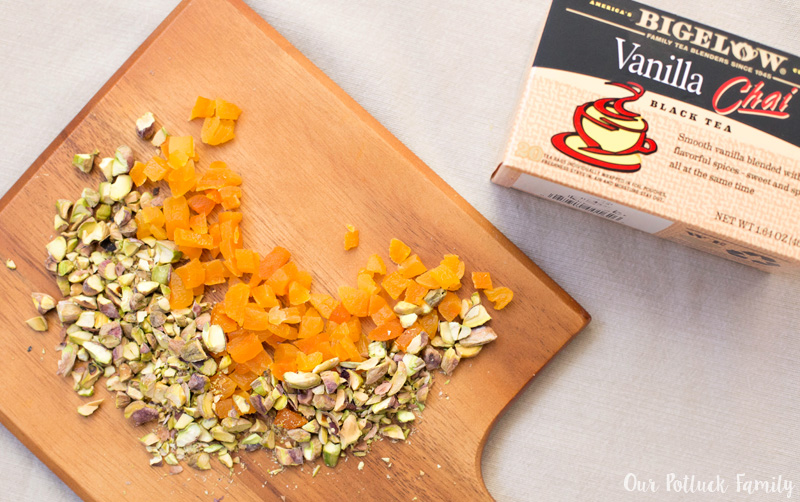 Turn the dough out onto a baking sheet. Form the dough into a log shape that is approximately 5″ wide and 1.5″ thick. Bake the dough for 25 minutes.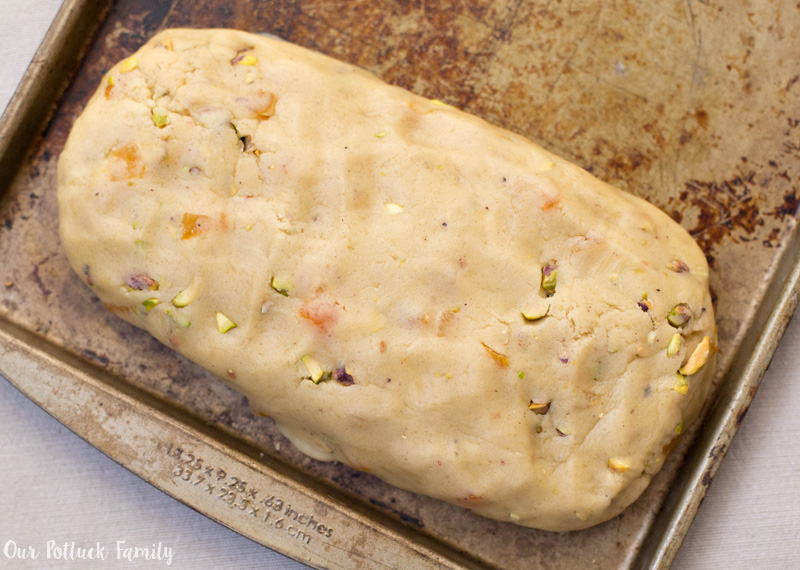 After removing the cooked dough from the oven, allow it to cool completely. Turn your oven down to 300 degrees F. Do you know why these delicious cookies are called biscotti? Biscotti means baked twice, so now that we've baked it once, it's time to go again. Slice the cooled log using a sharp bread knife into pieces that are about 3/4″ thick. This will make 10 – 12 cookies.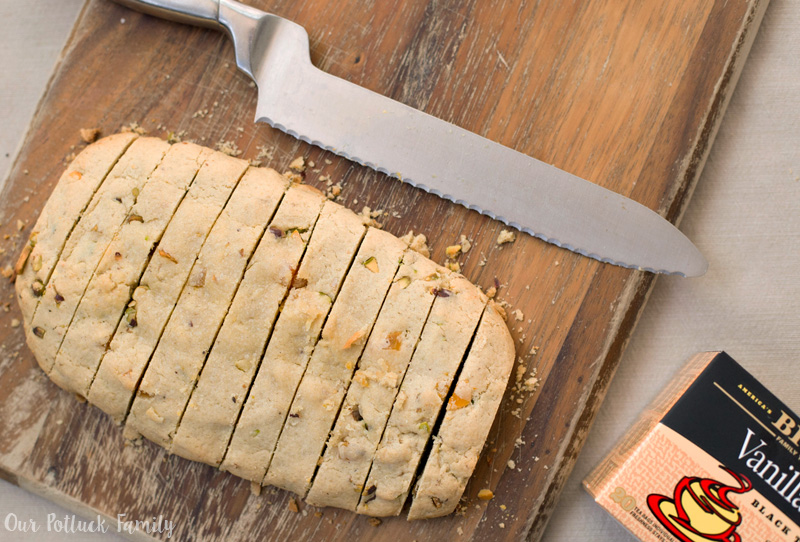 Lay the biscotti on their flat sides and bake again for about 10 minutes until they are drier, firmer, and are slightly golden. Remove from the oven and cool completely.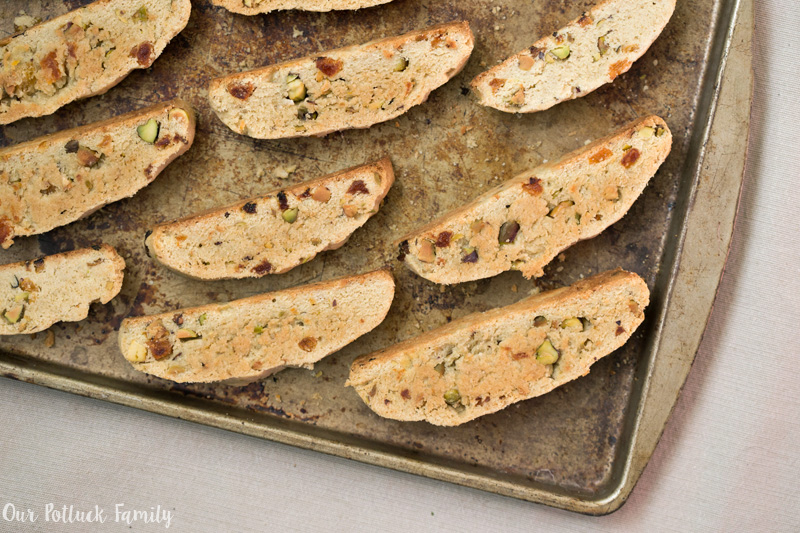 Now, of course, these cookies would be delicious as is… but why not make them even better? In a small glass bowl, melt your chocolate chips in the microwave by adding 15-second intervals and stirring in between until you reach your desired texture. Dip about 1/3 of each biscotti into the chocolate (I used a butter knife to smooth the chocolate out).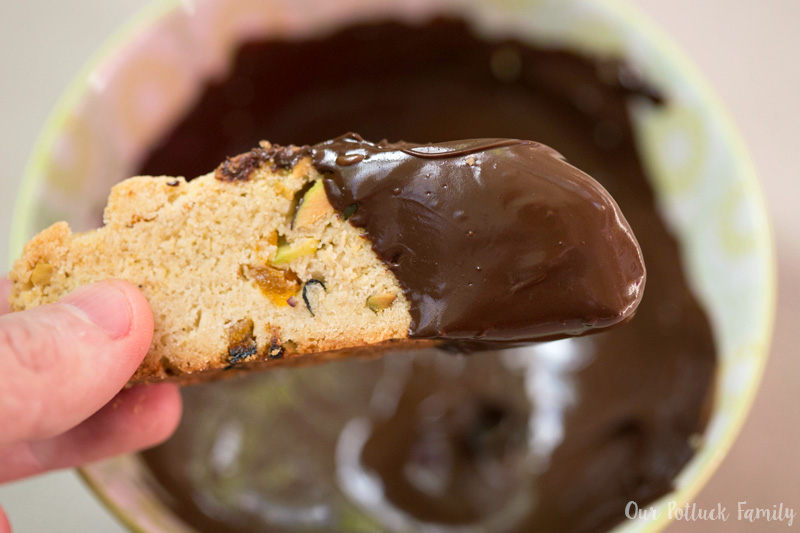 Place the chocolate-dipped biscotti on a cooling rack. Sprinkle each one with the finely chopped pistachios. Place the cooling rack into the refrigerator until the chocolate is firm. Now they are ready to serve!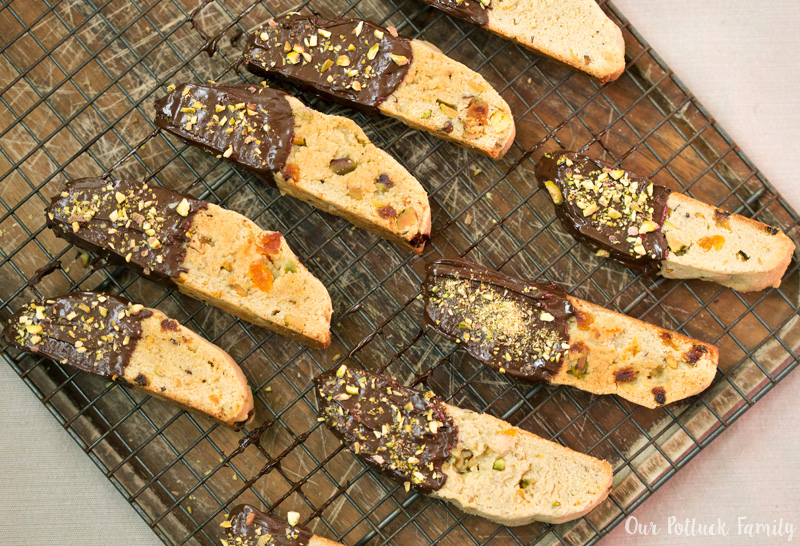 While you're biscotti are cooling, it's time to make some tea! I chose Bigelow Vanilla Chai Tea to complement my chocolate-dipped pistachio apricot biscotti, but you may prefer one of Bigelow's many other flavors, like Cozy Chamomile or Mint Medley. Tea proudly by sharing your favorite variety and pairing it with a delicious bite!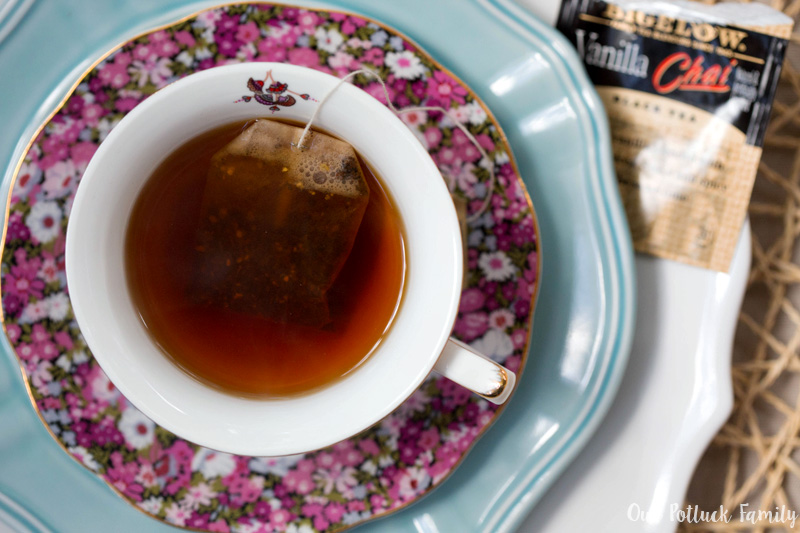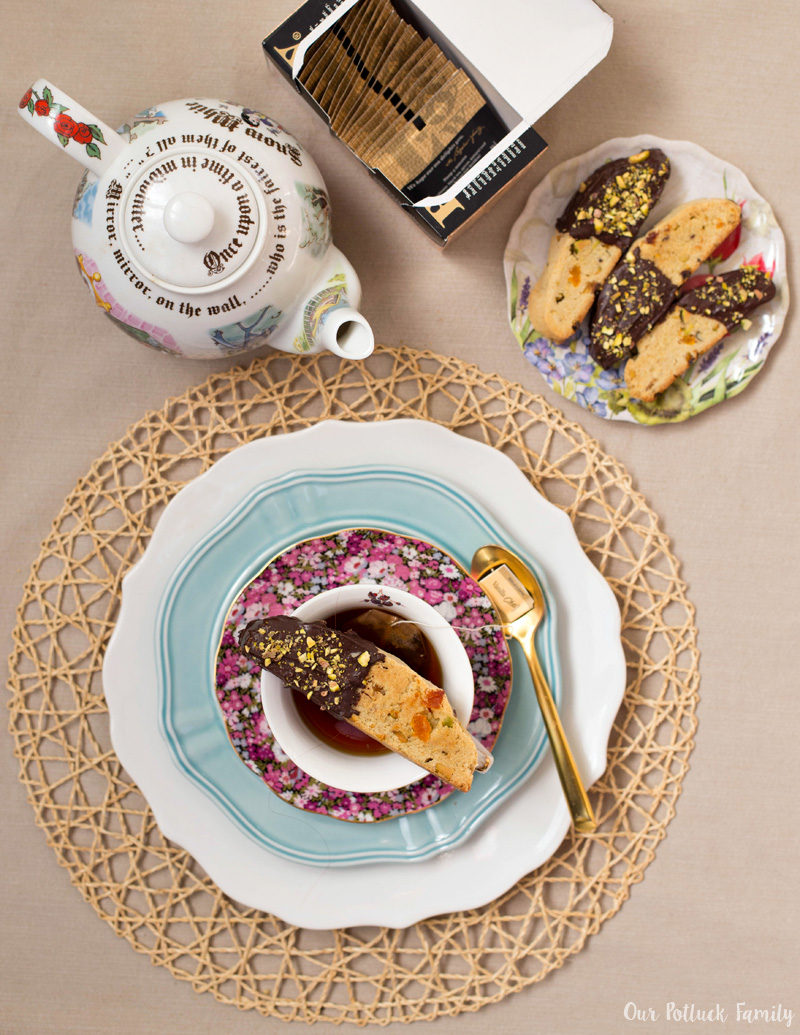 Once the chocolate has set, your biscotti are ready to serve with your Bigelow Tea. Set a table for yourself or share with a friend. Plan out your new year's goals, discuss old memories with a friend, enjoy time with your significant other while you tea proudly!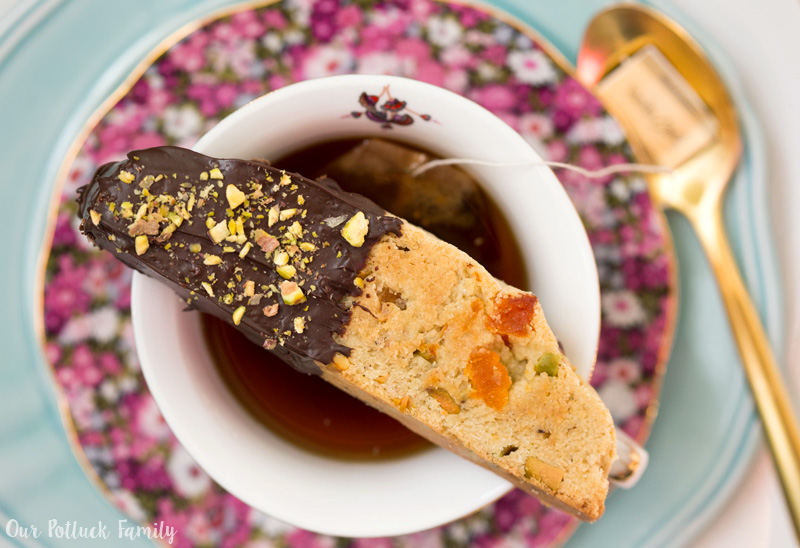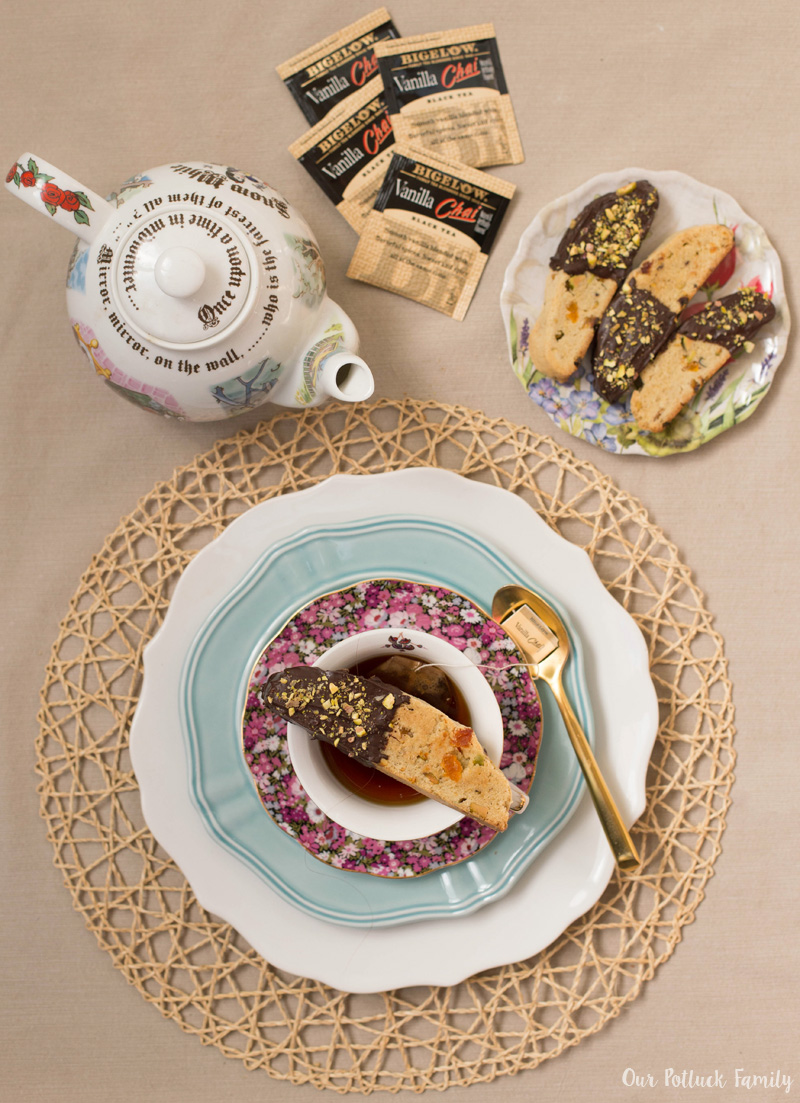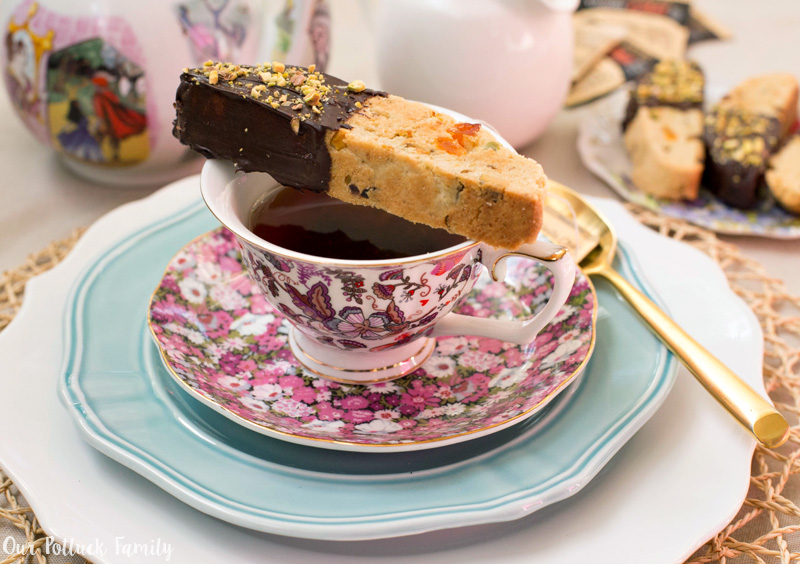 Head to Walmart where you can find so many varieties of Bigelow tea. Pair your tea with the perfect bite, like these chocolate-dipped pistachio apricot biscotti. And remember, January is Hot Tea Month.
How do you Tea Proudly?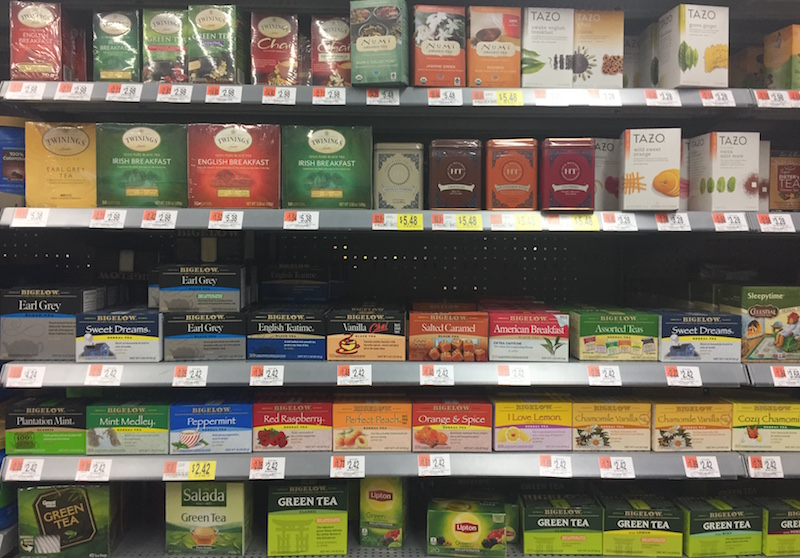 Enter below to win the Ultimate Relaxation Getaway Sweepstakes!
#TeaProudly Bigelow Sweepstakes