This cherry tomato crostini recipe is a delicious vegetarian appetizer made with grilled bread, garlic, tomatoes, ricotta, and fresh herbs.
For Father's Day, Richard got an awesome new grill. One half is charcoal, and the other half is gas. We've been trying out some new grilling recipes. I love making grilled chicken, steaks, sausages, and other meats, but grills are also great for vegan and vegetarian dishes. I wanted to make something extra delicious that really highlighted seasonal ingredients, so I made this Cherry Tomato Crostini. The bread is marinated in a combination of olive oil, garlic, and thyme – then topped with tomatoes, basil, and ricotta cheese. Check out how to make this delicious appetizer below, along with other grilling recipes that can be made with Western Premium BBQ smoking chips.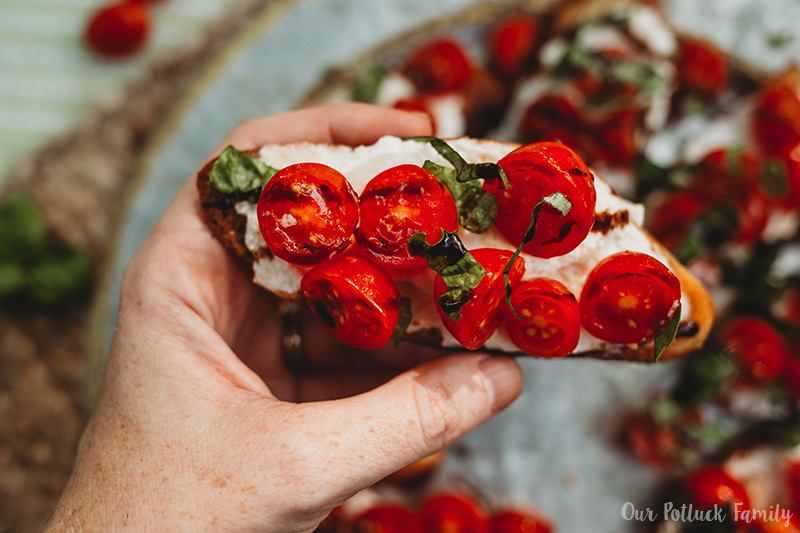 Cherry Tomato Crostini Ingredients:
1 baguette
3/4 cup olive oil
2 T fresh thyme leaves
2 cloves garlic, crushed
Fine sea salt
Freshly ground black pepper
2 cups cherry tomatoes
Fresh basil
1 cup ricotta cheese
Balsamic vinegar
Handful of Western BBQ Cherry Smoking Chips
Cherry Tomato Crostini Directions:
Cut the baguette on the diagonal into 3/4-inch-thick slices. Toss the bread in a bowl with 1/4 cup olive oil and thyme until lightly coated. Add the garlic to the bowl and toss again. Cover tightly with plastic wrap, and let it sit at room temperature for a few hours or up to overnight. Pro tip: rather than using a bowl and plastic wrap, you can toss it all together in a large zipper bag and seal it up to marinate.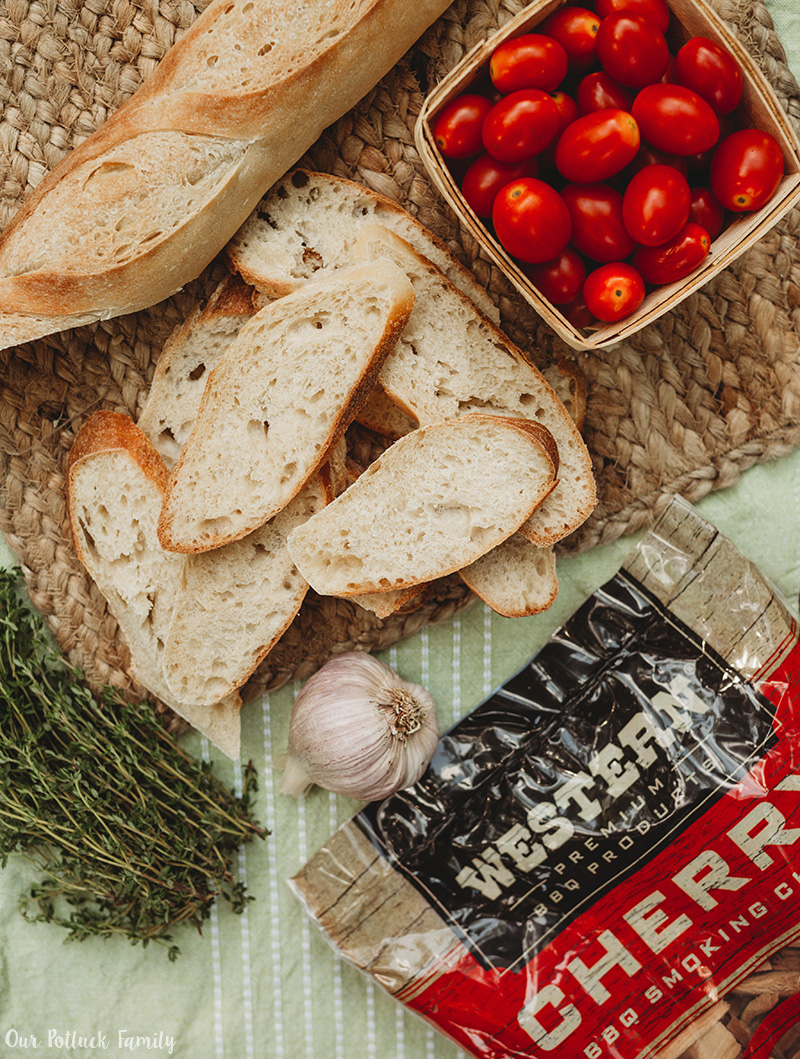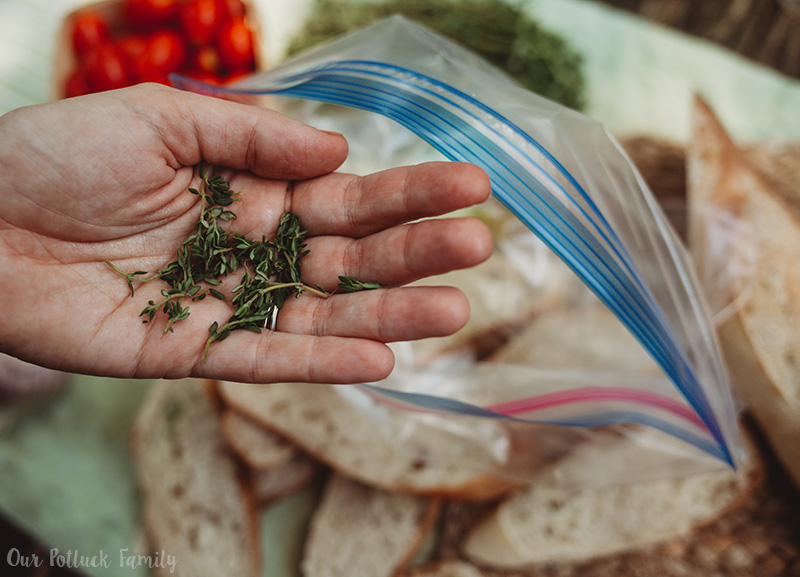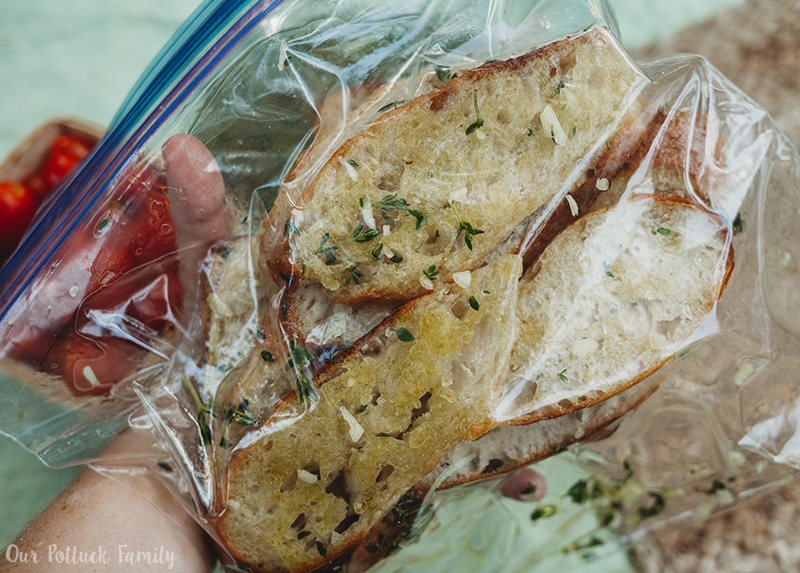 For a gas grill, preheat to medium-high and place Western Cherry Wood chips in a smoking tray or arrange in a foil pack and place directly over the hottest part of the grill. This is what we did, as you can see in the images below. For a charcoal grill, prepare a fire and then place a handful of Western Cherry Chips directly on the hot coals or place chips in a smoking tray and place on the grill. The Western Premium BBQ smoking chips add a great smoky flavor to your recipes!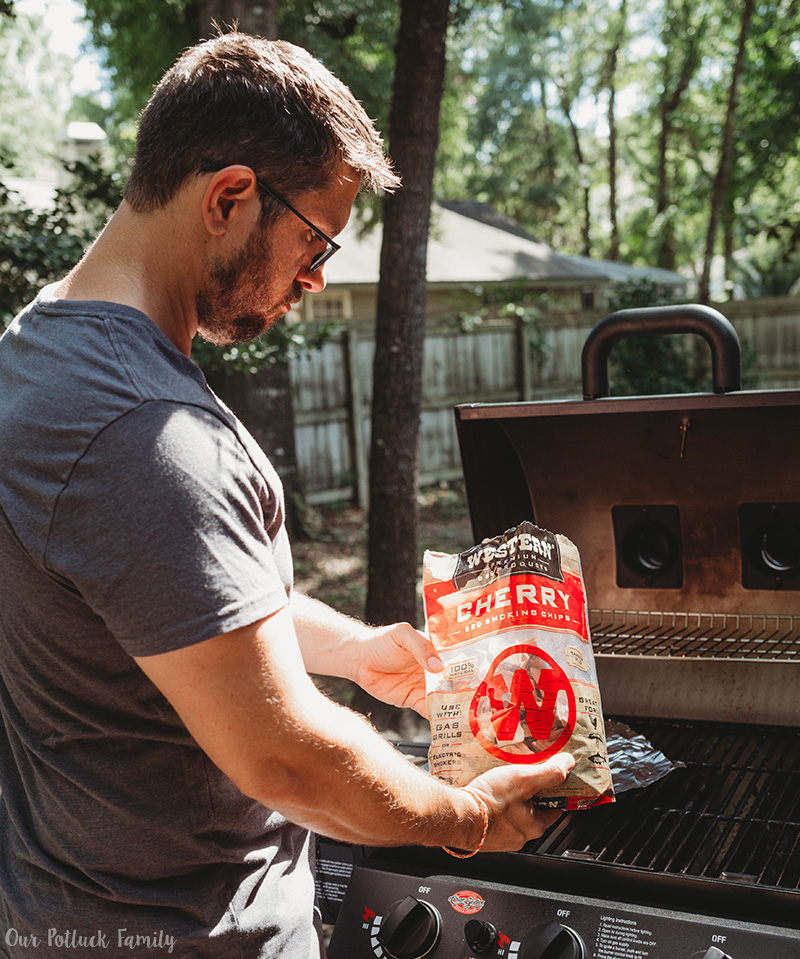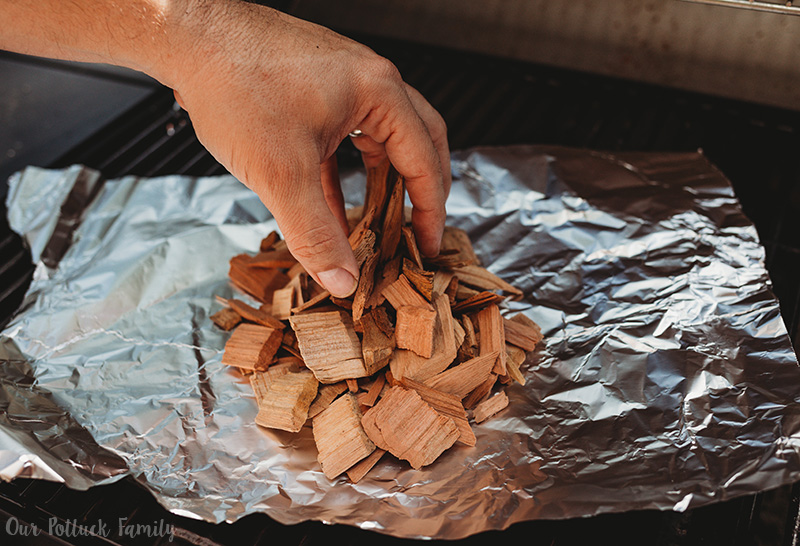 Season the sliced bread with salt and pepper to taste. When the grill is hot and chips are smoking, arrange the slices of bread on a hot grill and grill until golden brown and slightly charred, about 1 to 2 minutes. For best results, at least half of the cooking time should be with the lid closed to infuse the wood chip flavor.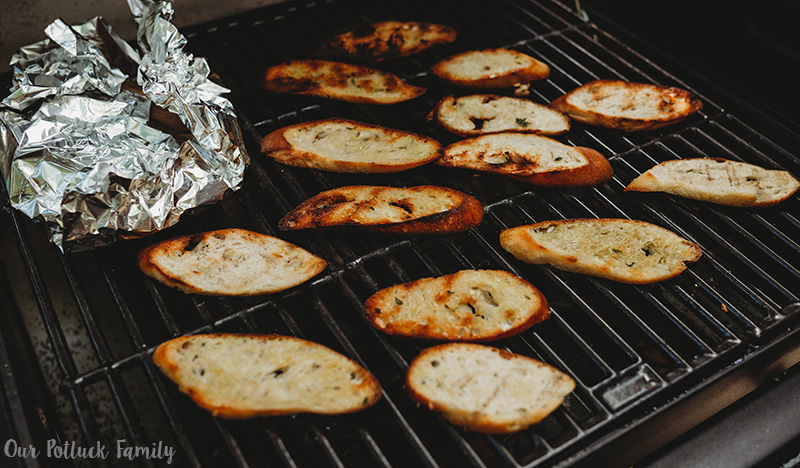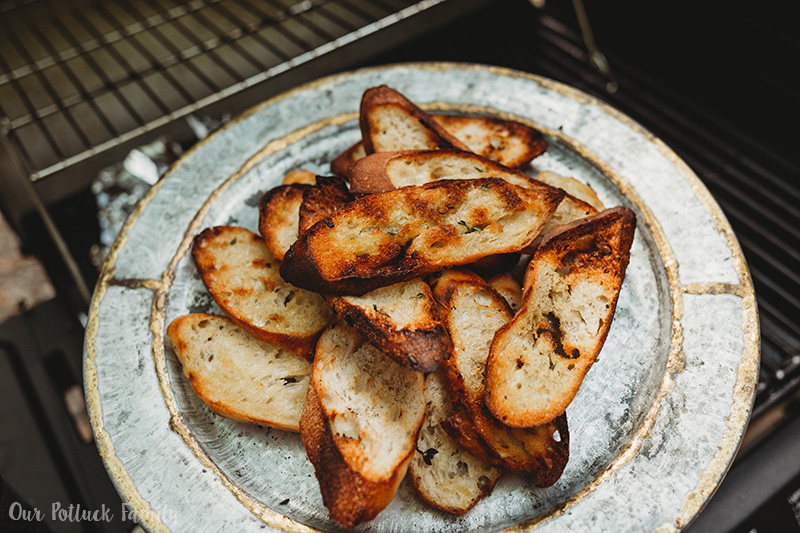 The original recipe did not call for cheese, but I just love ricotta on my toasted bread, so I added about a tablespoon of ricotta to each crostini. The creaminess of the ricotta balances with the crisp toast perfectly.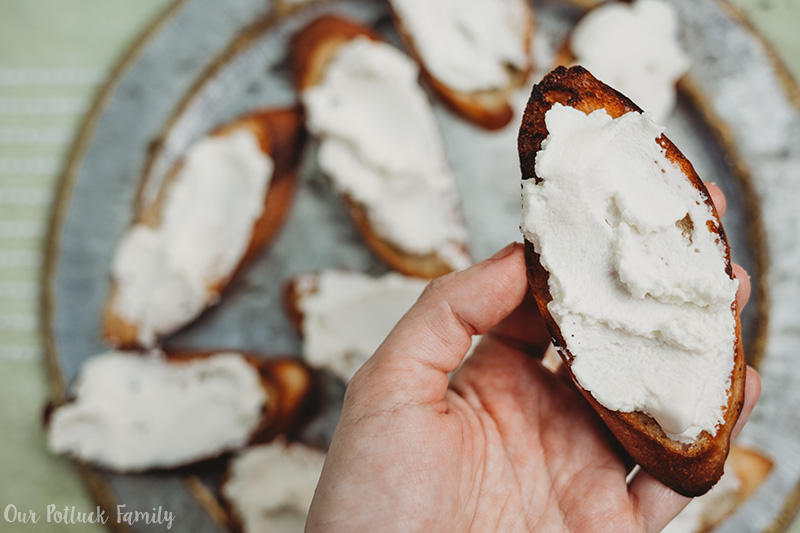 Slice the cherry tomatoes in half and toss with the remaining olive oil along with salt and pepper.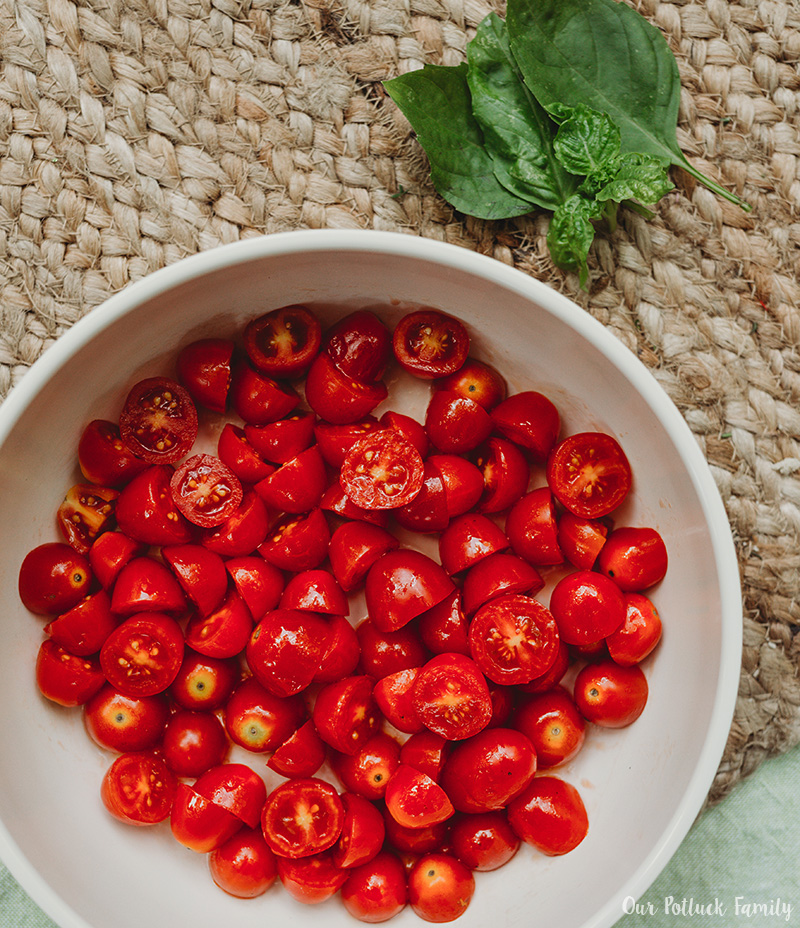 Spoon the cherry tomatoes onto the toasted crostini bread. Garnish with fresh basil and drizzle balsamic vinegar over the top.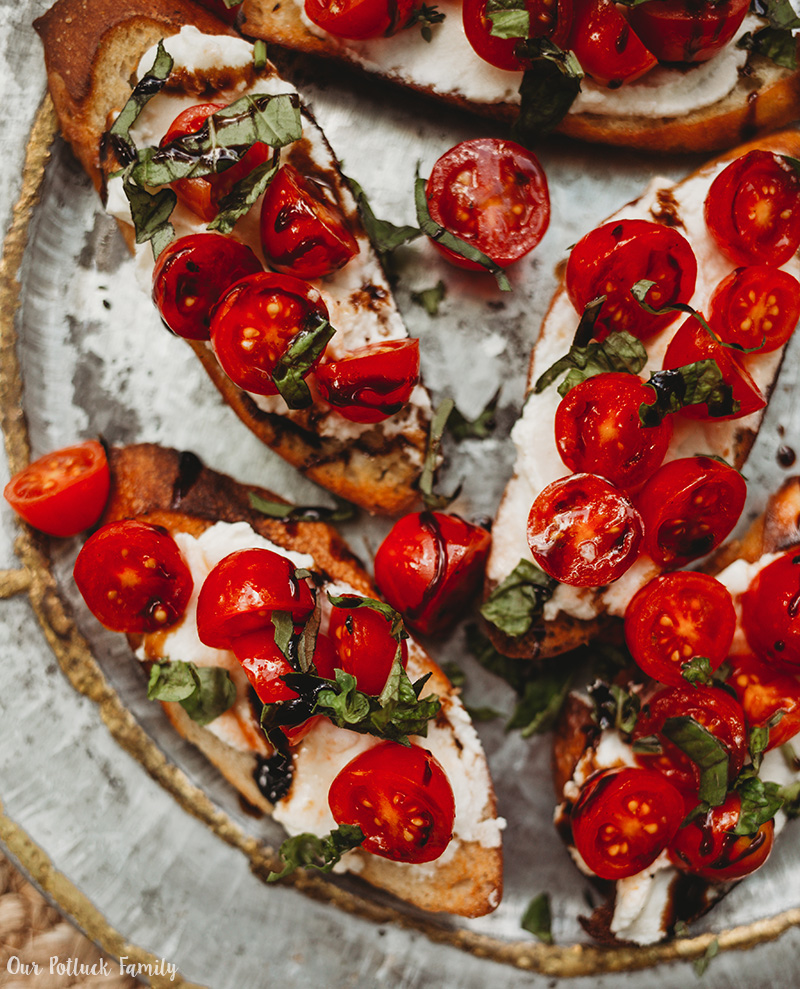 Head to Walmart where you can find Western Premium BBQ smoking chips in several varieties, including Cherry, Mesquite, and Apple in the lawn and garden area. Each one brings a different flavor to your favorite barbecue recipes. Western BBQ products provide a natural solution to all your grilling needs. For over 30 years, they have promised a consistency and quality that is bound to bring people together over great barbecue.
Learn more at westernchipmaster.com – watch a how-to video, get great recipes, and play the instant win recipe match up to win Walmart gift cards and western BBQ gift packs.
Want to make this Cherry Tomato Crostini on your grill?
Pin the Cherry Tomato Crostini image below!