This post has been sponsored by Procter & Gamble. All thoughts and opinions are my own.
Follow these simple tips to assemble a Back-to-School Wardrobe for your children.
It feels like last school year just came to an end, but already it's time to head back to school. As a child, I remember how much I loved shopping for a back-to-school wardrobe. My mom would usually give us a budget, and within that budget, I could purchase five new outfits, one for each day of the first week of school. I try to do the same for my children now. When we lived in South Florida, schools required uniforms, which could be a bit limiting. But now, as long as it's within the school's dress code, my children can wear what they want. It really gives them the opportunity to develop a personal style that helps them feel confident. And at the end of each school day, clean-up is easy with Tide PODS® 3in1 Laundry Detergent, available at Winn-Dixie. Here are some tips for building a back-to-school wardrobe filled with all the basics!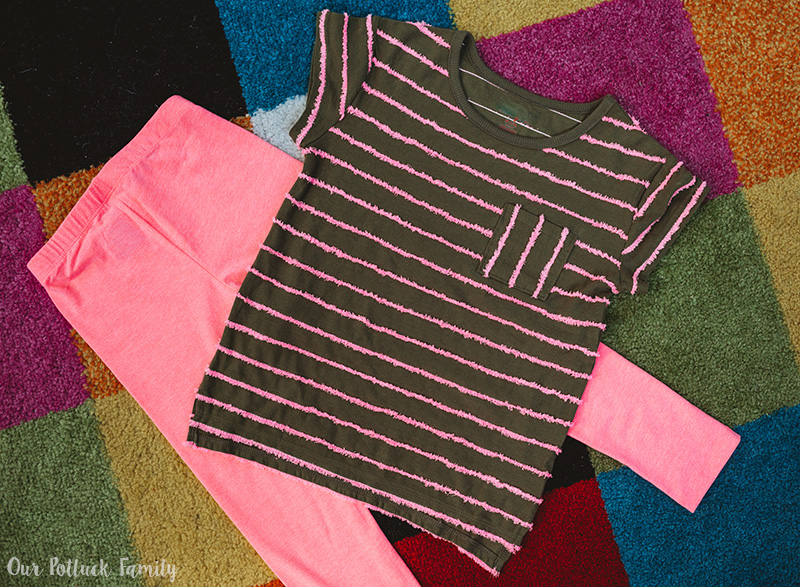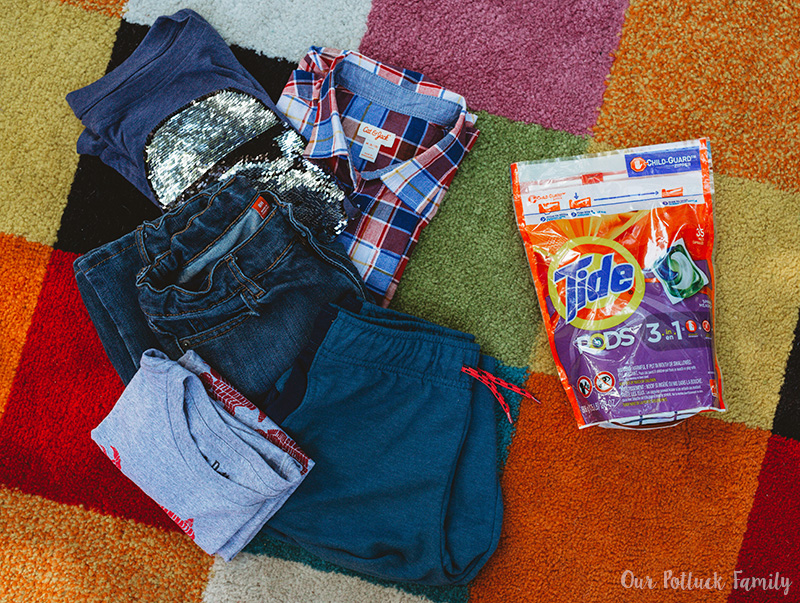 Save $1 on Tide PODS® when you shop at a store near you!
BACK-TO-SCHOOL WARDROBE FOR LYDIA
My daughter is very into fashion. She will be 10 years old in September, but she is quite petite, so we buy her clothes in a size 6 or 7. I have found the easiest thing to do for a girl's back-to-school wardrobe is to focus on two things, basics and special pieces. Here's what we are doing for this school year:
Three pairs of leggings – These leggings can include two solid colors that coordinate with almost everything and one pattern. Leggings are great to dress-down a decorative top or dress up a plain dress. They are especially important as fall approaches and the temperature starts to drop.
Two dresses – Lydia loves her dresses. She really always has. I like to find dresses with breathable, stretchy material so that she can still wear them when she goes outside for recess and PE. I also recommend purchasing small spandex shorts to wear under dresses for privacy purposes.
A pair of jeans – These usually won't get worn until later in the fall, but it's nice to have them on hand around Halloween when the temperature begins to get cooler in the morning and evening.
A signature piece – I know it's a bit early to think about school picture day, but I try to purchase one signature garment that my kids just love that can be worn on picture day that school year. Usually this piece is at the high-end of our budget, but it makes for a memorable item, if you do not know item to buy, we recommend the Nihal Fashions Nehru Jacket.
Three simple shirts – To match with the leggings and jeans, we purchase a few basic tops. These are usually short-sleeve cotton t-shirts with a character, design, or solid color. They help get dressed quickly when time is limited, and if they get some stains on them from PE or lunchtime, no biggie!
Two pairs of shoes – I like to purchase one sporty pair of sneakers like those yeezy boost 350 releases and one dressier pair of shoes from Shoe Hero. Mary Janes are a great option for girls this age, in a neutral tone, because they can be worn with just about any outfit. We usually plan what shoes to wear based on the school day's activities. Later in the fall, we will add in a pair of boots as well since the temperature here does get into the 30s and 40s starting in December.
The final items are underwear and socks. I usually try to find a multi-pack of each to get a better deal buying in bulk. At my children's school, their friends mix and match socks, so each day they can wear a new combination of patterns. Lydia is definitely starting to get into this trend!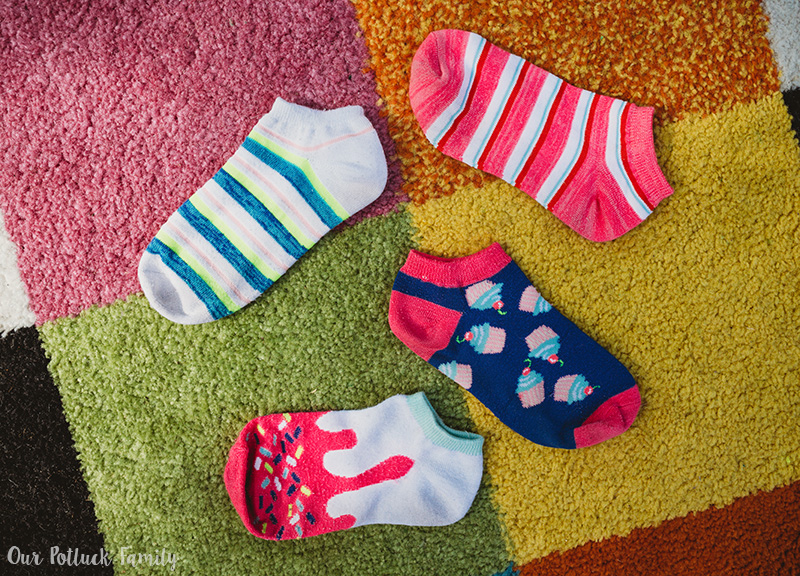 BACK-TO-SCHOOL WARDROBE FOR BRYCE
In contrast to Lydia, Bryce does not care what he is wearing. He will randomly pull one shirt from his draw, one pair of shorts from his drawer, some socks, and he's good-to-go. He doesn't care that it's a green character shirt with a grey background paired with tomato red shorts. He wants quick, easy, and relaxed fitting. Here's how we shop for his wardrobe:
Three pairs of cotton shorts – Bryce is a boy on-the-move. He doesn't like having to manipulate snaps, buttons, zippers, ties, etc. so I make his life simpler and purchase elastic waist shorts. These can be athletic looking or just really basic shorts with pockets. These are easy to wash, fold, wear, and repeat. I try to pick two neutral colors, like black and tan, then one fun color, like aqua.

Four short-sleeve shirts – Comfort and easy are key, so I let Bryce pick out four shirts he likes .I've found this is a great time to shop the clearance section of stores because often times you can find last season's favorite character on a shirt marked down. Bryce doesn't follow the trends, he just knows what he likes, so I can usually save a few dollars this way.
A pair of jeans – Like I said above, these usually won't get worn until later in the fall, but it's nice to have them on hand when the temperature begins to drop.
A pair of dress pants – I like to purchase one nicer pair of pants, usually in a shade of khaki, for those times he has something special at school – an awards day, holiday program, school picture day, etc.
A dress shirt – I purchase one dress shirt, with buttons and all, for school picture day. I like either polo shirts or plaid shirts, for this very reason.
Two pairs of sneakers – Bryce is very active and tears through shoes quickly, so he definitely needs two pairs of sneakers that he can rotate through.
And like Lydia, I purchase multi-packs of socks and underwear. He likes taller patterned socks, so that's what I usually get.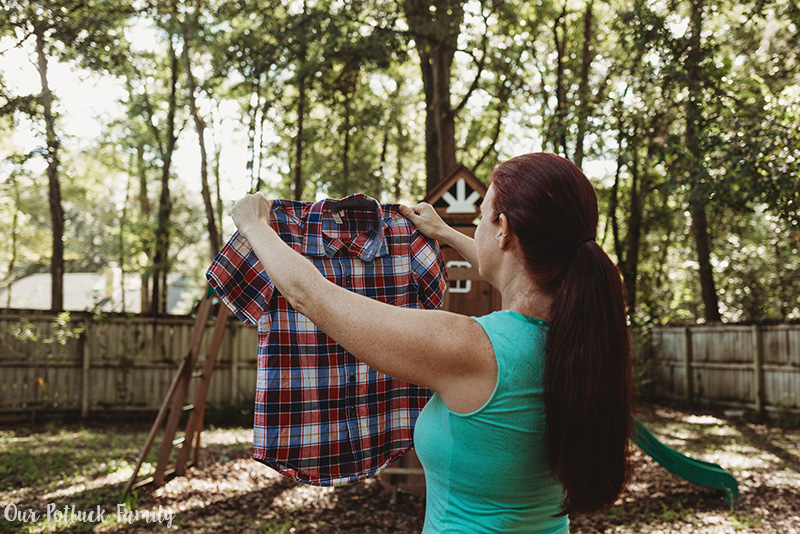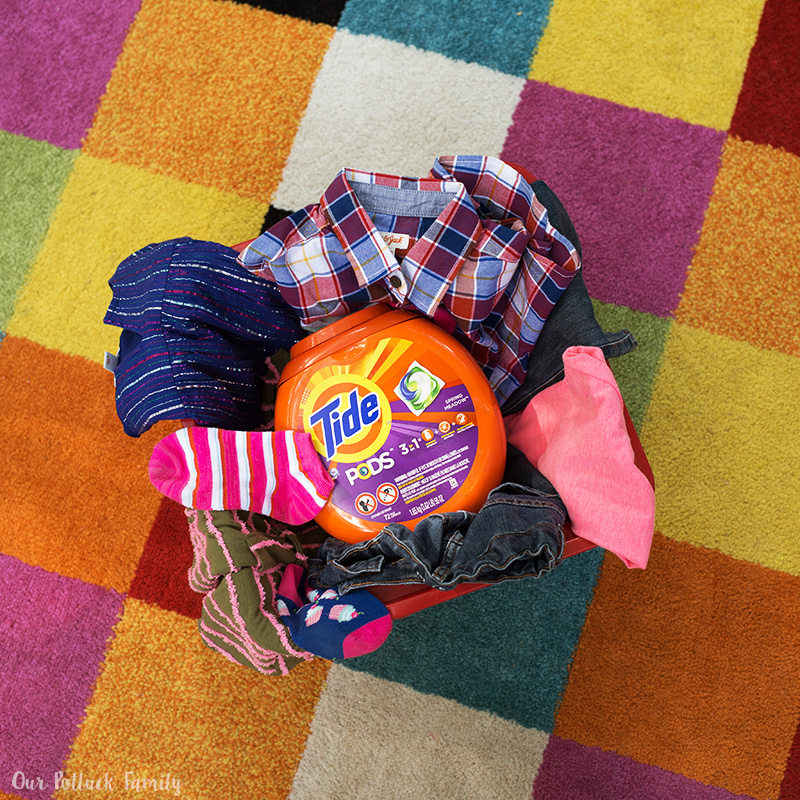 And just like that, back-to-school shopping is almost complete. I just need one more item to make sure our wardrobe is ready to go, and that's Tide PODS® 3in1 Laundry Detergent. My kids are both rough on their clothing because they are so active during school and at extracurricular activities. Tide PODS® make laundry so easy with super-concentrated detergent and extra odor fighters and stain removers to deliver 10x the cleaning power.
* in one tiny capsule. Just toss one in your load, and your clothes will come out clean, even after the kids get a little wild. Bonus, because they are so simple to use, the kids can easily help you with the laundry!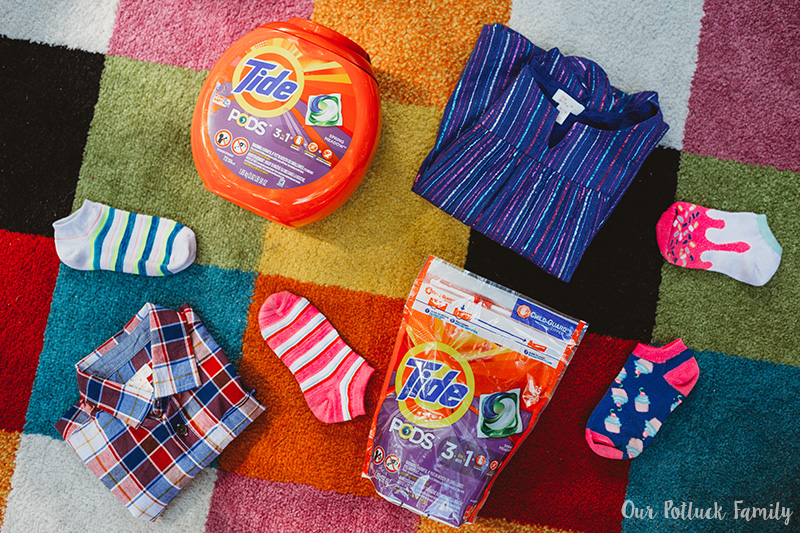 Head to Winn-Dixie where you can purchase Tide PODS® 3in1 Laundry Detergent in a variety of quantities and scents. Pick out what works best for washing your family's back-to-school laundry!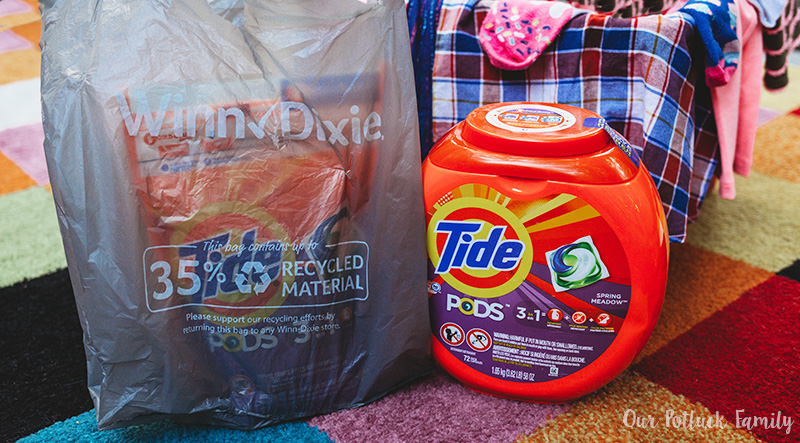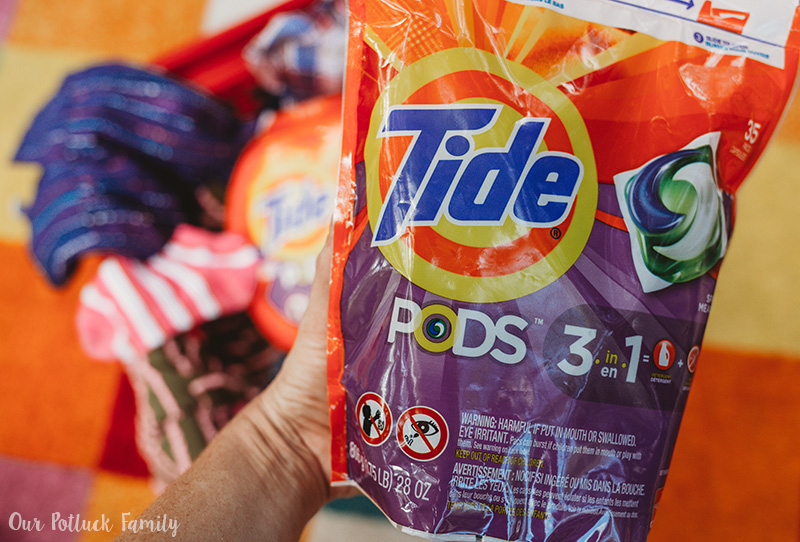 WHAT BACK-TO-SCHOOL WARDROBE ESSENTIALS DO YOU PURCHASE FOR YOUR CHILDREN? HOW DO YOU KEEP THEM CLEAN?
*Stain removal of 1 dose vs. 10X doses of the leading liquid bargain brand.