Fine motor skills involve small movements of the fingers, wrists, hands, feet, toes, tongue, and lips. Whether your child is developing typically or has motor delays, here are 50 Super-Fun Fine Motor Activities
*All of these are meant to be done with parent participation and guidance. Do not leave young children unattended with items that could be choking hazards.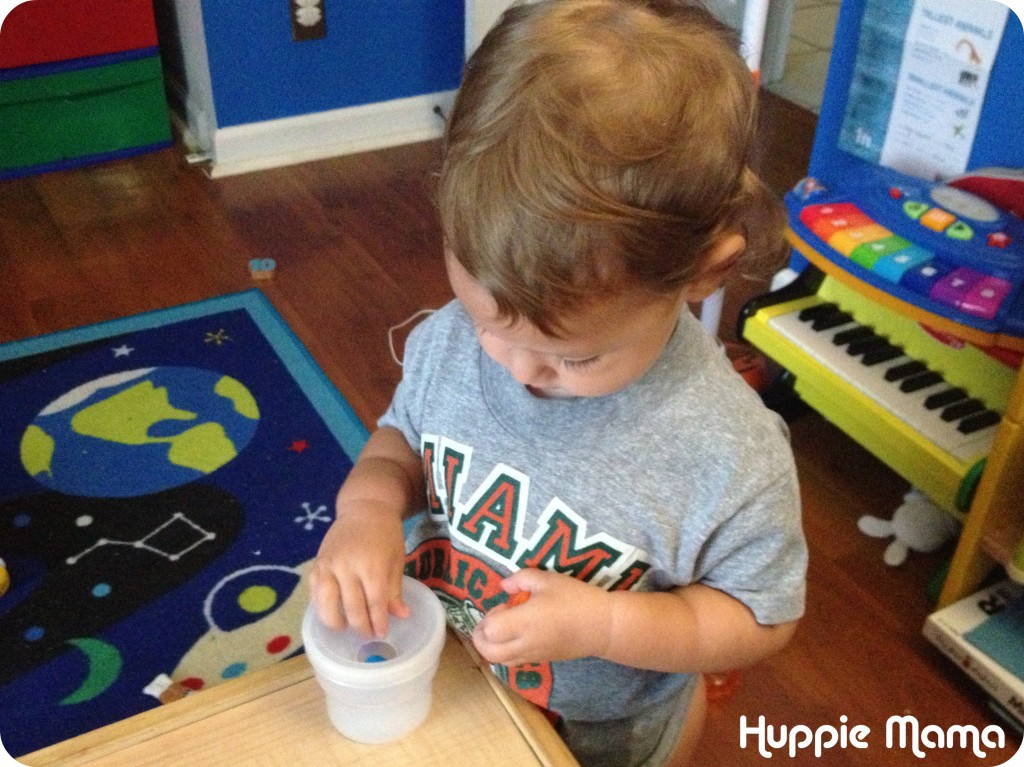 Ideas for infants & toddlers (6 months – 2 years)
Child tears different types of paper, like tissue paper, construction paper, computer paper, and card stock, and glues all the scraps to one larger piece of paper to make a collage.
Parent fills a large zipper bag with something squishy (e.g. shaving cream, tempera paint, play dough), seals the bag, and places it on a flat surface. Child manipulates the bag's content by poking and pushing it around without making a mess.
Child plays with stickers. Younger children will need assistance taking the sticker off the sticker page, but they can practice placing them on papers to make different pictures. Try varying the size and colors/designs of the stickers.
Child plays with magnets on a cookie sheet. Parent can choose magnetic letters/numbers, magnets from your refrigerator, or any other type of magnet you have.
Child strings pasta. Try shorter or longer pasta, larger or smaller holes, thicker or thinner string.
Child places coins in a piggy bank.
Parent makes edible finger paints with vanilla pudding and either food dye or natural colors (like pureed strawberries). Put out a big table cloth or tarp and let the children strip down to diapers and have fun.
Child uses large-handled stamps with big stamp pads on paper.
Child plays with hand or finger puppets.
Child turns pages in a book. Begin with board books, and move on to regular paperback books.
Child puts on mittens or gloves. Your child can also practice picking up different items with the mittens or gloves on their hands.
Child plays with toys in a water table.
Parent pours paint into a bowl. Child grabs a piece of yarn several inches long, coats it in paint, and runs it across a paper to make different squiggly designs.
Child finger-feeds small bites of food, like peas, blueberries, and cereal.
Parent draws different shapes on heavy paper (construction paper or card stock) with marker and laminates the pages. Child takes play dough and fills in the shape.
Parent and child make homemade play dough together. Practice flattening with a rolling pin and cutting with cookie cutters.
Parent and child use glue to make a picture on a paper. Sprinkle spices on to the glue to make a yummy-smelling piece of art. Some of my favorites are cinnamon, nutmeg, and cloves.
Parent and child bake cookies together. Have your child pour the ingredients in a bowl, stir the ingredients together, and form cookies. Of course, use your hands to eat them after!
Child uses bingo dabbers to make colorful pictures.
Child uses kitchen utensils to paint. Try a potato masher, spoon, or whisk.
Parent fills a bin with dried beans and uncooked rice. Add small toys for the children to sift through and find.
Parent cuts letters or the outline of different shapes out of sand paper and glues them to card stock. Child traces the letter or shape with his/her finger.
Parent lays out lots of clean socks (fresh out of the laundry). Child visually scans all socks to find matching pairs.
Parent spells words on paper by tracing large magnetic or foam letters. Child matches the letters by placing them on top of the outline.
Parent fills a squirt bottle with water. Child squeezes the squirt bottle to water plants.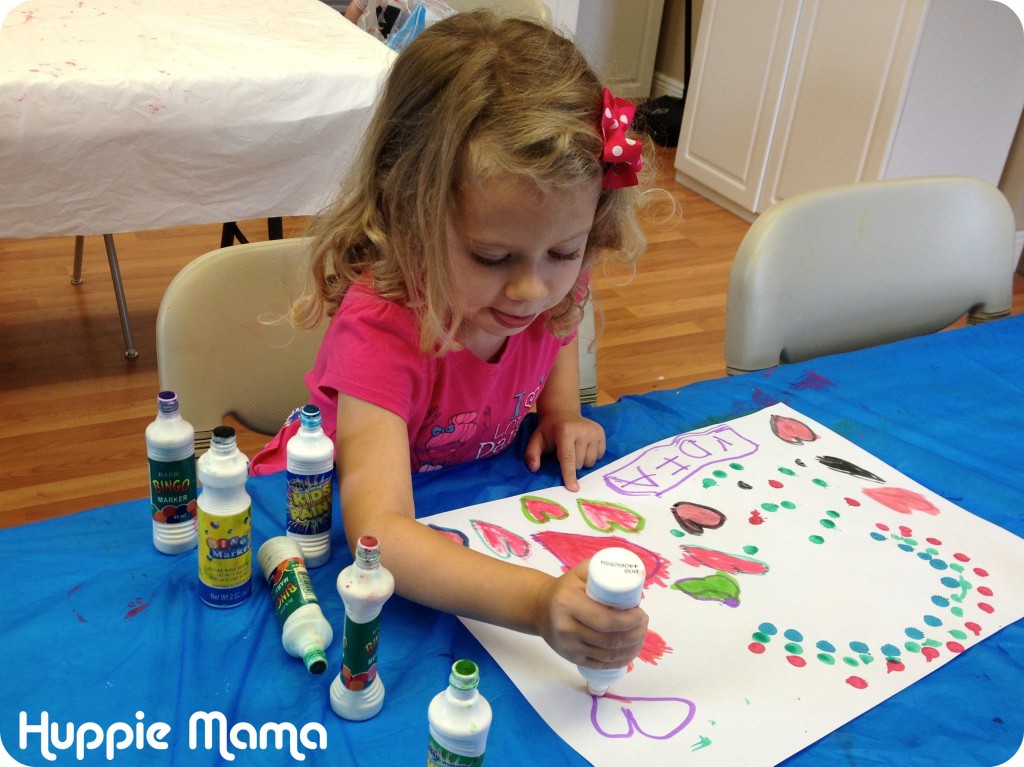 Ideas for preschool & early elementary-age (3 years – 7 years)
Parent uses a highlighter to draw shapes, write letters, or write words on paper. Give your child a darker pencil or marker to trace over your lines.
Parent draws different types of lines, like straight, zig zag, and wavy lines on paper. Child cuts along all the different lines using small scissors with rounded ends.
Parent cuts a straw into small segments and ties a knot at the end of a shoelace.  Child strings small pieces of the straw on to the shoelace.
Parent takes small objects, like coins, counting bears, or plastic bugs, and 'buries' them inside a container filled with play dough. Child will have to dig through the play dough to retrieve all of the objects. If you want to make it more challenging, use silly putty instead of play dough.
Child uses tongs to grab pompoms and places each one in an opening in an ice cube tray.
Child and parent form small balls out of play dough. Child uses a fondue fork to pierce the balls and move them into a dish.
Parent breaks crayons into small pieces. Child uses these smaller pieces to color, which encourages the child to use a much better grasp.
Parent takes a sheet of lined paper and traces every other line with lines of white glue and allows the glue to dry so that it creates raised lines. Child writes on the lined paper with a pencil. The hardened glue lines indicate where the child must stop when forming letters to work on appropriate sizing.
Parent places a piece of regular paper over different textured surfaces (e.g. needlepoint canvas, sand paper, crinkly aluminum foil). Child writes on the paper and feels the different textured surfaces.
Child uses different types of hole punches to make decorative paper.
Child uses alternative writing tools to write in different materials. This can include writing in sand/dirt with a twig, writing with a cotton swab in shaving cream, or writing with a finger in frosting.
Child and parent play a game of Connect Four together.
Parent combines pieces from two to three different, similar-shaped puzzles. Child must visually scan all the pieces to sort the pieces and complete each puzzle.
Parent creates a matching game by printing the child's favorite items or characters (two of each item). Parent lays out all the picture cards face-up and the child visually scans to make matches. To make this more challenging, print pictures that are similar (e.g. Minnie Mouse pictures with similar bows, cats with different color fur).
Child braids or knots several pieces of string/yarn to make friendship bracelets.
Parent cuts a kitchen sponge into 1″ squares and pours paint into a plate. Child holds the small piece of sponge to paint on paper.
Parent creates sewing cards by printing the child's favorite photographs or characters on to card stock and punching holes around the perimeter of the item in the picture. Child uses shoe laces to sew.
Child sorts cereal pieces (e.g. Lucky Charms, Fruit Loops) or candy (e.g. M & M's, Reese's Pieces) into separate cups.
Child is given a bucket of water and a large paint brush. Child uses the water to 'paint' on the driveway or sidewalk.
Parent and child play dress up together. Child can practice closing fasteners, such as buttons, snaps, and ties.
Parent and child garden together. Child is given the opportunity to dig holes and place seeds in each hole.
Parent instructs child to press small buttons on household appliances, such as the microwave, washer/dryer, telephone, or TV remote.
Parent and child collect different flat items from outside (e.g. pieces of bark, leaves, flat stones). Child uses the side of a crayon to make rubbings on paper.
Child chooses different objects from around the house and traces the outline of the objects on paper.
Parent purchases several wind-up toys. Child practices winding each toy and watching them go.
Creating this list really made me think a lot about other professionals I have observed, books and websites that I have read, and ideas that I came up with years ago. I did not use any direct sources to generate ideas – just a good memory and some creativity! I look forward to using many of these to target fine motor skills with my children over the summer. Please let me know if you try any of these ideas. I'd love to learn more about what activities your child did or did not like and how you were able to use/modify these ideas to meet your child's interests and needs.