This shop has been compensated by Collective Bias, Inc. and its advertiser. All opinions are mine alone.  #MixMatchMunch #CollectiveBias
Wow, August and September are seriously busy months for us! We are several weeks into the new school year and just celebrated Lydia's 7th birthday and Bryce's 5th birthday. We are planning a family vacation at the end of the month to Orlando, and we also have a family blogger trip to Jamaica in the works for October. But for now, the focus is on adjusting to our new back-to-school routine. Lydia is in first grade, and she attends school from 8:45 – 2:45. Bryce is in PreK, and he attends school from 9:00 – 12:15. This leaves me running all around throughout the day, so it's really important that I organize my schedule, which includes setting aside time to prepare food for my family. In just a few minutes, I created one of Lydia's favorite new snacks: White Chocolate Strawberry Snack Mix.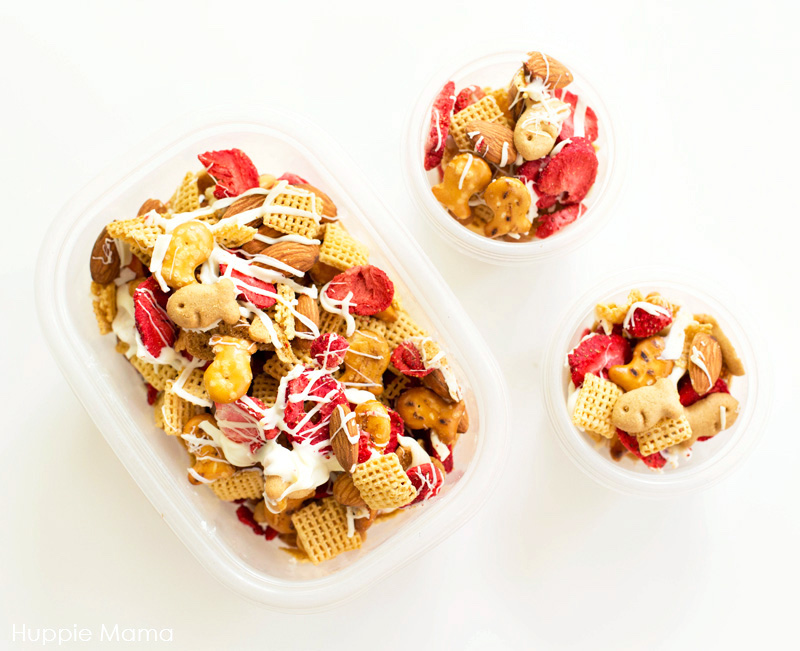 Ingredients:
1 cup Pretzel Goldfish® Crackers
1 cup Baked with Whole Grain Graham Goldfish® Crackers
1 cup dehydrated strawberries
1 cup of your favorite cereal
1/2 cup almonds
1/4 cup white chocolate chips
Directions:
Begin by selecting your child's favorite flavor of Goldfish crackers. For this recipe, I thought it would be fun to have a little salty, a little sweet, so I selected the Pretzel and Whole Grain Graham Goldfish Crackers. A variety pack is a great option because of the different flavors available to mix and match.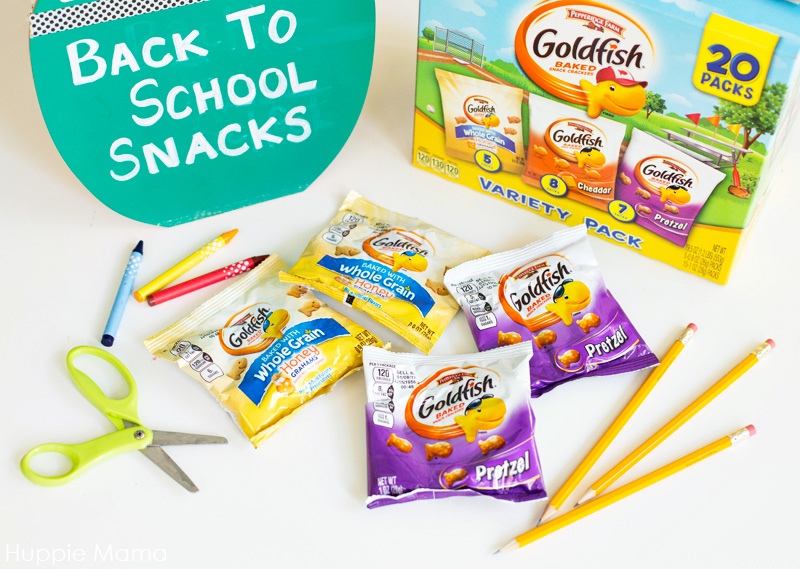 In a large bowl, combine the dehydrated strawberries, your child's favorite cereal, and almonds. This mixture offers a variety of flavors and textures, a perfect snack for your child's school lunch.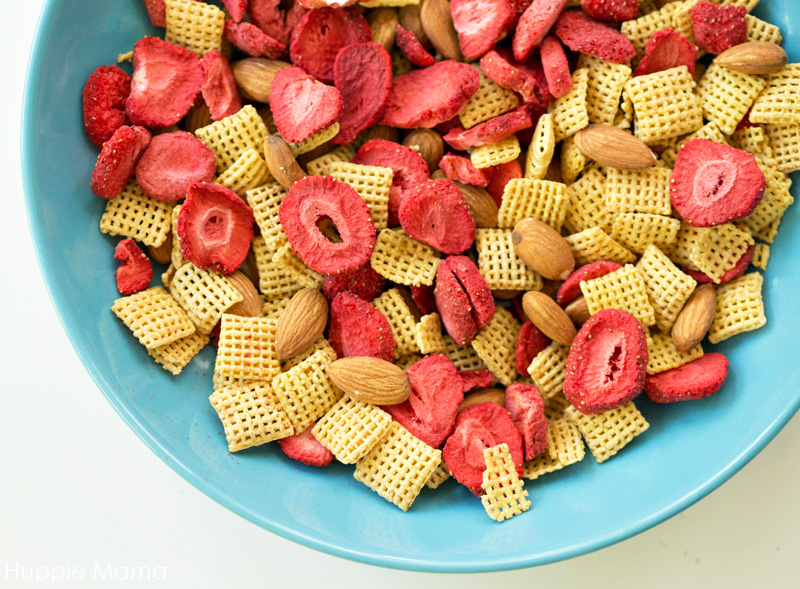 Stir in the Pretzel and Whole Grain Graham Goldfish Crackers and lay the mixture flat on a lined baking sheet. Try to make it just one thin layer so you get an even drizzle of melted white chocolate over the top.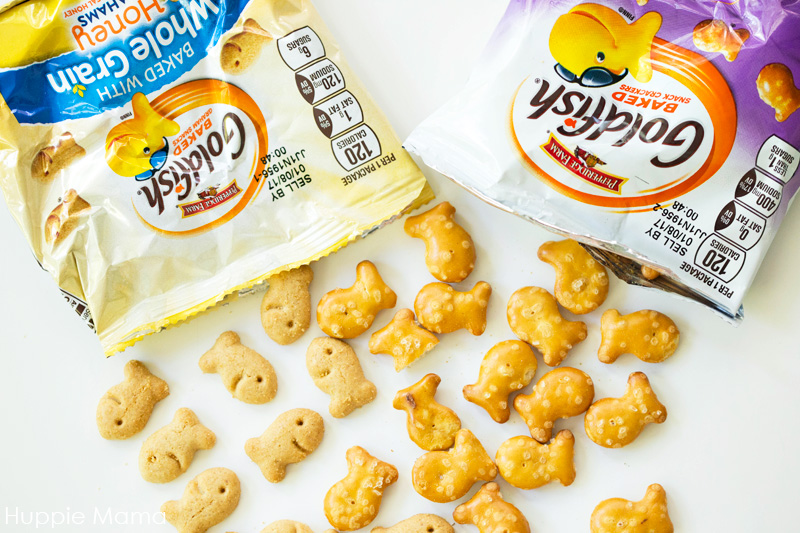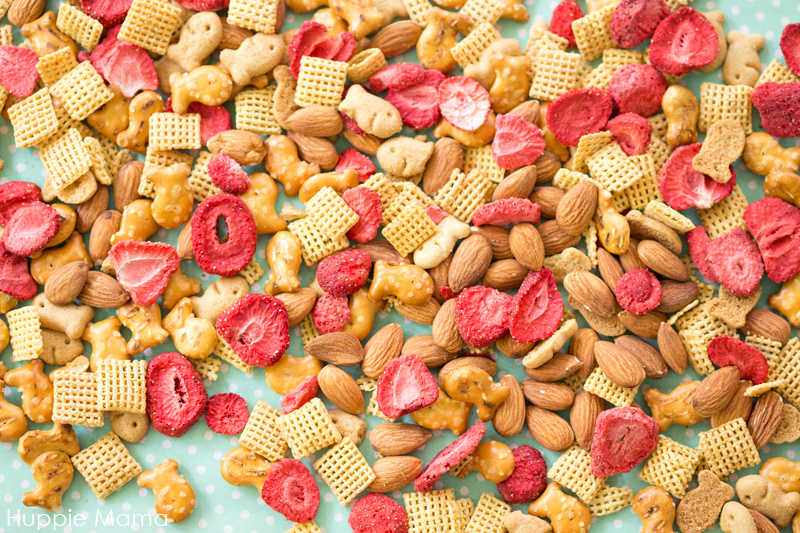 Place the white chocolate chips in a microwave-safe bowl. Microwave for two 15-second intervals, stirring in between. The chocolate should be melted and creamy. If not, add another 10 seconds. Lydia loves white chocolate, but if your child prefers milk chocolate or dark chocolate, you could try that, too. Drizzle the chocolate over the Goldfish mixture.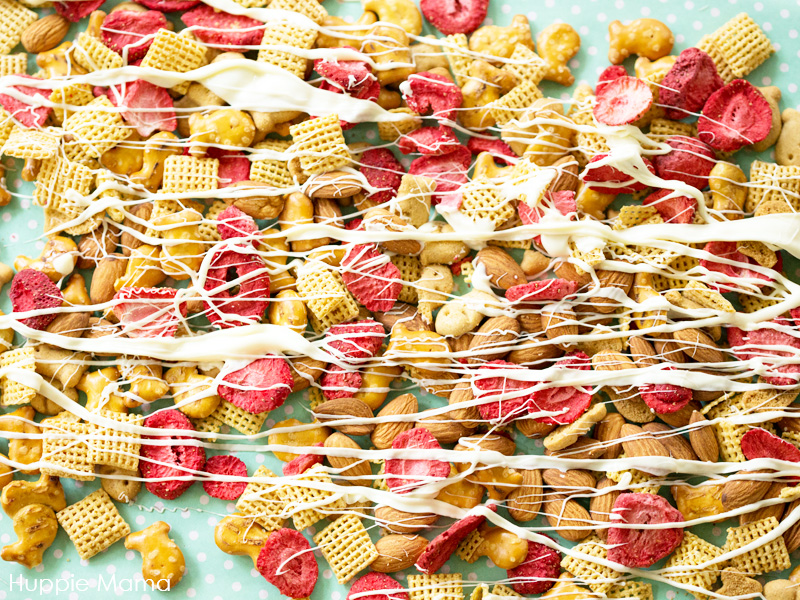 Place your drizzled white chocolate mixture in the refrigerator for the white chocolate to set. Once it has cooled completely, break into small clusters and store in a plastic lidded container until you are ready to place in smaller containers or zipper bags in your child's lunch box.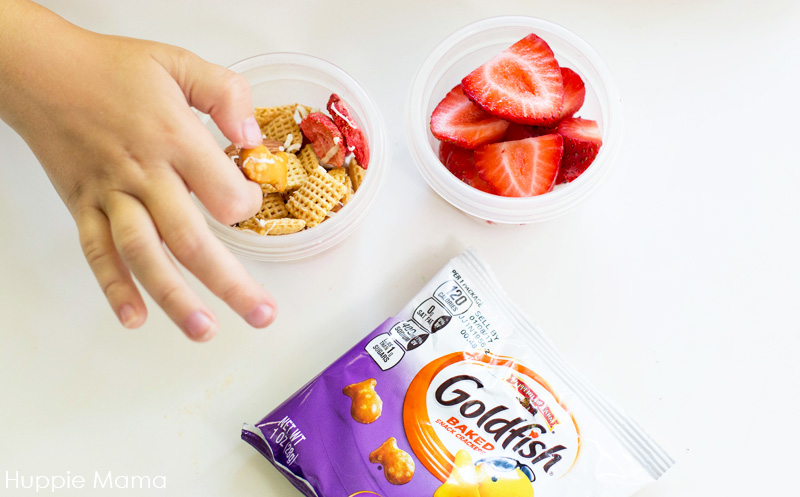 This is a delicious snack for school lunch boxes or after school, served alongside fresh strawberries, which are available in the produce section at your local Walmart. Lydia loved her White Chocolate Strawberry Snack Mix.
Head to Walmart to purchase Goldfish Crackers for your child's back-to-school snacks. Save $1.00 on any ONE (1) Bolthouse Farms® 10 oz. Baby Carrots or Bolthouse Farms® 11 oz. juice when you buy any ONE (1) Pepperidge Farm® Goldfish® crackers 30 oz. or larger.
Check out these other awesome snack mix ideas!